The BRCA gene, often referred to in the context of breast and ovarian cancer risk, has become a focal point of medical discussions in recent years. With over 1 in 400 people possessing a mutation in either the BRCA1 or BRCA2 genes, understanding its inheritance pattern is crucial. This article seeks to answer the question: "Can the BRCA gene mutation skip a generation?" making the science behind it both accessible and clear.
Did You Know? Your ancestry test DNA data includes 700,000 markers, which can be used to learn your risk of breast cancer and other associated factors. This report can help you understand your body better and lower your breast cancer risk. Learn more.
What Are The BRCA Genes?
There are two Breast Cancer genes of interest - BRCA1 and BRCA2.
The BRCA1 and BRCA2 genes produce the BRCA1 and BRCA2 proteins, respectively.
Both these proteins help in DNA repair.
They act as tumor suppressors and prevent cells from dividing and growing uncontrollably.
Every individual receives two copies of both these genes, contributed by each biological parent.
Mutations in both these genes may interfere with the protective effect of these proteins.
As a result, this may increase the risk of developing certain types of cancers, the primary being breast cancer.
How Do BRCA Mutations Occur?
Gene mutations occur when there is a change in the original gene's DNA sequence.
There are two basic types of mutations - inherited and acquired.
Acquired vs. Inherited BRCA Variants
Inherited BRCA variants occur in about 10% of all breast cancer cases.
In this case, the variant is passed down from the parents to the offspring.
BRCA1 and BRCA2 are high-penetrance genes contributing to 30% of all inherited breast cancer cases.
Acquired BRCA variants are also called somatic gene variants.
These cause 90% of all cases of breast cancer.
Acquired variants can occur randomly or be influenced by environmental factors like UV radiation or exposure to occupational chemicals.
Acquired variants could also result from lifestyle habits like smoking, use of other tobacco products, and diet.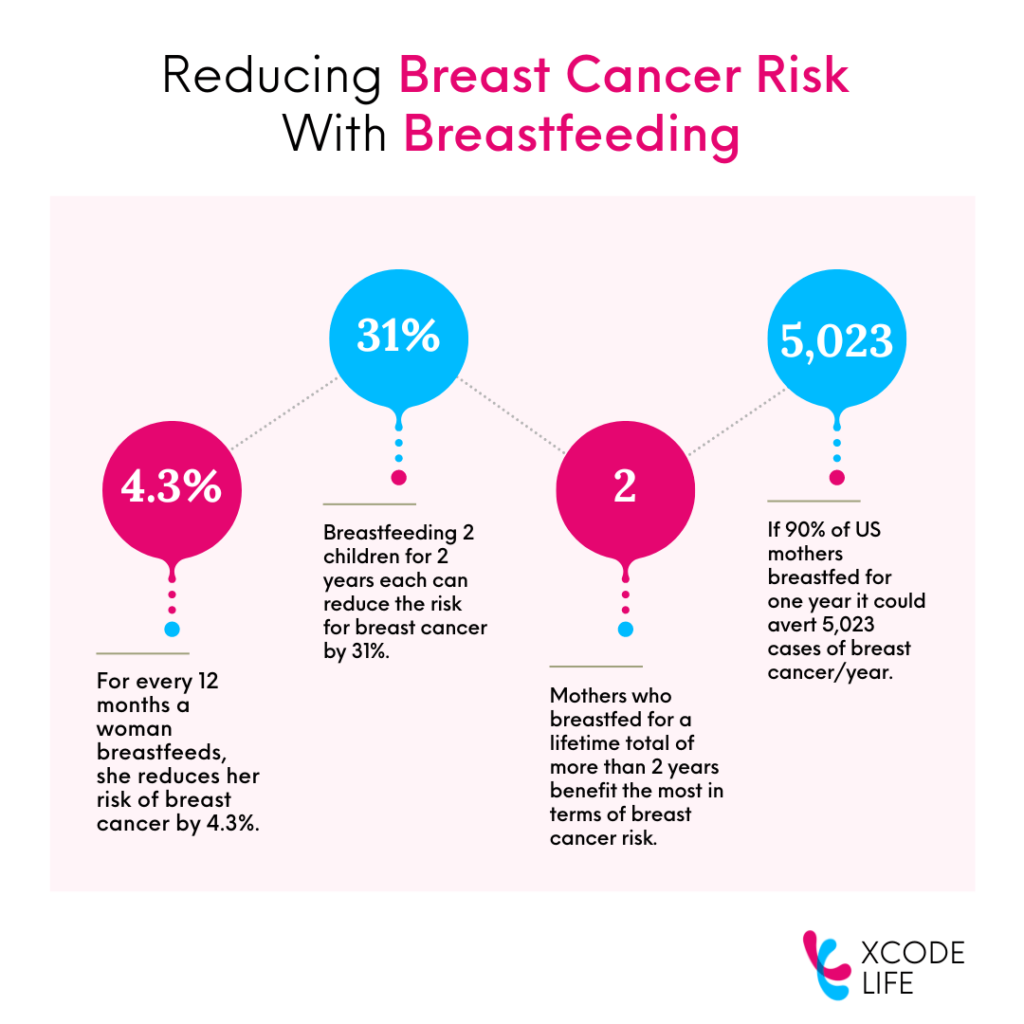 BRCA Mutations and Breast Cancer
The BRCA gene helps keep the cancer-causing potential of certain cells at bay.
With BRCA mutations, these cells are left uncontrolled, which increases the chances of them proliferating (or growing) continuously.
This results in an increased risk for several types of cancers like breast, ovarian (in biological females), and prostate (in biological males).
Inheritance of BRCA Gene Mutations
Both males and females can harbor mutations in their BRCA genes, which their children can inherit.
Each of us inherits two copies of every gene, one from each parent. If one parent carries a BRCA mutation, every child has a 50% chance of inheriting it.
Imagine our genes as pairs of shoes. If one parent has a mismatched pair (with one mutated BRCA gene), they could potentially pass either the regular or the mutated shoe (gene) to their child.
This is why it's a 50-50 chance. While inheriting the mutation increases the risk of certain cancers, it doesn't guarantee it.
If a person discovers they have a BRCA mutation, it's also possible that their siblings, parents, or other relatives might have it.
Therefore, it's often recommended that family members consider genetic testing when one member tests positive.
Can The BRCA Breast Cancer Gene Skip A Generation?
Ideally, gene variants cannot skip generations.
You either inherit the mutated variant from the parents or don't.
If you don't inherit the mutated variant from the parents, you cannot pass it on to your children either.
However, in some families, it may seem like breast cancer has skipped a generation.
The grandmother and the granddaughter could have developed breast cancer, with the mother or father not being diagnosed all their life.
How does this happen?
There can be two reasons why the BRCA gene can seemingly skip a generation.
When a person inherits the BRCA gene, it does not mean they will develop breast cancer. It simply means they have a higher chance of developing the condition. In the above case, the mother could also have inherited the mutated gene but just not developed breast cancer, unlike the grandmother and granddaughter. The mother is a "silent carrier" who has inherited and passed on the faulty BRCA gene copy but hasn't developed breast cancer.
Another scenario would be when the grandmother has a BRCA variant and develops breast cancer but doesn't pass the faulty BRCA on to her daughter (the mother). So, the mother also passes on the normal BRCA copy to her daughter. But now, the daughter develops breast cancer (due to lifestyle factors like smoking). Here, the grandmother and daughter have breast cancer, but not the mother. While it seems like the BRCA variant has skipped a generation, we know that the daughter didn't develop breast cancer due to an inherited BRCA mutation but an acquired mutation.
Family History and Breast Cancer Risk
About 10% of all cases of breast cancer are inherited.
In general, about 13% of women in the world will develop breast cancer.
In contrast, 46-65% of women who inherit the mutated BRCA1 gene may develop breast cancer.
Similarly, 43-45% of women who inherit the mutated BRCA2 gene have breast cancer.
Clearly, the risk of developing breast cancer with a positive family history is high.
The risk increases with each additional family member diagnosed with the condition.
Women inheriting mutated BRCA genes also have a higher risk of developing ovarian cancers.
How To Know If The BRCA Breast Cancer Gene Has Skipped A Generation?
Looking at the family tree can help find out if the BRCA gene has skipped a generation.
In the case of a family history of breast cancer, doctors may recommend the existing family members opt for genetic testing to know if they carry the mutated BRCA genes.
BRCA Gene Testing For Breast Cancer
Right now, BRCA gene testing is not recommended for everyone.
It benefits those with a family history of breast cancer.
Individuals with and without a cancer diagnosis would benefit from getting genetic testing done.
Those carrying the mutated genes but not diagnosed with cancer can take appropriate steps to reduce their risk further.
The test results can help finetune the treatment in those already with a positive diagnosis.
How To Lower Breast Cancer Risk If You Have A BRCA Mutation?
Individuals who tested positive for BRCA mutations can take the following steps to lower breast cancer risk.
Frequent Screenings
Individuals with mutated BRCA genes may be required to get early and more frequent cancer screenings to ensure the condition is caught early on.
Risk-reducing (Prophylactic) Surgeries
If needed, doctors recommend that these individuals have risk-reducing surgeries to reduce their risk of developing cancers. This can include removing one or both breasts, the fallopian tubes, or the ovaries.
Chemoprevention Medicines
Chemoprevention medicines help reduce the risk of developing tumors and are preventive solutions for those with higher stakes.
The FDA has approved two chemopreventive medications as of date.
Since these medications come with a risk of harmful side effects, they are only chosen if risk-reducing surgeries are impossible.
When To Talk To A Professional?
If you have a positive family history of breast or ovarian cancer, please mention that to your doctor and discuss the possibility of getting genetic testing done as early as possible.
You should also be self-examining your breasts and talk to a professional if you notice lumps or changes in the size, shape, or symmetry of the breasts.
Summary: Can The BRCA Breast Cancer Gene Skip A Generation?
The correct answer to the question of whether the BRCA breast cancer gene can skip a generation is no, it cannot.
Mutated gene variants have a 50% chance of being inherited.
Even after they are inherited, they may or may not cause breast cancer.
In some cases, the individuals remain carriers of the mutated gene and pass it on to the offspring, creating an idea of the cancer skipping a generation.
Individuals with a family history of breast cancer would benefit from getting genetic testing done to know if they carry mutations of the BRCA1 and BRCA2 genes.
Knowing this would help take the right steps in bringing down the risk of developing cancers.
Reference
https://www.cancer.org/cancer/types/breast-cancer/risk-and-prevention/breast-cancer-risk-factors-you-cannot-change.html
https://www.macmillan.org.uk/cancer-information-and-support/worried-about-cancer/causes-and-risk-factors/genes-and-cancer
https://www.cancer.gov/about-cancer/causes-prevention/genetics/brca-fact-sheet
https://www.ncbi.nlm.nih.gov/pmc/articles/PMC3681186/
https://pubmed.ncbi.nlm.nih.gov/12677558/
https://www.cancer.gov/about-cancer/causes-prevention/genetics/brca-fact-sheet#who-should-consider-genetic-counseling-and-testing-for-brca1-and-brca2-variants