Already Taken A DNA Ancestry Test? Get 5000+ Insights From Your Raw Data. 
What Is Mitochondrial DNA?
Mitochondrial DNA (mtDNA) is the DNA in your mitochondria and helps trace your matrilineal ancestry as it is inherited maternally.
This means you have the same mtDNA as your mother, grandmother, and siblings.
So, unlike autosomal DNA (found in non-sex chromosomes), mtDNA can trace your maternal relatives four or five generations back.
mtDNA is circular in shape and comprises 16,500 molecules called nucleotides.
These nucleotides are responsible for producing energy in each cell.
How's Mitochondrial DNA Inherited?
People assigned male at birth (MAB) inherit mtDNA from their mother but do not pass it on to their children.
People assigned females at birth (FAB) can pass on their mtDNA to their offspring.
Since mtDNA is passed down from a mother to her children unchanged, it presents several advantages for forensic researchers.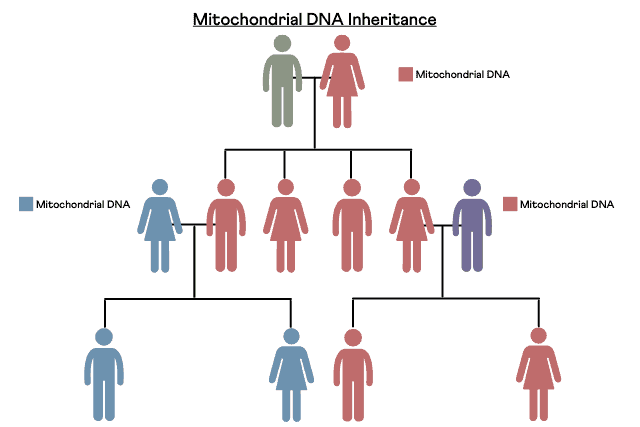 How Does Mitochondrial DNA Testing Work?
Chromosomal DNA is present in the nucleus of each cell.
While half an individual's DNA comes from the father, the other half comes from the mother.
With mitochondrial DNA, however, this is not the case.
The genetic material present in the mitochondria is entirely inherited from the mother.
For this reason, mitochondrial DNA is also called maternal DNA.
An mtDNA test traces an individual's mother's line of ancestry. They may be related if there is a perfect mtDNA match between two individuals.
When you opt for an mtDNA test, one of the three following parts of the DNA is analyzed:
*HVR or Hyper Variable Region
If the test is analyzing HVR1, it evaluates a small set of nucleotides at the end of the DNA strand.
When the test analyzes HVR2, it evaluates base pairs present at the beginning of the DNA strand.
The coding region is the part between HVR1 and HVR2.
Most mtDNA tests analyze either HVR1, HVR2, or both regions.
Who Can Take The mtDNA Test?
Since everyone inherits the mtDNA from their mother, this DNA testing can be taken by men and women.
What Can You Discover From The mtDNA Test?
mtDNA can help researchers determine the following:
An individual's female ancestors
Since mtDNA remains largely unchanged for several matrilineal generations, the mtDNA test can provide information about an individual's female ancestors.
The test can also give greater detail about the ethnicity or country of origin of an individual's female ancestors.
Susceptibility to disease
An mtDNA test can help you identify your risk for several diseases encoded in your mtDNA. Some of these diseases include:
Age-related hearing loss
Cyclic vomiting syndrome
Leigh syndrome
Maternally-inherited diabetes and deafness
Mitochondrial complex III deficiency
Pearson syndrome
Cytochrome c oxidase deficiency
Relatives
An mtDNA test can help you discover long-lost family or relatives.
How Much Does Mitochondrial DNA Testing Cost?
The cost of a mitochondrial DNA test begins at an average of USD 350 and upwards.
Summary
Mitochondria in each cell contain DNA, called mitochondrial DNA.
Unlike autosomal DNA, mitochondrial DNA remains unchanged for several generations.
Everyone inherits mtDNA from their mother, but only females can pass it to their offspring.
Since mitochondrial DNA does not change for several generations, it can help you identify your female ancestors, relatives, and disease susceptibility.
References