What Is Amodiaquine?
Amodiaquine is an antimalarial and anti-inflammatory drug used in the treatment of malaria. Amodiaquine is an active form of 4-aminoquinoline.
4-aminoquinoline is a type of quinoline (an aromatic organic compound) with an amino group in the fourth position.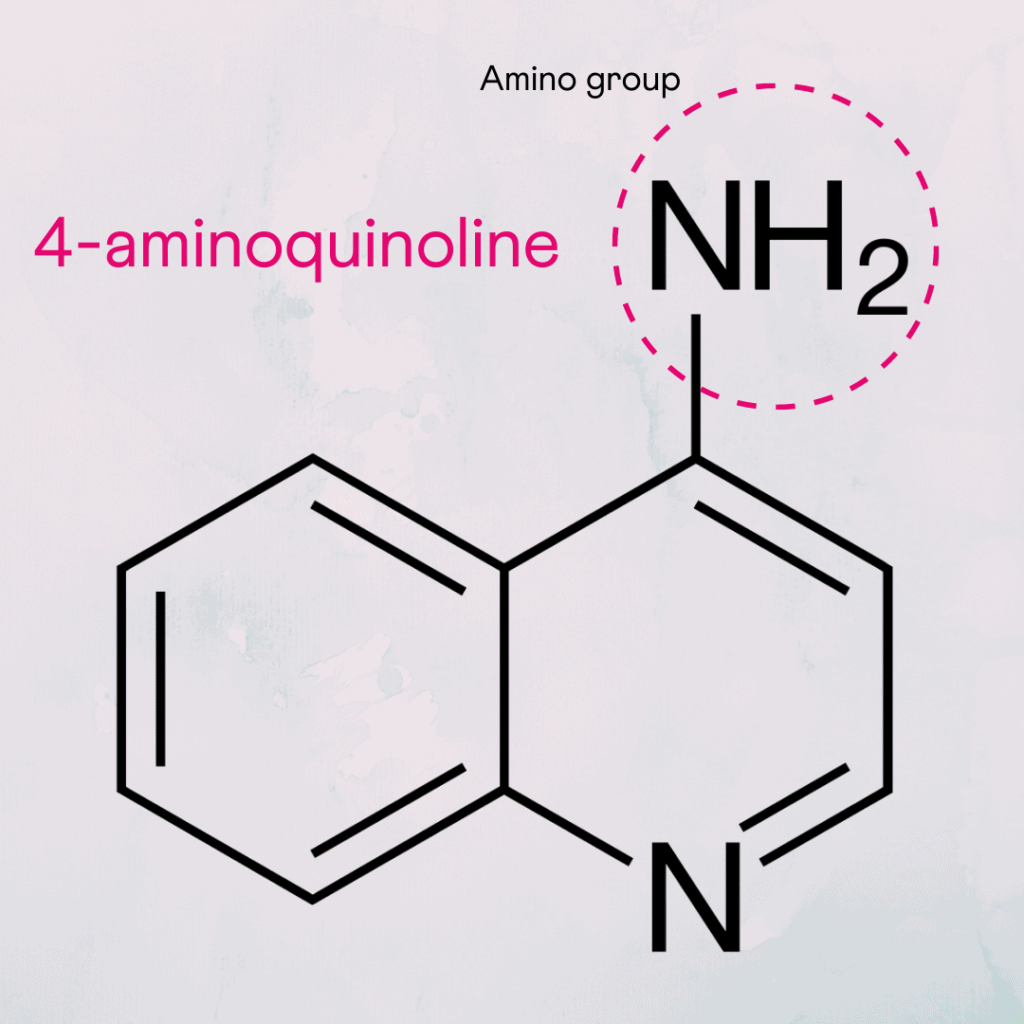 Image: Chemical structure of 4-aminoquinoline
Different forms of 4-aminoquinoline are used to treat various infections.
According to the World Health Organization (WHO), there were 229 million cases of malaria recorded globally, and 67% of these cases were identified in children aged less than five.
Amodiaquine is the most commonly prescribed antimalarial drug (prescribed 90% of the time).
It is added to WHO's List of Essential Medicines list and is sold under the brand names Camoquin and Flavoquine.
How Does Amodiaquine Work?
The malarial parasite needs heme for its growth. Heme is an essential iron-containing molecule produced in the liver and bone marrow.
It helps attach oxygen to the bloodstream. Hemoglobin is a combination of heme and globin proteins.
The malarial parasites obtain heme from the infected person's hemoglobin and convert it into a non-toxic form called hemozoin.
This is to prevent free heme toxicity that can kill the parasites.
Amodiaquine works by attaching itself to the free hemes in the body and preventing the malarial parasites from converting heme to hemozoin.
The increased number of free heme content kills the parasites.
Side Effects Of Amodiaquine
Some of the common side effects of amodiaquine are:
Rashes
Itching
Nausea
Diarrhea
Some of the more severe side effects of amodiaquine are:
Neutropenia (low White Blood Cell count)
Aplastic anemia (body stops producing new blood cells)
Very rarely, amodiaquine may lead to liver toxicity, liver injury, and liver damage.
About 1% of the population may experience liver damage, so amodiaquine is only used to treat malaria and not to prevent it.
It is also primarily available only in Africa, not the United States.
Another rare side effect of amodiaquine is hematological toxicity.
This condition causes a decrease in bone marrow and blood cell production, increasing the risk of anemia, infections, or bleeding.
Interactions With Other Drugs
Amodiaquine may interact with other medications and lead to changes in drug efficacies or severe side effects.
Therefore, notify your doctor if you use any of the following drugs:
Zidovudine, efavirenz, saquinavir, tipranavir (drugs to treat HIV/AIDS)
Acetophenazine, Chlorprothixene, Ziprasidone, and Butriptyline (antipsychotic medications)
Cocaine (a stimulant drug)
Flunitrazepam (a drug to treat insomnia)
Vandetanib (anti-cancer medicine)
Genetics and Amodiaquine
CYP2C8 Gene And Amodiaquine
The CYP2C8 gene provides instructions for producing the Cytochrome P450 family 2 subfamily C member 8 enzyme.
The CYP2C8 enzyme metabolizes various fatty acids and clinical drugs, including amodiaquine.

This enzyme converts amodiaquine into another form called N-desethylamodiaquine.
N-desethylamodiaquine is the primary metabolite of amodiaquine.
A metabolite is an intermediary substance produced as a result of metabolism.
Certain changes in the CYP2C8 gene affect the CYP2C8 enzyme levels and may increase or decrease the rate of amodiaquine metabolism.
CYP2C8*2 Haplotype
A haplotype is a group of gene changes that are inherited together. *2 is the star allele of the CYP2C8*2 haplotype.
Star alleles are a way of naming haplotypes.
CYP2C8*2 is most commonly found in the African population and is associated with reduced metabolism of amodiaquine.
People with the CYP2C8*2 haplotype had a 6-fold lower drug clearance rate from the body.
This may lead to the risk of drug toxicity.
CYP2C8*3 Haplotype
People with this CYP2C8*3 haplotype also tend to have decreased enzyme activity.
Therefore, they may be at an increased risk of drug toxicity.
Recommendations To Safely Use Amodiaquine
Weigh The Risks And Benefits
Though Amodiaquine is a commonly used drug to treat malaria, the rare but severe side effects have to be considered.
That is why doctors only used the drug to treat and not prevent the condition.
Your healthcare provider will analyze the risks and benefits of using the drug and then make an informed decision about using it.
Usage In People With Existing Liver Conditions
People with existing liver conditions need to be carefully monitored if they are administered amodiaquine.
This is because the drug may intensify liver damage in some cases.
Usage In Pregnant Women
In the right doses, Amodiaquine may not cause fetal damage and may be administered to pregnant women.
Doctors suggest these women get periodic liver function tests to rule out drug-caused liver damage throughout the pregnancy.
Interaction With CYP2C8 Inhibitor Drugs
CYP2C8 inhibitor drugs may lower the levels of the CYp2C8 enzyme in the body.
As a result, the body cannot clear out amodiaquine effectively, leading to a risk of drug toxicity.
The following are some strong and moderate inhibitors of CYP2C8.
Strong inhibitor - Gemfibrozil (used to treat high blood lipid levels)
Moderate inhibitors - Clopidogrel (antiplatelet drug), Deferasirox (iron chelator drug), Teriflunomide (a drug to treat multiple sclerosis)
Genetic Testing
Genetic testing can help determine the rate of amodiaquine metabolism based on the CYP2C8 gene changes.
Together, the rate of drug metabolism and drug interactions may affect drug efficacy and amodiaquine toxicity.
This may have clinical implications while treating malaria.
Analyze Your Genetic Response to Amodiaquine
Summary
Amodiaquine is a drug used to treat malaria. It works by increasing free heme content in the body, which is toxic for malarial parasites.
Some of the common side effects of amodiaquine are rashes, itches, nausea, and diarrhea.
Amodiaquine's more severe side effects are liver damage, liver toxicity, aplastic anemia, and low white blood cell levels.
The CYP2C8 gene helps produce the CYP2C8 enzyme, which plays an essential role in amodiaquine metabolism.
Certain changes in the CYP2C8 gene may decrease enzyme production or activity and increase the risk of drug toxicity.
Amodiaquine interacts with antiretroviral medications, certain antipsychotic medications, and CYP2C8 inhibitor drugs, leading to severe side effects.
Amodiaquine needs to be used with caution in people with existing liver diseases.
Genetic testing can help understand the rate of amodiaquine metabolism in the body and make drug dosage planning more accurate.
References
https://www.ncbi.nlm.nih.gov/pmc/articles/PMC3731253/
https://jamanetwork.com/journals/jama/article-abstract/316777
https://jpet.aspetjournals.org/content/282/1/108
https://pubmed.ncbi.nlm.nih.gov/1729651/
https://go.drugbank.com/drugs/DB00613
https://pubchem.ncbi.nlm.nih.gov/compound/Amodiaquine
https://www.ncbi.nlm.nih.gov/books/NBK548404/
https://en.wikipedia.org/wiki/Amodiaquine#Pharmacokinetics_and_pharmacogenetics
https://www.pharmgkb.org/pathway/PA165815256
https://www.sciencedirect.com/topics/neuroscience/amodiaquine
https://pubmed.ncbi.nlm.nih.gov/17361129/
https://www.ncbi.nlm.nih.gov/books/NBK548404/
https://www.ncbi.nlm.nih.gov/pmc/articles/PMC3731253/