What Are Droopy Eyelids?
A droopy eyelid is characterized by the sagging of the upper eyelid - it droops downwards.
It is also called ptosis, a fancy word for "drooping."
The edge of the upper eyelid is either lower than it should be or has excess baggy skin.
Sometimes, both these factors contribute to a droopy eyelid.
Causes/Risk Factors of Droopy Eyelids
A multitude of factors contributes to a droopy eyelid.
A muscle called the levator palpebrae superioris works to raise the upper eyelid and maintain its position. A weak levator palpebrae superioris muscle can cause the eyelid to droop.
A tendon-like sheath called the levator aponeurosis facilitates eyelid movement. Accidental stretching and tearing of this sheath can cause a droopy eyelid. The damage may occur due to:
Excessive eye rubbing
Use of rigid contact lenses
Eye surgery
Congenital ptosis is present from birth and is influenced by genetic factors. It can occur in one or both eyelids. It can cause amblyopia (also called lazy eye) or impaired vision.
As you age, the skin and tissues that support the muscles around the eyelid become weaker. Over time, this results in drooping.
Sometimes, a droopy eye can result from surgical procedures for cataracts, glaucoma, or LASIK surgery. While the reason behind this is hazy, some doctors seem to think that it is because of the damage caused by the surgical tools to your eye muscle.
Certain health conditions include myasthenia gravis (immune system attacks and weakens the signal between your nerves and muscles by mistake), Horner syndrome (damage to certain nerve pathways makes your eyelid sag), eyelid tumor, eye infections, stroke, diabetes, and mitochondrial myopathies can cause a droopy eyelid.
Genetics of Droopy Eyelids
According to a study, sagging eyelids can run in families, and at least one gene seems to play a role in causing eyelids to sag.
The same study also mentions that inherited factors account for 61 percent of the risk of sagging eyelids.
The H2AFY2 Gene and Droopy Eyelids
The H2AFY2 gene contains instructions for the production of core histone macro-H2A.2.
This protein regulates gene expression or how much product a gene produces.
The H2AFY2 gene is expressed in the skin and has been implicated in the systemic lupus erythematosus (an autoimmune skin condition) pathway.
Several studies have already established the role of histones in aging and cell senescence (cell death), which could explain the role of the H2AFY2 gene in eyelid sagging.
Four Single Nucleotide Polymorphisms (gene changes) or SNPs in the H2AFY2 gene are significantly associated with eyelid sagging severity.
These SNPs are located in intronic parts of the H2AFY2 gene and very close to another gene called AIFM2 that induces apoptosis or programmed cell death.
| | | |
| --- | --- | --- |
| SNP | Variant Allele | Implication |
| rs16927253 | T | Dominant protective effect towards eyelid sagging |
| rs2271699 | G | Dominant protective effect towards eyelid sagging |
| rs2394654 | C | Dominant protective effect towards eyelid sagging |
| rs3750770 | T | Dominant protective effect towards eyelid sagging |
Treatment for Droopy Eyelids
Doctors mostly do not start treatment for children with congenital ptosis right away.
They check their eyes periodically.
If there's an indication of amblyopia, the doctors treat it with drops, patches, or glasses.
For adults, the most common treatment option for droopy eyes is surgery.
The surgery involves removing the extra skin and tucking the muscle that lifts the lid.
Another option would be reattaching and strengthening that muscle.
While these procedures are safe in most cases, there could also be some possible complications.
There are chances of surgery not being successful.
Sometimes, the procedure could also overcorrect the problem by leaving the eyelid either too high or too low, requiring further surgery.
Another management option is the ptosis crutch, also called the eye crutch.
It lifts your eyelids so you can see better.
Home Remedies for Droopy Eyelids
Hydration: Dehydration contributes to saggy eyelids. Therefore, it is important to consume 8-10 glasses of water every day.
Cold compress for the eyes: Placing cucumbers or tea bags can help with the appearance of ptosis by alleviating swollen or puffy eyelids. But they don't treat ptosis itself.
Diet: Certain foods like grapes and carrots help eye health.
Supplements: Lutein and B12 supplements may help reduce ptosis. However, there's no concrete scientific evidence proving the same.
Please note that it is important to consult your medical practitioner before starting any supplements.
Eye serum: Eye serums are packed with nutrients, including vitamin C. They help rejuvenate and tighten the eyelids.
Eye exercises: While these exercises may not get rid of ptosis completely, they can help reduce the amount of eyelid droop briefly.
Exercises for Droopy Eyelids
Eyelid massage: Gentle eye massages can help increase circulation and nerve responses.
Eye stimulation: Direct stimulation, either by concentrated eye movement or devices like electric toothbrushes, may help reduce ptosis.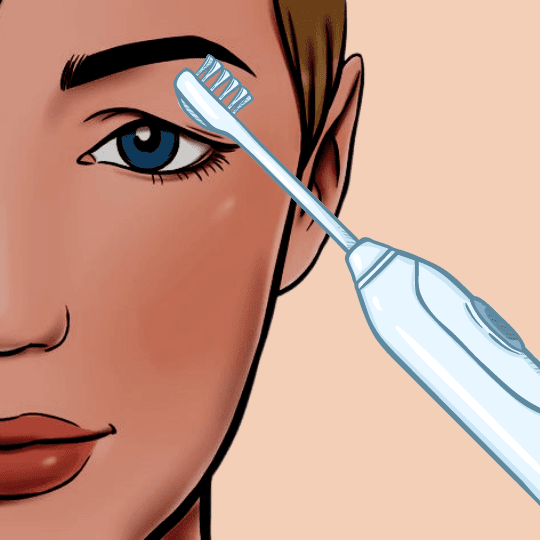 Image: Stimulation of a droopy eyelid with an electric toothbrush
Eyelid resistance training: Blinking while raising your eyebrows and holding them in that position can create resistance for your eyes. This may help strengthen your eyelids.
Gazing: Staring at a particular object with your affected eye/s as long as possible can help reduce ptosis.
Preventing Droopy Eyelids
Congenital ptosis is not preventable.
Acquired ptosis in some cases (like age, eye trauma, muscle and nerve damage) may not be preventable as well.
Some factors you can change are refraining from alcohol and smoking and maintaining a healthy BMI.
Using spectacles instead of contact lenses and not rubbing your eyes often can also help avoid ptosis.
Summary
Droopy eyelids or ptosis is a condition where there's a sagging of the upper eyelid causing it to droop downwards.
It can be congenital or caused due to age, certain health conditions, damage to the muscles or nerves of the eyelids, and eye surgeries.
Genetic factors contribute to 61% of droopy eyelid risk. A notable gene here is H2AFY2, which is involved in aging or senescence. Four changes in this gene have been associated with the severity of eye sagging.
Hydration, cold compress, dietary supplements, and eye exercises can help manage ptosis.
Avoiding lens usage, refraining from rubbing your eyes too often, cutting down on alcohol and smoking, and maintaining a healthy BMI can help prevent ptosis.
References
A Sneak-peek Into The Gene Skin Report