World Asthma Day Special.
Xcode Life's Genetic Asthma DNA Report
Researchers have identified a number of genes associated with asthma.
In the sample report below, we've attempted to analyze some important genes that increase the risk of asthma.
You can identify your genetic risk of asthma by using your 23andMe DNA data and placing an order for the Gene Health Report.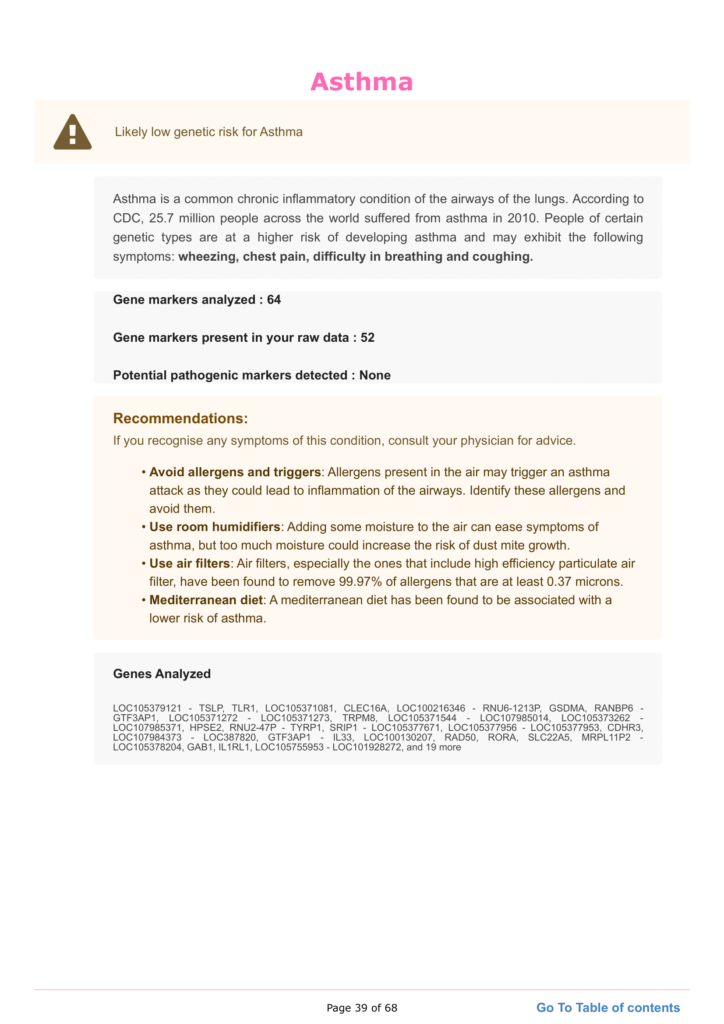 What Is Asthma?
Asthma is a long-term (chronic) inflammatory condition that causes the tightening of the airway muscles.
The inflammation of the airways causes them to swell up and triggers mucus production, which results in their narrowing.
As a result, the individual finds breathing difficult, makes a whistling sound when breathing out, and experiences shortness of breath.
Asthma affects adults and children and is one of the most common chronic diseases in children.
For some people, asthma is a minor issue, but for many others, it is a major problem that may impact their daily routine and quality of life.
Though asthma cannot be cured, its symptoms can be effectively managed with appropriate measures.
What Causes Asthma?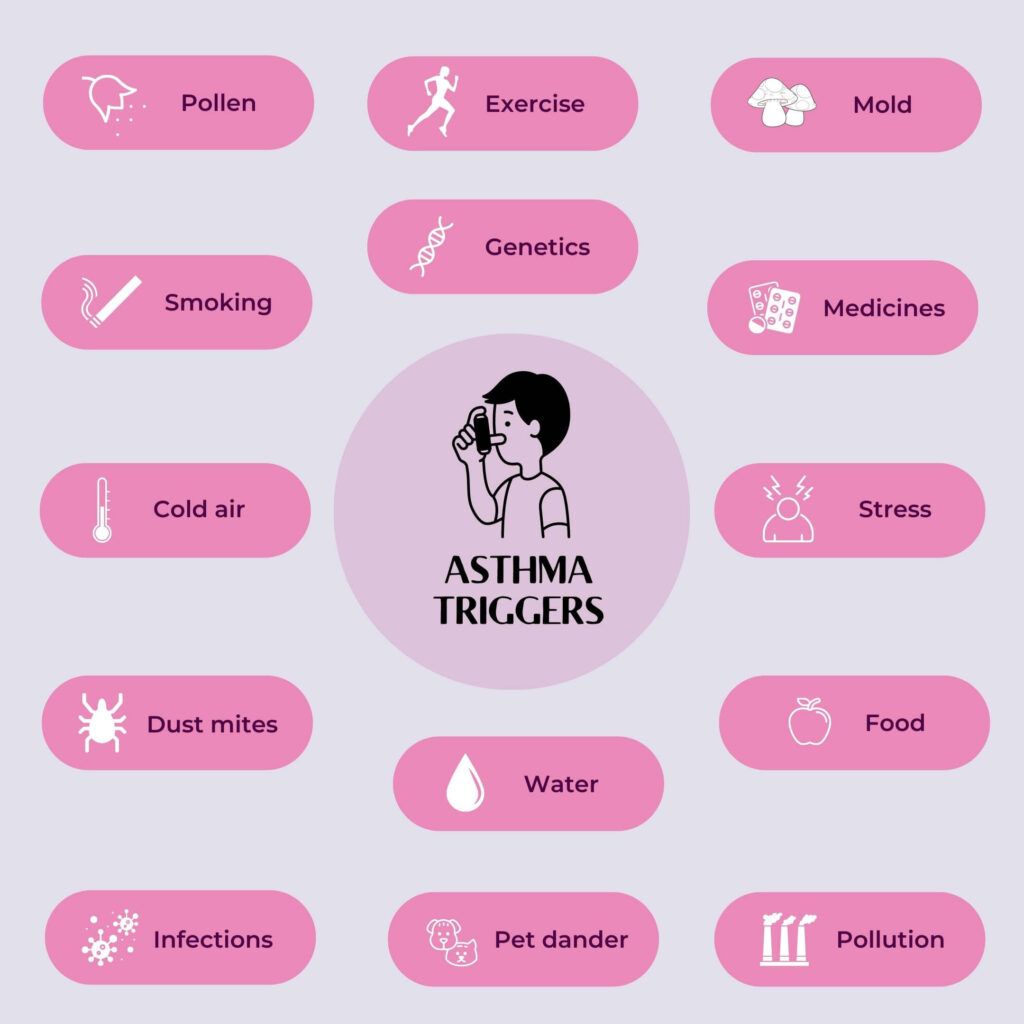 Image: Asthma triggers
It is still unclear why some individuals are prone to asthma while others are not.
The cause of asthma is complex and is more likely due to a combination of genetic and environmental factors.
Researchers believe that the development of asthma may have a genetic component, as having a family member with the condition may increase the individual's risk for it.
Allergies may play a role in the development of asthma.
People with asthma must know what triggers a flare-up or asthma attack.
A few common asthma triggers include:
Food and substitutes
Food coloring agents
Environmental pollutants
Allergens like pollen, mold, animal dander, dust mites, cockroach droppings
Sinusitis
Smoke
Change in weather
Exercise
Heartburn
Is Asthma Genetic?
Genetics is one of the strongest risk factors for developing asthma.
However, it is essential to understand that having a genetic predisposition does not necessarily mean one will develop the condition.
People with no family history may also develop asthma.
There is plenty of research underway to determine the complex interplay between genetics and environmental factors that result in asthma development.
Inheritance of Asthma
No single causative gene has been identified for asthma.
So far, research has identified various gene complexes that may play a significant role in the development of asthma. These include DPP1, GRPA, and SPINK5 genes.
If only one parent has asthma, there is a 25% chance that the child will develop the condition.
If both parents have asthma, the risk of developing the condition increases to 50%.
It has been estimated that children are three times more likely to develop asthma if their mothers have it and 2.5 times more likely if their fathers have it.
The likelihood of identical twins developing asthma is higher than non-identical twins.
Other than genetics, environmental factors play a role in asthma as well.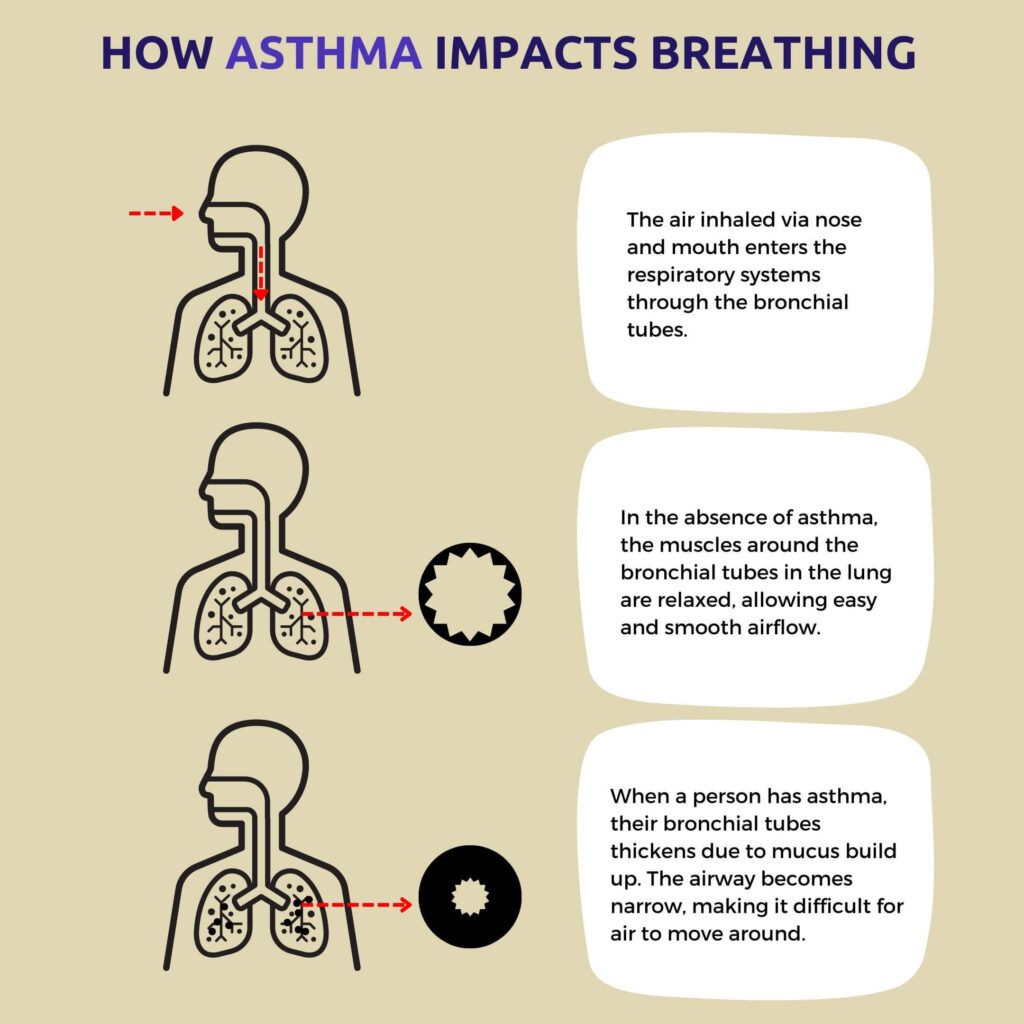 Image: Impact of asthma on breathing
Risk Factors for Asthma
Risk factors increase an individual's chances of developing a condition.
A few factors that may increase your risk of developing asthma are:
A family member, such as a parent or sibling, with asthma
Other allergic conditions like atopic dermatitis (causes itchy skin, runny nose, and congestion)
Excessive body weight or obesity
Smoking
Exposure to secondhand smoke or pollution
Exposure to chemicals used in farming, hairdressing, or manufacturing
Lowering Your Risk Of Developing Asthma
While there's no way to prevent asthma, there are some steps you can take to manage and prevent asthma attacks
Quitting smoking
Staying clear of people who smoke
Reducing stress
Losing weight and maintaining a healthy BMI
Keeping your home and surroundings clean
Avoiding allergens and other triggers as much as possible
People with the condition must avoid trigger factors to prevent an asthma attack.
It is very important to always keep your inhaler with you to manage symptoms in case of a flare-up.
Summary: Is Asthma Genetic?
Asthma is a chronic inflammatory condition that narrows the airways and tightens the muscles around them.
The exact cause of asthma is unclear, but it is said to develop due to a complex interplay between genetic and environmental factors.
Having a parent or sibling with asthma increases an individual's risk of developing the condition.
Avoiding triggers and lowering risk factors can prevent an asthma attack or flare-up of symptoms.
References