Parameter
SelfDecode
Xcode Life
Type of genetic testing
DNA kit and raw data analysis
DNA raw data analysis
Health reports
Offered
Offered
Pharmacogenomic reports
Not offered
Offered
Raw data upload
23andMe, Ancestry, Courtagen, FamilyTreeDNA, MyHeritage, Atlas, MapMyGenome, Diagnomics, DNALand, and LivingDNA
DNA raw data from all major providers accepted.
Comprehensive list
Number of traits
33
3000+
Price
With DNA kits: $284 - $689
Reports: $30-$50Bundles: $160-$199
Price details
Sample reports
Not available
Available as detailed report walkthrough videos
SelfDecode was founded in 2014 by Joe Cohen with its headquarters at Newport Beach, California, US. The company offers personalized DNA testing and provides health and wellness reports by analyzing your genetic data.
Selfdecode also has some tools to analyze your genome and a personalized genetics blog that helps you understand your DNA results.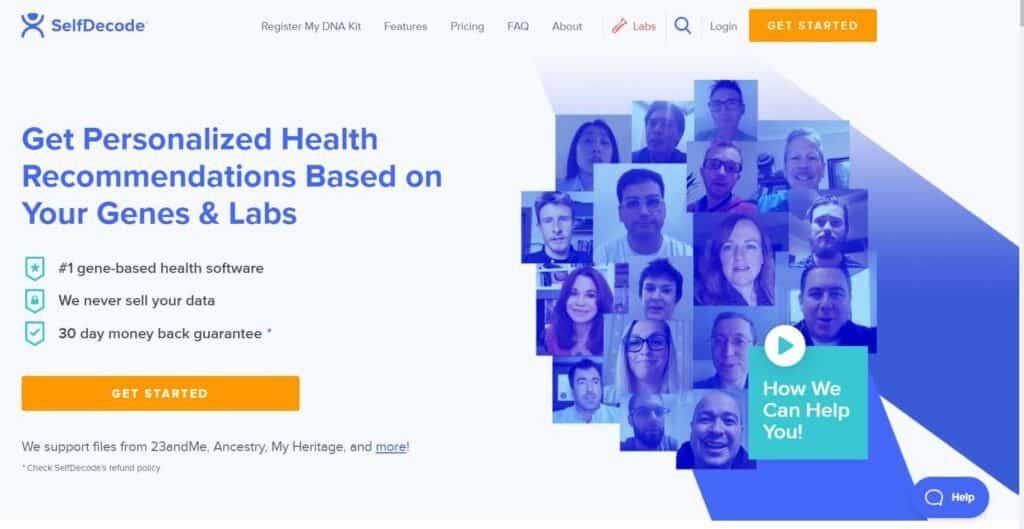 SelfDecode Services
DNA Wellness Reports
The company's most attractive offering would be its DNA Wellness Reports. These reports:
Compares the consumers' genetic data with information from hundreds of scientific studies
Lists relevant genetic variations (changes) and their reported health impact
Summarizes estimated risk for wellness traits
Provides personalized recommendations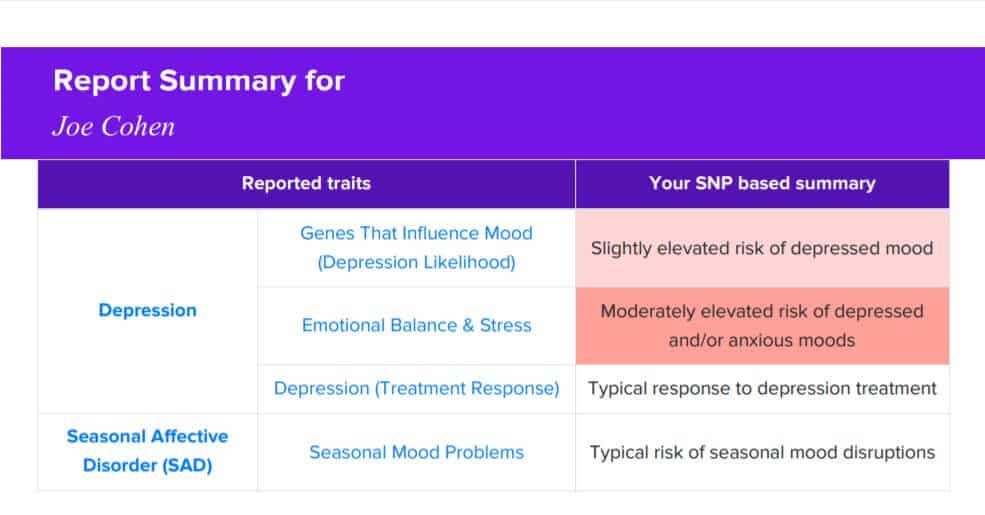 The wellness package includes the following reports:
Health Overview - This report covers fitness, food, and nutrition, personality traits, etc.
Inflammation - This report includes information on inflammatory conditions and analyzes your risk for several traits like bone inflammation, brain, and nervous system disorders, respiratory diseases, skin diseases, and digestive problems.
Cardiovascular - This report includes risk information for some heart diseases like atrial fibrillation, congestive heart failure, congenital heart failure, stroke, high blood pressure, and coronary artery disease.
Sleep - This report explains how genes affect sleep quality and duration, chronotype and risks for insomnia, teeth grinding, obstructive sleep apnea, restless leg syndrome, bedwetting, and narcolepsy.
Vitamins - This report explains how genes affect how the body absorbs and processes vitamins A, B9, B12, C, D, E, and K.
Minerals - This report explains how genes affect magnesium, sodium, potassium, calcium, phosphorus, iron, and zinc requirements.
Mood - This report explains how genes affect traits associated with your mood, like happiness, emotional balance and stress, stress, and seasonal mood problems.
ApoE- This report covers interpretation of ApoE genotype, comprehensive introduction of the gene, risk interpretation of your ApoE genotype, signs or symptoms of potential health risks, and diet and health recommendations based on personalized ApoE genotype.
Fitness - This report explains how genes affect response and motivation to exercise and the risks of an exercise-related injury.
Cognitive Function - This report covers the effect of genes on brain fog, lack of focus, and other mental issues.
MTHFR - This report analyzes rs1801133 & rs1801131 SNPs of the MTHFR gene and provides health recommendations according to the genotype.
Longevity - This report explains the effect of genes on oxidative stress, inflammation, heart health, cell growth, and DNA repair.
Thyroid - This report analyzes changes in 20 genes and determines the risk for thyroid issues like iodine deficiencies, hormone production changes, and autoimmune thyroid conditions.
COVID-19 - This report analyzes genes to determine the likelihood of contracting viral infections, the potential susceptibility to complications, and the relative severity of the symptoms.
Gut Health - This report analyzes 33 genes related to gut health and describes the risk for inflammatory gut conditions.
Body Weight - This report explains the influence of genes on weight management, appetite, food choices, energy metabolism, etc.
COMT - This report covers the COMT gene and its influence on cognitive function, mood, cancer risks, etc.
Headaches & Migraines - This report analyzes 19 genes associated and reveals the genes' impact on frequency, severity, and duration of pain and gives personalized recommendations to prevent and limit pain.
Pain - This report covers whether genes could cause knee aches, backaches, internal discomfort, and long-term pain.
Food Sensitivity - This report analyzes 54 genes related to food sensitivities like lectin allergy, alcohol tolerance, wheat tolerance, etc.
Attention & Focus - This report analyzes 21 genes related to attentional focus, ability to concentrate, working memory, ability to focus, etc.
Anxiety - This report analyzes 228 genes that affect stress response, the likelihood of anxiety, etc.
PTSD - This report analyzes 22 genes related to trauma and stress that affect the risk for increased fear and anxiety, the likelihood of developing trauma disorders, predisposition to panic and emotional responses, etc.
Acne - This report describes how genes can affect the risk of acne-causing health issues like hormone levels, skin oils, inflammation tendencies, etc.
Blood Sugar - This report describes the effect of genes on bodily processes involved in determining blood sugar levels, including insulin resistance, metabolism control, zinc levels, etc.
Chronic Fatigue - This report analyzes 19 genes associated with chronic fatigue and low energy causing health issues
Tinnitus - This report covers 18 genes affecting tinnitus and gives recommendations to decrease or eliminate ringing in the ears, solve hidden health issues and optimize all areas of your health.
Rheumatoid Arthritis - This report investigates 40+ genes that affect joint inflammation and strategies to ease the pain.
Lupus - This report explains how genes could contribute to severe symptoms of systemic autoimmunity and provides solutions to aid skin irritation and sensitivity, joint pain, fever, headache, fatigue, etc.
Hair loss - This report assesses risks for male-pattern baldness or alopecia areata.
Allergies - This report analyzes your genetic risk for several allergic reactions and offers actionable solutions to combat hayfever, suppress food allergies, improve asthma, eczema, anaphylaxis, etc.
Eczema - This report assesses optimal functionality and offers insights to relieving inflamed skin, stopping constant itchiness, and reducing the frequency of flare-ups.
CNR1 -This report investigates the activity level of the CNR1 gene for specific genotypes and offers advice on improving mood and decreasing stress, regulating appetite, eliminating brain fog, etc.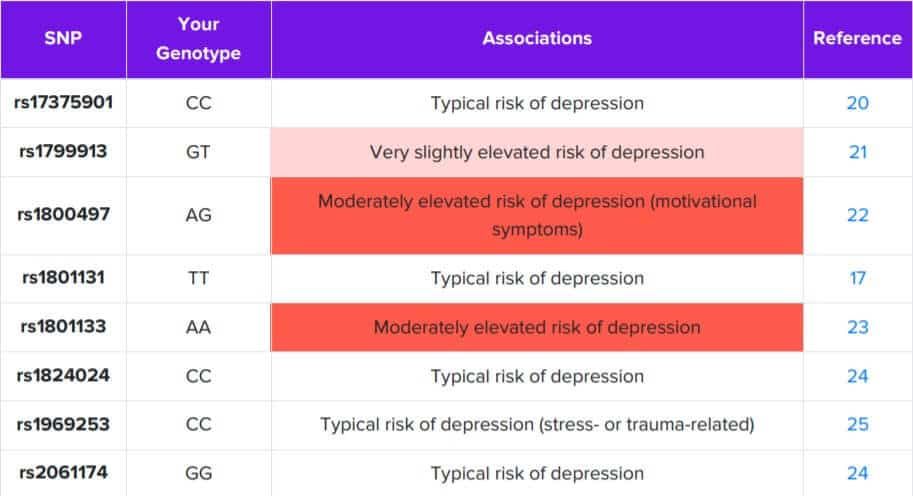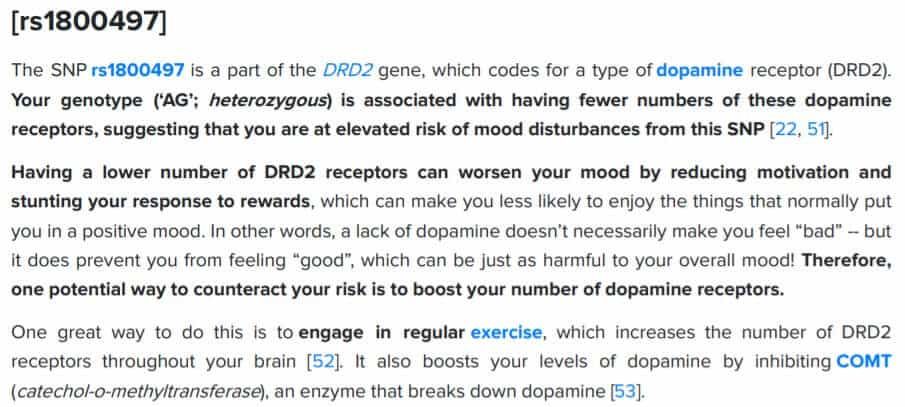 Source: https://s3.us-east-2.amazonaws.com/sd-genereports-launchjul2018/Sample+report.pdf
Personalized Genetics Blog
SelfDecode has a Personalized Genetics Blog, which the company claims to be the first and only one of its kind. The features that make this service unique are:
According to the consumer's DNA data, each article in the blog shows a personalized score ranging from positive, neutral, or negative for the concerned topic.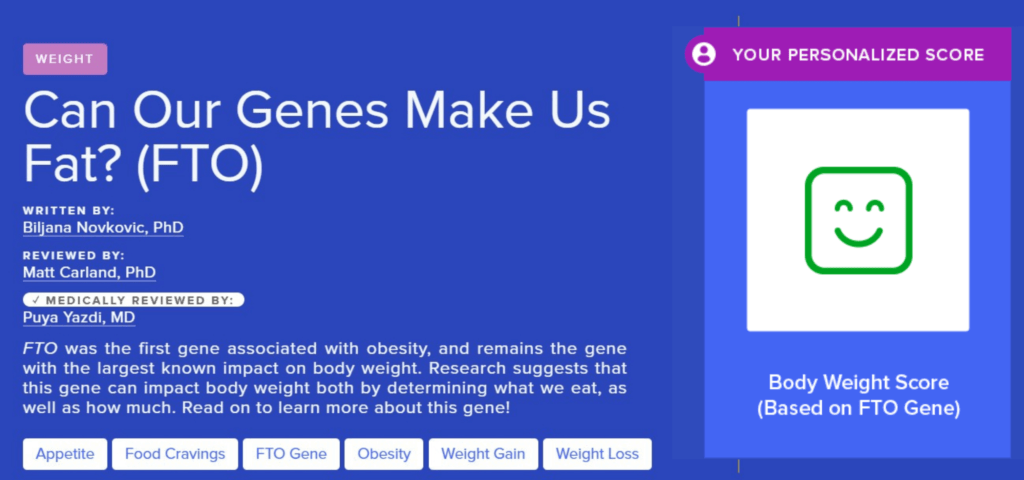 Based on the consumer's DNA and genetic variations, each article generates a table of recommendations to manage and tackle the negative impacts of risk variants.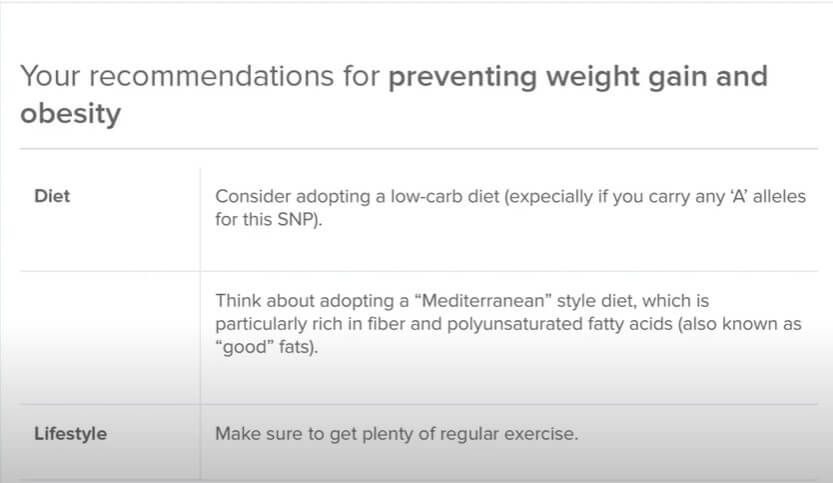 Each article gives a gene summary outlining the health implications of the given gene.
Each article generates a personalized genetic variants table or SNP table based on the consumer's DNA data.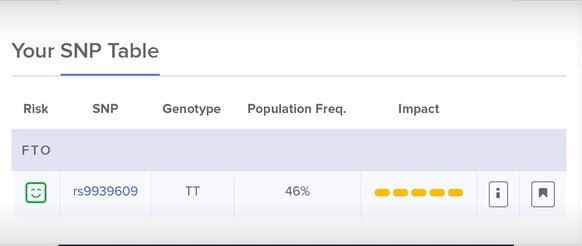 For more information, consumers can watch the SelfDecode Blog walkthrough video.
SelfDecode Tools
Symptoms and Conditions Analyzer
SelfDecode offers the Symptoms and Conditions Analyzer tool where the consumer can search for anything - any symptoms or conditions.
For example, upon searching for symptoms like brain fog and fatigue, the search results will find the consumer's risk variants from their DNA data and outline the gene influencing these symptoms.
However, this tool isn't available for free.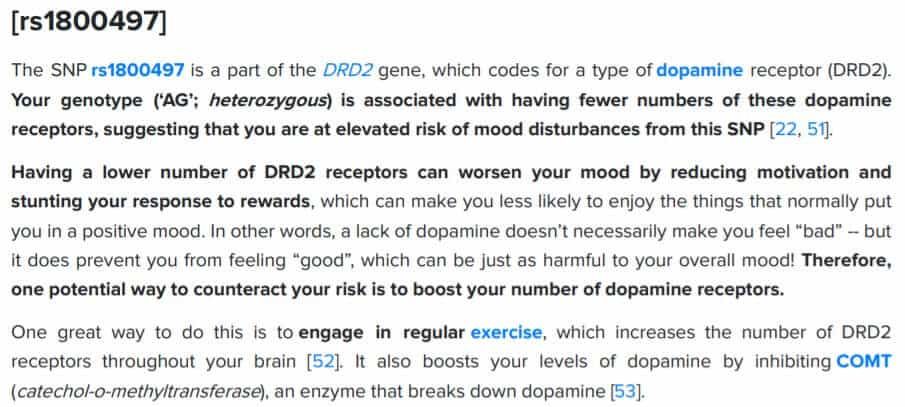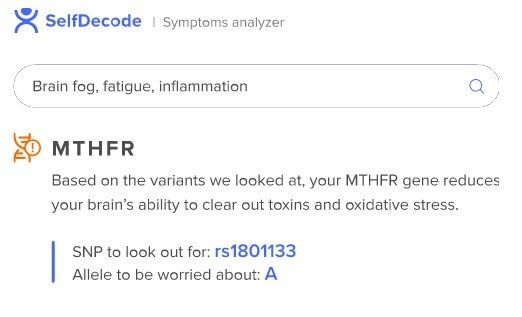 Check out Xcode Life's FREE Gene Tool To Explore Your DNA Raw data for various genes, conditions, SNPs, and symptoms!
Lab Test Analyzer Tool
SelfDecode's Lab Test Analyzer Tool is an independent subsidiary that consumers can access with or without using SelfDecode's genetic services. Consumers can sign up for Lab Test Analyzer to avail its facilities. Signup in either SelfDecode or Lab Test Analyzer lets the consumer use the other service free of cost.
The Lab Test Analyzer unlocks and reveals critical information by analyzing lab test results:
Understanding why a healthcare provider prescribes the test - analyzing test markers
Understanding and learning the health implications of test results and their impact on the consumer
Normal doesn't mean optimal - The Lab test Analyzer uses up-and-coming peer-reviewed research to identify optimal ranges for test results which may help in reducing the risk of death or disease.
Gives personalized and natural recommendations on lifestyle, health, and diet according to lab results
Consumers can even track their improvement upon implementing the given recommendations.
The tool analyzes over 500+ lab markers, with more being added regularly.
How it works:
Upload test results
Get personalized reports and recommendations for optimization.
Implement the recommendations and track improvement.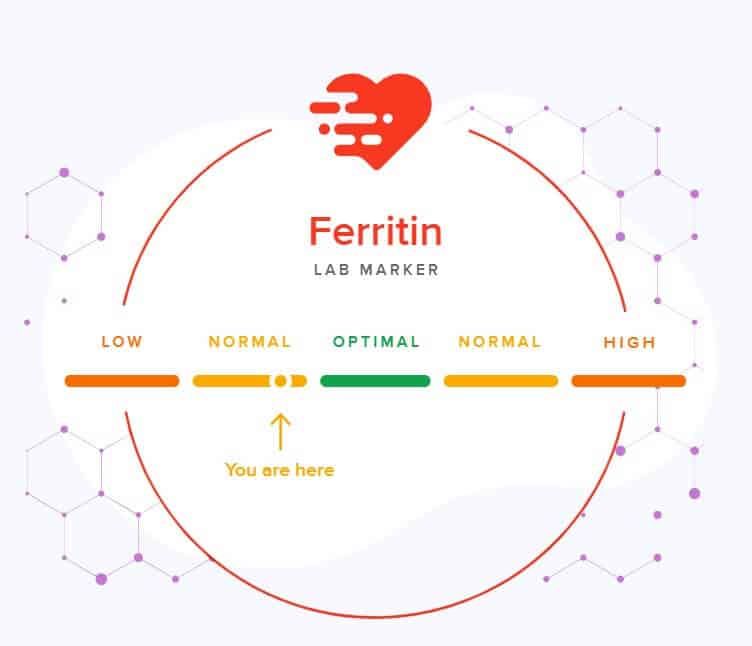 Other features:
The tool also analyzed Health Goals information hidden in the lab results:
Nutrient Levels
Thyroid health
Energy Levels
Toxic exposure
Heart Health
Methylation
Toxic Mold Illness
Stress
Weight loss
Hormone Balance & Fertility
Aging
Gut health
Lab Analyzer Pricing
| | |
| --- | --- |
| Plan | Pricing |
| Annual | $97 |
| Lifetime | $297 |
| Professional | Yearly - $599Monthly - $199 |
SelfDecode: Getting Started
SelfDecode ships its DNA test kits worldwide.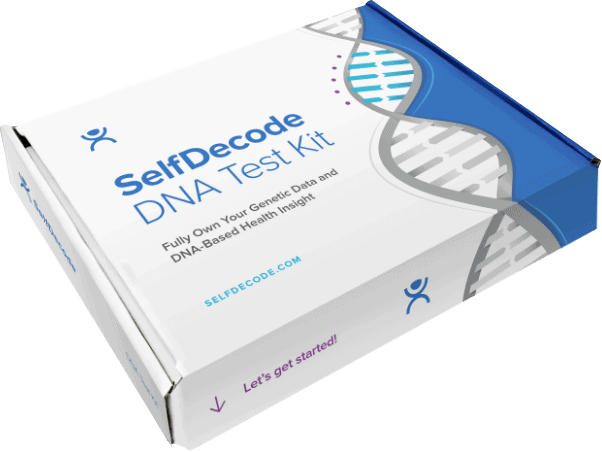 Consumers can order the test kit online. The DNA test sample is a simple cheek swab.
SelfDecode has no provision for free signups and free reports.
Consumers have to sign up for one of the plans offered by the company. Upon successful payment and eventual signup, consumers will be given two options:
Upload DNA data
This requires the consumer to provide some personal information before uploading DNA raw data.
SelfDecode accepts raw DNA data files from 23andMe, Ancestry, Courtagen, FamilyTreeDNA, MyHeritage, Atlas, MapMyGenome, Diagnomics, DNALand, and LivingDNA (among others). They also support whole-genome sequenced files from Dante labs.
Registering the DNA test kit
This requires the user to enter the barcode on the kit, name, ethnicity, sex, and birth year to successfully register your kit.
Once successfully registered, your DNA test kit is ready to use, and you can avail of the company's services.
Test results usually take six to eight weeks, by which time you can log in and access your results. Further, you can also access SelfDecode Insights and DNA Wellness Reports depending on your plan type.
SelfDecode Pricing
The SelfDecode DNA test kit comes for $90.
For mere signup, the company requires the user to get a subscription:
Annual subscription plan - $194 excl. DNA test kit price
This plan only includes five premium DNA Wellness reports/year, whereas an additional charge at a 50% discount is applicable to access other reports.
The plan comes with a provision to cancel anytime.
Lifetime Access Plan - $599 excl. DNA test kit price
This plan includes access to all current and future DNA Wellness Reports.
Professional Plans - SelfDecode Pro
SelfDecode offers exclusive services and plans if the user is a professional.
Monthly - $199
Yearly - $2388
Lifetime Access - $11600
According to SelfDecode's website, the Pro membership gives practitioners:
Unlimited DNA file uploads so that you can work with as many clients as possible
Unlimited DNA Wellness Report downloads for all of your clients
Unlimited lab test uploads and analysis
1:1 Onboarding call
Free advertising on SelfDecode
Exclusive Pricing for DNA Kits
Easy DNA Kit ordering system for you and your clients
Priority Support Contact
Custom Dashboard to easily manage and switch between client profiles.
Ability to compare clients' genetic files
About SelfDecode Privacy
SelfDecode claims to be committed to its service to the community and complies with its Terms of Service.
SelfDecode collects personal information such as name, address, email address, phone number, and credit card or payment information upon account creation. Additionally, the company also asks for the demographic data of the user.
SelfDecode uses the information it collects to improve its services and develop better and new services.
SelfDecodes's Platform Consent lists terms of consumer consent which the company uses to store the genetic information uploaded and provide SelfDecode Insights.
Upon account closure, SelfDecode retains some account information on purchases and keeps backup and archival copies of information files following state or legal obligations or regulatory requirements.
For more information, please read SelfDecode's privacy policy.
SelfDecode Reviews
Trustpilot reviews on SelfDecode show that 85% of 160 customers voted it excellent while 5% voted it bad. SelfDecode has a 4.5-star rating on Trustpilot.
On dnatestingchoice, SelfDecode was ranked 13th out of 109 companies in the Health Testing sector.
Summary: Pros and Cons Of SelfDecode Review
Pros
Gives a wide range of health and lifestyle insight in the form of various DNA Wellness Reports
Easily accessible DNA test kits with worldwide shipping
Provision for third party company DNA test raw data upload and analysis
Requirement for healthcare providers to access the company's service for their clients and hassle-free promotion and connectivity to consumers who seek expert advice
Cons
Provides no ancestry or genealogy services
Only accessible through subscriptions - either yearly or lifetime
A yearly subscription only gives access to 5 reports. Other reports are only accessible upon additional purchase.
About Xcode Life