Proteins are the building blocks of the body. But can they be harmful to us? Well, they surely can! While most proteins are helpful to the body, some can give rise to diseases. One such protein is amyloid.
Amyloid is abnormal fibrous, extracellular, and proteinaceous deposits in organs and tissue. It is insoluble in nature and has no functional role in the body. In fact, deposits of amyloid in organs and tissues result in a range of diseases called amyloidoses.
Did you know: Diseases like type 2 diabetes and Alzheimer's can develop as a result of amyloid deposits in the body?
Let's learn more about hereditary amyloidosis, a rare condition caused by abnormal changes or mutations in some genes!
Did You Know? Your 23andMe or other ancestry test DNA data includes 700,000 markers, which can be used to learn everything from disease risk and drug sensitivities to nutritional requirements and fitness parameters. Learn more. Here's how others like you have benefited by uploading their data to Xcode Life:
Hereditary Amyloidosis / Familial Amyloidosis: An Overview
Amyloidosis is a name given to a group of rare and serious systemic diseases that are caused by amyloid deposits.
When amyloid gets deposited in various tissues and organs, it is difficult for them to work properly.
Without timely treatment, it can result in organ failure.
Amyloidosis can be systemic or localized.
Primary or AL (light chain immunoglobulin) amyloidosis is the most common type of systemic amyloidosis, whereas ATTR or hereditary amyloidosis runs in families.
Hereditary amyloidosis is a rare form of disease that is caused by an abnormal genetic change.
While several genes can cause hereditary amyloidosis, the most common one is ATTR which is caused by mutations in the transthyretin or TTR gene.
ATTR amyloidosis runs in families, and people with this condition produce abnormal TTR proteins throughout their lives, which results in amyloid deposits.
Causes Of Hereditary Amyloidosis
Hereditary amyloidosis is passed down from parents to their children.
For this reason, genes are believed to play an essential role in developing this condition.
Symptoms And Characteristics
Hereditary amyloidosis may produce symptoms at any age beginning around 30 years.
The symptoms of this condition depend upon the following:
The tissues or organs affected
The severity of organ function impairment, and
TTR genetic variant.
Here are some common symptoms of this disease:
Cardiomyopathy
When amyloid gets deposited in the heart, it causes stiffening of the heart muscles.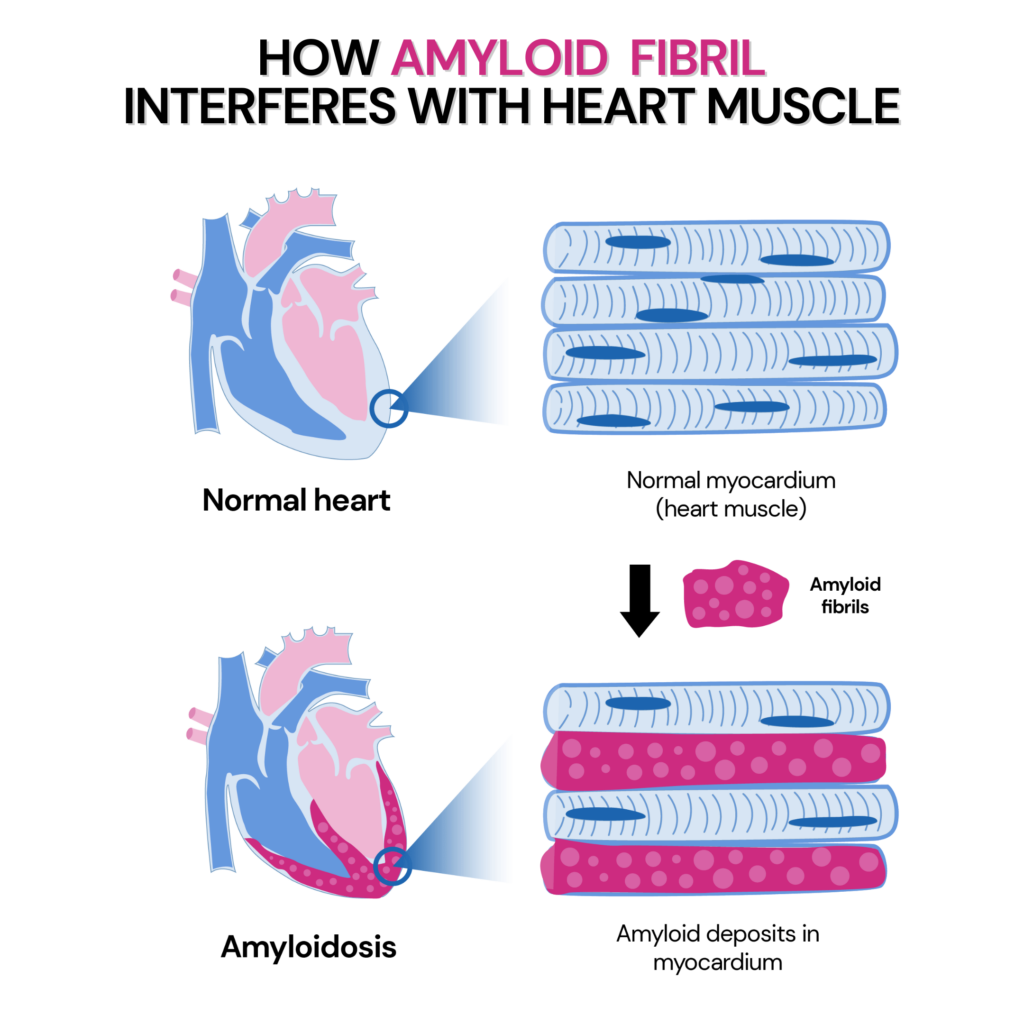 You may experience symptoms like:
Nausea
Weight loss
Difficulty in falling asleep
Fatigue
Dizziness
Shortness of breath
Leg swelling
Chest pain
Palpitations
Abnormal heart rhythm
Neuropathy (nerve damage)
Amyloid deposits can cause peripheral and autonomic neuropathy.
It is caused when the nerves supplying the extremities like arms, hands, legs, and feet are inflamed or damaged.
Symptoms of peripheral neuropathy include:
Tingling
Numbness
Burning pain
Loss of sensitivity to temperature
Restless leg syndrome (RLS)
Autonomic neuropathy
It damages the nerves that supply internal organs like the heart, stomach, and intestines.
Symptoms of autonomic neuropathy include:
Irregular heartbeat
Abnormal rise or fall in blood pressure, accompanied by dizziness, fainting, or lightheadedness
Change in perspiration patterns
Poor digestion
Erectile dysfunction
Changes in bowel motility
Digestive system
Amyloid deposits in the digestive system can affect the nerves that supply the area.
A few symptoms that you may experience include:
Nausea
Diarrhea
Constipation
Bladder control issues
Weight loss
Loss of appetite
A feeling of fulness in the stomach despite eating small quantities of food
Kidney and renal system
When amyloid gets deposited in the kidneys, it affects how they filter toxins and proteins from the blood.
This may give rise to a nephrotic syndrome characterized by
Excess protein in the urine
Swelling or edema in the lower part of the legs
Swelling of arms, belly, and lungs (in some cases)
If not attended to in time, nephrotic syndrome can progress to cause renal failure.
Types and Classifications
There are two types of Familial transthyretin-associated amyloidosis (ATTR amyloidosis), namely:
Hereditary ATTR amyloidosis: Caused by a mutated gene inherited from the parents (runs in the family)
Wild-type ATTR amyloidosis (ATTRwt): Develops with age; not inherited
Hereditary can be of different types, the three most common ones being:
ATTRV30M variant: Found mainly in Spain, Portugal, Sweden, France, Japan, and people descendants of these regions
ATTRV122I variant: Seen in 3 to 4% of people of African-American descent
ATTR T60A variant: Seen in people of Irish descent and the most common variant found in the UK
What Organs Are Affected By Hereditary Amyloidosis?
Hereditary amyloidosis may affect organs, including the heart, liver, kidneys, nervous and digestive systems.
Sometimes, the spleen may be affected too.
What Organ Is Amyloidosis Most Common?
Since TTR protein is primarily made in the liver, amyloidosis most commonly affects it.
TTR protein transports the hormone thyroxine and retinol (Vitamin A) around the body, thereby getting its name transthyretin.
What Genes Cause Hereditary Amyloidosis?
Hereditary ATTR amyloidosis is caused by a mutation in the transthyretin (TTR) gene that is inherited.
This mutation produces an abnormal TTR protein that is unstable and misfolds, forming aggregates of amyloid in different tissues and organs.
Inheritance Of Amyloidosis
Hereditary amyloidosis is inherited as an autosomal dominant pattern.
Autosomal dominant condition is when a person develops the genetic condition with just one copy of the defective gene.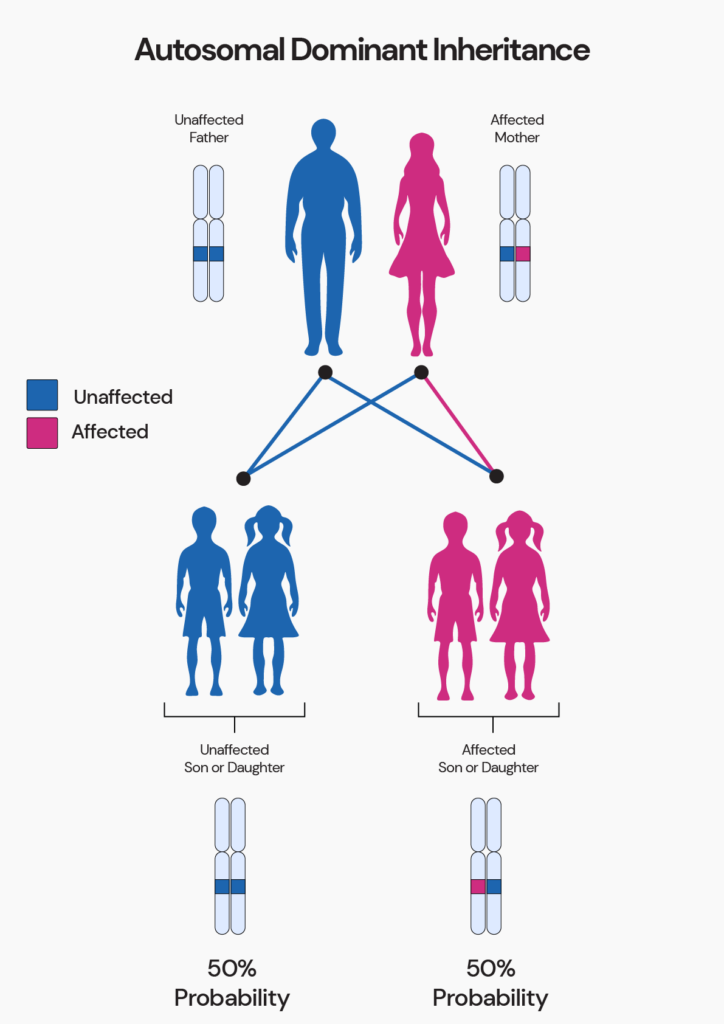 However, not everyone with an affected gene develops the condition despite an autosomal inheritance pattern.
This is due to a genetic principle called incomplete penetrance.
According to this principle:
Some people who carry the gene will not develop amyloid at all.
Some people with the gene will develop only a small amount of amyloidosis but no clinical symptoms.
Some people will never inherit the gene and so cannot pass the condition to their children.
Diagnosis Of Hereditary Amyloidosis
Hereditary amyloidosis is diagnosed by:
Collecting a sample of the affected tissue (by a process called tissue biopsy)
Performing heart scans like an echocardiogram, cardiac MRI, or a special scan called DPD
Genetic testing
Hereditary ATTR amyloidosis is confirmed if the genetic test confirms the presence of the mutated ATTR gene.
What Can Be Mistaken For Amyloidosis?
The challenge of diagnosing amyloidosis based on signs and symptoms is that they are similar to many routine health conditions.
A few of these conditions that can be mistaken for amyloidosis are:
Common cold
Allergic rhinitis
Irritable bowel syndrome (IBS)
Chronic fatigue syndrome
Gastroesophageal reflux disease (GERD)
Is There A Blood Test For Hereditary Amyloidosis?
A genetic test, a type of blood test, is the best way to diagnose hereditary amyloidosis.
This may be followed by a few scans to identify the type of amyloidosis and differentiate ATTR from AL amyloidosis in organs like the heart.
Immunohistochemistry and mass spectrometry may also be used to differentiate between ATTR and AL amyloidosis.
23andMe Hereditary Amyloidosis Report
23andMe Health + Ancestry service covers a report on this condition.
Based on your genetic makeup, the results can tell you if you may have an increased risk of developing TTR-related hereditary amyloidosis.
23andMe analyzes 3 variants to adjudge the risk of this condition.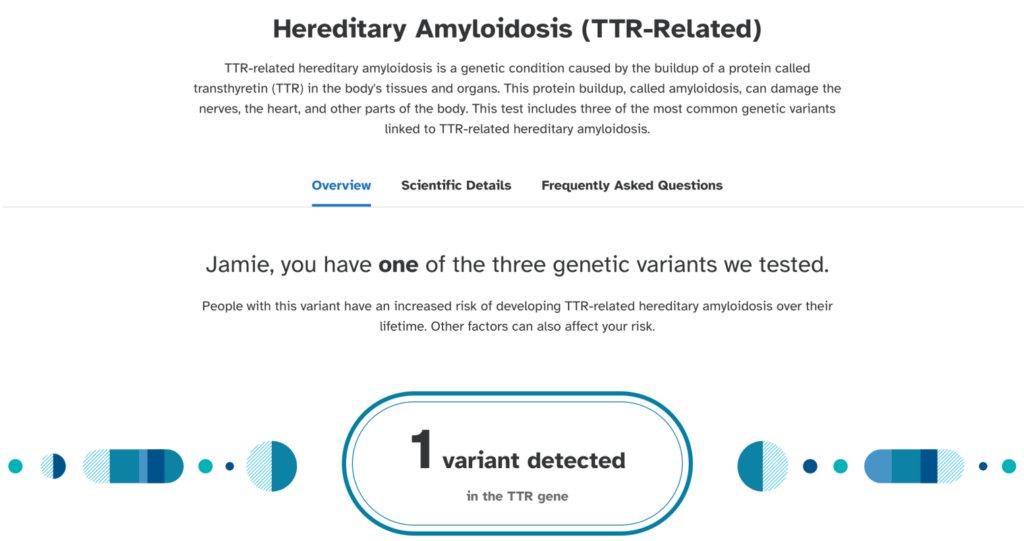 Treatment and Management Of Hereditary Amyloidosis
Until recently, the only treatment for hereditary amyloidosis was a liver transplant.
However, with medical advances, several drugs can help treat hereditary ATTR.
Treatment for hereditary amyloidosis today involves:
Stabilizing the TTR protein
Drugs called TTR stabilizers are used to stop the production of TTR proteins and amyloid deposits.
Stopping the production of the TTR protein
This approach is done through gene silencing.
Gene silencers are drugs that prevent TTR protein production by blocking the TTR gene.
These treatments have been approved for hereditary ATTR peripheral neuropathy.
Removing amyloid deposits
Though this is a suggested method for treating hereditary amyloidosis, no approved drugs exist.
A few drugs are being tested in clinical trials.
Supportive treatments
Sometimes, the underlying cause cannot be addressed.
In these cases, supportive treatments are prescribed to help relieve symptoms and improve the individual's quality of life.
Factors like age, overall health, and extent of organ damage are considered when recommending supportive treatment.
What Medication Is Used For Hereditary Amyloidosis?
TTR stabilizers like Diflunisal and Vyndaqel/Vyndamax
Gene silencers like Patisiran and Inotersen
What Foods Are High In Amyloid?
If you have amyloidosis, your diet can play a role in preventing and worsening of symptoms.
Here are some foods that are high in amyloid-like fiber:
Hen egg
Bovine milk
Soybean
Mung bean
Fava bean
Lupine
Oat flour
Potato protein isolate
What Foods Reduce Amyloid?
Here are foods that are safe and recommended for people with amyloidosis:
Cereals: White and brown rice, quinoa and brown bread
Fruits: Avocado, apples, apricots, papaya and watermelon
Vegetables: Gourds (ridge gourd, bottle gourd, bitter gourd), pumpkin, spinach, kale, kale, lettuce, carrot, and cruciferous vegetables
Pulses: Green gram (mung dal), orange lentils (masoor dal)
Lean meats: Chicken, cold water fish like mackerel, salmon, and herring (once a week)
Nuts and Seeds: Flax, seeds, almonds, and walnuts (soaked)
1500+ Health Insights In 3 Steps
Xcode Life's comprehensive DNA analysis includes 10 health and wellness reports.
If you have done an ancestry genetic test with companies like 23andMe, AncestryDNA, MyHeritage, etc., you can learn everything about your health in just 3 steps.
Download your DNA raw data from your service provider
Add the report(s) of your choice to the cart (or the Xcode Life Genome Pack for a 48% discount)
Upload your raw data and receive your results within 24 hours.
No DNA Test? No Problem
Not yet tested?
If you're new to the world of genetic testing, we've got you covered!
You can now get your ancestry DNA kits at an additional discount!
By following the link provided in this article, you can purchase a DNA kit at 10% OFF (the discount will be reflected when you add the product).
This will ensure that you have everything you need to embark on your genetic journey.
AncestryDNA Kit (currently no additional discount available)
Once you receive your kits, you can follow the instructions given by the respective service providers to collect your sample and ship it.
After you receive your DNA test results from the kit, you can upload your DNA data to our secure platform.
Summary
Amyloidosis is a name given to a group of rare and serious systemic diseases that are caused by amyloid deposits.
Hereditary or ATTR amyloidosis is a type of amyloidosis that occurs due to a mutation in the TTR gene.
Symptoms of hereditary amyloidosis depend upon the organs or tissue affected.
Though any organ in the body can be affected by hereditary amyloidosis, organs like the liver, kidney, heart, and nervous and digestive systems are more prone.
Hereditary amyloidosis is inherited as an autosomal dominant pattern.
Conditions like a common cold, IBS, GERD, and chronic fatigue syndrome can be mistaken for amyloidosis.
References