Biotin: An Important B Vitamin
Biotin is one of the water-soluble B-complex vitamins. It is also called vitamin B7, vitamin H, or coenzyme R.
It is naturally found in the body and synthesized by gut bacteria or microbiome (the bacterial population living in the intestines).
It also can be obtained from certain foods or readily available supplements.
All B vitamins are responsible for breaking down complex foods into simpler substances. This conversion of food into fuel produces energy to perform various metabolic functions in the body.
Biotin is involved in major metabolic pathways such as gluconeogenesis, amino acid catabolism, and fatty acid synthesis.
It plays a significant role in assisting certain enzymes called biotin-dependent carboxylases. These enzymes break down carbohydrates, proteins, and fats in food.
Biotin is essential for gene stability as it is covalently attached to histones (proteins that to DNA and helps chromosomes to give that shape).
Biotin is also required to make keratin, a protein that forms skin, hair, and nails.
Health Benefits of Biotin
Biotin can have a good impact on your health with the following benefits:
It promotes strong hair, nails, and skin health.
It lowers cholesterol (LDL) and ensures good heart health.
It aids in metabolism stimulation and weight loss.
It maintains blood sugar levels and prevents diabetes.
It may assist in toxin clearance of liver functioning.
It helps in fetal development and healthy pregnancy.
It enhances muscle functioning and tissue rebuilding.
It keeps the nervous system working by assisting neurotransmitter activity.
It improves your memory and prevents neurodegenerative disorders.
Biotin Deficiency: What Are The Symptoms?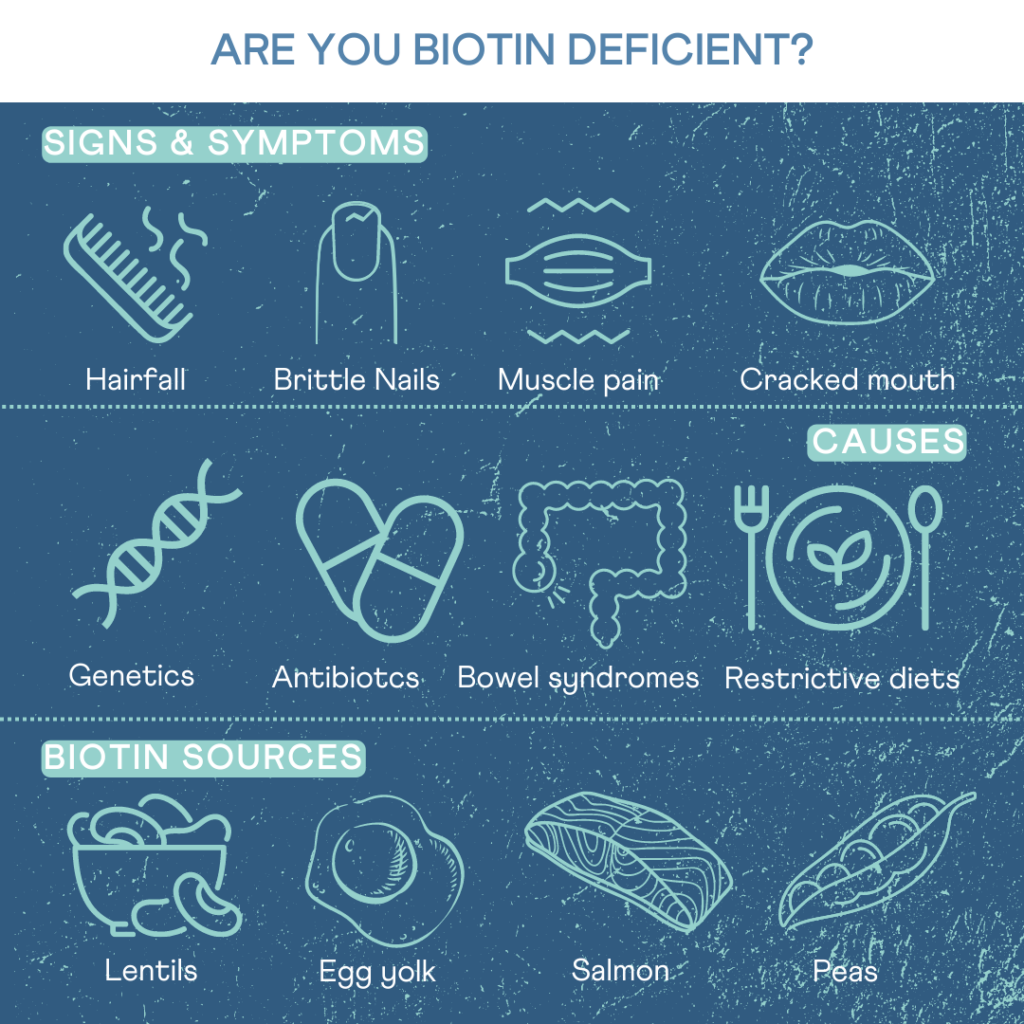 The signs of a biotin deficiency develop gradually and may worsen over time.
Severe hair loss, hair thinning, and dry and coarse hair (primary symptoms)
Scaly, red rash on the face, eyes, nose, and mouth
Muscle pain and burning sensation in the hands and feet (paresthesia)
Seizures
Brittle nails
Cracked mouth corners and skin infections
Conjunctivitis
Other symptoms include:
Depression
Nausea
Insomnia
Fatigue
Causes of Biotin Deficiency
Biotin deficiency is quite uncommon. Your biotin levels in the body can be low due to the following reasons:
Oral Antibiotics
Your body cannot absorb vitamins properly if you take certain medications.
Antibiotics and seizure medicines are some of them.
The gut bacteria, which can naturally create biotin, are also eliminated by antibiotics.
Intravenous (IV) Medications
You may become biotin deficient if you get your nutrition through an IV. Until you can eat a solid diet again, supplements may be required.
Bowel Syndromes
Your body may be unable to absorb nutrients from food if you have certain chronic gut disorders. Colitis and Crohn's disease are some of these conditions.
Continuous Dieting
You might not be able to obtain a range of vitamins and minerals from your meal if you follow a strict diet. This can lead to a biotin deficiency in some cases.
Biotinidase Deficiency
Biotinidase is an enzyme that helps biotin unbind from proteins in food.
This leaves the vitamin in its unbound or free state.
Unbound biotin then works with certain enzymes to break down carbs, proteins, and fats.
With biotinidase deficiency, biotin remains in the bound state and cannot be used or recycled.
Other Genetic Disorders
Holocarboxylase synthetase deficiency, biotin transport deficiency, and phenylketonuria are a few additional genetic conditions that can lead to biotin deficiency.
Both holocarboxylase synthetase and biotin transport deficiencies are incredibly uncommon. Phenylketonuria is more widespread.
This disorder is checked in newborns because, if undiagnosed and untreated, it can lead to serious brain issues.
Genetics of Biotin Deficiency
The gene responsible for biotinidase deficiency is the BTD gene.
The BTD gene contains instructions for producing the biotinidase enzyme.
Biotinidase recycles biotin to make it available for the enzymes to use in metabolic pathways.
Variations or changes in the BTD gene cause this genetic condition.
Biotinidase activity is decreased completely by mutations in the BTD gene.

The inheritance pattern of biotin deficiency is autosomal recessive.
The mutant gene is present in both parents with biotinidase deficiency.
The child is at risk of developing the condition only if both copies of the mutated BTD gene are inherited.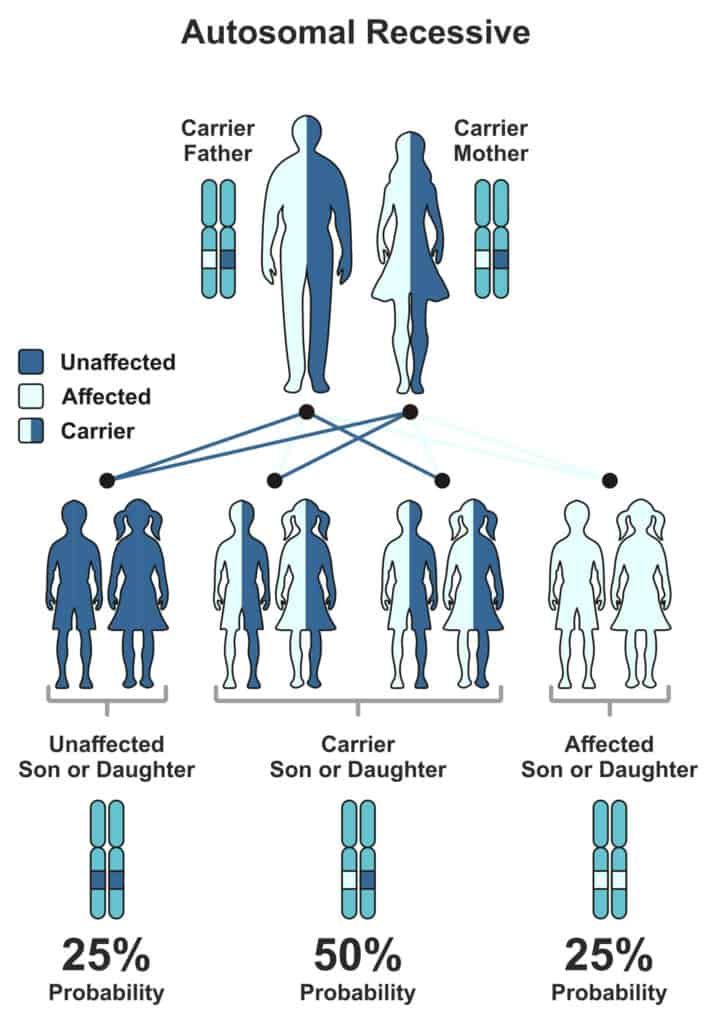 Image: Autosomal recessive inheritance pattern
When there is a profound biotinidase deficiency, biotinidase activity falls to less than 10% of normal.
When partial biotinidase deficiency occurs, biotinidase activity falls to between 10% and 30% of normal.
Consequences of Biotin Deficiency
Biotin can often be used by the body a few times before being excreted in waste.
Biotin cannot be recycled if the biotinidase enzyme is insufficiently present.
Due to the consequent deficiency in free biotin, biotin-dependent carboxylase activity is impaired. This causes a buildup of potentially harmful substances in the body.
As biotin is essential for maintaining both humoral and cell-mediated immunity, biotin deficiency can result in cutaneous candidiasis in newborns.
IgA insufficiency and low T lymphocyte percentages could exist.
Encephalopathies can result due to biotin deficiency.
Fetal abnormalities like cleft palate, micrognathia, and micromelia could occur.
Food Sources of Biotin
The recommended daily intake of biotin:
For adults - 30 micrograms (mcg)
For children - 5 mcg
For pregnant mothers - 35 mcg.
It's simple to get this vitamin from the diet. Biotin is available in many foods.
These include
Lentils, beans, and green peas
Sunflower butter with sunflower seeds
Cauliflower, mushrooms, and carrots
Cooked egg yolks because raw eggs possess a protein called avidin that binds to biotin strongly and does not let it in the free state.
Organ meats, such as liver and kidney
Dairy foods like milk, cheese, and yogurt
Seafood like salmon, sardines, etc.
Entire grains, such as maize and barley
Summary
Biotin is a water-soluble B-complex vitamin, also called B7 or vitamin H.
Biotin is widely known for its beneficial effects on hair, nails, and skin. It also promotes heart health, liver functioning, memory, fetal development, etc.
Biotin deficiency is a nutritional disorder. It is a rare inherited condition in humans.
Common causes of biotin deficiency include prolonged use of antibiotics and IV medications, long-term dieting, BTD deficiency, and other genetic disorders.
Mutations in the BTD gene that produces the biotinidase enzyme are strongly associated with biotin deficiency.
Fetal abnormalities, encephalopathies, and cutaneous candidiasis are some consequences of biotin deficiency.
Some food sources of biotin are legumes, seafood, meat, dairy products, grains, etc.
References