What Is Amlodipine?
Amlodipine is a drug used to treat high blood pressure (hypertension). It belongs to a class of drugs called calcium channel blockers.
The main goal of this class of drugs is to widen the blood vessels and improve the blood flow through them.
When the blood vessels are widened, the pressure applied by the blood on the vessel walls is reduced.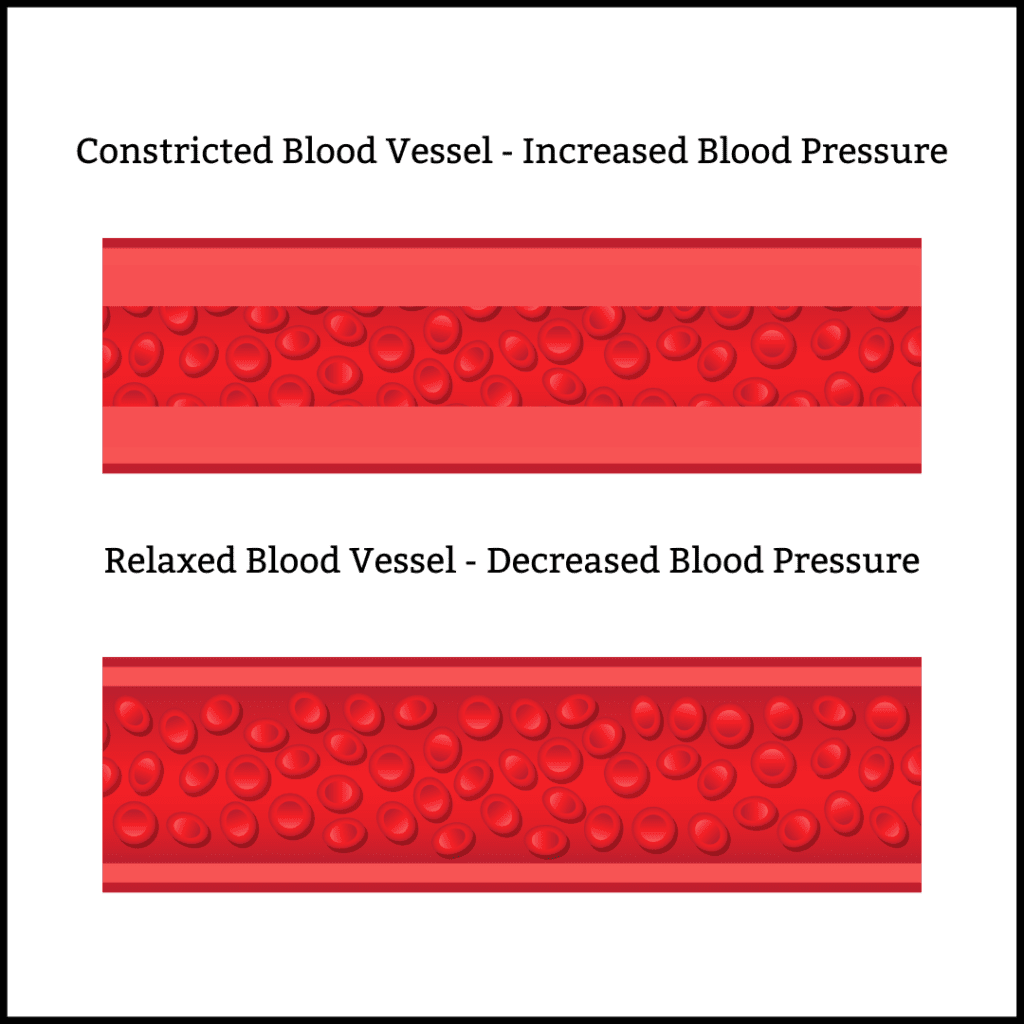 Image: Blood vessels constrictions vs. relaxation and blood pressure
Apart from hypertension, Amlodipine is also used to reduce the frequency of chest pain (angina) and other diseases that affect the blood vessels in the heart.
Amlodipine is usually recommended for adults and children who are at least six years old.
One can take Amlodipine with or without other blood pressure-lowering medications.
Amlodipine is available in the tablet and suspension (or liquid) form that can be taken by mouth (orally).
It is usually recommended to be taken once a day and at the same time each day.
How Does Amlodipine Work?
High blood pressure (or hypertension) is a prevalent health condition that can arise from both lifestyle and genetic factors.
Blood pressure is essentially the pressure of circulating blood against the walls of the blood vessels.
If not controlled or treated in time, hypertension can damage other organs in the body such as the brain, kidneys, blood vessels, etc.
Damage to these organs can result in heart disease, heart attack, heart or kidney failure, liver failure, and vision loss.
Medications used to treat hypertension are called antihypertensives and are of different types depending upon their mechanism of action.
Amlodipine belongs to a class of antihypertensives called calcium channel blockers.
This drug primarily acts on the blood vessels and widens their diameter.
Amlodipine blocks calcium entry into smooth muscles of the blood vessels and cardiac muscles.
This allows the blood vessels to relax, improves blood flow through them, and lowers the force of blood on the vessel walls.
As a result, blood pressure levels are reduced.
What Are The Side Effects of Amlodipine?
In most cases, Amlodipine is a safe drug to consume.
However, some side effects of this drug have been noted.
The common side effects of Amlodipine are:
Drowsiness
Dizziness
Tiredness
Nausea
Stomach pain
Flushing of the face (a warm or hot feeling in the face)
Abnormal muscle movements
Tremors
Irregular heart rate
Abnormally fast heart rate
Stomach upset
Many of these common side effects may subside within a few days to weeks of taking the Amlodipine.
However, if they do not reduce, consult with your doctor.
Some severe side effects that may occur on taking Amlodipine are:
Severe dizziness and lightheadedness
Fainting
Chest pain
Discomfort
Shortness of breath
Frequent or more severe chest pain
Heart attack
Rapid, pounding, or irregular heartbeat
If you experience any of the above side effects on taking Amlodipine, report the same to your doctor immediately.
How Does Amlodipine Interact With Other Drugs?
Before taking Amlodipine, you must inform your doctor about any medications, nutritional supplements, and herbal medicines you may be taking to avoid any drug interactions.
An interaction is when a substance changes or modifies the way a drug works. This may cause harmful effects or prevent the drug's required effect.
Amlodipine interacts with a wide range of drug groups:
Taking diltiazem (another calcium channel blocker) with Amlodipine may increase the level of Amlodipine in the body and cause more side effects.
Taking antifungal medicines like ketoconazole, itraconazole, or voriconazole with Amlodipine may increase Amlodipine levels in the blood.
Taking clarithromycin with Amlodipine may increase Amlodipine in blood, increasing the risk for more side effects due to the medicine.
Drugs used to treat erection issues
Taking medicines like sildenafil, tadalafil, avanafil, or vardenafil along with Amlodipine may increase your risk of low blood pressure.
Drugs to lower cholesterol
Taking Amlodipine with simvastatin (a cholesterol-lowering drug) may result in higher levels of simvastatin in the blood.
This could result in more side effects due to the drug.
Drugs used to treat immune system-related conditions
Taking Amlodipine with medications like cyclosporine and tacrolimus may result in higher levels of these medicines in the blood.
This can increase the risk of immune system-related side effects.
Other drugs that are known to show severe interactions with Amlodipine are:
Dantrolene (muscle relaxant)
Idelalisib (blood cancer medication)
Ivacaftor (a drug used to treat cystic fibrosis)
Nefazodone (an antidepressant)
Genetics and Amlodipine
CYP3A4 And Amlodipine
Cytochrome P450 Family 3 Subfamily A Member 4 or the CYP3A4 gene is a member of the cytochrome P450 family.
The CYP genes participate in drug metabolism (chemical alteration of the drug in the body), production of cholesterol, steroids, and other lipids.
Amlodipine is metabolized in the liver by CYP3A4 and CYP3A5 genes.
Therefore, any changes in the activity of these genes can lead to a modified effect of Amlodipine.
A study published in JAMA (Dec 2018) states that coadministering Amlodipine and clarithromycin or erythromycin increases the risk of hypotension (low blood pressure) and acute kidney injury.
This effect is said to be due to decreased metabolism of the drug by the CYP3A4 enzyme.
Another study reports that CYP3A4 gene types partly determined blood pressure response to Amlodipine in high-risk African-American patients.
NPPA- rs5065 And Amlodipine
Natriuretic Peptide A or NPPA gene is a gene that belongs to the natriuretic peptide family.
This family of genes is responsible for maintaining salt and water balance in the body.
This gene is located on chromosome 1.
rs5065 (also called T2238C) is a single nucleotide polymorphism or SNP in the NPPA gene.
A study published in JAMA in 2009 stated that SNP rs5065 played a role in modifying the antihypertensive medication effects on blood pressure and the cardiovascular system.
According to the study, patients with the C allele showed favorable cardiovascular disease outcomes on taking diuretics.
In contrast, TT allele carriers showed promising cardiovascular results on taking calcium channel blockers like Amlodipine.
Recommendations For The Safe Use Of Amlodipine
If you suffer from liver disease or heart valve problem (arterial stenosis), inform your doctor about the same before taking Amlodipine for hypertension.
If you are allergic to Amlodipine or experience a hypersensitivity reaction due to it, avoid taking the drug and report to your doctor immediately.
Pregnancy and breastfeeding
Studies conducted on animals show that taking Amlodipine during pregnancy may have adverse effects on the fetus.
Though there aren't many human studies to determine how Amlodipine affects human pregnancy, it is best to inform your doctor if you are pregnant or planning a pregnancy while taking the drug.
Though limited, research states that Amlodipine may pass into breast milk and may cause side effects in a breastfed child.
If you are breastfeeding your child, inform your doctor about the same before taking Amlodipine.
As you age, your body's ability to process Amlodipine reduces, making it stay in your body longer.
This increases the risk of side effects in older patients.
Genetic testing helps your doctor understand how your body may react to a particular drug.
It also helps your doctor determine the appropriate dosage of a drug for you.
For safe consumption of Amlodipine, you may need to get CYP3A4 gene testing done.
Gene testing may also be recommended if you need to take any other medication with Amlodipine, especially antibiotics like clarithromycin or erythromycin.
Analyze Your Genetic Response to Amlodipine
Summary
Amlodipine is an antihypertensive medication used to treat high blood pressure.
Amlodipine blocks calcium entry into certain blood vessels, thereby relaxing them and lowering the blood pressure.
Though largely safe, Amlodipine may cause mild to severe side effects in some people.
Amlodipine interacts with certain classes of drugs, like antifungals, antibiotics, heart, and cholesterol medications, and may cause adverse side effects.
Taking Amlodipine with clarithromycin or erythromycin could decrease the effect of the CYP3A4 gene and cause hypotension.
A study published by JAMA in 2009 stated that TT allele carriers in an SNP of NPPA gene showed better cardiovascular outcomes on taking Amlodipine.
For safe consumption of Amlodipine, a detailed medical history, list of current medications, and genetic testing may be advised.
References: