Navigating the complex world of fertility treatments can be daunting, and letrozole is a key player in this journey for many. As with many medications, certain foods can interact with letrozole, potentially affecting its efficacy. Knowing what to consume and what to sidestep is crucial. In this article, we shed light on foods to avoid while taking letrozole for fertility.
Are you aware that your genetic makeup contains valuable insights into your health and well-being? Utilizing this knowledge can contribute to disease prevention, enhance dietary choices, promote graceful aging, and support the maintenance of a healthy body weight. Learn more.
What Is Letrozole?
Letrozole is a drug that falls under the category of nonsteroidal aromatase inhibitors.
Aromatase is involved in converting a hormone called androgen to estrogen.
It is usually prescribed to adult females who have gone through menopause.
Letrozole is used to treat hormone-dependent breast cancers.
It is also used to treat fertility issues.
Letrozole is a prescription drug and is available in the form of tablets.
The brand name of Letrozole is Femara.
What Is Letrozole Used For?
Letrozole treats certain disorders impacted by excess estrogen levels in the body.
Estrogen-receptor-positive breast cancer can be treated with letrozole.
It will help to slow the growth and metastasis of such breast cancers.
Letrozole might also be prescribed to high-risk post-menopausal women to prevent breast cancer.
Letrozole can be used as a fertility drug.
Women who suffer from polycystic ovary syndrome can use letrozole alongside other treatments for a successful pregnancy.
Letrozole In Breast Cancer Prevention And Treatment
Letrozole is used to treat and prevent hormone-dependent breast cancer.
Letrozole is used to treat the following types of breast cancer:
Hormone receptor-positive early breast cancer: The cancer has not yet spread beyond your lymph nodes in the armpits in early breast cancer. In hormone receptor-positive (HR+) cancer, certain hormones can cause cancer growth. Letrozole is effective in treating these cancers.
Early breast cancer treated with surgery and tamoxifen: Breast cancer treated with surgery and tamoxifen (a breast cancer drug) can be followed up with letrozole. Letrozole can prevent the cancer from returning.
Advanced breast cancer that is HR+ or HR-unknown: Breast cancer that is locally advanced (has not spread beyond areas in the armpit) or is metastatic (cancer has spread in the body) can be treated with letrozole. Letrozole can prevent the cancer from spreading further.
Letrozole As A Fertility Drug
Letrozole treats infertility in women suffering from polycystic ovary syndrome (PCOS).
PCOS is a condition that causes hormonal imbalances in the body that can hamper ovulation.
Many women who have PCOS have excess estrogen production in the body.
Estrogen can prevent ovulation.
Letrozole treats infertility by reducing the secretion of estrogen and allowing ovulation to occur.
Letrozole is often used in infertility treatments to help patients get pregnant.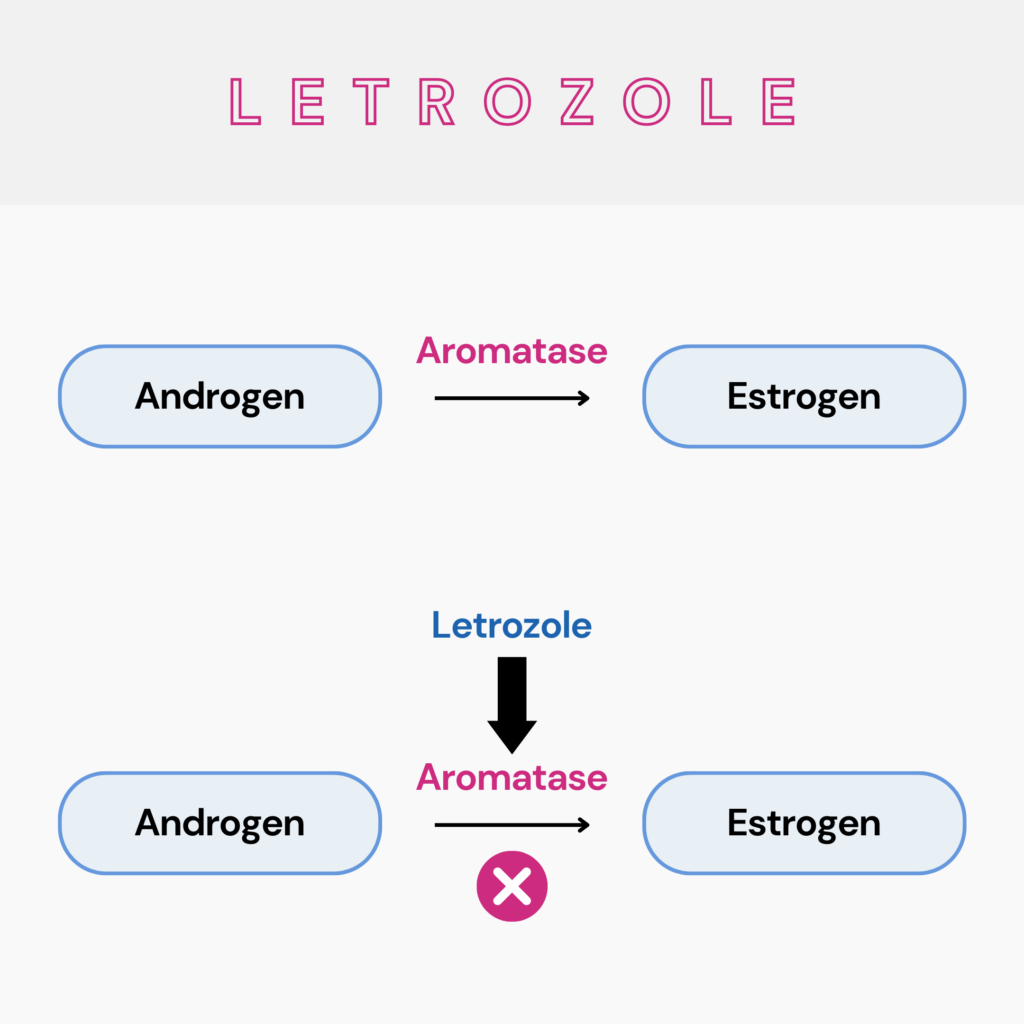 CYP19A1 Gene And Letrozole
What Is The CYP19A1 Gene?
The CYP19A1 gene provides instructions to produce the enzyme called aromatase.
This enzyme is responsible for converting a hormone called androgen (plays a role in male sexual development) to different forms of estrogen (female sex hormone).
Genetic Makeup And Response To Drugs
There are certain genetic differences called variations that make each individual unique.
These variations affect many things about the body, including what the body does to a drug and what a drug does to the body.
This field of study is called pharmacogenomics.
Genetic makeup can make some people metabolize a drug slowly, thereby putting them at risk for drug toxicity. So, they may require a lower starting dose.
On the other hand, if a person's genetic makeup makes them metabolize the drug too quickly, it may end up not being effective for that person. They may require an alternative drug or a higher starting dose.
This is important to consider before prescribing medications
Does CYP19A1 Gene Affect Letrozole's Effectiveness?
Letrozole, being an aromatase inhibitor, blocks CYP19A1 gene activity, thereby reducing the conversion of androgen to estrogen.
Studies have shown that certain changes in the CYP19A1 gene result in differences in the effectiveness and tolerability of letrozole in different people.
There's also some evidence to support that certain unfavorable changes in the CYP19A1 gene have been associated with letrozole-induced adverse events.
Side Effects Of Letrozole
Letrozole has a lot of common side effects that are seen in more than 1 in 100 people.
Consult your doctor if you experience any of these symptoms:
Feeling very tired yet having difficulty sleeping
Experiencing a loss of appetite
Dry and itchy vagina, sometimes vaginal bleeding
Hot flushes and sweating
Mild rash and hair loss
Low mood or depression
Sudden weight gain
Joint pain
More severe side effects can include heart attack and stroke.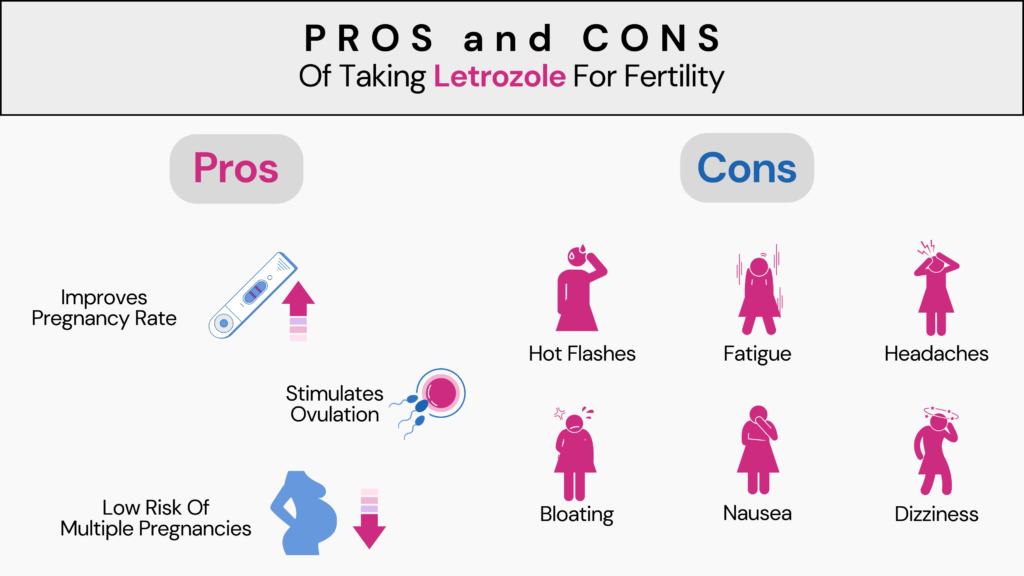 Who Can And Cannot Take Letrozole
Only adults above 18 years of age can take letrozole.
Always inform your doctor about these conditions if you are starting on letrozole:
You have not yet had menopause
Suffer from severe kidney or liver disease
Have osteoporosis (brittle bones)
Have been previously allergic to certain medications
Foods To Avoid While Taking Letrozole For Fertility
There are no specific foods to avoid if you are taking letrozole unless instructed by your doctor.
Foods that can raise estrogen levels can counteract the effects of letrozole, so you might want to avoid them.
Some foods may contain phytoestrogen, a compound that resembles estrogen.
Some phytoestrogen may reduce the body's natural estrogen, so completely cutting them from your diet may not be recommended.
If you are taking letrozole for fertility, you might have insulin resistance.
Countering insulin resistance will help you manage your PCOS better.
Consider cutting out these foods from the diet to improve insulin resistance:
Refined carbohydrates like white bread, rice, or pasta
Sugary drinks
Foods with added sugar, like flavored yogurts
Desserts like pastries and muffins
If you are taking letrozole long-term, it can reduce bone density and make them brittle.
It is advisable to avoid high-sodium foods to prevent further bone loss.
Avoid highly processed foods like
Cured meats
Salty snacks like potato chips
Canned soups
Fast foods like pizza, salted French fries
Beans and legumes
If your doctor has asked to reduce phytoestrogen levels in your diet specifically, consider restricting these foods:
Soybeans
Kidney beans
Lentils
Flax seed
Sunflower seed
Peanuts
Barley
Can I Drink Coffee With Letrozole?
Letrozole can cause common symptoms like difficulty sleeping.
It is advisable to avoid coffee and other caffeinated beverages, as they might aggravate the symptoms.
Avoid coffee in the afternoon and evening if you are experiencing difficulty sleeping after taking letrozole.
You May Also Be Interested In
The Coffee Nap Phenomenon: Fad or Fact
What Vitamins Affect Letrozole?
Patients taking letrozole long-term might experience vitamin D deficiency.
Studies have shown that women taking letrozole for over two months can have vitamin D deficiency.
This deficiency can cause musculoskeletal symptoms in women taking letrozole.
Vitamin D3 supplementation can significantly improve vitamin D deficiency.
Other Things To Keep In Mind While Taking Letrozole For Fertility
Before starting on letrozole, inform your doctor about any previous health conditions or medications you are on.
Letrozole can cause high cholesterol, so talk to your doctor if you already have high cholesterol.
Letrozole can interact with certain products containing estrogen, like vaginal creams.
Alcohol can cause side effects like headache and dizziness if you take it with letrozole.
If you plan on drinking alcohol while on letrozole, discuss with your doctor whether there is a safe limit.
Summary: Foods To Avoid While Taking Letrozole For Fertility
Letrozole is a drug used to treat hormone-dependent breast cancer.
It is sometimes also used to treat PCOS-related fertility issues.
Letrozole should always be taken by adults above 18 years of age and post-menopausal women.
There are usually no specific dietary restrictions when taking letrozole.
However, if you suffer from PCOS and take letrozole to get pregnant, your doctor might ask you to avoid refined carbs and sugary drinks.
If you have been prescribed letrozole long-term, avoiding highly processed and fast foods like pizza, French fries, and cured meats is a good idea, as it can further bone loss, which is already a side effect of taking letrozole.
References
https://www.healthline.com/health/drugs/letrozole-oral-tablets#off-label-use-for-infertility
https://www.cancer.org/cancer/types/breast-cancer/about/how-common-is-breast-cancer.html
https://www.theguardian.com/science/2005/dec/29/cancer.health
https://www.intechopen.com/chapters/56163
https://www.sciencedirect.com/science/article/abs/pii/S0009898116302248