Have you ever had trouble maintaining attention and alertness throughout the day, particularly in the afternoon slump? Many people frequently experience the need for an instant energy boost. An innovative "coffee nap" strategy has lately become well-liked as a productive approach to reduce tiredness and increase productivity. But does science support this pattern, or is it only a passing trend?
In this following piece of writing, we will learn about its benefits and find out if it's a temporary fad or a proven method for recharging our minds and bodies.
Do Your Genes Favor Coffee Naps? Find Out With The Nutrition Report!

What Is A Coffee Nap?
A cup of coffee before a quick doze is known as a coffee nap.
To maximize the rejuvenating effects, combining caffeine and 15 to 20 minutes of sleep will be helpful.
A caffeinated beverage, like coffee, is often consumed first (it takes the body around 20 minutes to start working), then 15 to 20-minute sleep.
According to research, caffeine plays an important role in clearing out chemicals, like adenosine, which is responsible for making a person sleep.
How Does It Work?
We must look at sleep and caffeine systems to understand the science behind th.
Adenosine is a neurotransmitter that encourages sleep and relaxation, leading to tiredness and a desire for sleep.
On the other hand, caffeine stimulants can attach to the brain's adenosine receptors, reducing their activity and enhancing alertness.
When we take caffeine, it fights with adenosine to reduce adenosine's sleepy effects. However, the process takes time.
Caffeine typically takes 20 minutes to reach its peak blood-level concentration. This is also the recommended duration for a coffee nap.
During a short nap, the brain undergoes various stages of sleep, including light sleep and potentially entering into the initial stages of deep sleep.
This short snooze can provide therapeutic benefits, such as reducing sleep inertia and increasing cognitive function upon waking.
Combining caffeine consumption with a nap can synchronize the effects of caffeine and sleep, resulting in a more alert and refreshed state upon waking up.
Caffeine starts to work as soon as the individual wakes up, reducing the building of leftover adenosine and boosting energy levels.
Science Behind Coffee Naps
While the idea of coffee naps might appear in conflict, there is emerging scientific evidence to support their effectiveness.
Numerous research has looked into how sleeping after consuming caffeine affect alertness, cognitive function, and mood, shedding light on the underlying mechanisms.
A study was conducted in Japan using a sample of 10 participants.
One group (group A) had coffee before taking a 20-minute nap, and the other didn't (group B).
Group A showed notably better performance than Group B.
Another study was conducted on a sample of 12 individuals with a history of sleep deprivation.
They were subjected to 200 mg of caffeine before a 15-minute nap.
The study reported that the coffee nap resulted in a 91% lower rate of drowsiness while engaging in a two-hour driving simulation.
(in comparison to those who weren't subjected to it)
This statement remains valid even in cases where individuals weren't involved in actual sleep during their assigned nap time but stayed in a state of partial wakefulness.
Coffee naps during work hours may also be helpful to people working the night shift.
According to research conducted on shift workers, coffee naps helped improve alertness and performance in cognitive tasks like quick thinking and prolonged focus.
In addition, following a coffee nap, participants reported feeling more awake, less worn out, and happier.
You May Also Be Interested In
How Genes Regulate The Effects Of Caffeine On Sleep
Benefits of Coffee Naps
Coffee naps offer several potential benefits beyond regular naps or caffeine consumption alone. Here are some of the key advantages:
Increased alertness: The ability of coffee naps to improve wakefulness and fight sleepiness is one of their main advantages. Caffeine and a quick snooze together increase alertness and energy. This can be especially helpful when you must maintain concentration and attention when driving a long distance or working on complex tasks.
Improved brain function: Coffee naps have been shown to enhance brain functions like concentration, attention, and reaction speeds. As a result of the instant improvement in mental clarity and productivity can also be enhanced, enabling you to complete activities more accurately and successfully.
Enhanced mood and well-being: The mood-uplifting and well-being-improving effects of coffee and a nap may be related. Coffee naps can support a more positive and inspired set of mind by reducing boredom, discomfort, and mental confusion.
Memory consolidation: Napping, in general, has been associated with memory consolidation, the process by which memories are solidified and stored. Coffee naps may further enhance this memory consolidation process when combined with caffeine. Studies have shown that coffee naps can improve memory recall and retention, making them beneficial for learning new information or studying for exams.
Convenience and time efficiency: A coffee with a quick nap enables you to reenergize within a shorter time frame than a lengthy snooze, which could leave you feeling sluggish when you wake up. This might be extremely helpful if you feel rushed for time or need an immediate energy boost during a hectic day.
It's important to remember that every person will experience and react to coffee naps differently.
For example, while many people report satisfying results, others may discover that the effects are milder or that they have trouble sleeping after consuming coffee.
Therefore, it's recommended to experiment and assess how coffee naps work for you personally, considering factors such as caffeine sensitivity and individual sleep patterns.
Are Coffee Naps Better Than Regular Naps?
While coffee naps offer unique benefits, they only suit some in some circumstances.
Regular naps, without caffeine, can still provide relaxation and rejuvenation.
However, some individuals may have sensitivity to caffeine or experience sleep disruptions if consumed too close to bedtime.
Therefore, it is essential to consider personal preferences, tolerance to caffeine, and sleep patterns when deciding whether to add coffee naps into one's routine.
Is Coffee Nap For You? How Genetics Plays A Role
Genetics can influence how our bodies process caffeine and the effects of coffee naps.
For example, the CYP1A2 gene produces an enzyme the liver uses to metabolize caffeine. As a result, changes in this gene may impact how quickly the body breaks down coffee.
Coffee naps may be more advantageous to individuals who slowly metabolize caffeine because they will likely feel the stimulant's effects for extended periods.
On the other hand, fast metabolizers could break down caffeine more rapidly, producing effects that last less time.
The reaction to coffee naps can also be affected by additional genetic variables and individual variances, such as caffeine sensitivity and general sleep quality.
Do Your Genes Support Coffee Naps? Find Out!
How To Take The Perfect Coffee Nap
To make the most out of this method, you can follow these steps:
Choose the right timing: Plan your coffee nap for the afternoon, typically after lunch. This helps combat the natural dip in alertness that often occurs during this time.
Optimize caffeine dosage: Consume a moderate amount, equivalent to approximately 200 mg, roughly the quantity in a regular coffee cup. Be mindful of personal caffeine sensitivity and adjust the dosage accordingly.
Time your nap: Set a timer for a short nap lasting around 15 to 20 minutes. This duration allows for a short restful sleep without entering into deep sleep stages, which can lead to sleep inertia upon waking.
Create a nap-friendly environment: Find a quiet, dark, and comfortable space to relax and nap without distractions. Consider using earplugs or eye masks to create a more suitable environment for sleep.
Wake up gradually: As you wake up from your short sleep, give yourself a few minutes to recover fully and allow the caffeine to take effect. Then, engage in light physical activity, such as stretching or walking, to help get over any remaining drowsiness.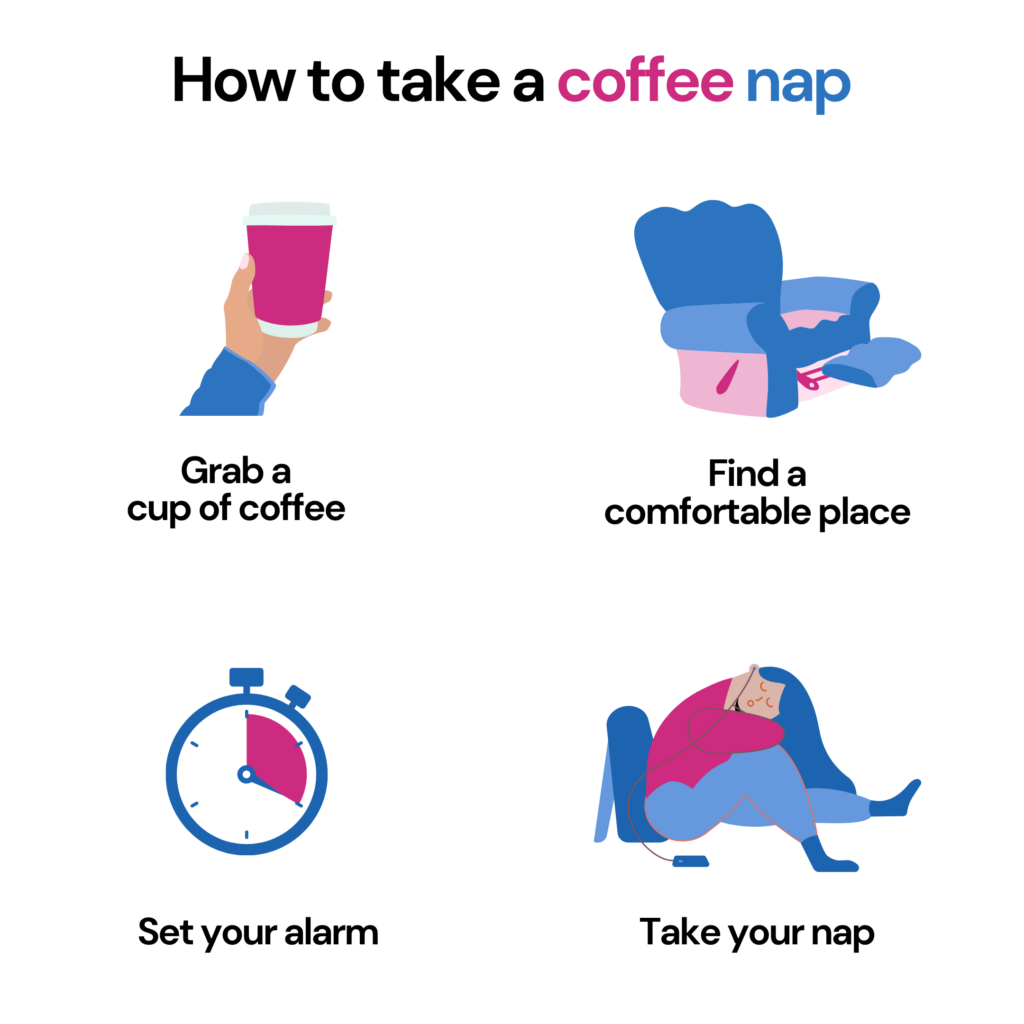 Summary
People looking for an instant energy boost and better productivity have become interested in coffee naps.
Coffee naps provide a novel method of overcoming sleepiness and boosting alertness by combining the benefits of caffeine and a short snooze.
According to scientific studies, taking a nap after caffeine intake may promote mood, enhance cognitive function, and even help memory consolidation.
However, while assessing if this method is appropriate, consideration should be given to personal preferences, caffeine metabolism, and individual differences.
Coffee naps may not be a one-size-fits-all solution, but they may be useful when a little boost in alertness and energy is needed.
As with other sleep-related practices, it is essential to put overall healthy sleeping habits first and ensure you receive sufficient rest.
References
https://www.healthline.com/nutrition/coffee-nap
https://www.ncbi.nlm.nih.gov/pmc/articles/PMC5337178/
https://www.sciencedirect.com/science/article/abs/pii/S1388245703002554
https://pubmed.ncbi.nlm.nih.gov/9401427/
https://pubmed.ncbi.nlm.nih.gov/16453980/
https://www.ncbi.nlm.nih.gov/pmc/articles/PMC2603066/