Do you struggle to wake up early, no matter when you go to bed? Turns out it may not be due to laziness, but because of something called the chronotype. You may be genetically wired to wake up at a certain time. This is highly influenced by your genetic makeup.
Genes significantly influence sleep habits and the risk of sleep disorders
The Internal Sleep-wake Cycle
The internal sleep-wake cycle, also known as the circadian rhythm, is the natural pattern of physiological processes that occur in the body over 24 hours. 
These processes include the sleep-wake cycle, body temperature, hormone production, and metabolism.
The circadian rhythm is regulated by an internal "biological clock" located in the hypothalamus of the brain, which is influenced by external cues such as light and temperature.
Disruptions to the internal sleep-wake cycle, such as those caused by shift work or jet lag, can negatively affect health and well-being.
How Does Genetics Influence Wake-up Time?
Genetics plays a significant role in determining an individual's natural wake-up time, also known as their chronotype.
Studies have identified several specific genes that influence the circadian rhythm, including those that regulate the production of melatonin and the sensitivity of the body's internal clock to light.
One of the key genes identified in this regard is the RGS16 gene, which regulates the period of the circadian rhythm. 
Variations of this gene have been linked to differences in sleep timing.
Other genes, such as RASA4B, HCRTR2, CA14, EXD3, CLN5, NOL4, and PLCL1, also regulate the internal clock.
It's worth noting that while genetics play a big role in determining an individual's chronotype, environmental factors such as exposure to light, work schedule, and lifestyle habits can also have an impact.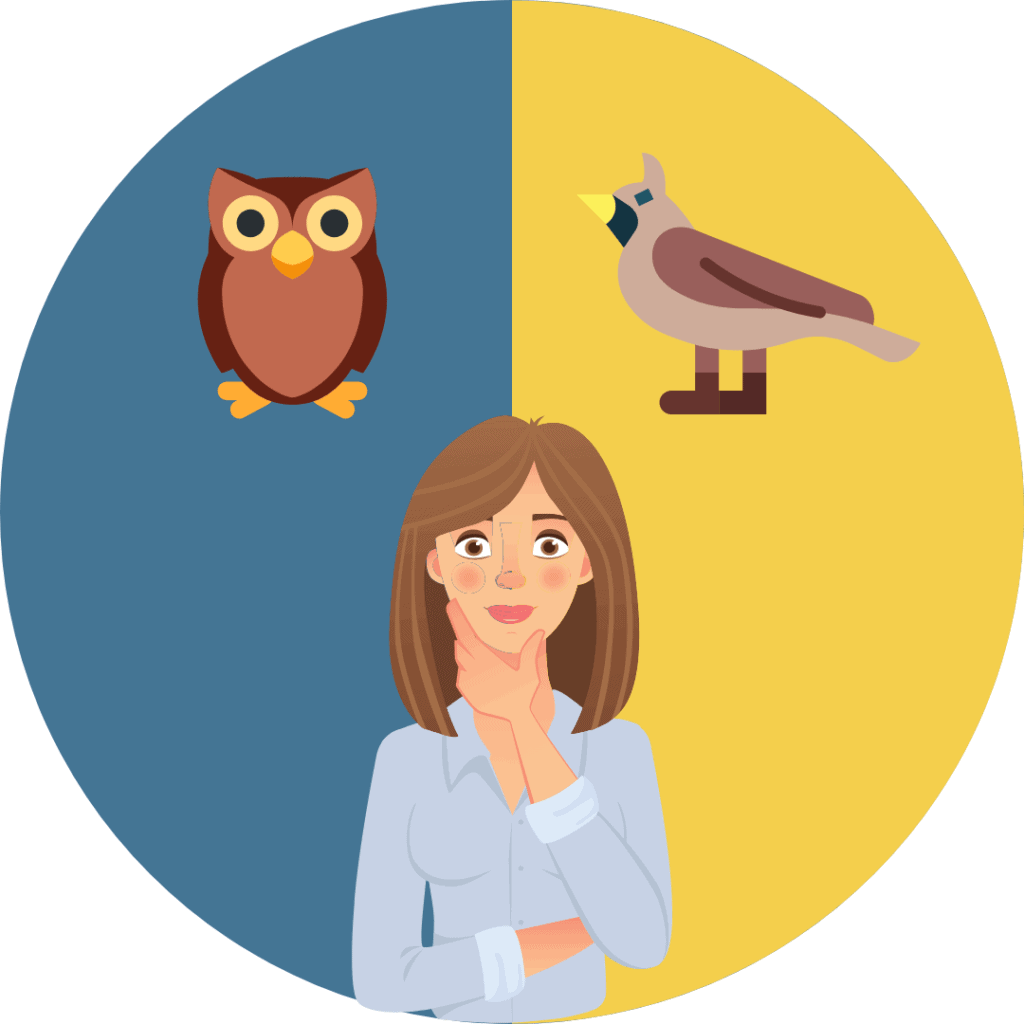 How To Reset My Wake-up Time?
Resetting your wake-up time can be done by making changes to your daily routine and environment. Here are a few tips that may help:
Establish a consistent sleep schedule: Try following consistent sleep and wake-up times, even on weekends or holidays. This can help regulate your body's internal clock.
Use light exposure to your advantage: Expose yourself to natural light in the morning, and avoid bright screens and artificial light in the evening. This can help regulate your body's melatonin production and make it easier to fall asleep at night.
Avoid stimulating activities before bedtime: Avoid activities that may make it harder to fall asleep such as work, watching TV or using electronic devices, and engaging in intense exercise close to bedtime.
Create a relaxing sleep environment: Make sure your bedroom is quiet, dark, and cool. Use comfortable bedding and pillows, and consider using a white noise machine or earplugs to block out any external noise.
Consider getting professional help: Talk to a medical professional if you have a sleep disorder or underlying medical condition affecting your sleep schedule.
Make gradual changes: If you're trying to wake up earlier, try gradually adjusting your wake-up time by 15-30 minutes each day rather than making drastic changes all at once.
Keep in mind that adjusting to a new sleep schedule can take a few days to a couple of weeks, so be patient and consistent in making these changes.
Explore Your DNA Raw Data
Curious about your sleep genes? Here's how you can learn about it in 3 simple steps:
Download your raw data file from 23andMe, Ancestry DNA or any other ancestry company. If you don't have one, you can get a 23andMe kit from here.
Buy the Gene Sleep Report (or Xcode Life Premium Pack for a 70% discount)
Upload your raw data and get your results in 24 hours.