In a recent study, scientists have found that oleuropein, a compound found in olive leaf extracts, can help treat endometriosis.
According to this 2022 study, when introduced to mice with endometriosis, olive leaf extracts improved their fertility rate. 
What Is Endometriosis?
Endometriosis is a condition where tissues similar to that growing inside the uterus grow outside the uterus.
According to the World Health Organization (WHO), about 10% of women their reproductive age develop endometriosis. That is almost 190 million cases worldwide. 
Signs of Endometriosis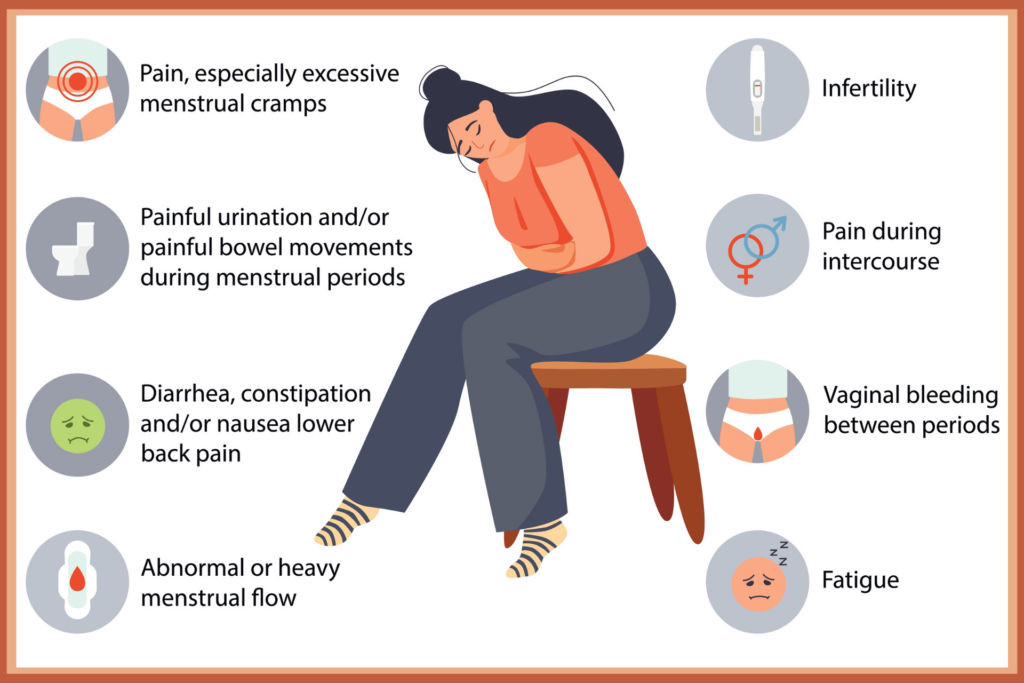 The tissues that develop outside the uterus may behave like typical uterus linings and shed and bleed every month.
Since the tissues grow outside the uterus, there is no easy path for them to leave the body. This causes cramps and pain.
Also, the tissue growths can block the fallopian tube and form cysts. They can also push into the bladder or the intestines, causing organ damage.
Estrogen and Endometriosis
Endometriosis is an estrogen-dependent inflammatory condition affected by estrogen levels in the body.
Estrogen is a major female sex hormone that controls the functioning of the reproductive system.
One type of estrogen, called estradiol, is especially important for forming the tissues inside the uterus.
Estrogen receptors ER-alpha and ER-beta control the effect of estradiol on the uterine tissues.
A 2019 study reports that ER-beta plays a more critical role in the progression of endometriosis.
Olive Leaves as Treatment for Endometriosis
Olive leaves contain oleuropein, which a 2022 study suggests may be effective in treating endometriosis.
In this study, a group of mice was chosen and induced endometriosis surgically. A part of the group was treated orally with oleuropein.
The study reported that the mice treated with oleuropein had lesser endometrial lesions than the other group. The drug also improved fertility rates in these mice.
Additionally, the study mentions that the drug did not cause liver toxicity and was safer for the mice.
Oleuropein is a major component in olive leaves (19% weight to weight). As a result, this study concludes that olive leaves could be used to treat endometriosis naturally by inhibiting ER-beta.
Effective Ways To Manage Endometriosis
Here are other effective ways to manage endometriosis.
Hormonal Contraceptives
Hormonal contraceptives like birth control pills and vaginal rings can reduce estrogen levels and manage endometrial tissue growth.
Individuals with endometriosis may be prescribed hormonal contraceptives to help manage the symptoms.
Dietary Changes
Certain foods and diets may reduce estrogen levels in the body and help control symptoms of endometriosis.
Mediterranean Lifestyle - The Mediterranean diet, which is rich in whole grains, good fat, vegetables, and fruits, may help lower estrogen levels.
Limiting refined carbohydrates - Refined carbohydrates can quickly spike blood sugar levels, increasing estrogen levels. Limiting refined carbohydrates can help regulate estrogen and make endometriosis manageable.
High fiber diet - A diet high in fiber may help push out excess estrogen through fecal excretion. This can help manage endometriosis.
Losing Weight
Excessive body fat promotes the production of estrogen. By losing weight, estrogen circulation is better, and this can bring down the severity of endometriosis.
Limiting Alcohol Intake
Multiple studies prove a positive relationship between alcohol intake and increased estrogen levels in females. Reducing alcohol intake, especially during the luteal phase (second half) of the menstrual cycle, can help reduce the symptoms of endometriosis.
Summary
Endometriosis is a condition where tissues similar to uterine tissues grow outside the uterus.
Endometriosis can cause severe menstrual cramping, abdominal pain, infertility issues, spotting between menstrual cycles, and digestive trouble.
A recent study has found that oleuropein, a compound found in olive leaves, can help treat endometriosis and improve fertility rates.
Endometriosis is a result of excess estradiol levels in the body. Estradiol is a type of estrogen, a sex hormone.
The ER-beta receptors control estradiol levels in the body. Oleuropein affects ER-beta receptors and, as a result, reduces estradiol levels.
Eating healthily, losing weight, and cutting back on alcohol can help manage endometriosis by lowering estrogen levels.
References