Abstract
Colon cancer is among the third most common cancer affecting people. Almost 149,500 Americans are estimated to get diagnosed with colon cancer in 2021. A study by Umea University reveals that injudicious antibiotics use can be linked to an increased risk for colon cancer. In addition, the effect of antibiotics on the gut microbiome has been reported to be the cause of increased risk.
Antibiotics & The Gut Microbiome
Antibiotics, when prescribed and taken in recommended amounts, help us fight infections.  Studies have shown longstanding relations between antibiotics and gut microbiomes. 
Over
The gut microbiome represents a colony of mutually beneficial microorganisms residing in the human gut. Antibiotics interact with these microorganisms and cause changes in composition and function.
Effects Of Antibiotics Use On The Gut Microbiome
Treatment by ciprofloxacin influenced the overgrowth of one type of beneficial microorganism in the gut. This overgrowth of a specific bacterial type disturbed the evenness and diversity of the gut microbiome.
A study done in mice-model with antibiotic administration saw changes in levels of fat and metabolic hormones.
The gut microbiome influences the immune system, and changes in the gut microbiome lead to autoimmune, inflammatory, and allergic effects in the body.
Treatment by beta-lactam class of antibiotics causes carbohydrate degeneration leading to sugar imbalance in the body as seen in obese individuals.
Further, overuse of antibiotics leads to opportunistic infections by antibiotic-resistant microbes, which wreak havoc in the body. The gut microbes' genetic expression, protein activity & general metabolism change, and replacement or restoration may take years. Often, the original state is hardly regained.
*Note: Opportunistic Infections are caused by pathogens that take advantage of a body situation not normally present.
Genetic expression is the process by which information stored in a gene is used to produce proteins to finally cause a physiological effect.
Colon Cancer - Changes in The Gut & Risk of Factors
Colon cancer can be very elusive. The symptoms might not register right away, or it may look like the symptoms are caused by some other infection, irritable bowel syndrome, or inflammatory bowel.
Colon cancer initially manifests as polyps in the colon. These polyps are non-cancerous to begin with; they later develop into cancer. Survival entirely depends on the cancer stage, with the 5-year survival rate being 90.1 % for stage I colon cancer.
Certain types of bacteria in the gut microbiome produce sulfur which is known to be detrimental to DNA. DNA damage causes mutations that might be carcinogenic (having the potential to cause cancer).
Dietary patterns like a diet high in animal fat and protein are a classic risk factor for colon cancer. Additionally, the aforementioned dietary pattern is consistent with an increased diversity of sulfur-producing bacteria in the gut microbiome.
Bacteria like Streptococcus bovis are known inducers of cytokine production, which interfere with cell death in cancerous cells. Further, they enhance the production of new cancer cells and new blood vessels to supply the cancer cells.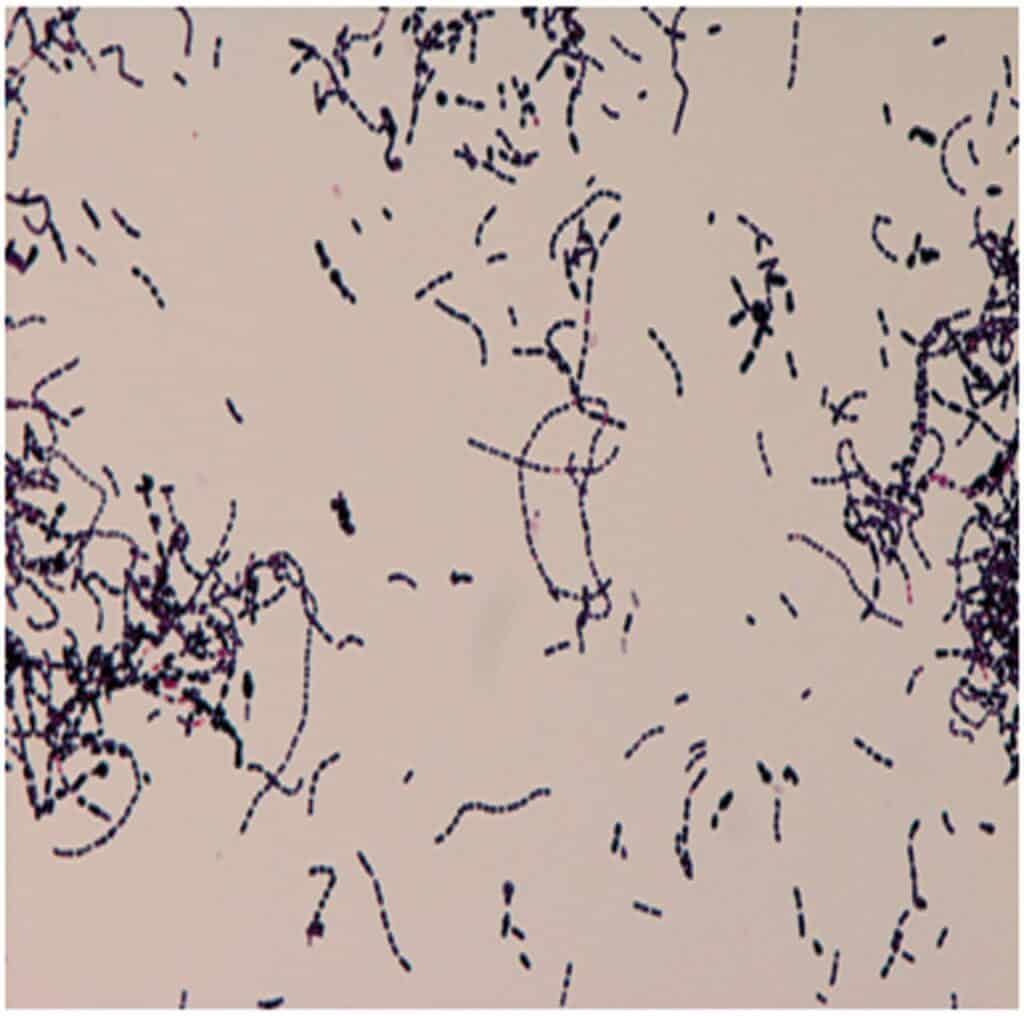 Image: S.bovis associated with colon cancer
Source: https://casereports.bmj.com/content/2017/bcr-2017-219488.full
Notably, Helicobacter pylori is a known microbe contributing to colon cancer development. H.pylori contains an oncoprotein (cancer-causing protein) - cagA - which triggers a human oncoprotein in the stomach cells. This promotes the growth of cancer.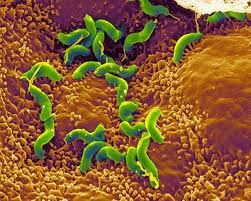 Image: H.pylori associated with colon cancer
Source: https://www.askdrray.com/colon-cancer-associated-with-h-pylori/
The Study - Antibiotics Linked to Increased Risk of Colorectal Cancer
The study done at Umea University and led by Sai San Moon Lu explored the effects of antibiotic use on colon cancer risk.
Colon cancer data of 40,000 Swedish patients from 2010-2016 against a control group of 200,000 cancer-free individuals were analyzed. In addition, antibiotic use data was taken from the Swedish Prescribed Drug Register for 2005-2016.
Findings of The Study
Compared to men and women who took less or no antibiotics, individuals who took antibiotics ran a 17% greater risk of developing colon cancer in the first part (ascending colon).
*Note: The colon has three parts: ascending, transverse, and descending.
Moreover, women showed an inverse association, i.e., women with antibiotics use experienced a somewhat lesser risk for rectal cancer.
Additional Findings
To study the mechanism of how antibiotics contributed to the development of colorectal cancer, the researchers performed an additional experiment.
They followed the effects of the use of a non-antibiotic antiseptic drug generally used for urinary infections.
The usage of this drug was not linked to gut microbiome disruption and colon cancer risk.
The current study's findings suggest that antibiotics increase the risk of colon cancer by affecting the gut microbiome.
All in all, antibiotics become necessary in certain therapeutic situations. However, in cases of minor illness, individuals should take care to use antibiotics only upon the physician's advice.
Recommendations - To Lower Injudicious Antibiotic Use & Manage Colon Cancer
Exercise antibiotic prudency, i.e., use antibiotics when specifically needed and in a precise recommended amount.
For the prevention of disease, immunotherapeutics or probiotics can be used as antibiotic replacements.
For disease treatment, reasonable alternatives to antibiotics include phage therapy and bacteriocins.
Regular screenings to look for polyps or cancerous growths in the colon can help detect it in an early stage.
Switching a Western diet with a moderate Mediterranean diet is recommended to keep colon cancer risk at bay.
Summary
Colon cancer is considered to be the third most common cancer to occur in people.
Antibiotics adversely affect the gut microbial environment, which can cause long-term health effects.
Colon cancer is hard to detect, although regular screening can be helpful.
Changes in the gut microbiome are a crucial risk factor for colon cancer.
A study reported a 17% increased risk of colon cancer upon antibiotic usage.
Exercising antibiotic prudence & the use of probiotics to nurture the gut microbiome and regular colon screenings with reduced alcohol use can help lower colon cancer risk.
References