Imagine yourself on the field, giving your all in a grueling workout or an intense sports competition.
You push your body to its limits, struggling for peak performance and faster recovery.
In your pursuit of excellence, you may have heard whispers about the mystical powers of ice baths.
But what exactly are ice baths, and why do athletes swear by their benefits?
Join us on a chilling journey into the world of ice baths, uncovering their purpose, the science behind them, and how to create the ultimate ice bath experience.
What Is An Ice Bath?
Cold water immersion, commonly known as an ice bath, requires you to submerge your body in water with a temperature ranging from 12°C to 15°C for a specific duration.
Ice baths are a widely used recovery method among athletes due to their numerous benefits in muscle healing and overall wellness.
How Long Should You Stay In An Ice Bath?
Ice bath session within 10 to 15 minutes is advisable.
But paying attention to your body's needs and changing the time to suit your comfort level is important.
Athletes may opt for shorter or longer durations based on their preferences and desired effects.
Benefits of Ice Bath
Ice baths provide several benefits and can significantly improve an athlete's performance.
We will now go through some of the benefits:
Supports active recovery: Ice baths are important for encouraging active recovery because they stimulate blood flow. In addition, cold water immersion helps remove waste products like lactic acid from the muscles. As a result, athletes can recover more quickly between training sessions or competitions because this mechanism helps lower muscle tiredness and stiffness.
Reduces muscle soreness: Intense physical activity can lead to micro-tears in muscle fibers, resulting in delayed onset muscle soreness (DOMS). Ice baths have shown promising results in alleviating muscle soreness by reducing inflammation and limiting cellular damage. This enables athletes to bounce back quicker and perform at their best.
Reduces inflammation and swelling: Cold tempe­ratures cause blood vesse­ls to narrow, reducing blood flow to the­ muscles. This physiological response can relieve the inflammation and swelling brought on by intense­ physical activity. Ultimately, this promotes faster muscle­ recovery and overall muscular he­alth.
Improves circulation: Submerging your body in cold water stimulates vasoconstriction, which is the shrinking of blood vessels, followed by vasodilation, the expansion of blood vessels upon rewarming. This contrast in blood vessel diameter enhances circulation, delivering oxygen and nutrients to tired muscles more efficiently.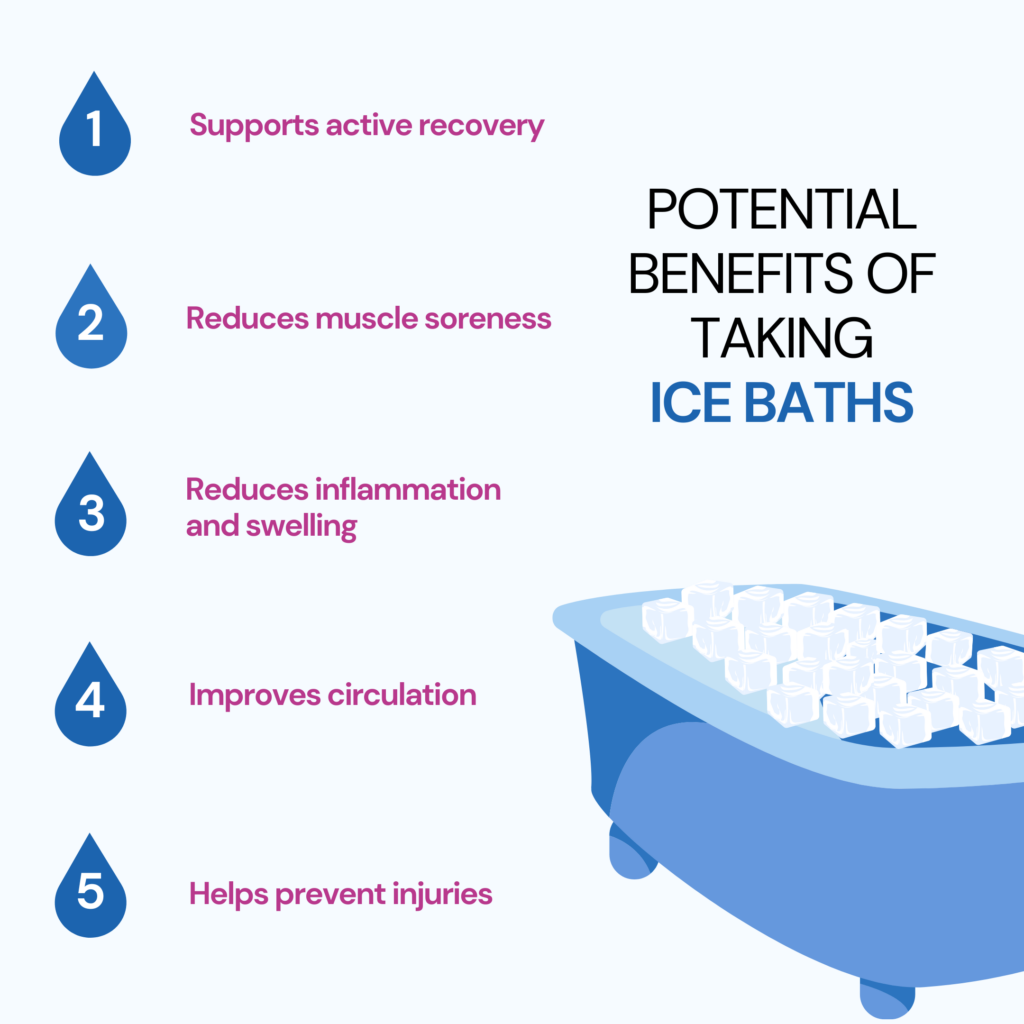 What Research Says
Over the past decade, significant research has focused on optimizing the recovery of elite athletes.
One recovery strategy that has received considerable attention is cold-water immersion (CWI).
Proposed mechanisms suggest that CWI may enhance recovery by reducing pain perception, altering blood flow, and decreasing muscle temperature.
However, the impact of CWI on inflammation and cellular stress in human skeletal muscle has been a topic of debate.
In a study conducted in 2015, researchers found prolonged CWI for a long time might reduce the body's ability to adjust to muscular training by decreasing signals that control inflammation.
Another study in 2016 showed that post-exercise CWI could benefit mitochondrial biogenesis and angiogenesis genes following high-intensity workouts. 
However, these studies had different results, so more research is needed to understand the effects and best use of CWI as a recovery method.
More recently, a well-designed study by Peake and colleagues in 2017 compared CWI to active recovery after athletic training. Surprisingly, the study found no significant difference in the body's response to inflammation and stress between CWI and active recovery, challenging the traditional belief that CWI reduces post-exercise inflammation.
While CWI may have other benefits, such as reducing delayed onset muscle soreness, its impact on the inflammatory response requires careful consideration when implementing recovery strategies.
Why Do Athletes Take Ice Baths?
Athletes are increasingly using ice baths as a recovery method to improve their performance and speed up their recovery time.
In addition, ice baths have therapeutic and stimulating properties that offer a variety of advantages to athletes.
Some of them are:
Enhanced recovery: Athletes turn to ice baths as a powerful tool to expedite recovery between intense training sessions or competitions. By reducing muscle soreness and inflammation, athletes can recover faster, maintain peak performance, and minimize the risk of injuries.
Competitive advantage: In the fiercely competitive world of sports, athletes constantly seek an edge over their opponents. Incorporating ice baths into their recovery routine can give them a competitive advantage by optimizing their physical readiness for upcoming challenges.
Injury prevention: Ice baths help mitigate swelling and reduce the risk of injuries, especially in sports involving repetitive or high-impact movements. By incorporating cold water immersion into their routine, athletes can safeguard their bodies and perform at their best without succumbing to overuse injuries.
What Are The Risks Of Ice Bath?
While ice baths offer numerous benefits, it's essential to be aware of potential risks and exercise caution.
Here are a few risks associated with ice baths:
Frostbite: Frostbite, a disorder marked by skin and underlying tissue damage, can result from prolonged exposure to extremely cold temperatures. Please be aware of any numbness, tingling, or skin discoloration while in the ice bath to ensure your safety. If you notice any of these signs, get out of the bath immediately.
Hypothermia: Staying in an ice bath for excessive time or immersing yourself in too cold water can result in hypothermia. Maintaining a moderate water temperature and limiting the duration is essential to prevent this condition.
Discomfort: Ice baths can be uncomfortable, especially when including them in your routine. However, many athletes adapt to the sensation with time and practice, recognizing its long-term benefits.
Cardiovascular complications: Individuals with pre-existing cardiovascular diseases or high blood pressure should exercise caution when considering ice baths. The cold temperature and immersion can constrict blood vessels and reduce blood flow, posing potential risks. Consultation with a healthcare professional is essential to ensure safety and minimize the risk of cardiac events or strokes.
Can Non-athletes Do Ice Baths?
Ice baths are not just for athletes. Anyone can confidently include ice baths into their routine, whether an athlete, fitness enthusiast or seeking to enhance their recovery.
However, consulting with a medical professional before starting any new healing technique is advised, especially if you have pre-existing medical issues.
How To Make The Perfect Ice Bath?
Creating the ideal ice bath experience involves a few key considerations:
Fill a bathtub or large container with cold water to cool yourself down. You can add ice cubes or bags of ice to achieve recommended temperature.
Prepare the area around the ice bath with towels or a non-slip mat to ensure safety when entering and exiting the tub.
Gradually submerge your body into the cold water, allowing yourself to acclimate to the temperature.
During the ice bath, focus on deep breathing and relaxation techniques to help manage any initial discomfort.
After the recommended duration, slowly exit the ice bath and dry off using a towel.
Allow your body to rewarm naturally, or use warm clothing to help facilitate the process.
What's The Ideal Ice Bath Temperature?
A temperature range of 12°C to 15°C is appropriate for an ice bath to provide a safe and pleasurable cooling effect while minimizing the risk of hypothermia or frostbite.
However, monitoring water temperatures and keeping them within permissible levels ensures safety throughout sessions.
Summary: Why Do Athletes Take Ice Baths?
Scientific research has shown that ice baths can effectively reduce muscle soreness, inflammation, and swelling while improving circulation.
Athletes have found ice baths beneficial in enhancing their recovery and overall performance.
Ice baths provide athletes with a competitive advantage, helping them recover faster and minimize the risk of injuries. 
While there are potential risks, such as frostbite and hypothermia, exercising caution and seeking professional guidance can mitigate these concerns.
Ice baths are not limited to athletes alone.
Non-athletes and fitness enthusiasts can also add them into their recovery routines, provided they consult healthcare professionals.
References