Plant Stanols and Sterols: The Phytosterols
Plant stanols and sterols are natural substances found in certain plant-based foods.
These are, together, called phytosterols. Stanols are saturated forms of sterols.
Phytosterols imitate cholesterol compounds and may play a role in reducing cholesterol levels in the body naturally.
There are about 40 types of sterols identified. The most common ones are sitosterol, campesterol, and stigmasterol.
Stanols make up only 10% of total phytosterols. Sitostanol and campestanol are two common types.
Concerned About High Cholesterol Levels? Find Out Your Risk For Familial Hypercholesterolemia With The Gene Health Report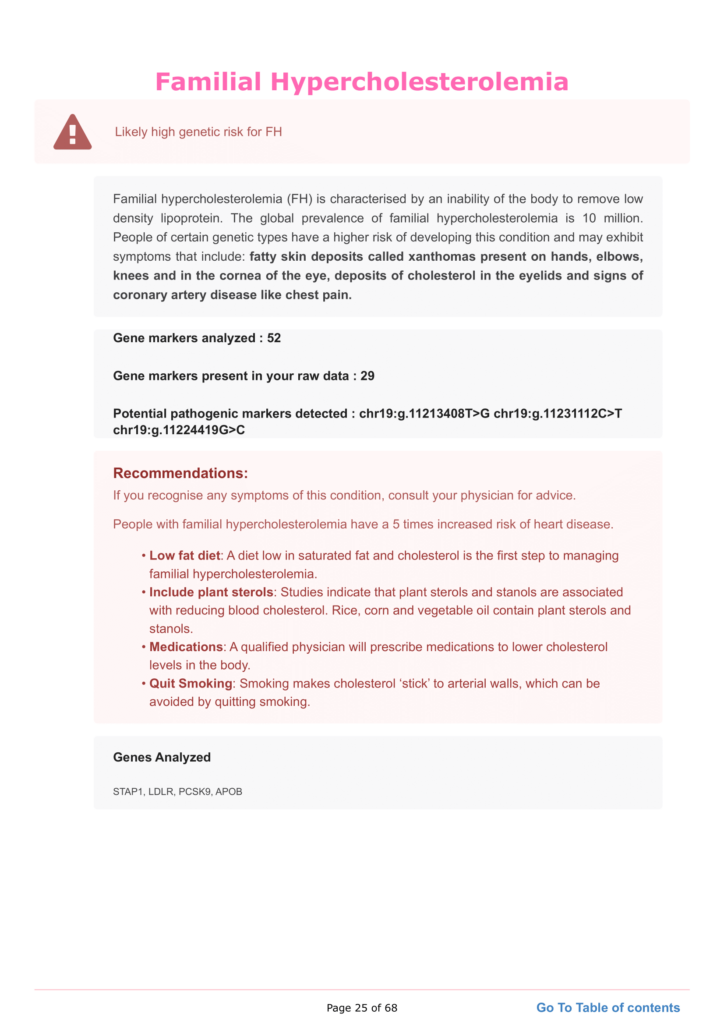 Why Do You Need Plant Stanols And Sterols?
According to the Centers for Disease Control and Prevention, about 94 million adults in the United States have total cholesterol levels above 200 mg/dL.
High cholesterol can lead to heart disease by blocking the arteries.
Besides dietary changes and regular exercise, consuming about 2-3 grams of plant stanols and sterols may help reduce cholesterol levels.
How Do Phytosterols Reduce Cholesterol?
Phytosterols have a similar chemical structure to cholesterol.
When consumed with cholesterol-rich foods, they imitate cholesterol components and reduce the intestinal absorption of the same.
Let's say your intestine absorbs 50% of all cholesterol compounds from foods you eat.
When you also consume phytosterols, they are assumed to be cholesterol and absorbed too.
Therefore, the total amount of cholesterol absorbed is a mix of actual cholesterol and phytosterols instead of just cholesterol.
As a result, more cholesterol gets flushed out of the system without getting absorbed, reducing serum cholesterol levels over time.
A meta-analysis of 41 studies shows that consuming up to 2g/day of plant stanols and sterols may reduce Low-Density Lipoprotein (LDL) cholesterol levels by up to 10%.
Eating food low in saturated fat and high in phytosterols can reduce LDL levels by up to 20%.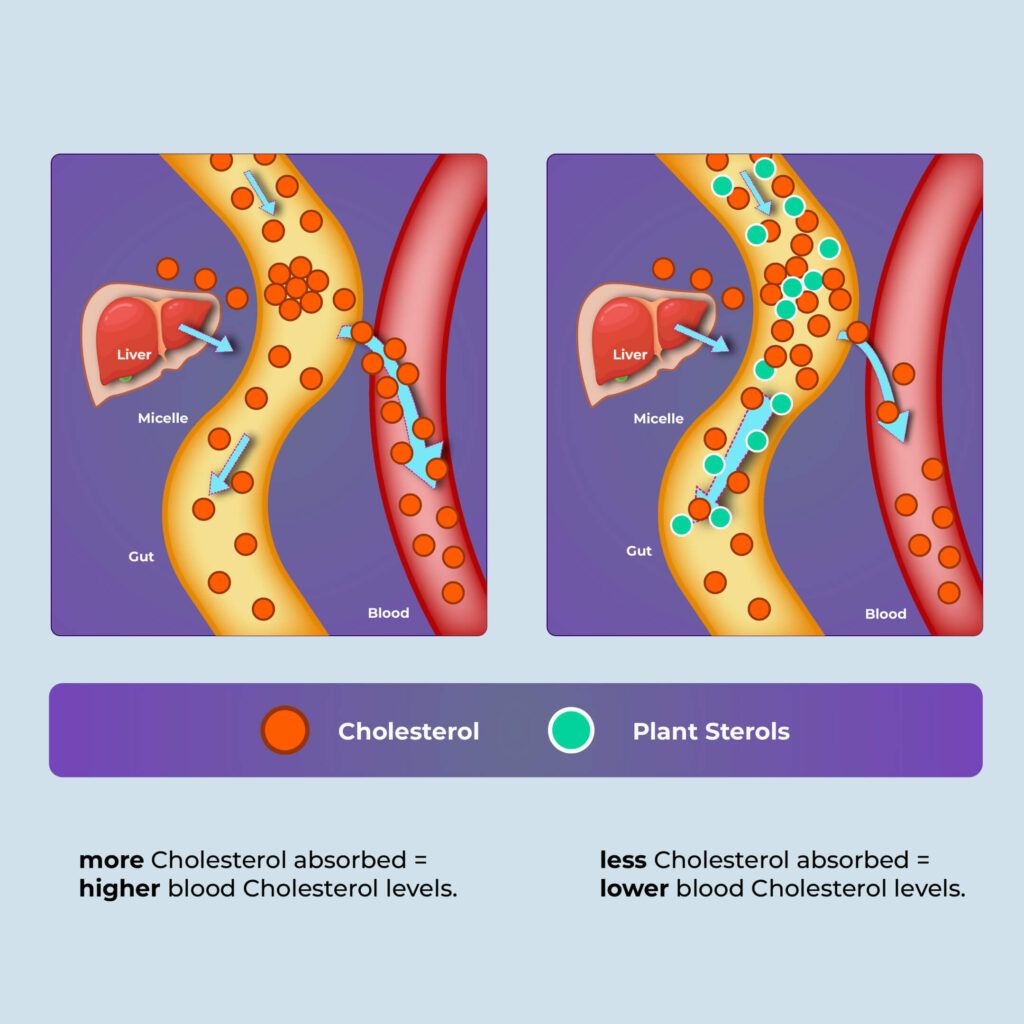 Image: Plant Sterols Lower Blood Cholesterol
Sources of Plant Stanol and Sterols
What Is The Best Source Of Plant Sterols?
The following are food sources rich in phytosterols.
| | | |
| --- | --- | --- |
| Food | Approx quantity | Phytosterols in mg |
| Soybeans | Half cup | 149 |
| Peas | Half cup | 133 |
| Sesame oil | 14 g (1 tablespoon) | 118 |
| Kidney beans | Half cup | 117 |
| Pistachio nuts | 1 ounce | 61 |
| Safflower oil | 14 g (1 tablespoon) | 60 |
| Lentils | Half cup | 54 |
| Cashew nuts | 1 ounce | 45 |
| Cottonseed oil | 14 g (1 tablespoon) | 44 |
| Orange | 1 medium-sized fruit | 34 |
| Macadamia nuts | 1 ounce | 33 |
| Almonds | 1 ounce | 32 |
| Olive Oil | 14 g (1 tablespoon) | 30 |
Other Food Sources Rich In Plant Stanols
Wheat germ
Oat barn
Whole wheat
Brown rice
Sunflower and pumpkin seeds
Apples
Avocados
Blueberries
Cauliflower
Broccoli
Brussel sprouts
Tomatoes
Who Benefits From Phytosterols?
Phytosterols are the most useful for people with high cholesterol levels or family members with high cholesterol levels.
Further, those taking statin (blood cholesterol-lowering medications) also benefit from phytosterols, as they boost the effectiveness of the drug.
Can I Take Plant Sterols Instead Of Statins?
Statins are a class of cholesterol-lowering medications commonly prescribed for those with high total and LDL cholesterol levels.
These medications also bring down the risk of strokes and heart diseases.
Plant sterols are not a substitute for statins, as they cannot reduce cholesterol levels as effectively as prescribed medications.
After discussing with your medical practitioner, you could increase the consumption of plant stanols and sterols along with continuing statins.
Who Should Not Take Phytosterols?
Phytosterols are relatively safe for most individuals.
However, experts don't recommend these for people with a genetic condition called sitosterolemia.
This condition leads to excess build-up of plant stanols and sterols in the body and may cause artery blockages.
Do Plant Sterols Affect The Liver?
Non–Alcoholic Steatohepatitis (NASH) is liver inflammation and damage due to excess build-up of fat in the liver.
Studies found that a diet low in cholesterol helped bring down inflammation and prevented the worsening of NASH.
A 2014 study suggests that plant stanols and sterols can completely inhibit liver inflammation caused by a High-Fat Diet (HFD).
Best Plant Sterol Supplements
β-sitosterol supplements are available without prescription in the United States. These supplements work best when taken after a meal.
You may need to check the labels to know safe consumption limits. Start supplements only after discussing them with your doctor.
Some packaged food items like juice, milk, or cheese may be supplemented with plant stanols and sterols and are beneficial when consumed regularly.
Studies recommend limiting your intake of phytosterols (supplements + natural food sources) to 2-3 g/day.
Higher quantities are not proven to offer improved benefits.
Summary: Plant Stanols and Sterols
Plant stanols and sterols are called phytosterols and are natural compounds in plant-based foods.
Phytosterols have a chemical structure similar to that of cholesterol compounds.
Phytosterols help reduce serum cholesterol levels by reducing their absorption in the intestine.
Research suggests that consuming 2-3 g of phytosterols per day can reduce LDL cholesterol levels by up to 10%.
Foods like olive oil, soybeans, kidney beans, cashew nuts, almonds, pistachios, and lentils are good sources of phytosterols.
Plant stanols and sterols cannot replace cholesterol-lowering medications and may be used along with medicines and dietary changes to keep serum cholesterol levels in check.
Some studies also show that phytosterols may reduce liver inflammation and damage in people with Non–Alcoholic Steatohepatitis (NASH).
References