With the COVID-19 pandemic a bit under control as we began 2022, the world still saw the Omicron wave looming.
The first half of the year was rough, with the COVID raging in waves across different parts of the world.
However, as the year progressed, biology and medicine saw some exciting innovations and advances in diverse fields- immunology, transplants, vaccines for malaria and respiratory syncytial virus to human evolution, and artificial intelligence.
Let's look at ten of the biggest health and biology breakthroughs of 2022.
The Top 10 Scientific Breakthroughs of 2022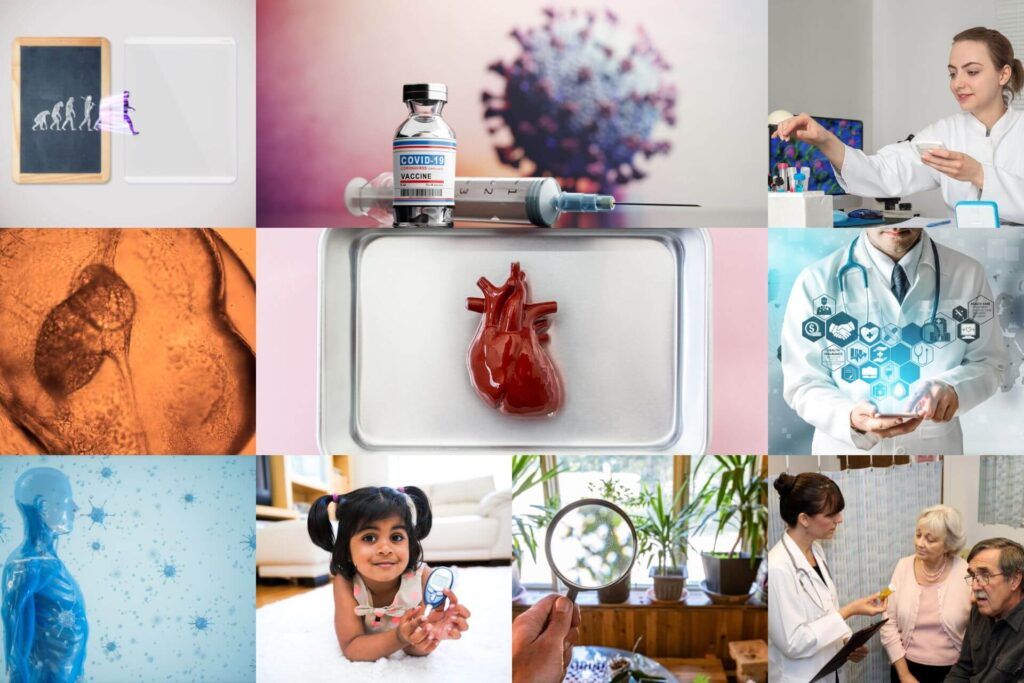 1. Transplant Promise (Pig To Human)
In January 2022, doctors at the University of Maryland Medical Centre replaced the heart of Mr. David Benett (57) with one from a pig.
The pig had gene editing done and was raised and bred to transplant its heart.
Though the process went well, Mr. Bennett passed away two months later.
Doctors suspect he got the cytomegalovirus infection from the pig.
This process of transplanting from an animal to a human is called xenotransplantation.
While this procedure has hope for people waiting for organ transplants, scientists still need to work on several aspects to make this process safe.
2. Universal Flu Vaccine/Updated COVID Vaccine
Though COVID wreaked havoc all through 2020-21, 2022 brought some development in COVID vaccines. 
The world had access to some effective vaccines, including the two most effective mRNA vaccines.
However, the virus continued to evolve and bypass the vaccine defenses.
Fortunately, vaccine manufacturers had their eyes on this growing trend and developed newer shots for the Omicron variant and the original strain.
The bivalent (containing two strains of the virus) vaccines boosted protection against the virus.
3. COVID's Boost To Immune Research
With the COVID-19 vaccines, there has been an acceleration in innovation in immune research.
With a drastic increase in immunology knowledge, we can now innovate and create vaccines on a war footing.
Immunology is the branch of biology that studies the immune systems in humans and other organisms.
One example of this is the autumn COVID-19 boosters.
These bivalent vaccines target the original strain of the SARS-CoV-2 alongside the Omicron variant.
Bivalent vaccines are advantages over the original vaccine as they have broader coverage and offer better protection against the virus.
To further enhance immunity, the COVID-19 vaccines have been coupled with multiple strains of the flu virus to create a multivalent vaccine for COVID-19 and the flu.
Mucosal vaccines are sniffable or inhalable vaccines that have already been launched in countries like China.
These vaccines promise to offer long-term protection against respiratory infections.
4. AI Revealing New Antibiotics
Artificial Intelligence (AI) has been transforming the world before our eyes, including molecular biology.
In 2022, AI contributed to developing several drugs to help deal with resistance by microbes.
The overuse and misuse of antimicrobials have resulted in a phenomenon called antimicrobial resistance (AMR).
Yue Ma and colleagues from the Chinese Academy of Sciences used machine-learning techniques to identify antimicrobial peptides (smaller proteins) in the human gut.
AI was able to identify 181 of 216 peptides that showed antimicrobial activity.
More than half the peptides discovered by AI were found to be new, without any similarities to existing antimicrobials.
This increases the chances of overriding existing resistance mechanisms contributing to AMR. With this knowledge, it is possible to develop more effective medications against harmful microbes.
5. Delaying Type 1 Diabetes
Type 1 diabetes or juvenile diabetes usually develops in adolescence.
In November 2022, the FDA approved a monoclonal antibody drug called teplizumab that could delay the onset of type 1 diabetes for several years.
This drug has been prescribed as a 14-day treatment, a 30-minute infusion for adults and children eight years and older with stage 2 type 1 diabetes.
Stage 2 type 1 diabetes is one step before a clinical diagnosis.
Research states that teplizumab delays the onset of stage 3 of type 1 diabetes for two years, compared with the placebo group.
The only current concern with this drug is its high cost.
6. Creating Life Without Sperms Or Eggs
Researchers at the Weizmann Institute of Science in Israel created a mouse embryo inside a bioreactor without sperm and egg cells.
This was possible as the embryos were created from stem cell cultures in a Petri dish.
The resultant embryos were normal and began elongating on day three, developing a heart by day eight.
This was the first time scientists could grow a synthetic mouse embryo outside the womb.
This experiment is significant as it gives scientists the power to create various organs for transplanting and understand how genetic changes develop.
7. Discoveries In Human Evolution Won A Nobel Prize
The Nobel Prize in Physiology or Medicine in 2022 was awarded to Svante Paabo for his discovery showing genetic relationships among hominin ancestors.
He developed methods of reconstructing ancient DNA.
Paabo and his colleague sequenced the genome of the Neanderthals and discovered a new hominin species called the Denisovans.
This discovery revealed that early humans interbred with this now-extinct species.
These interbreeding trysts gave us traits like the ability to survive at higher altitudes and the vulnerability to infections like COVID-19.
8. Importance of Indoor Air Quality
Before the pandemic, most people did not bother or give a thought about the air they breathed when indoors.
However, today, people are more aware and concerned about their indoor air quality.
With greater awareness about how droplet infections and airborne particles can spread infections in indoor spaces, people are more willing to reduce the risk.
People understand the importance of improved indoor air quality, from ventilating buildings to using indoor air purifiers.
9. Cell Stiffness Role In Early Diagnosis
The ability of cells to sense and respond to their mechanical environment has been known for several decades.
Early signs of diseases like cancer and Alzheimer's are often associated with changes in cell stiffness.
Since determining cell stiffness inside the body is difficult and invasive, this test is not performed inside animals or humans.
However, in 2022, two research groups, one from Germany and one from the USA, published separate studies demonstrating improvements in the measurement of cell stiffness using Brillouin microscopy.
Brillouin microscopy is a non-damaging, non-invasive technique that allows one to 'see' cell stiffness without touching them.
This tool can be widely applied to observe changes in the mechanical properties of cells in living organisms.
It increased the potential for early diagnosis of several diseases.
10. Secrets From Our Poop
Scientists detected viruses like those that cause polio in sewage systems in the UK and New York.
They were also able to spot COVID cases and new types of SARS in these regions before they developed into surges or caused a rise in cases.
These secrets were unearthed from our poop!
Though it sounds gross, the human waste contains a large amount of information on infectious diseases that are very important to scientists.
What's In Store For 2023?
With an exciting 2022 that went by, 2023 is beaming with more potential. Here's what's in store for 2023:
Flu and COVID vaccines: With a significant part of the globe vaccinated and protected from the COVID-19 virus, Moderna and Pfizer-BioNTech are beginning their trials to assess the safety, dosage, and efficacy of their vaccines that combine four flu strains with two coronavirus strains.
RSV Treatment with vaccine: At least six pharmaceutical companies are developing a vaccine for treating RSV (Respiratory Syncytial Virus).
This may be the last year without adequate tools to fight this virus.
Obesity treatment: The treatment and management of obesity are said to be transformed.
A new study showed that the drug tripeptide, approved for treating type 2 diabetes, effectively reduces obesity.
2.4 mg of semaglutide provides an average of up to 15% weight loss.
Summary
Though 2022 began with the Omicron wave, it was an exciting year for medicine and biology.
Xenotransplantation, the development of multivalent vaccines for covid and flu, and drug to delay type 1 diabetes were some breakthroughs of 2022.
Researchers were also able to create embryos from stem cells, and new hominin species were discovered in human evolution.
An advanced technology tool called Brillouin microscopy can help detect cell stiffness, helping early diagnosis of diseases like cancer and Alzheimer's.
Scientists could also pull out a few secrets from the sewage waters, such as information about infectious diseases.
References