About Ambry Genetics
Ambry Genetics, founded in 1999 by Charles Dunlop, is a genetic testing and diagnostic company. Currently led by Dr. Aaron Elliot, as a part of Konica Minolta Precision Medicine, Ambry has its headquarters in Aliso Viejo, CA, USA. Its labs are CLIA/CAP-certified.
Ambry Genetics Services
Ambry was the first lab to offer BRCA testing and complete gene sequencing services since 2001. With its CLIA/CAP-certified SuperLab, Ambry currently provides the following genetic tests:
Cardiac conditions
Neurological conditions
Hereditary cancer
Other rare genetic conditions
Ambry offers services only for patients residing in the United States. It does not sell test kits directly to consumers for providing raw DNA data. So, to avail of genetic testing services with Ambry Genetics, you need to contact a healthcare provider first.
Ambry Genetics offers free genetic counseling for people who test positive for a clinically significant mutation associated with cancer. The company also provides other counseling aids and tools on its website to help explain the test results.
Apart from these, Ambry also offers an added-on RNA testing feature, which provides more accurate and actionable results than DNA testing alone. RNA is a molecule similar to DNA but single-stranded. RNA is directly involved in protein production.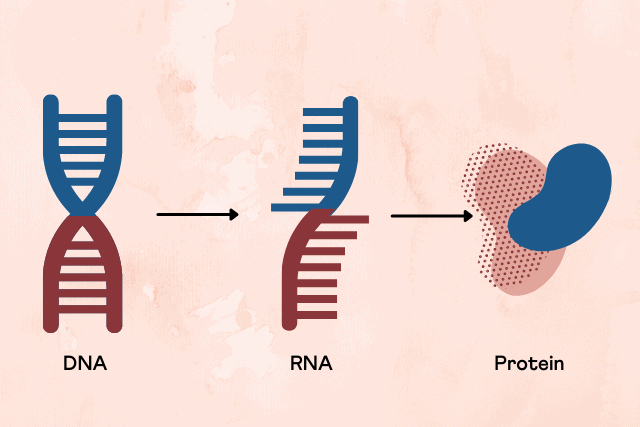 Image: DNA to RNA to Protein
Ambry Genetics: Ordering The Tests
Ambry Genetics requires you to take the test through a healthcare provider. After you spell out your needs, they will order the sample collection kit.

Image: Ambry Genetics Ordering Process
You will then need to provide a sample depending on your test type. There are a few ways to submit your DNA sample for genetic testing.
Your health provider will have a saliva sample collection kit shipped directly to you to provide the sample.
You may be required to visit a local lab to provide your DNA sample.
A mobile blood collection kit will be shipped to you to provide the sample.
You can check out the instructions for saliva sample collection here.
Once you collect your sample and send it to Ambry, the lab will run the genetic tests and provide the results to your healthcare provider, who can access it via their login.
What Is The Science Behind The Test?
Ambry uses Clinical Diagnostic sequencing as a discovery tool. It helps improve patient diagnosis and also enables affordable large-scale genetic testing.
Ambry uses quality lab processes, confirmatory testing, and advanced technology to ensure that the results are as informative and accurate as possible.
The team of scientists uses peer-reviewed publications to compile supplementary information for the genetic testing reports.
Overview of the Genetic Test Results
The genetic testing reports may differ from one test to another, but all reports include the following:
Results
The result table displays the following:
Gene(s) analyzed
Inheritance mode of the condition
Mutation/alteration (if present)
Homozygous or heterozygous state
Interpretation
The interpretation provides a detailed explanation of the results, discussing risk factors and diagnosis. It also includes information on the genes and their variants.
Summary
The summary tells you if you have tested positive or negative for the mutation(s) associated with the condition(s) tested.
Assay information
This section outlines the genetic testing procedure and provides information on the processing of your DNA sample.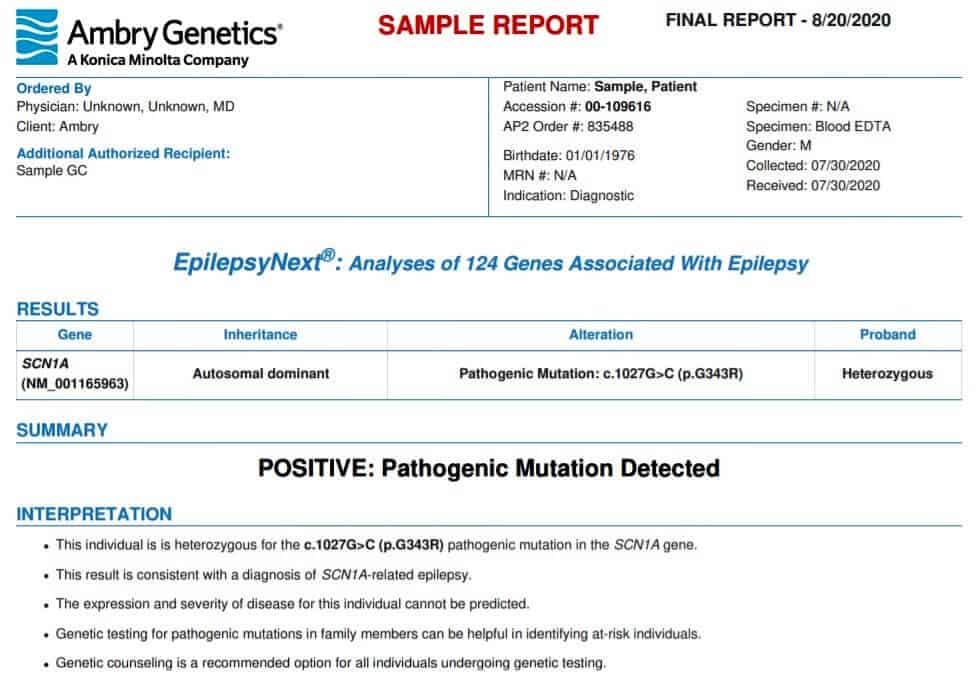 Image: Test Results
Reports also contain supplemental information with report references. Additionally, it includes an interspecies comparison with a detailed description of the variations.
Image: Supplemental Information on The Reports
The reports are tailor-made for use by genetic counselors and healthcare providers, including information vital for patient medical care.
Ambry Genetics Pricing
You may qualify for free genetic testing if you have insurance coverage. However, if your insurance does not cover genetic testing, Ambry will consider your financial situation before pricing the test.
Before allowing your healthcare provider to order a kit for you, it is essential to check the details of your health insurance plan. Your health provider will then fill out an insurance pre-verification form to help Ambry estimate the out-of-pocket cost for your genetic testing.
If the test is not covered under your insurance, it may cost around $3000 and extra charges for genetic counseling.
The company provides free genetic testing to patients of select genetic diseases in collaboration with pharmaceutical partners.
About Privacy
Ambry Genetics claims to be committed to protecting user privacy. However, to access its services, you will have to accept the terms of its privacy policy.
Ambry's privacy policy may change from time to time, with updates posted to the website.
Ambry keeps track of user activity and maintains visitor logs to put together anonymous aggregate statistics.
Ambry may collect, store, and use personal information when voluntarily submitted during registration. The company will use this information to contact its users and improve its services.
By accepting Ambry's privacy terms, you give the company consent to share your information with third-party individuals like genetic counselors, healthcare providers, etc.
What People Say- News & Reviews
News
Reviews
Ambry Genetics Review on Facebook (5/5 - based on 31 reviews)
Ambry Genetics Review on Reddit
Ambry Genetics on Google Reviews (3.7/5 - based on 15 reviews)
Summary: Pros, Cons & Verdict
Pros
Testing uses state of the art technology
Results are reliable due to review by a healthcare provider
Cost-effective as services may have health insurance coverage
Reports are accurate and precise
Provides free counseling for cancer patients
Cons
Access to raw data is unavailable
Requires users to contact a healthcare provider first
Does not accept data from other genetic testing providers like AncestryDNA and 23andMe
Ambry Genetics
Xcode Life
DNA kit
Provided
Not provided
DNA raw data upload
Not allowed
Allowed
Report updates
No
Quarterly
Report prices
$0 – $100 if covered by insurance; very expensive otherwise
Reports: $30-$50
Bundles: $160-$199
Price details
Report categories
Neurology, Cardiology, Oncology, and Exome & General Genetics
Nutrition, Fitness, Skin, Allergy, Health, Personality, Breast Cancer, MTHFR, Personalized Medicine, Sleep, Genetic Reports
Do you have your DNA raw data from 23andMe, AncestryDNA, MyHeritage, FTDNA, LivingDNA, etc.?
Upload the file to Xcode Life to get insights into 3000+health-related traits at a 48% discount!
Updated May 26, 2023