What is anxiety?
Anxiety is a mental condition that is characterized by feelings of excessive nervousness, worry, apprehension, and uneasiness.
These can interfere with a person's behavior and change how they process emotions.
"Anxiety is one of the most common mental disorders; affecting 40 million adults in the United States.
How does anxiety affect your body?
Anxiety affects both your physical and mental well being, resulting in short or long term effects on your body.
From physical pains to a weakened immune system, anxiety can take a toll on your body. These effects include:-
Changes in digestive functions
Our gut is extremely sensitive to changes in our emotions and feelings.
The hormonal changes accompanied by anxiety affect the contraction of the stomach, resulting in changes in gastric secretions.
This could lead to problems like nausea, diarrhea, constipation, or even digestive diseases like Irritable bowel syndrome.
Respiratory changes
During an anxiety attack, a person's breathing may become rapid and shallow, a condition is known as hyperventilation.
It can lead to a feeling of lightheadedness and dizziness.
Impairment of immune function
In the short-term, anxiety boosts our immune system by releasing chemical and hormones like adrenaline and cortisol.
However, prolonged or repeated anxiety attacks don't let the immune system go back to its normal state. As a result, the immune system slowly loses its ability to fight off infections, leaving you more prone to various illnesses.
Cardiovascular changes
Anxiety can cause a rapid increase in heartbeat and may even lead to serious coronary conditions if the person already has heart disease.
It may also cause vasoconstriction, a condition where the blood vessels become narrow.
This sometimes raises body temperature, and people may experience hot flashes because of that.
Hand-Picked article for you: Have Your 23andMe Raw Data? Use It To Get 500+ Health-Realted Genetic Traits!
What are the types of anxiety disorder?
The term anxiety encompasses a multitude of mental disorders which include:
Generalized anxiety disorder
People experience excessive & unrealistic worry about everyday things.
They are also often haunted with unwanted and worrisome thoughts.
Social anxiety
This describes the condition where a person experiences fear of being judged and criticized by others.
As a result, such people are overwhelmed by self-consciousness while encountering another person or a social gathering.
Obsessive-compulsive disorder (OCD)
People suffering from OCD have constant unwanted thoughts and fears that make them engage themselves in a certain behavioral pattern or ritual to relieve their anxiety.
Some common compulsive behaviors include repeated cleaning/washing of hands, arranging things in a particular way, repeated checking on things (whether the door is locked or the stove is off).
Panic disorder
Panic disorder is characterized by repetitive episodes of panic attacks.
During a panic attack, people may experience shortness of breath, convulsions, chest pains, palpitations, and excessive perspiration.
Specific phobias
Intense fear of a specific object or situation (like fear of spiders or fear of water).
People experiencing such phobias go to a great extent to avoid it.
Post-traumatic stress disorder (PTSD)
PTSD is experienced after a traumatic incident like wars, accidents or physical abuse.
People having PTSD may have recurrent daydreams and nightmares about the incident, which in turn may make it difficult for them to carry on with their usual routine.
How can you tell that you are suffering from an anxiety disorder?
Although an accurate diagnosis can be provided only after clinical evaluation, there are a few signs and symptoms which could be a reason enough to suspect anxiety disorder. These include:-
Being in a constant state of panic and tension
Easy fatigue
Sleep disturbances
Recurrent episodes of hyperventilation
Physical symptoms like rapid heartbeat, excessive sweating and chest pains
Trouble with concentrating
Nausea/Dizziness
Increased muscle tension
Restlessness/Irritability
"If you experience any of the above-mentioned symptoms for long durations, seeking professional help for suitable diagnosis is advisable.
What can trigger your anxiety?
Anxiety triggers can vary from one person to the next. Often, it is more than just a single trigger. However, a lot of people suffering from anxiety share a said set of triggers. These include:
Unexpected health diagnosis of some chronic illness
Environmental factors like personal stress from job, schools, relationships.
Side effects of medications may cause/worsen the symptoms of anxiety
Heredity: People whose close family members suffer from anxiety, are more likely to develop anxiety themselves later in their lives
Some studies show that caffeine can sometimes act as a trigger for anxiety. People with other existing mental conditions are more susceptible to the anxiety-inducing components of caffeine
Sleep disturbances can mess up your whole rhythm and exacerbate your mood swings
For people with social anxiety, the thought of being a part of a social gathering or giving a public performance can be a trigger
A Long time/chronic stress can worsen the symptoms of anxiety and also give rise to other health problems like hypertension
How can you deal with your anxiety?
If you feel that you are experiencing symptoms of anxiety, seeking professional help should be your priority.
Other than the help the professionals offer, there are a few things that you can do yourself to try and alleviate the symptoms of anxiety.
Getting a good night's sleep will naturally calm your mind, and a well-rested mind is a well-rested body!
Try to recognize the physical signs and symptoms of anxiety. When you notice the first sign, adopt a calming technique that you know will help you relax
Breathing exercises can help you cope and feel more in control. Techniques for breathing exercises can be developed through yoga or meditation.
Identify your triggers and try to stay away from them
Tame your tense muscles with regular and simple exercises
Several therapies like psychotherapy and talk therapy have proven to be useful to overcome symptoms of anxiety
Dealing with anxiety at the workplace
Anxiety by itself can drain you out completely, and when it comes to your workplace, you may experience the worst of it.
There are a few things that can help you manage your symptoms
Deep breathing for a few seconds while sitting in your chair in a comfortable position can help clear your mind and calm you down
Try to step outside for a few minutes to get some fresh air and engage in brisk walking. The endorphins released from that help calm your mind and body
Talking it out to a close co-worker may help alleviate some stress. Sharing your feelings and receiving some comfort may put you in a bit of ease.
Planning your day at work in advance will help you get in the routine and make you feel more prepared to face the day
What does anxiety do to your brain?
Two parts of the brain, namely the amygdala and the hippocampus are involved in processing anxiety.
The amygdala alerts the rest of the brain and triggers an anxiety response in case of some danger, while the hippocampus stores such threatening events as memories.
The feeling of anxiety is part of your body's stress response.
Your fight or flight response is triggered, and your system is flooded with norepinephrine and cortisol.
It is also accompanied by physical symptoms like an increase in heart rate and perspiration.
Such responses are designed to give you a boost to perception, reflexes, and speed in dangerous situations.
However chronic stress may end up being detrimental to the brain.
"A recent study has shown that chronic stress could cause a structural degeneration of the prefrontal cortex and hippocampus thereby inhibiting the brain's control over stress response.
How can you differentiate between an anxiety attack and a panic attack?
Though both anxiety and panic attacks share a lot of common ground, they are in fact not one and the same.
Anxiety is something that builds gradually and is ideally related to something that has the potency to be stressful or threatening.
Panic attack, on the other hand, is an abrupt onset of intense fear and almost every time occurs out of the blue.
An individual facing a panic attack is often seized with terror and apprehension.
Anxiety attack strikes due to an anticipation of a potentially dangerous situation, while a panic attack usually strikes when you are actually facing that dangerous situation.
Both conditions share a list of similar symptoms including palpitations, shortness of breath, nausea & dizziness, chest pain, etc.
The common treatment options for both include therapy, prescribed medications, and self-help strategies.
Can anxiety kill you?
The symptoms of anxiety, like shortness of breath, tingling sensations, and chest pain, can have rattling effects on your brain.
As debilitating and scary as the symptoms might be, anxiety by itself cannot kill you.
Heart palpitations during an anxiety attack may make you suspect a heart attack, but such symptoms usually pass after some time.
Although anxiety cannot kill you, chronic anxiety and stress can lead to other health issues like hypertension, heart diseases, and the weakening of the immune system.
So in order to prevent such anxiety-related illnesses, it is very important to seek professional help and keep the symptoms at bay.
Can anxiety give you cancer?
Cancer risk is complex and involves many factors like our genes, environment, and lifestyle.
While anxiety and depression may be symptoms of underlying medical conditions like brain tumors (especially in the older age), they do not give rise to cancerous conditions.
However, the development of cancer could be a reflection of another confounding factor like a poor diet or poor physical health (due to anxiety).
These, in turn, could be potential risks for cancer.
Regardless of the link to cancer, anxiety is a serious illness, and enough attention should be paid to manage it.
How does anxiety affect your sleep?
People with anxiety disorders are generally prone to sleep issues.
Troublesome thoughts and fears tend to keep them awake at night. This sleep deprivation can be linked to conditions like:-
Sleep apnea
Experiencing breathing troubles (like breaks in breathing or extremely shallow breath) that lead to sleep disturbance
Sleep paralysis
It generally occurs in a pseudo sleep state just as a person is falling asleep or waking up.
The person will be consciously awake but won't be able to move or gain control over the body.
It may be accompanied by hallucinations.
Nightmares
When you obsessively keep thinking and worrying about something it can manifest as a scary and upsetting dream during your sleep.
Nightmares are often accompanied by nocturnal panic attacks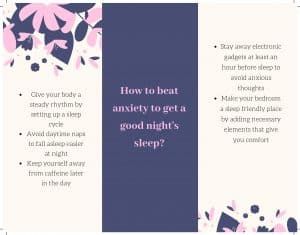 What are the drugs that induce anxiety?
If a drug (either taking it or stopping it) induces anxiety symptoms, it is called substance-induced anxiety disorder.
But if your pre-existing anxiety condition is just exacerbated by the drug, it does not fall under substance-induced anxiety.
Medications can cause different reactions in different people. Some medications target the same part of the brain that plays a role in anxiety symptoms. These include:-
Medications with caffeine that are used to treat headaches and migraines like Anacin (aspirin+caffeine) and migergot & cafergot (Ergotamine+caffeine)
Corticosteroids that treat conditions like allergies, asthma, and bronchitis (cortisone, dexamethasone)
Amphetamines, dexmethylphenidates, lisdexamfetamines, and methyphenidates are central nervous system stimulants used to treat ADHD
Thyroid pills that are used to treat hypothyroidism
Phenatoins used to treat seizure disorders
Drugs that are used to treat other nervous conditions like Parkinson's and Alzheimer's
Birth control pills and anxiety
While some studies link the usage of oral contraceptive pills (OCP) to anxiety, not every woman who consumes it faces anxiety symptoms.
The hormonal changes brought about by the OCPs act as a strong trigger for anxiety.
The synthetic hormones present in OCPs are said to promote more binding of sex and thyroid hormones, thereby lowering their levels in circulation.
This can induce hypothyroidism, weight gain, and depression.
"OCPs are also known to deplete vitamins, minerals, and antioxidants which may again trigger the symptoms of anxiety
Other conditions caused by anxiety disorder
Anxiety and memory loss
Amygdala and hippocampus together work to process anxiety.
Hippocampus generally stores memories of events triggering anxiety.
Chronic anxiety leads to physical degradation of the hippocampus which may lead to forgetfulness, confusion and memory issues
Anxiety and high blood pressure
In response to stress or anxiety, our body releases a surge of hormones which causes the heart to beat faster and the blood vessels to constrict.
So if you experience an anxiety attack, there might be a temporary but a steep spike in blood pressure.
If you have recurrent episodes of anxiety, the spikes will occur more frequently causing permanent damage to blood vessels leading to chronic hypertension
Anxiety and heart problems
Tachycardia, an increase in the rate of heartbeat (response to anxiety), in serious cases can interfere with the normal functioning of the heart and make you more susceptible to sudden cardiac arrests
Anxiety and headaches
Whether headaches cause anxiety or it is the other way round still needs a bit more of explorations.
But one thing that can be set in stone is that both of them are interconnected.
People with migraines are more likely to get anxiety, and for people who generally don't experience severe headaches, anxiety could increase the chance of that
What medications can you use to treat anxiety disorder?
The first level of treatment for anxiety is therapy.
It is not advisable to take over-the-counter prescribed medications for anxiety.
It is always important to consult with a medical practitioner before starting a course of anti-anxiety medicines.
Such medications come under 4 primary classes:-
Selective serotonin reuptake inhibitors (SSRI)
Although majorly used to treat depression, doctors prescribe SSRI to treat anxiety and OCD also.
It blocks the reabsorption of serotonin by the nerve cells which leaves can enhance your mood
(citalopram, escitalopram, fluoxetine, fluvoxamine, paroxetine, sertraline)
Serotonin-norepinephrine reuptake inhibitors (SNRI)
Works the same way as SSRI and block the reabsorption of serotonin and norepinephrine
(duloxetine, venlafaxine)
Tricyclic antidepressants
Prescribed instead of SSRI and SNRI on account of fewer side effects
(amitriptyline, imipramine, nortriptyline)
Benzodiazepines
Sedative drugs that release the tension in muscles and help with relaxation
(alprazolam, chlordiazepoxide, diazepam, lorazepam)
"Other medications include monoamine oxidase inhibitors, anticonvulsants, beta-blockers, and atypical antipsychotics.
Vitamins and how they help with anxiety
Vitamin A & E are antioxidants, and these supplements help reduce the symptoms of anxiety
Vitamin B1 balances sugar levels
Vitamin B3 plays an important role in serotonin secretion
Vitamin B9 & B12 supplements balance out the mood swings
Minerals like calcium and magnesium help to nourish the nervous system and prevent anxiety, panic attacks, and restlessness, or irritability.
Can you inherit anxiety?
Anxiety can be influenced by environmental factors as well as genetic factors.
When it comes to the heritability of anxiety, science is still hazy on that.
Even though a person whose parents have anxiety disorder doesn't inherit it, he/she is definitely at a greater odds of developing it in the future.
Here is where we can bring in the term "genetic predisposition".
It basically describes the increased likelihood of someone developing a condition, based on their genetic makeup.
So in other words, that person becomes genetically susceptible to developing anxiety.
Even if the disorder itself is not passed down, the particular set of inherited genes may play a role in the predisposition of anxiety.
There are several genes that contribute directly or indirectly to the body's response to stress.
Studying the variations in such genes can help predict how you may be able to handle stress
5-HTT gene
Responsible for serotonin transportation.
The genotype differences in the 5-HTT gene can affect how our body reacts to stress. In a study conducted the 5-HTTLPR s genotypes (s/s, s/l) were associated with anxiety disorders
MAOA gene
Also called the warrior gene, it is responsible for the production of an enzyme monoamine oxidase A.
This enzyme affects the neurotransmitters dopamine, norepinephrine, and serotonin.
A study reported overexpression of an allele 941T in the MAOA gene of people with GAD
BDNF gene
Produces neurotrophin which regulates growth and survival of neurons in the brain.
In a review conducted, BDNF levels were found to be reduced in patients with anxiety
COMT gene
Produces catechol-O-methyltransferase which deactivates the catecholamines to bring your heartbeat down to normal levels and restoring a sense of balance both to your physiological and your psychological self from a stress response.
Variants that increase or decrease the production of enzymes may interfere with this deactivation
CRHR1 gene
Codes for the corticotropin-releasing hormone (CRH) receptor. CRH is highly implicated in the regulation of anxiety-related behavior
Polymorphisms in other genes like NPRS1 and RGS 2 also accounts for the changes in our body's response to stress
How can I use my DNA raw data to know more about my predisposition to anxiety?
The Xcode Life Gene Health report does not help with the treatment directly but provides you with insights on how to hack your genes to understand a little more about how anxiety affects your body.
You can upload your DNA raw data from 23andMe, Ancestry DNA, Family Tree DNA, etc. to get information about the genetic variants of anxiety that you carry.
How do you help a child with anxiety?
A lot of children with anxiety go undiagnosed because they don't present with the obvious symptoms as adults do.
Even a child struggling in a particular subject might be indicative of anxiety. The signs that you should look out for include:-
Agitation
Restlessness
Tantrums
Crying
Meltdowns before school about clothing, hair, shoes, socks
Difficulties with transitions within school, and between school and an activity/sport
Having high expectations for school work, homework and sports performance
Before putting children on anti-anxiety medications, therapies can be considered after consultation with a medical practitioner.
Cognitive-behavioral therapy (CBT) helps with distorted thinking and dysfunctional behavior.
It puts children in a "safe environment" and exposes them to anxiety triggers in increments.
The purpose of this is to make them accustomed to the triggers and normally respond to them.
Exposure therapy also works in the same way but digs deeper into the roots.
Food recommendations for anxiety
The way to a healthy mind is through a proper diet. Here are some food suggestions that may provide some relief from anxiety.
Almonds contain magnesium which helps in the regulation of neurotransmitters
Chamomile tea has anti-inflammatory, anti-oxidant, and relaxant properties
Eating dark chocolate is shown to reduce stress.
It contains flavonoids that improve brain functions. It also increases serotonin levels
Green leafy vegetables like kale, rich in beta-carotene and Vitamin E which are sources of antioxidants
Turkey contains tryptophan which is an important amino acid involved in the production of serotonin.
Tryptophan also helps regulate sleep
The active ingredient in turmeric, curcumin promotes brain health and has anti-anxiety properties
The omega-3 fatty acids and vitamin D in salmon help regulate the neurotransmitter and improve cognitive functions
Yogurt is rich in probiotics that have anti-inflammatory effects on the body
It is also important to avoid certain food items like:-
Consumption of alcoholic beverages can mess up the neurotransmitter levels in your body
Artificial and refined sugars make changes in your body that might impair its ability to cope up with stress
Caffeine can make its users feel nervous and jittery and also reduces the levels of serotonin in the body
Fried foods can increase the risk of hypertension and heart diseases
Fruit juices are deprived of the fiber found in whole fruits.
Without the fiber, the body absorbs too much sugar from the juice
Processed foods mess up the gut microbiota which is a major contributor to mental health
Aspartame is a key ingredient in sodas, which not only block serotonin production, but also is believed to be responsible for headaches, mood swings, and insomnia
Is separation anxiety prevalent in adults?
Separation anxiety is the fear of being separated from a particular person or sometimes even a pet.
Although separation anxiety is mostly associated with kids and children, it is common among adults too.
People with separation anxiety might experience the following:-
Unusual distress about separation from loved ones
Fear of being alone
Constant worry about the well-being of their loved ones

Cyclical thinking
Refusal to do basic things like eating and sleeping without their loved ones
Is anxiety disorder reversible?
The dynamics of establishing a "permanent cure" for anxiety is more complex than it may seem.
Even though medications are available to treat the symptoms of anxiety, they don't reverse the disorder itself.
The many forms of anxiety disorders can be well-tackled using therapies and medications, but none promise a cure for these conditions.
The nature of anxiety by itself is chronic and recurring.
Herbal supplements or other treatments may help to put a temporary fuse on it and might make you feel that you are anxiety-free.
But these just work around the symptoms and do not deal with the underlying issue.
While we're on this, it is also important to know that you do not need to reverse your anxiety disorder totally to lead a normal, happy life.
As long as you learn to manage the symptoms and gain control over your anxiety, you'll be good to go.
Except for a few extreme cases, anxiety is not something that should be eradicated from our system completely.
The fight-or-flight response triggered by anxiety keeps us on our toes and boosts our reflexes, enabling us to face threats in a better way.
A little bit of anxiety can be considered as a survival mechanism that helps us get through stressful situations.
References
About Xcode Life's Gene Health Report