Navigating the intricate pathways of genetics has never been more approachable, thanks to advances in technology like those offered by Invitae Genetic Testing. As one of the industry leaders, Invitae presents an enticing opportunity to dig deeper into your DNA. However, before diving headfirst into the realm of personal genomics, it's essential to be fully aware of the comprehensive services Invitae provides, their implications, and the considerations you need to make. This blog post will offer an in-depth review of Invitae Genetic Testing, ensuring you have all the information necessary to make an informed decision.
About Invitae
Invitae, with its headquarters set in San Francisco, California, is a medical genetics company founded by Randal W. Scott and Sean E. George in 2010. Invitae is a College of American Pathologists (CAP)-accredited and Clinical Laboratory Improvement Amendments (CLIA)-certified clinical diagnostic laboratory.
The company offers gene panels and single-gene testing for a broad range of clinical areas, including hereditary cancer, cardiology, neurology, pediatric genetics, metabolic disorders, immunology, and hematology.
Invitae has special tools for medical professionals that help them record family history and provide appropriate genetic testing recommendations.
Invitae Genetic Testing For Individuals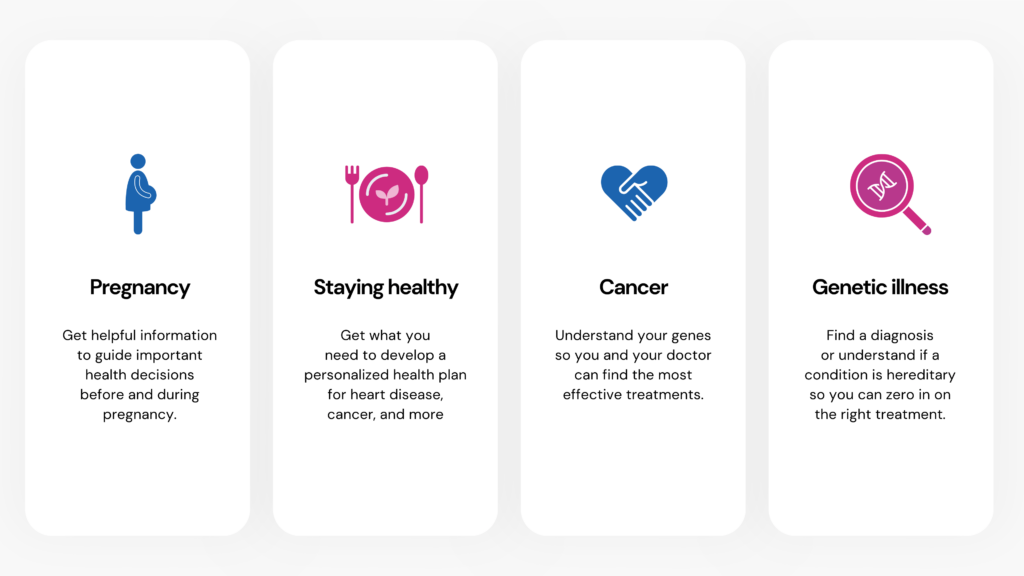 Invitae offers 4 categories of tests for its users:
Pregnancy
Provides information relevant to pre-pregnancy and pregnancy-related decision-making.
It includes the following tests:
Carrier screening
Personalized medication management
Non-invasive prenatal screening
Staying Healthy
Provides information to develop a personalized health plan for cancer and heart disease.
It includes the following tests:
Cancer screen
Cardio screen
Genetic health screen
You can order any or all of these tests.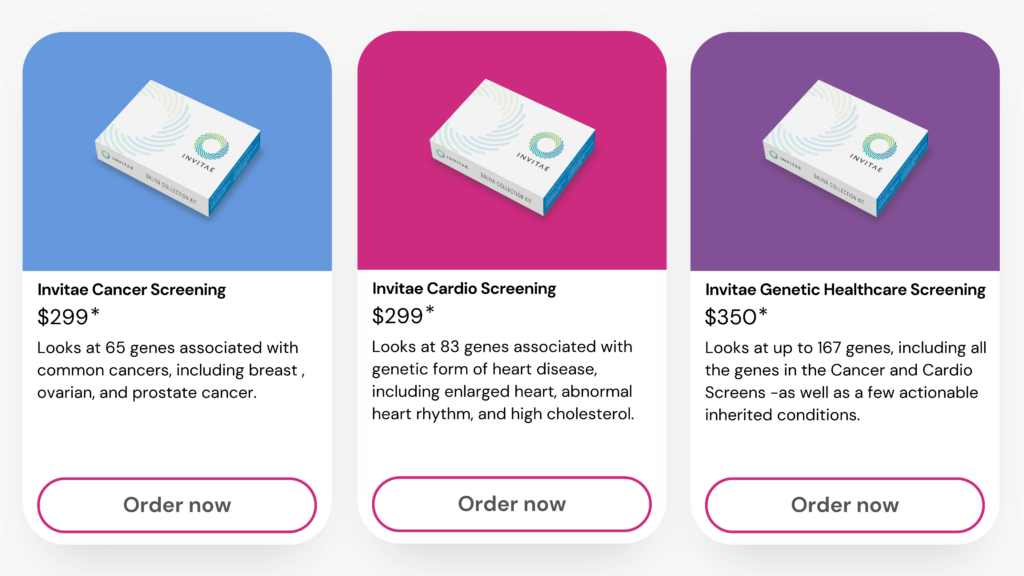 Cancer
Provides information to help your physician plan an effective treatment.
Looks at 65 genes associated with common cancers
Breast
Ovarian, uterine, and endometrial
Skin
Prostate
Pancreatic
Gastric
Renal cell
Thyroid
Pediatric
Genetic Illness
Provides information that helps diagnose and understand the inheritance of various health conditions.
It includes a variety of health conditions grouped under:
Heart disease
Neurological issues
Rare disease
Pediatric conditions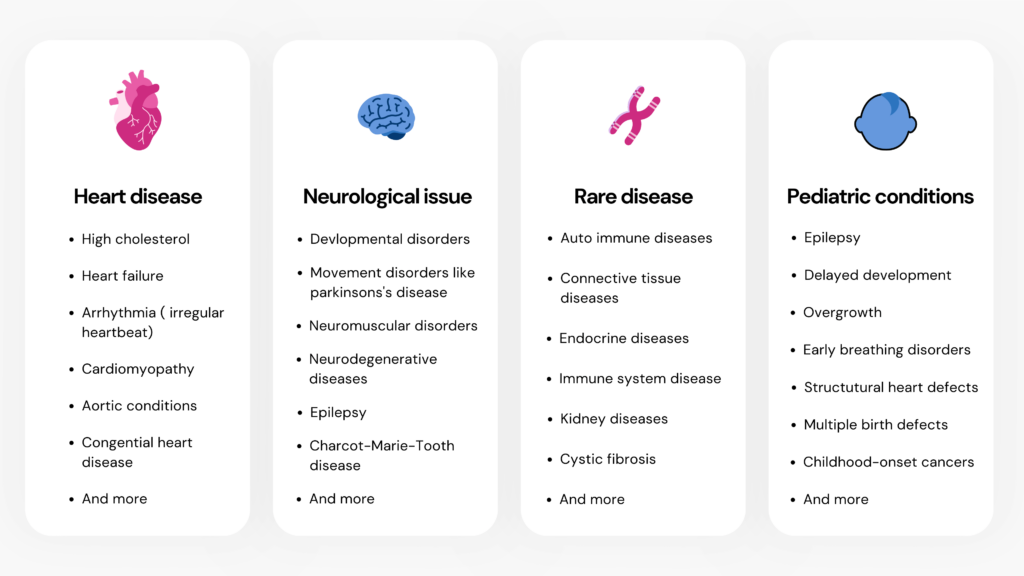 Invitae Genetic Testing For Professionals
Invitae offers a bunch of tests for medical professionals, grouped under the following categories:
Oncology
Provides genetic information to help professionals tailor chemotherapy and other treatment plans for their patients.
It covers multiple panels, including:
Multi-Cancer Panel
Common Hereditary Cancers Panel
BRCA1 and BRCA2 STAT Panel
Breast Cancer STAT Panel
Breast and Gyn Cancers Panel
Colorectal Cancer Panel
Renal/Urinary Tract Cancers Panel
Prostate Cancer Panel
Nervous System/Brain Cancer Panel
You can view the entire list here.
Reproductive Health
Provides information that helps medical professionals give insights regarding pre-pregnancy, infertility, and other pregnancy issues.
The tests are grouped under 2 packages:
Pre-pregnancy package
Pregnancy package
Pediatric & Rare diseases
Provides information to enable medical professionals to inform prognosis, treatment, and next steps for those with rare diseases.
Available panels:
Invitae Neurodevelopmental Disorders (NDD) Panel
Invitae Chromosomal Microarray Analysis (CMA)
Invitae FMR1-Fragile X Syndrome and Related Disorders Repeat Expansion Test
Invitae also offers an RNA-testing feature, which incorporates testing into the variant classification process for variants of uncertain significance (VUS). A VUS is a genetic change in a sequence whose association with disease risk is unclear.
Invitae also offers exome testing options that provide more accurate and reliable results. Exons are a segment of a DNA or RNA molecule containing information coding for the protein. The exome is the part of the genome that consists of exons. It is estimated that the vast majority of disease-causing DNA changes are found in exons.
It includes the following testing options:
Invitae exome, proband-only
Invitae exome, duo
Invitae exome, trio
Invitae: How To Order?
Users can choose any test from the options provided and place an order. Once you order, an independent physician will review your health history and approve the test if appropriate.
Once your doctor approves the test, you can sign up with/sign in to your account.
Once your email is verified, you can register a kit using the confirmation code.
Invitae Kit Registration
You can learn about specimen collection and shipping here.
Overview of Invitae Genetic Reports
Invitae Genetic Illness Report
The diagnostic tests under this category may be covered by insurance.
The report begins with a section with patient information and sample collection details (same for all reports).
If it is a "positive result," the next section contains information about the pathogenic variant identified.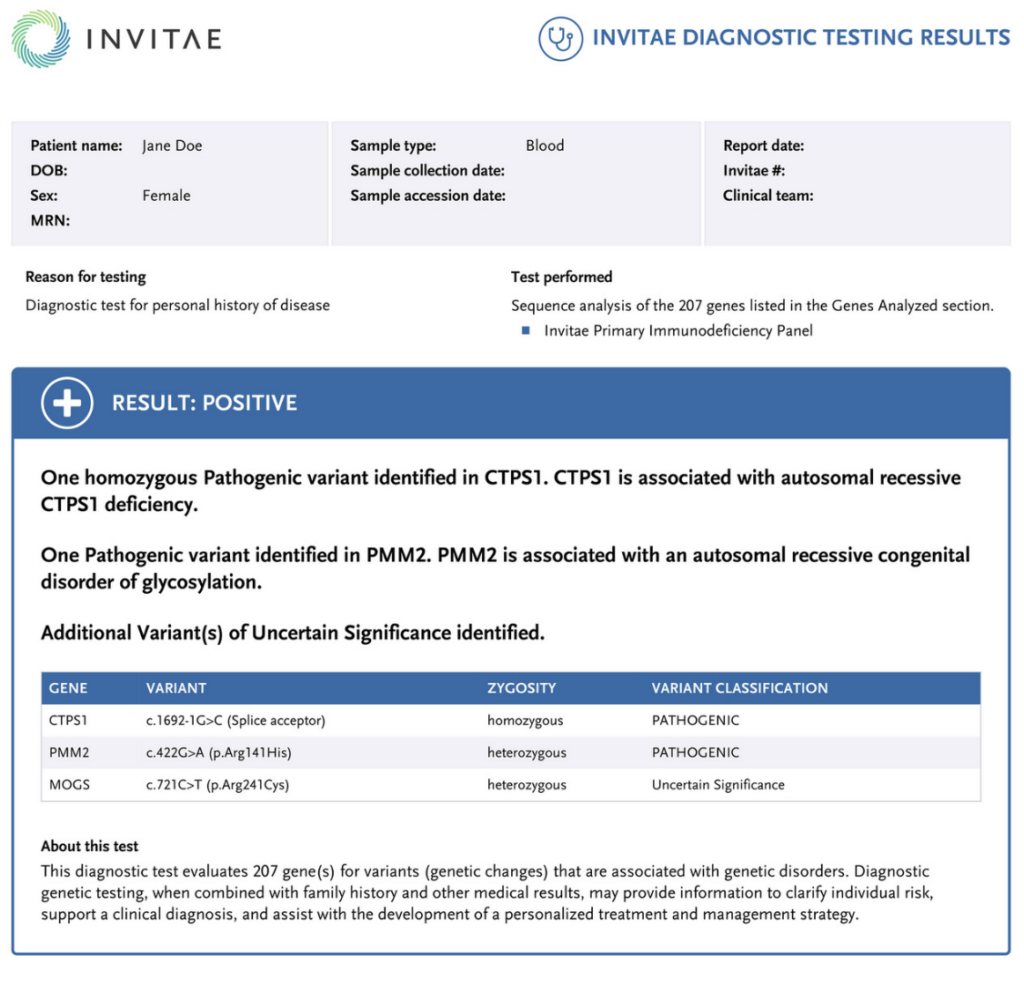 The next section of the report helps users with the next steps after encountering a positive result.
The website also has a "Positive Result FAQ" guide.
Invitae Pregnancy Report
Invitae Carrier Screening
A carrier is an individual that carries one copy of a gene with error(s) associated with a disease, which can be passed down to a child.
If it is a positive result, the report includes information about the variant and the mode of inheritance.
Image: Snippet from Invitae sample carrier screening report
The report also comes with information about the condition and the recommended next steps.
It gives insights into what you can do if your partner tests positive for the same condition.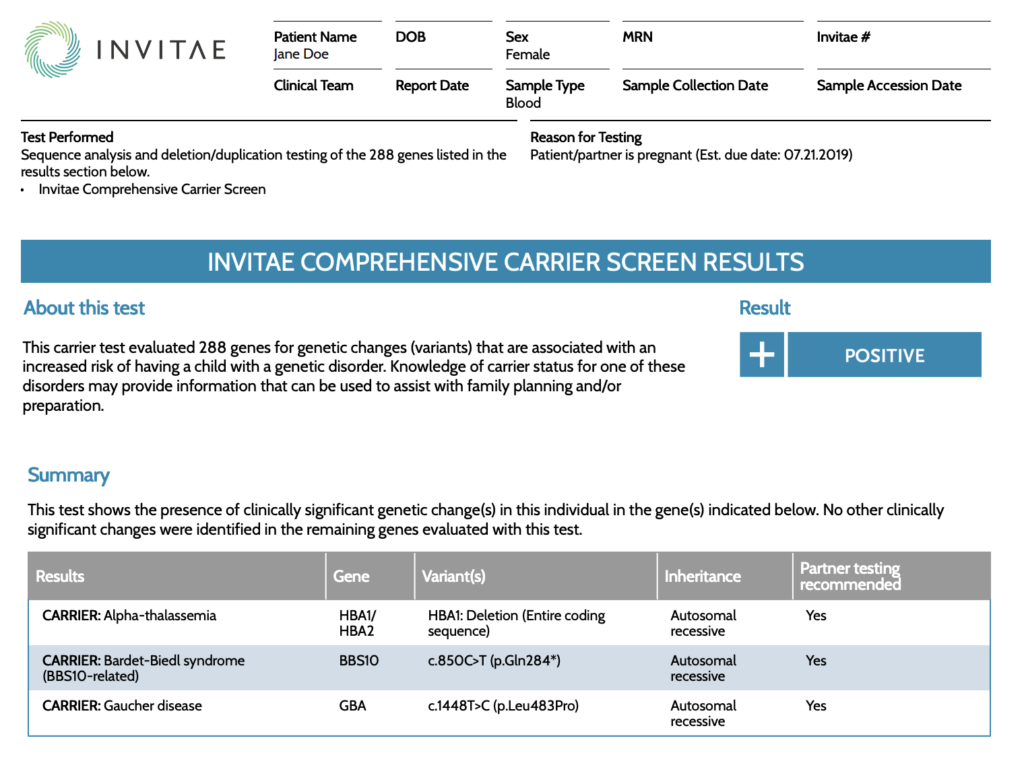 Invitae Non-invasive prenatal testing
This test covers common genetic disorders, like Down Syndrome, that result from additional or missing pieces of genetic material in the genome.
The report identifies aneuploidies (if present) in chromosomes 13, 18, 21, and sex chromosomes.
Aneuploidy is the presence of an abnormal number of chromosomes.
It is followed by the "next steps" section.
The report ends with the "Limitations" and "Disclaimer" sections.
Invitae Proactive/Staying Healthy Test
Cancer Screen: The report includes information on 61 genes associated with common cancers like breast, ovarian, and prostate cancer.
Cardio Screen: This test looks at 75+ genes known to influence the risk of many inherited heart diseases like hereditary high cholesterol levels.
Genetic Health Screen: The report provides information on over 145 genes associated with many inherited conditions.
Image: Comparison of the tests in Invitae Proactive/Staying Healthy Pack
Invitae Pricing
| | |
| --- | --- |
| Test | Price |
| Invitae Cancer Screen | $299 |
| Invitae Cardio Screen | $299 |
| Invitae Genetic Health Screen | $350 |
Is There Insurance Coverage?
Many of the invitae diagnostic tests may be covered by insurance.
The company also offers Medicare and Medicaid beneficiaries for patients residing in the US if they meet the eligibility criteria.
Invitae offers testing at little or no expense for patients who qualify through their Patient Assistance Program.
Invitae also offers sponsored testing, partnering with biopharma companies like Alnylam to provide genetic testing for selective genetic diseases for patients who meet eligibility criteria.
About Invitae Privacy
The company claims that they do not sell or share users' identifiable data with any third parties. However, they share information about genetic variants and anonymized genetic information with service providers, business partners, and third-party or public databases for research purposes. In addition, Invitae allows users to alter their privacy settings manually.
Invitae's privacy policy may change from time to time, with updates posted on the website.
Invitae - News and Reviews
News
According to people familiar with the matter, Exact Sciences Corp, a genetic testing company backed by Cathie Wood's Ark Investment, has approached Invitae about a possible merger.
Volpara collaborates with Invitae to expand access to Genetic Testing and Risk Assessment Capabilities.
Invitae opens early access to liquid biopsy-based personalized cancer monitoring as a central laboratory service.
Review
Summary: Invitae Genetic Testing: Pros and Cons
Pros
Established clinical genetic testing company
Accessible to everyone.
Cost-effective as services may have health insurance coverage
Provides free counseling for patients
Cons
Invitae does not provide insurance for proactive type tests
Access to raw data is unavailable, so can't cross-check the results with other DNA analysis services
Does not accept data from other genetic testing providers
Invitae
Xcode Life
DNA kit
Provided
Not provided
DNA raw data upload
Not allowed
Allowed
DNA data exploration tools
Not available
Available
Report updates
No
Quarterly
Report price
$250 or $350
Individual reports: $30 - $50
Bundle packs: $160 - $199
Diagnostic
Yes
No, but the reports are a powerful tool physicians can use to make health recommendations.
Report categories
Hereditary cancer, Cardiology, Neurology, Pediatric Genetics, Metabolic disorders, Immunology, and Hematology
Nutrition, Fitness, Skin, Allergy, Health, Personality, Breast Cancer, MTHFR, Personalized Medicine, Sleep, Genetic Reports