What Are Double Eyelashes?
Double eyelash is a rare condition of having two rows of eyelashes in an eyelid.
It is medically termed Distichiasis and can affect both eyes.
An extra row of eyelashes is present on either the upper or lower eyelids (or both).
The second row of lashes is lighter, shorter, and thinner than the first.
They can be either a whole set of eyelashes or one or two lashes on each eyelid.
Usual lashes grow at the dry outer edge of the eyelid, but the extra lashes grow from the wet inner edge of the eyelid.
The meibomian gland is where the double eyelashes arise on each eyelid.
They are oil-producing glands that help lubricate your eyes.
It coats tears which stops the eyes from drying up too quickly.
Common signs and symptoms of double eyelashes include:
Conjunctivitis (swelling, redness, irritation in eyes)
Ptosis (droopy eyelids)
Corneal ulcer (an open sore on your cornea)
Sensitivity to light (photophobia)
Styes (small, painful bumps on your eyelid)
Corneal scarring (deep scratches in your cornea)
Severe eye pain
Why Does It Happen?
The two main ways distichiasis can happen are:
Congenital distichiasis is when the disorder is present at birth.
Acquired distichiasis can be developed later in life.
Congenital Distichiasis
Congenital distichiasis happens if epithelial cells of your eyes develop incorrectly or modify into a pilosebaceous unit.
The pilosebaceous unit, comprising the hair follicle, hair shaft, and sebaceous gland, makes the extra row of eyelashes.
Congenital distichiasis occurs when there is a gene mutation in FOXC2 (forkhead box protein C2) during conception.
The FOXC2 gene is involved in other inherited conditions besides distichiasis.
Acquired Distichiasis
Acquired distichiasis develops when eyelids get injured or inflamed.
Here are some factors or conditions causing acquired distichiasis:
Exposure to chemicals
Blepharitis - Inflammation of oil glands in eyelids
Meibomian gland dysfunction (MGD) - A group of eyelid disorders
Ocular cicatricial pemphigoid (OCP) - A severe form of conjunctivitis that causes scarring in the eyes, mouth, and throat
Stevens-Johnson syndrome (SJS) - A skin disorder characterized by rashes, blisters, and shedding off dead skin cells.
Genetics of Double Eyelashes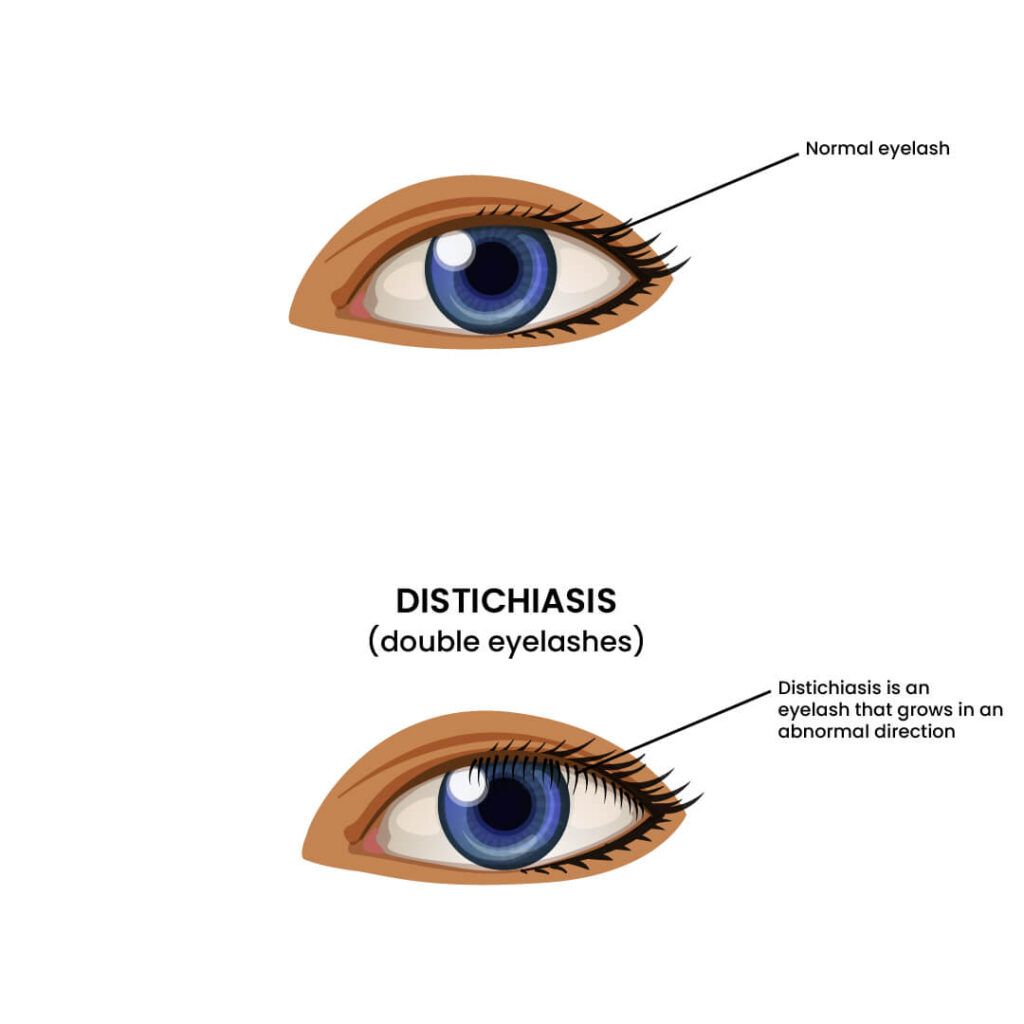 Double eyelashes can occur due to FOXC2 gene mutation.
The FOX (forkhead box) gene family consists of 21,418 protein-coding genes.
The FOX genome codes for proteins called transcription factors that control the transcription of genes.
Some transcription factors of the fox gene family are A1, A2, B1, C1, C2, D1, etc.
They are involved in the modulation of senescence (biological aging), cellular replication, metabolic homeostasis, and the development of different organs.
The FOXC2 gene turns on and off many other genes during fetal development.
In Particular, FOXC2 helps in the formation of lymphatic valves and the early stages of heart and kidney development.
Is Distichiasis Due To A Genetic Mutation?
A rare genetic mutation of the FOXC2 gene on chromosome 16 causes distichiasis.
This mutation turns on excess transcription to cause a double row of lashes during prenatal development.
It can lead to droopy eyelids and yellowish nails.
How Common Is Double Eyelashes? Who's At Risk?
About 1 in 10,000 people appear to develop distichiasis.
Here are some risk factors for developing distichiasis.
Family History
Genetics is a prominent risk factor in developing congenital distichiasis.
You are more likely to inherit the condition if any of your parents have double eyelashes.
Age
Older people are more likely to develop eyelid disorders like ocular cicatricial pemphigoid (OCP) and meibomian gland dysfunction (MGD).
Gender
Women are more susceptible than men since they develop OCP quickly.
Eyelid Inflammation
Seborrheic dermatitis or dandruff on the scalp and brows increase the chance of developing swollen eyelids.
Other risk factors include allergies, bacterial infections, clogged oil glands on your eyelids, and eyelash mites or lice.
Certain Medications
Meibomian gland dysfunction (MGD) is more likely to occur in people who take glaucoma medication.
Stevens-Johnson syndrome (SJS) can affect people who take painkillers for gout, seizures, infections, and mental illness.
Lack Of Immunity
Immune-compromised people are at higher risk of developing eyelid disorders.
Use Of Contact Lenses
Contact lenses can irritate your eyes which leads to inflammation of the eyelids.
Is Double Eyelashes Dangerous?
Double eyelashes associated with FOXC2 gene mutation can be dangerous as it causes other inherited conditions.
The FOXC2 gene mutation leads to lymphedema distichiasis syndrome (LDS), an autosomal dominant genetic disorder.
LDS is a condition of having both the disorders, lymphedema, and distichiasis.
Lymphedema causes an accumulation of protein-rich fluid called lymph in the arms, legs, and soft body tissues.
It is due to the obstructed lymphatic vessels/valves in the lymphatic system.
The lymphatic system is a circulatory system that filters and distributes blood and lymph (fluid) all over the body.
A mutation in the FOXC2 gene causes an increased risk of congestive heart failure (supply of fluid to the heart instead of blood).
Congestive heart failure causes shortness of breath, leading to sudden death.
LDS is associated with other health conditions -
Early onset of varicose veins
Scoliosis (curved spinal cord)
Cleft palate (open splits in the roof of the mouth or lip)
Arrhythmia (irregular heartbeat)
Structural heart abnormalities
How Is Distichiasis Treated?
You do not need medication if you are asymptomatic.
If you experience any symptoms, treatment will emphasize subsiding them.
It could also require removing the excess eyelashes.
The number of extra lashes and your symptoms will determine the best treatment.
Hydrating Eye Drops
Lubricating eye drops hydrate the eyes and can ease acute eye irritation.
It works by shielding the cornea from excessive lashes so as not to irritate.
Smooth Contact Lenses
Soft contact lenses offer a layer of defense similar to lubrication.
Ensure to use contact lenses correctly to avoid any problems.
Epilation
By using an epilator, an electronic tool, the lashes are removed during epilation.
It pulls out extra lashes physically from the eyelid.
It is a temporary solution because the lashes often grow back in two to three weeks.
People with few extra lashes can undergo epilation.
Cryotherapy
Cryotherapy detaches eyelash follicles from eyelids using extremely cold temperatures.
Although having few side effects, it has long-lasting results.
Cryotherapy may cause side effects like:
Loss of nearby eyelashes
Thinning of the eyelid edge
Minor scarring of the eyelid
Eyelid depigmentation
Electrolysis
For eliminating a few eyelashes, electrolysis is preferable to epilation.
A needle with a short-wave frequency is injected into the eyelash follicle.
During this process, the follicle is let loose from the eyelid.
Lid Splitting
One kind of eye surgery is lid splitting.
The eyelash follicles are visible when eyelids are split open.
Individually, the excess eyelashes are taken out.
Lid splitting is occasionally combined with electrolysis or cryotherapy.
Argon Laser Thermoablation
The lash follicles are repeatedly burned with an argon laser removing the follicles.
During the procedure, you can feel uncomfortable and have an increased tear flow.
Summary: Double Eyelashes - Why Does It Happen?
Double eyelashes or Distichiasis is a condition of having an extra row of eyelashes.
It can be congenital distichiasis or acquired distichiasis, depending upon the cause.
A mutation in the FOXC2 gene causes congenital distichiasis.
The FOXC2 gene mutation leads to other inherited conditions like lymphedema-distichiasis syndrome (LDS) and congestive heart failure.
People with a family history of double eyelashes, eyelid inflammation, painkiller medications, and poor immunity are at high risk of developing the condition.
Double eyelashes is treated by argon laser thermoablation, cryotherapy, epilation, lid splitting, etc.
References