Is cleft lip genetic? A cleft lip is a congenital disability where the upper lip and nose do not form properly. It is one of the most common congenital disabilities in the world. Cleft lip is usually due to a combination of genetic and prenatal factors. Most people with cleft lip have no family history of the condition. However, certain genes may increase the risk of cleft lip.
Cleft Genetics
Source: Cleft Collective Study
What Is Cleft Lip and Palate?
Cleft lip and cleft palate (CLCP) are common congenital disabilities that occur when the baby's lip and mouth parts do not develop well during pregnancy.
Together, these defects are called orofacial (relating to mouth and face) defects.
They can be isolated or associated with other inherited conditions and genetic syndromes.
In cleft palate, the two halves of the roof of the mouth don't join completely.
With cleft lip, the tissue forming the lip does not join completely before birth.
This can occur on one side of the face (unilateral CLCP) or both sides (bilateral CLCP).
The cause of CLCP is unknown.
Research suggests that certain genetic factors and prenatal environment play a role.
The most common treatment option for CLCP is surgery.
Those treated for cleft lip or palate typically have normal lives.
How Does Cleft Lip and Palate Develop?
Around the end of the first month or beginning of the second month of pregnancy, the baby's mouth develops as two halves which grow closer together and fuses by the 6th or 8th week of pregnancy.
This fused part moves forward and backward to form the lips and uvula, forming the full mouth by the 10th week of pregnancy.
With cleft palate or cleft lip (or both), the two halves of the palate do not fuse.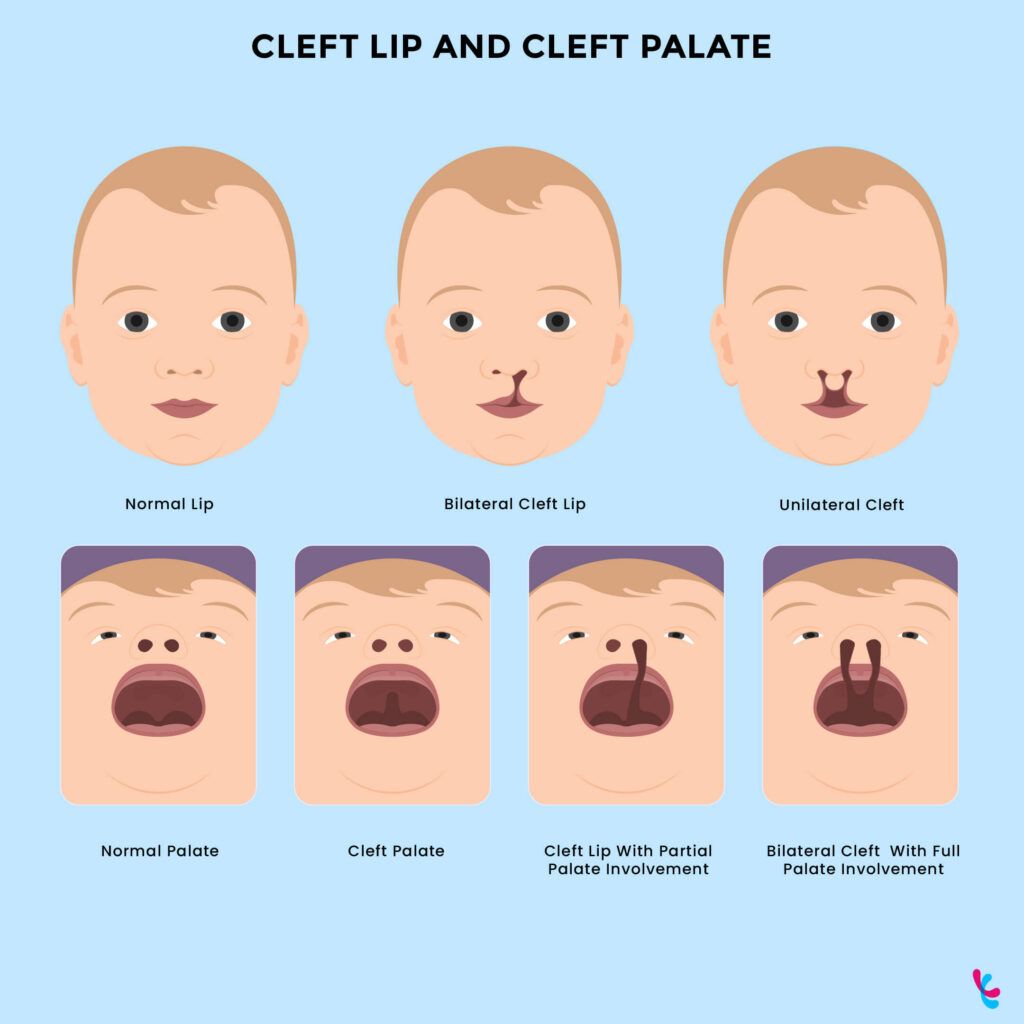 How Many Babies are Born with Cleft Lip/Cleft Palate?
Around 1 in 1000 babies are born with CLCP worldwide.
In the United States, 1 in 1600 babies are born with CLCP, 1 in 2800 babies are born with cleft lip, and 1 in 1700 babies are born with cleft palate.
Is Cleft Lip Genetic?
There's no single "cleft lip gene."
However, research points to combinations of different genes as a risk factor for cleft lip.
According to a study, the risk for cleft lip in first-degree relatives with a family history of this condition is 32 times higher than those without.
To date, 13 genome-wide linkage scans have been performed for CLCP.
They have identified several candidate genes for cleft lip, some of which are:
ARHGAP29
PAX7
IRF6
THADA
EPHA3
VAX1
SPRY2
TPM1
NOG
MAFB
A 2014 study reviewed the plausible biological role of a few of these genes in cleft lip and cleft palate.
IRF6 Gene and Cleft Lip
The first gene to be associated with cleft lip
Causes of two autosomal dominant conditions associated with clefting
Associated with disruptions or underdevelopment of lip pits (Lip pits are depressions of the lower lip that occur on either side of the midline of the lower lip)
MAFB Gene and Cleft Lip
Crucial for the development of keratinocytes, a type of skin cells
Associated with multicentric carpotarsal osteolysis (MCTO), a type of skeletal disorder
Individuals with MCTO have craniofacial (bones of the skull and face) abnormalities

ARHGAP29 Gene and Cleft Lip
Regulates the functioning of a protein (Rho GTPase activating protein 29) involved in many functions critical for craniofacial development
8q24 Gene and Cleft Lip
Has striking significance in many severe disorders, including cleft lip and palate, colorectal, prostate, bladder, and breast cancer
MYC, a gene very close to 8q24, is strongly expressed in the mandible and maxilla (lower and upper jaw bones)
VAX1 Gene and Cleft Lip
Expressed in several craniofacial structures
Mice deficient for Vax1 protein develop cleft palate
PAX7 Gene and Cleft Lip
Mice with mutations in the PAX7 gene showed abnormalities in the maxilla and nose
GWAS confirms the etiology of PAX7 in cleft lip and palate
Inheritance of Cleft Lip
Determining the inheritance of cleft lip is tricky, as it is associated with several conditions.
If a parent has cleft, the child has a 2-8% chance of inheriting it (if cleft lip is seen as a condition by itself).
If the parent's parents or siblings also have cleft lip, the inheritance chances raise to 10-20%
However, if it's associated with other genetic conditions, the inheritance can be as high as 50%.
A family history of cleft lip, with the parents unaffected, gives rise to an inheritance rate of <1%.
With no family history at all, the likelihood of having a child with cleft is 0.14%.
When a child with cleft lip is born to unaffected parents, their chances of having another child with cleft lip is 2-8%.
Other Factors Influencing Cleft Lip Risk
Ancestry/Ethnicity
The prevalence of CLCP is the highest in those of Asian or Amerindian descent (1/500) and least in those of African descent(1/2500).
Caucasian populations have an intermediate prevalence rate (1/1000).
Smoking During Pregnancy
According to the CDC, those who smoke during pregnancy are at an increased risk of having a baby with an orofacial cleft than those who don't smoke.
Maternal Alcohol Consumption
Studies hypothesize an association between clefting and errors in the alcohol-metabolizing gene ADH1C.
A study reported that errors in alcohol metabolism combined with heavy maternal alcohol consumption increase the risk for orofacial clefts.
Diabetes
Some evidence supports that women with diabetes before pregnancy are at increased risk of having a baby with cleft lip.
Certain Medications
Medications that treat seizures (like topiramate or valproic acid) taken during pregnancy (first trimester) can increase cleft lip risk in the baby.
Diagnosis, Treatment, and Outlook for Cleft Lip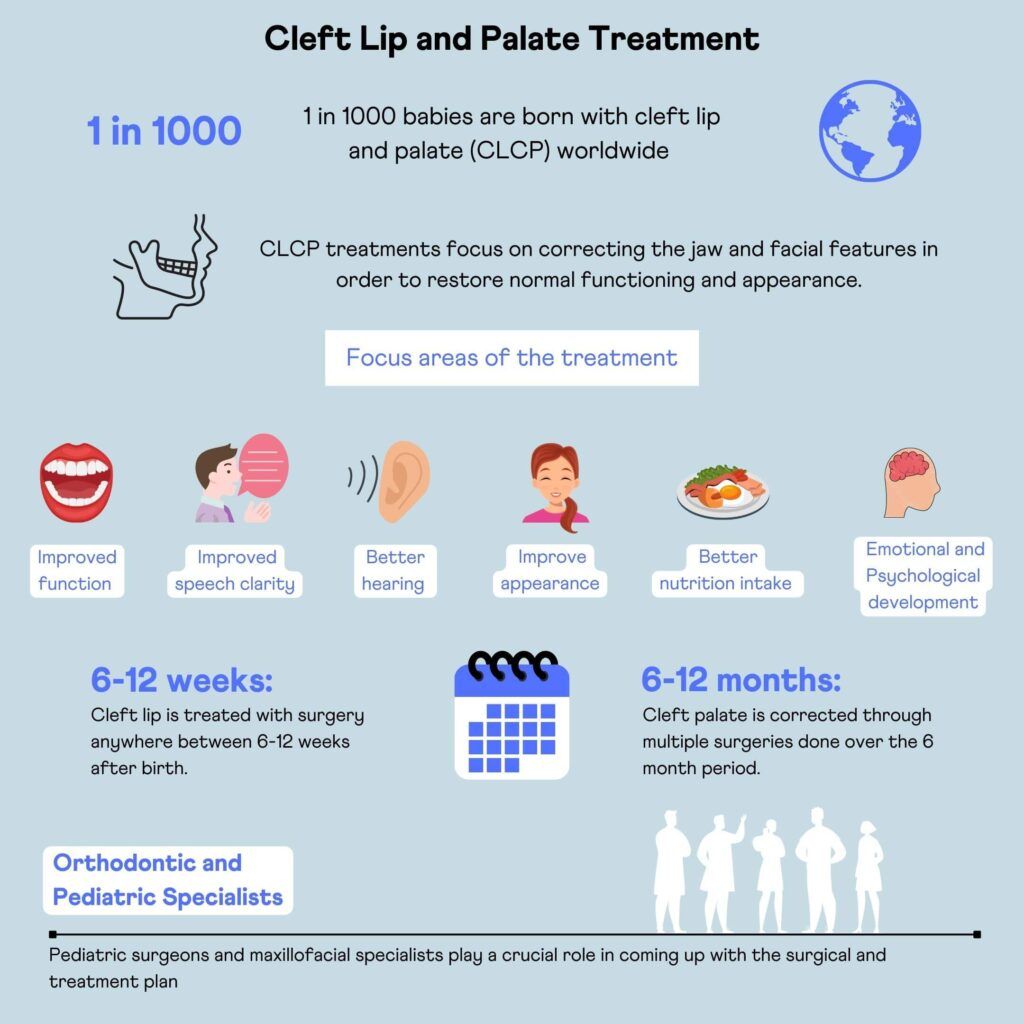 Diagnosis
Ultrasound can pick up cleft lip anywhere between 18-21 weeks of pregnancy.
However, it can be difficult to diagnose some cases of clefting through routine ultrasounds.
In this case, it can be diagnosed immediately after birth or within 72 hours.
Treatment
Surgery is the most common treatment option for cleft lip.
It is done within the first 12 months of life.
Surgical repair not only improves the appearance but also breathing, hearing, and speech clarity.
Speech and language therapy can help manage speech clarity problems.
Orthodontist support may be helpful in looking after the child's dental health.
Outlook
Children treated for cleft lip tend to have normal lives.
If the cleft lip is a manifestation of another genetic condition, their outlook will depend on the nature of the underlying condition.
Surgery for cleft correction doesn't have major side effects except for a small scar that fades over time.
Summary: Is Cleft Lip Genetic?
A cleft lip is a congenital disability resulting in improper lip or mouth palette closure.
Cleft lip develops during the 10th week of pregnancy and is a condition by itself or associated with other genetic conditions.
Cleft lip in parents, siblings, or second and third-degree relatives can increase the risk of a child being born with this condition.
Genes implicated in cleft lip play a role in the development of craniofacial features.
Routine ultrasound typically picks up cleft lip, and this condition can be treated within a year of birth.
Once treated, it is possible to live a full and normal life.
References
https://pubmed.ncbi.nlm.nih.gov/18250102/
https://www.ncbi.nlm.nih.gov/pmc/articles/PMC3925974/
https://www.nhs.uk/conditions/cleft-lip-and-palate/
https://www.news-medical.net/health/Causes-of-cleft-lip-and-palate.aspx