As humans, we are always curious about the enigmatic nature of our bodies and the fascinating interplay between genetics and various health conditions.
Among the myriad medical puzzles that continue to captivate researchers, scoliosis is a complex spinal disorder that has long intrigued medical professionals and affected individuals.
Over the years, there has been a quest to uncover the underlying causes of scoliosis, leading to a question that lingers in the minds of many: Is scoliosis genetic?
This article aims to shed light on the relationship between our genes and the development of scoliosis, providing a deeper understanding of this condition that affects millions worldwide.
Did You Know?
Certain gene changes can put you at higher risk for developing many chronic conditions like diabetes, hypertension, and even scoliosis. Learning about your genetic risks can help plan preventional strategies even before the symptoms appear.
What Is Scoliosis?
Scoliosis is a lateral or sideways curvature of the spine, causing the person to lean a little while standing.
The word 'scoliosis' is derived from Greek and means crooked.
The spine usually takes an elongated 'S' or 'C'-shape, with the spine's bones also twisted, rotated, or elongated.
A spinal curvature of more than 10 degrees is considered scoliosis and can be diagnosed with an X-ray.
Scoliosis may be an isolated condition occurring in healthy individuals or resulting from other neurological or neuromuscular disorders.
With no visible signs noticed, parents are often caught unawares when their children are diagnosed with scoliosis.
While genetic modifications could be one reason adolescents develop this condition, the exact cause remains unidentified in many cases.
According to the American Association of Neurological Surgeons, about 2-3% of the population develop scoliosis.
Types Of Scoliosis
There are four types of scoliosis identified based on how the condition develops.
Adolescent Idiopathic Scoliosis (AIS)
AIS is one of the most common forms of this condition, diagnosed in 80% of scoliosis cases.
Idiopathic conditions arise spontaneously without a known cause.
AIS is mainly diagnosed during an adolescent growth spurt and is more common in girls than boys.
Congenital Scoliosis
Congenital scoliosis is caused by abnormal development of the spine in the fetus.
The severity and progress of the condition depends on the intensity of the abnormality.
Neuromuscular Scoliosis
Neuromuscular scoliosis occurs along with other neurological conditions or muscular diseases.
Children with conditions like cerebral palsy, muscular dystrophy, and spinal cord trauma may develop scoliosis as they grow.
Degenerative Scoliosis
Degenerative scoliosis affects older adults. As people age, the back disk and joints wear out, leading to changes in the spinal curvature.
Prevalence Of Scoliosis
About 6-9 million Americans are diagnosed with scoliosis worldwide.
AIS leads to disability and disfigurement issues in more than 10% of the patients in the United States
This costs the government billions of dollars in treatment and compensation.
According to studies, after age 10, females have up to 6 times higher risk of developing scoliosis compared to males.
What Causes Scoliosis?
Scientists believe that the presence of certain neurological or muscular conditions like cerebral palsy or muscular dystrophy can increase the risk of developing the condition.
 Scoliosis can also be a result of genetic mutations in the body.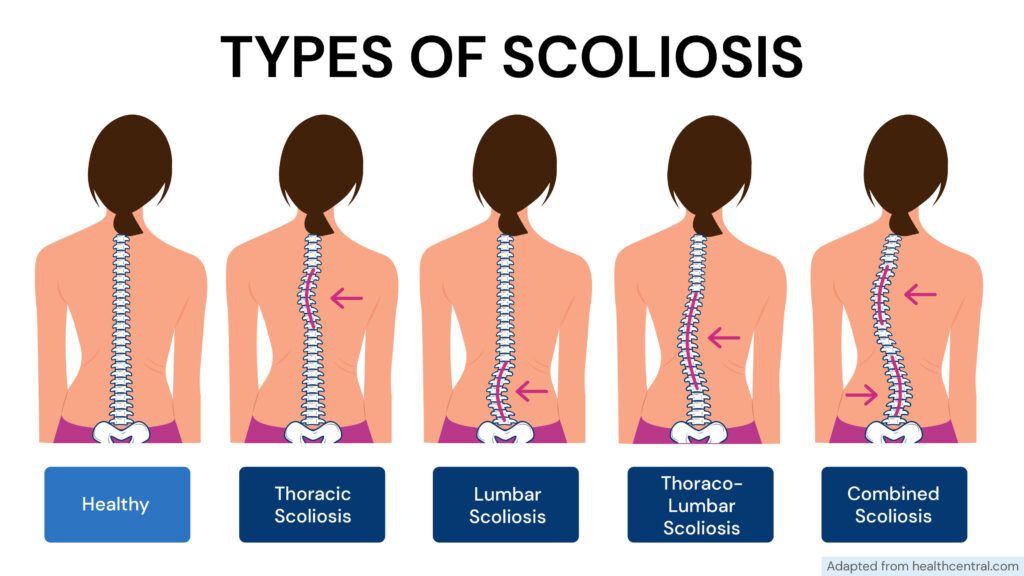 Is Scoliosis Genetic?
Is scoliosis hereditary, and does it run in families?
According to experts, scoliosis can result from abnormal gene mutations in the body.
Such gene mutations may or may not be passed on in families.
The risk of developing scoliosis when there are first-degree relatives with the condition is 11%.
With second and third-degree relatives with the condition, the risk reduces to 2.4% and 1.4%.
A meta-analysis studied the occurrence of AIS in monozygotic twins (identical twins) and dizygotic twins (fraternal twins).
This study suggests that identical twins had a 73% rate of concordance of inheriting scoliosis when compared to just 36% in fraternal twins.
Genes Underlying Scoliosis
A 2022 systematic review published on BMC Medical Genomics identifies the following genes being responsible for causing Adolescent Idiopathic Scoliosis (AIS).
CHD7
SH2B1
ESR
CALM1
LBX1
MATN1
CHL1
FBN1
FBN2
CHD7 gene
The CHD7 gene (chromodomain helicase DNA binding protein 7 gene) is responsible for producing the CHD7 protein.
This protein is found in various body parts before birth, and mutations in this gene may cause CHARGE syndrome.
CHARGE syndrome can lead to congenital abnormalities and growth retardation in fetuses.
Small changes in this gene, known as Single Nucleotide Polymorphisms (SNPs) rs1017861, ​​rs4738824, and rs4738813, may be associated with scoliosis.
FBN1
The FBN1 gene (fibrillin 1 gene) helps make the fibrillin protein. Mutations in this gene may cause Marfan syndrome.
Marfan syndrome is a connective tissue disorder that leads to unusually long fingers and legs and cardiovascular problems.
According to studies, about 60% of patients with Marfan syndrome also have scoliosis. 
How's Scoliosis Inherited?
Scoliosis can be inherited through autosomal dominant inheritance patterns, suggests studies.
With autosomal dominant inheritance, the condition can be inherited when just one copy of the allele of the mutated gene passes on to the next generation.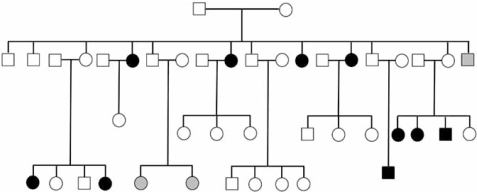 Image source: https://www.ncbi.nlm.nih.gov/pmc/articles/PMC2674301/
The figure explains the inheritance of scoliosis through autosomal dominant inheritance
Factors Influencing Scoliosis Progression
Since the concordance rate (the extent to which both twins share the same characteristic) of inheriting scoliosis is less than 100% in identical twins, genes cannot be solely responsible for scoliosis.
Researchers suggest that genetic and environmental factors may lead to the condition and determine its progression.
The following are some of the factors that influence scoliosis progression.
Age - being female increases the risk of severity of the condition.
Large Curve Magnitude - scoliosis is diagnosed when the spinal curve magnitude is more than 10 degrees. The higher this number, the more the severity of the condition can be.
GMFCS Level V - the Gross Motor Function Classification System (GMFCS) has five levels to categorize children with cerebral palsy. GMFCS level V may influence scoliosis progression.
Rate Of Pelvic Obliquity (PO) - pelvic obliquity is a misalignment of the pelvis, with one hip higher or lower in position than the other. PO can lead to abnormal spine postures and increase the severity of scoliosis.
Factors like diet, lifestyle, and sitting posture may also contribute to condition progression.
How To Test For Scoliosis Susceptibility?
Doctors may look for scoliosis as a part of their regular check-ups done on adolescents.
X-Rays can easily help identify spinal curvature.
CT scans to understand the shape and size of the spinal canal and precisely capture the extent of curvature.
Doctors may recommend an MRI test, too, to rule out other conditions like tumors that may be causing scoliosis.
Certain companies offer genetic tests that examine the gene changes associated with scoliosis risk. The results can give you an idea of your genetic risk for scoliosis.
I want to learn my genetic risk for Scoliosis
Scoliosis Treatment Options
Doctors suggest the 'waiting and watching' approach for growing children with a spinal curvature of less than 20 degrees.
An external brace must be worn for adolescents with spinal curvatures between 20 degrees and 50 degrees to help correct the posture and prevent the condition from worsening.
When the spinal curvature is more than 50 degrees, surgically correcting the spine may be a solution.
Summary: Is Scoliosis Genetic?
Scoliosis is a condition caused by lateral curvature of the spine, causing a misalignment in the body.
Scoliosis is mostly diagnosed during puberty and affects 2-3% of the world's population.
Adolescent Idiopathic Scoliosis (AIS) is the most common type of scoliosis, with the exact cause unknown.
Genetic mutations and the presence of neurological and muscular conditions may be some reasons that increase a person's risk of developing scoliosis.
Mutations in genes, including CHD7, SH2B1, ESR, and FBN1, may lead to scoliosis.
According to research, scoliosis has an autosomal dominant inheritance pattern and can be passed on in families.
Scoliosis can be diagnosed through X-Rays and CT scans. Unless the spinal curvature is high, the patients may not need any treatment.
Treatments for scoliosis include physical therapy, the use of braces, and surgery.
References