Xcode Life's Type 2 Diabetes DNA Report
Researchers have identified several genes associated with type 2 diabetes.
In the sample report below, we've attempted to analyze some important genes that increase the risk of type 2 diabetes.
You can identify your genetic risk of type 2 diabetes by using your 23andMe DNA data and placing an order for the Gene Health Report.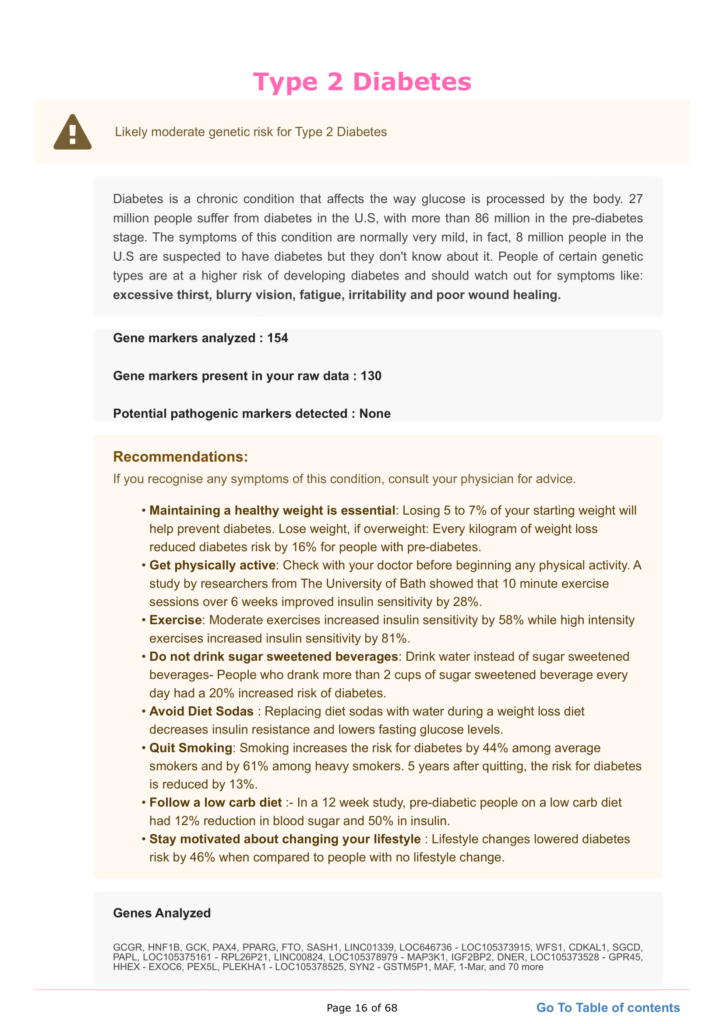 Type 2 Diabetes Overview: What Is It?
Glucose, a type of sugar, is the primary energy source for the body.
However, excess glucose can be harmful.
A hormone called insulin regulates our blood glucose level.
Insulin is released from the pancreas into the blood when glucose levels are high, like after a meal.
However, when the pancreas does not release enough insulin, a person develops diabetes.
Type 2 diabetes is a disorder caused due to the insufficient production of insulin in the body.
Environmental and lifestyle factors were typically thought to cause type 2 diabetes.
However, scientists have recently found that it also might also have a hereditary (genetic) component.
Symptoms of Type 2 Diabetes
Symptoms of type 2 diabetes are not apparent at first but slowly become noticeable.
Some common symptoms are
frequent urge to urinate (polyuria)
feeling thirsty often
Additional symptoms include
Uncontrolled diabetes can cause other problems over time.
It can cause heart disease and kidney damage and affect your eyes and nerves. 
Is Type 2 Diabetes Genetic?
Studies show that type 2 diabetes is more likely to be genetic than type 1.
It means that if one of your close relatives has type 2 diabetes, you are at an increased risk for it.
Race can also influence type 2 diabetes.
Some studies show that Asian, Latino, and black people are more prone to develop diabetes.
How's Type 2 Diabetes Inherited?
There is a high chance of developing diabetes if it runs in the family.
If only one parent has diabetes, a person has a 40% risk of developing it.
If both parents have diabetes, a person might be 70% more likely to develop it.
If a sibling or close relative has type 2 diabetes, a person is three times more likely to have it.
Is Type 2 Diabetes Inherited From The Mother Or Father?
There is no clear pattern to explain from which parent diabetes is inherited.
However, a person is more likely to get type 2 diabetes if his mother has the condition.
Having a close family member with diabetes increases the risk of having the disease.
What Are Type 2 Diabetes Risk Genes?
Having specific genes in your body increases your risk of type 2 diabetes.
A study published in 2013 has identified the genes that make you prone to type 2 diabetes:
CAPN10: This gene is linked to type 2 diabetes.
This gene contains instructions for producing the enzyme that degrades protein in our body.
TCF7L2: This gene produces proteins that regulate insulin secretion and glucose production.
Mutations in this gene are associated with diabetes across many racial groups.
ABCC8: This gene regulates insulin secretion.
Mutations in this gene can slow down the release of insulin.
GCGR: This gene produces the receptor for the hormone glucagon, which helps regulate glucose levels.
GCK: This is a gene for the enzyme glucokinase.
Glucokinase helps the body digest glucose.
GLUT2: This gene regulates a glucose transporter.
The glucose transporter helps glucose to enter pancreatic beta cells.
HNF4A: Controls genes that are especially important for the development and function of beta cells in the pancreas and, in turn, regulates insulin levels.
What Is My Risk for Type 2 Diabetes?
If you carry gene changes associated with type 2 diabetes risk, you may be more prone to getting this condition.
Other lifestyle factors and habits can also influence type 2 diabetes risk.
For example, if you smoke or drink, you are at a greater risk of contracting diabetes.
Extreme and chronic stress can also cause diabetes.
Being obese and having a lack of physical activity puts you at a greater risk of having Type 2 diabetes.
Type 2 Diabetes - Gene-environment Interaction
Many chronic conditions like type 2 diabetes are polygenic - this means many genes influence the development of this condition.
However, in most cases, certain lifestyle and environmental factors can offest the genetic risk.
You might have a gene associated with diabetes, but you might never have the condition because you have a healthy lifestyle.
Through a balanced diet and active lifestyle, it is possible to prevent type 2 diabetes even if you are genetically at an increased risk for this condition.
Genetic Testing For Type 2 Diabetes
Genetic testing is an effective tool for assessing your risk for numerous health conditions.
By analyzing your DNA, you can get information on whether you carry "risky genes" associated with numerous debilitating conditions like diabetes and heart disease.
With this information in hand, you can now take informed proactive measures to reduce the risk of these conditions and potentially prevent them.
Further, if you already have some of these conditions, your doctor can use the information in your report to recommend optimal management and treatment strategies.
Get Your Risk Profile For 40+ Health Conditions With the Gene Health Report
How To Prevent Type 2 Diabetes If It Runs In Your Family?
The best way to prevent diabetes is to make dietary and lifestyle changes.
Make sure you eat a balanced diet with all the essential nutrients.
Your diet should include loads of protein and fiber.
You should also eat green leafy vegetables if you want to prevent diabetes.
Try to control binge eating.
Instead, eat food in small portions throughout the day.
Make sure to include regular exercise in your daily routine.
Brisk walking, swimming, and cycling are considered suitable for the body.
Manage your stress levels by doing relaxing activities like meditation.
All these things can collectively help you manage diabetes.
Summary: Is Type 2 Diabetes Genetic?
Type 2 diabetes has a link to a person's genes.
If it runs in the family, a person is at an increased risk for type 2 diabetes.
Genetic testing is an effective tool to learn your risk for many health conditions, including type 2 diabetes.
Lifestyle and environmental factors also influence whether someone will have diabetes.
Having a healthy diet and stress-free life is vital to prevent diabetes.
References