Are Strokes Hereditary?
According to the Centers for Disease Control and Prevention (CDC), every year, about 800,000 people in the United States have a stroke. In India, it is estimated that about 334-424 people out of 100,000 in urban areas and about 84-262 out of 100,000 people in rural areas suffer from stroke A stroke occurs when a blood vessel that supplies oxygen and nutrients to the brain is either blocked by a clot or bursts. When this happens, part of the brain cannot get the oxygen it needs, so it starts to die. Are strokes hereditary? Keep reading to find out.
Xcode Life's Stroke DNA Report
Researchers have identified several genes associated with stroke.
In the sample report below, we've attempted to analyze some important genes that increase the risk of stroke.
You can identify your genetic risk of stroke by using your 23andMe DNA data and placing an order for the Gene Health Report.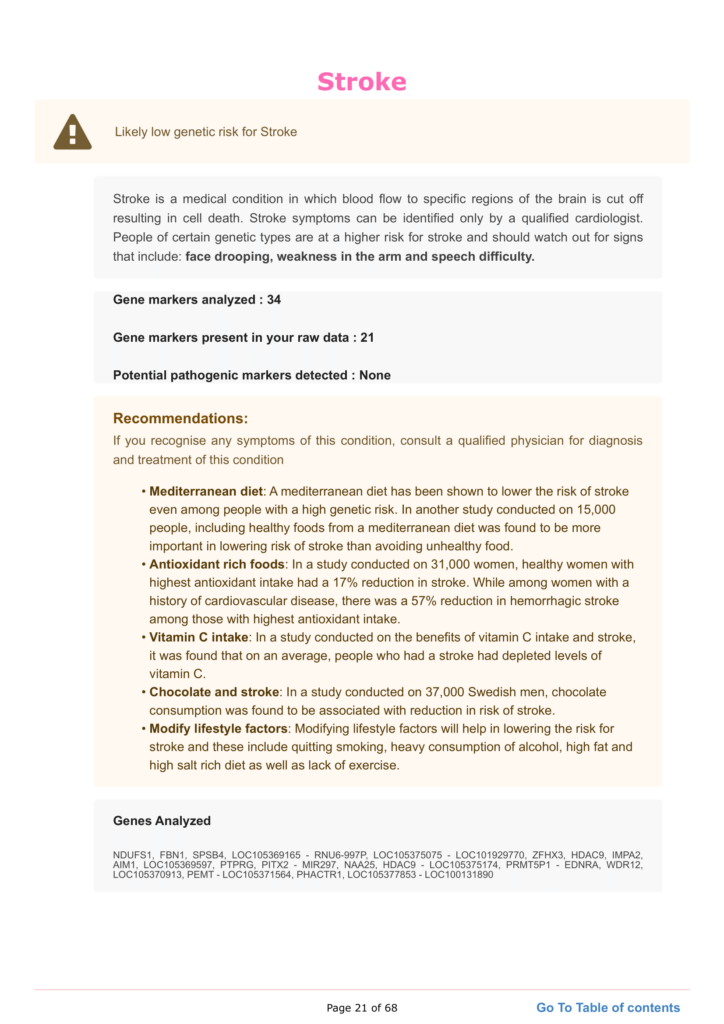 What Is Stroke?
Stroke is a condition in which the blood supply to the brain is blocked, resulting in a lack of oxygen to the brain cells and, finally, death of brain cells.
It occurs when the blood vessels going to the brain is either blocked by a clot or burst.
A stroke can lead to partial or complete paralysis or even death.
In India, the highest fatality, 42%, from stroke is seen in Kolkata.
In the U.S, stroke is the 5th leading cause of death and the leading cause of disability.
Types of Stroke
There are three types of strokes, classified based on the type of disruption and the extent of disruption in blood supply to the brain:
Hemorrhagic stroke: This type of stroke occurs when there is a break in a blood vessel leading to spillage of blood into the brain.
Ischemic stroke: This type of stroke occurs when a blood clot leads to the stoppage of blood supply and hence, oxygen supply to the brain.
Transient Ischemic attacks: This type of stroke may occur when a temporary disruption occurs in the blood supply to the brain.
Are Strokes Hereditary? The ApoE Gene
The ApoE gene mutation was found to be associated with increased levels of cholesterol, LDL and ischemic heart disease.
It has also been shown to be significantly associated with stroke.
Specifically, the ApoE gene mutation was shown to be associated with carotid intima-media thickness, which plays a role in ischemic stroke.
Many vascular conditions are driven by an interplay between genetic factors and environmental factors.
Hence, there has been a surge in circulation-related problems coincident with a surge in the consumption of high-calorific food and an increase in a sedentary lifestyle.
Genetic risk factors, such as the ApoE gene mutation, appear to play a significant role in the disease pathogenesis of stroke.
Testing for this gene mutation may help identify a risk factor and take preemptive actions.
Other Risk Factors for Stroke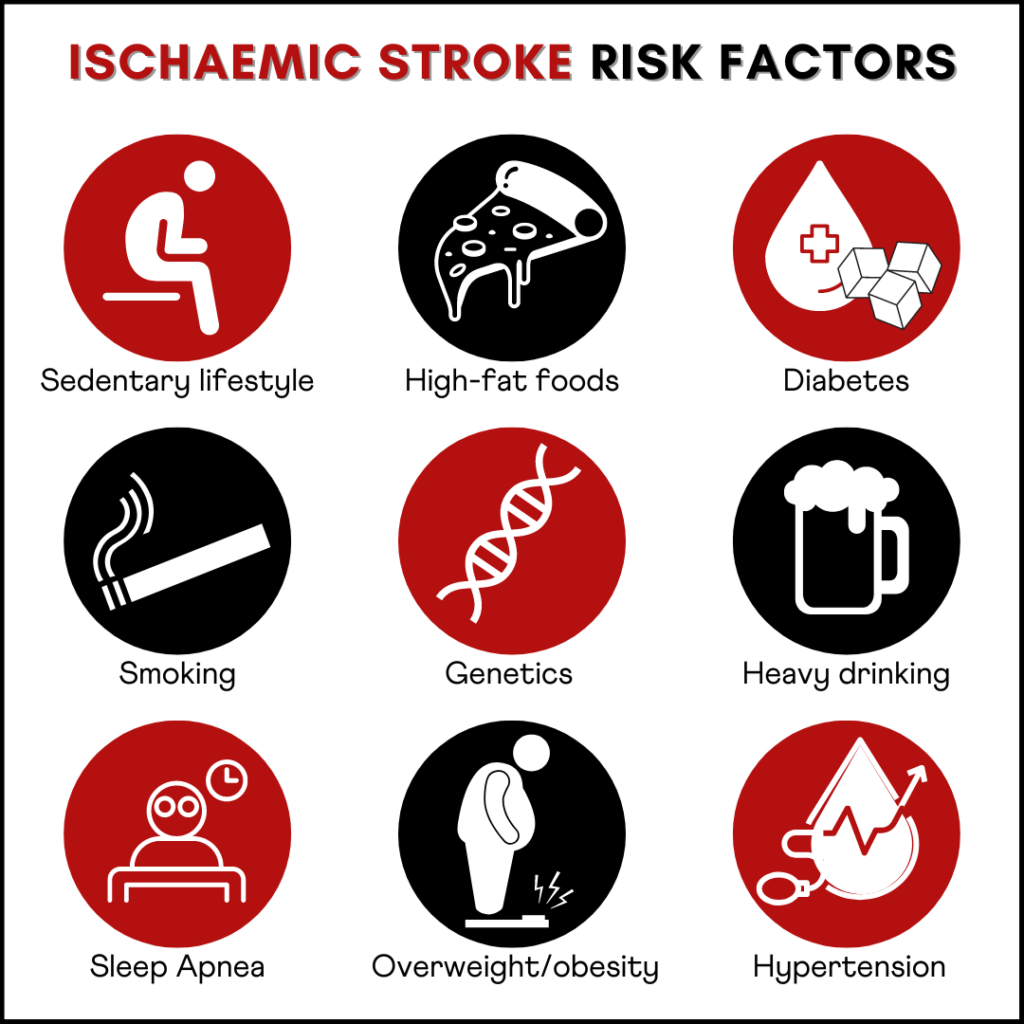 Heart diseases
Hugh blood pressure
Dyslipidemia
Smoking
Stress
Diabetes
Viral infections
Brain aneurysm
These factors may be modified to reduce the risk associated with the ApoE gene mutation.
In most instances, the severity of stroke can be controlled when the patient is provided with emergency medical support.
Early Warning Signs of Stroke
Paralysis of the face: The person may be unable to move certain or all muscles on the face. It is exhibited more as numbness rather than any form of twitching.
Vision loss: There may be a sudden loss of vision that could occur in both eyes or in one.
Slurring of speech: This is a significant sign of a stroke when the individual's speech becomes incoherent due to paralysis of a part of the face.
Test by raising hands: The individual who is suspected to be suffering from a stroke should be asked to raise both hands. An inability to raise both hands fully or even one could be a sign of a stroke.
Treatment of Stroke
Dissolving the clot with drugs: Drugs meant to dissolve the clot in the brain and to restore blood supply to the brain are administered to the patient. To be effective, these drugs are administered within four and a half hours of an ischemic stroke.
Removing the clot mechanically: A thrombectomy or mechanical removal of the clot may be done to remove the clot.
Psychological counseling: The increased dependency of a stroke victim for routine activities could diminish the spirit of a stroke victim. Psychological counseling can help such individuals. Mechanical aids to enhance mobility are available to assist with movement.
Physiotherapy: Rehabilitation in the form of physiotherapy is essential to aid the patient in being as independent as possible.
Genetic risk is an indicator of risk and does not guarentee disease onset or signify a poor prognosis.
A person with a high genetic risk for stroke should quit smoking, stay active, eat a well-balanced diet, stay away from alcohol, and keep a watch for warning signs and symptoms.
Summary: Are Strokes Hereditary
A stroke occurs when blood and oxygen flow to the brain is blocked.
The ApoE gene, famously associated with Alzheimer's, also plays a role in stroke risk.
Environmental factors like a sedentary lifestyle, consuming high-fat foods regularly, and health conditions like diabetes and hypertension can also impact stroke risk.
Common treatment options involve surgically removing the clot.
Physiotherapy and motility aids may help patients move and do some of their personal things to an extent.