How Does Hearing Loss/Deafness Occur?
People unable to hear sound thresholds of 25dB in at least one ear are diagnosed with hearing loss.
Profound hearing loss (unable to hear sound thresholds of more than 90 dB) is called deafness.
According to the National Institute on Deafness and Other Communication Disorders (NIDCD), one in eight people in the United States (aged 12 and older) have hearing loss.
Hearing loss can occur due to the following reasons.
Inner ear damage - This can result from excessive noise exposure, cochlear cell damage, or certain diseases.
Infection-caused damage - Certain infections can damage the middle or outer ear and lead to hearing loss.
Tumors - Certain kinds of tumors can cause hearing loss.
Eardrum damage - Loud noises, injuries, or extreme pressure changes can all cause a ruptured eardrum, leading to hearing loss.
Genetic mutations (abnormalities in specific genes) can cause hearing loss and deafness. We will discuss more on this in the coming sections.
Other external causes could cause hearing loss/deafness. Some of them are mentioned below.
Prenatal and Postnatal Infections
TORCH organisms (toxoplasmosis, rubella, cytomegalovirus, and herpes) can cause infections in the fetus and lead to hearing loss/deafness in infants.
Congenital cytomegalovirus (CMV) infection can affect the fetus and lead to hearing loss.
Bacterial meningitis infection affects the spinal cord and brain of infants and toddlers, which can also lead to hearing loss.
Noise-Induced Hearing Loss
Noise-Induced Hearing Loss (NIHL) seems to have already affected 5% of the global population.
NIHL is hearing loss due to exposure to loud noises.
Toys, vehicle sounds, sound exposure from using personal audio devices, and workplace noise can all lead to NIHL.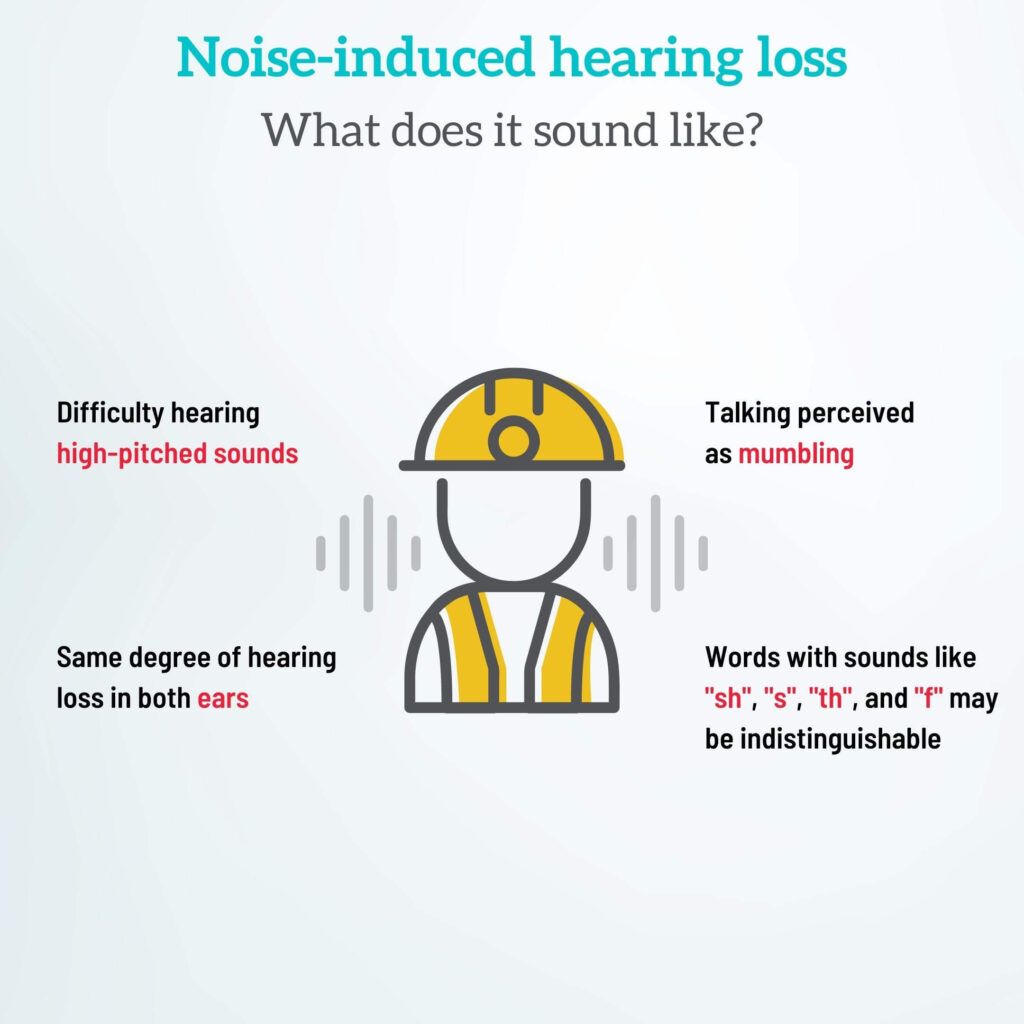 Image: Characteristics of noise-induced hearing loss
Age-Related Hearing Loss
Non-genetically, age-related hearing loss could be due to the loss of cochlear hair cells.
These cells are a part of the auditory system's sensory cells and help transmit electrical signals from the ear to the brain.
They decline as a person ages, leading to hearing loss.
Risk Factors For Hearing Loss
Some of the risk factors for hearing loss are
Heredity
Age
Exposure to occupational noise
Exposure to recreational noise
Use of chemotherapy drugs, antibiotics, and other kinds of specific medications
Infections like meningitis
Is Hearing Loss Hereditary?
Yes. Hearing loss could be hereditary. A parent with a mutated gene for hearing has a 50% chance of passing the gene to the child.
What Is Genetic Hearing Loss?
Genes contain information on how the body functions and performs.
Specific changes in the genes may prevent the ears from functioning as they should.
Hearing loss that occurs due to gene abnormalities is called genetic hearing loss.
There can be two kinds of genetic hearing loss - Syndromic and non-syndromic.
Syndromic genetic hearing loss - This is associated with damage or malfunctioning of the external ear or other medical conditions/organ damage.
About 20% of all genetic hearing loss is syndromic. It is easier to identify syndromic hearing loss as the signs are visible.
Non-syndromic genetic hearing loss - This is associated with malfunctioning of the middle or inner ear. No visible signs or symptoms are seen.
Up to 80% of genetic hearing loss is non-syndromic.
Is There A Deafness/Hearing Loss Gene?
More than 100 genes cause hearing loss in human beings. Some of the major ones are:
GJB2 (gap junction protein beta 2) gene
Changes in the GJB2 gene may cause severe to profound non-syndromic hearing loss.
This gene provides instructions for the production of the connexin 26 protein. This protein is found in the cochlear cells in the inner ear and plays a role in hearing.
STRC (stereocilin) gene
Changes in the STRC gene may lead to mild-to-moderate forms of hearing loss.
This gene helps produce the stereocilin protein, which is also found in the inner ear and helps in hearing.
WFS1 (wolframin ER transmembrane glycoprotein) gene
The WFS1 gene helps produce the wolframin protein.
This protein helps balance calcium ion levels in the inner ear, which are needed for hearing.
Changes in wolframin protein levels may cause hearing loss.
Inheritance of Hearing Loss
The American Hearing Research Foundation says that one out of every 1000-2000 children born has congenital deafness (inherited at birth).
About 80% of congenital deafness could be genetically influenced.
Some people may be born with average hearing ability but develop hearing loss over time due to age.
About 35-55% of age-related hearing loss could also be genetically inherited.
Deafness follows several patterns of inheritance, some of which are:
Autosomal dominant
Autosomal recessive
X-linked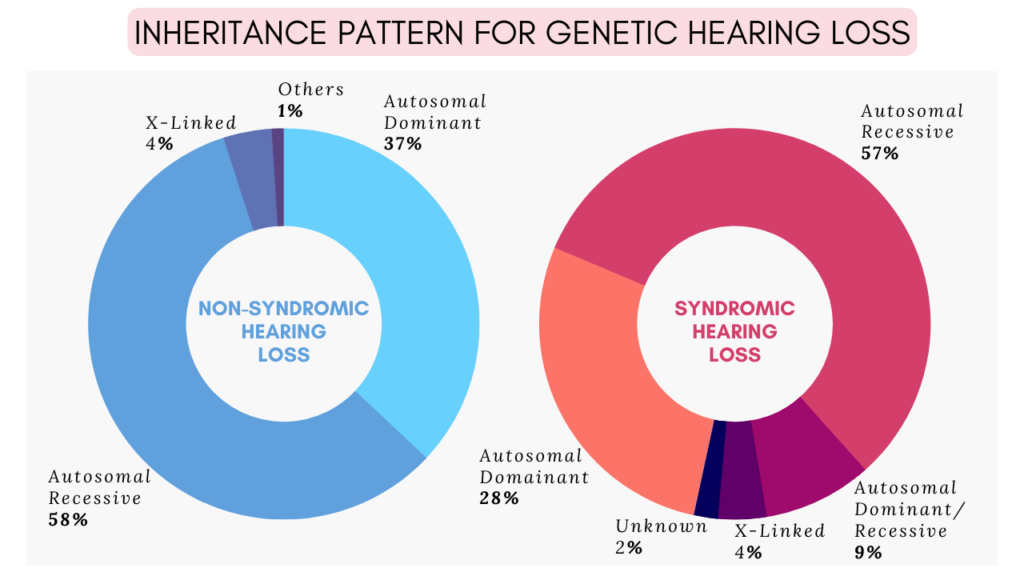 Image: Inheritance Patterns of Hearing loss
Source: https://genominfo.org/m/journal/view.php?number=521#b221-gi-2018-16-4-e20
Summary: Is Hearing Loss Hereditary?
While environmental factors can also cause hearing loss, genetics significantly influence hearing loss or deafness.
According to CDC, up to 60% of all hearing losses in babies are hereditary and genetically influenced.
Sometimes, a person's genetic makeup and environmental factors may work together to cause hearing loss.
Genetic testing may help identify a person's risk of developing hearing loss.
In case of high genetic risk, controlling the environmental causes may help reduce the extent of damage or postpone developing the condition.
References: