Depression: Symptoms and Causes
Depression or major depressive disorder is a mental health condition that affects an individual's behavior, mood, and overall health.
People with depression may experience prolonged feelings of sadness, hopelessness, and emptiness.
Depression usually begins in early adolescence or adulthood but can appear at any age.
Depression is one of the most common mental health conditions in the United States.
It is also more common in women and people assigned female at birth (AFAB) than men and people assigned male at birth (AMAB).
Common symptoms of depression are:
Constant feelings of sadness and hopelessness
Irritability and frustration
Loss of interest in routine activities, hobbies, and sex
Sleep disturbances
Fatigue or lack of energy
Anxiety, restlessness, and agitation
Difficulty in concentrating and remembering things
Recurrent thoughts of death
Unexplainable physical symptoms like headaches and backaches
The symptoms of depression may vary slightly in the younger age group.
Common depression symptoms in adolescents and teens are:
Feelings of sadness, clinginess, and worry
Vague aches and pains
Refusing to go to school
Being underweight
Frequent negative feelings and thoughts of worthlessness
Anger, poor academic performance, and attendance
Excessive eating or sleeping
Tendency of self-harm
Loss of interest in routine activities
Avoidance of social interaction
Though the exact cause of depression is unclear, the disorder runs in families, hinting that genetic factors may increase one's risk of developing the condition.
Research is still underway to study the genetic variations that increase the risk for depression.
Other factors that may increase one's risk for depression include:
Physical, emotional, or sexual abuse
Increasing age
Some medications like isotretinoin, corticosteroids
Conflicts with loved ones or family members
Death or loss of a loved one
Personal issues like social isolation
Serious chronic illnesses like cancer
Alcohol and substance abuse
The Role of Genetics in Depression
Genetics plays a central role in the development of depression.
Scientists believe that nearly 40% of people with depression have a genetic link, while environmental and other factors make up for the remaining 60%.
Existing research states that a complex interplay of genes and other environmental (non-genetic) factors determine an individual's risk of developing depression.
Few studies have reported that people having a first-degree relative with depression (a parent, sibling, or child) are three times more likely to develop the condition than the general population.
This shows that depression runs in families, and the disease has a significant hereditary component.
Some people can also develop the condition without a family history.
A Sneak-peek Into the Gene Health Report
Is there a Depression Gene?
Though genetics influences the development of depression and anxiety, no single causative gene has been identified.
Research states that genetic variations on multiple genes contribute to the development of depression.
However, having a genetic variant does not confirm you will develop the condition.
Besides genetic variations, how genes are passed down to the next generation (mode of inheritance) may also affect an individual's risk for depression.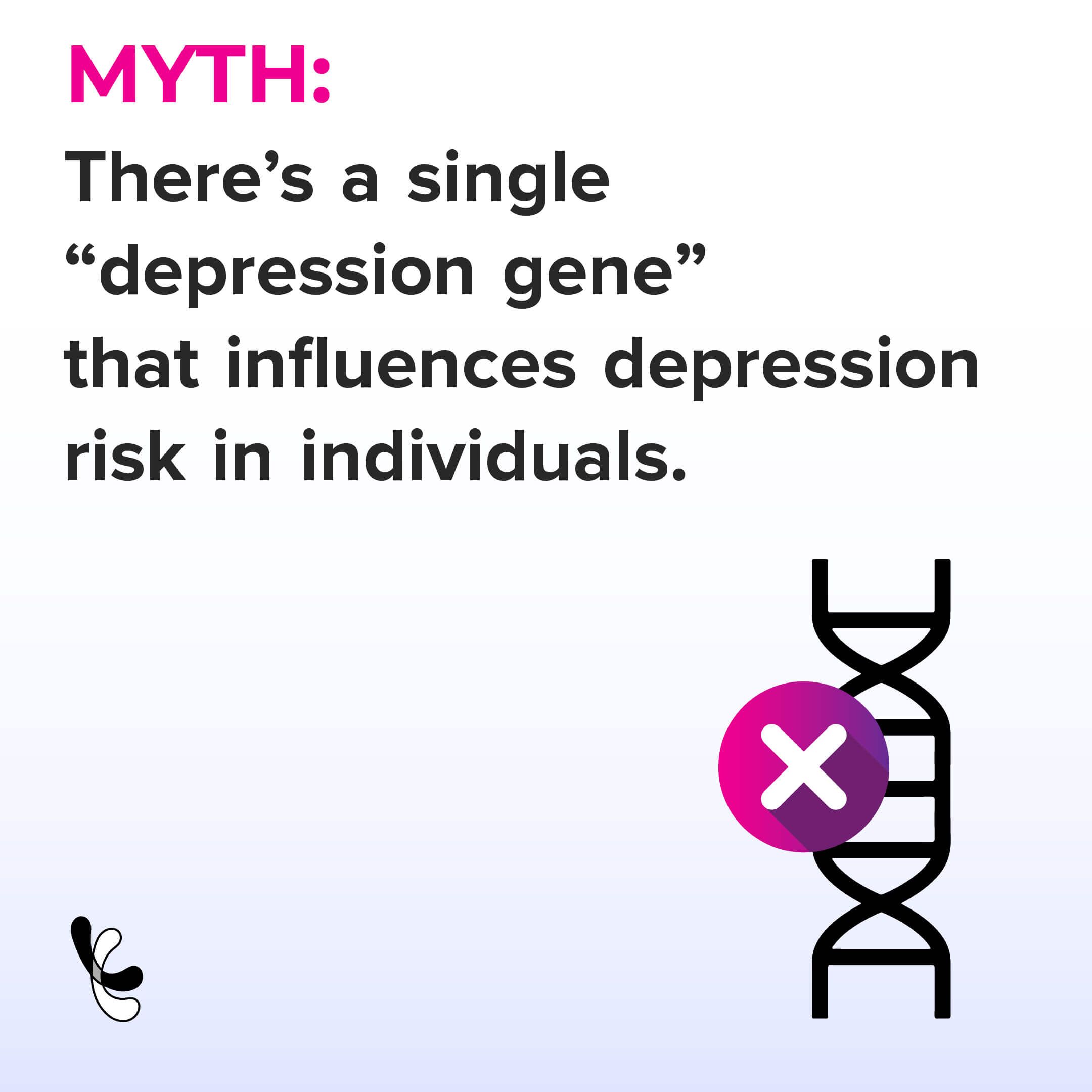 3p25-26 and Depression
A study published in The American Journal of Psychiatry reported that the research team isolated a gene prevalent in several families with a history of depression.
Chromosome 3p25-26 was found in over 800 families with recurrent depression.
How Does Genetics Affect Depression Treatment?
Standard treatments used for depression are:
Medications
Psychotherapy
Counseling
Cognitive Behavioral therapy
Most people require a combination of two or more treatments.
Did you know that your genes influence how well a treatment works for you? Several studies show that genes affect how your body absorbs, uses, and eliminates drugs like antidepressants.
Many genes influencing drug metabolism have been studied and are of specific interest to doctors and researchers.
If you have depression, it is essential to understand that treatment for this condition may take time.
You may have to undergo a couple of treatments to determine the most suitable one.
The Takeaway
If you experience one or more symptoms of depression, it is important to seek medical care.
Before starting any antidepressant medications, informing your doctor about your medical history and current medication and supplements is essential.
This information will help your doctor determine the best treatment for you.
Learning about the genetic background of depression can help understand the condition better and provide optimal treatment options.
References