Postpartum depression (PPD) is a condition that affects new mothers (or biological mothers) after childbirth.
About 10–15% of adult mothers yearly are affected by it every year.
Symptoms can include feelings of sadness, emptiness, hopelessness, and worthlessness and can last for weeks or months.
It can make it very difficult for new mothers to care for their babies and lead to sleep, appetite, and mood problems.
The effects on children may include behavioral, developmental, socioemotional, and cognitive delay and may last years beyond infancy.
Studies suggest that individual susceptibility to the development of PPD is related to the presence or absence of certain genetic changes associated with PPD risk.
What Causes Postpartum Depression?
Change in Hormone Levels
Till now, hormones have been taught to be the biggest contributor to PPD. Estrogen and progesterone levels increase 10-fold during pregnancy.
The dramatic drop in these hormone levels after childbirth can contribute to the symptoms of PPD.
The levels of thyroid hormones seem to play a role in PPD.
They may also drop after giving birth, contributing to PPD.
Lack of Sleep
Sleep deprivation and early-stage motherhood go hand-in-hand.
This accumulated fatigue can cause a dip in mood and energy.
The symptoms of sleep deprivation and PPD have a lot of overlap that sometimes, it can be difficult to each other apart.
The relationship between sleep and PPD is a two-way street; each can aggravate the other.
According to a study, the risk of depression in women with poor sleep quality was 3.34 times higher than in those with good sleep quality.
Compared to mothers with temporary sleep disturbances, those who consistently report very poor or drastically decreasing sleep quality are more likely to develop PPD.
Other risk factors for PPD are:
History of other mental conditions like bipolar disorder or depression
Family history of mental health conditions
History of pregnancy loss(es)
Alcoholism
Younger age during pregnancy (<20 years)
Unplanned/unwanted pregnancy
Did You Know? Postpartum Depression Affects Dads, Too
Studies show that 1 in 10 dads suffer from PPD.
Research describes certain hormonal changes in dads that promote their attachment to their newborns.
These may include decreased testosterone levels and increased estrogen, prolactin, and cortisol levels.
The hormonal changes may also increase the risk of PPD in men.
Other non-hormonal factors that are involved in PPD include:
Partner's depression: About half of the dads with depressed partners show signs of depression
Provider pressure: The breadwinner/s tend to have an increased financial burden to provide for their newborns. This can cause undue stress and may lead to PPD.
Some signs of PPD in men are:
Anger and aggression
Low motivation
Withdrawal from relationships
Poor concentration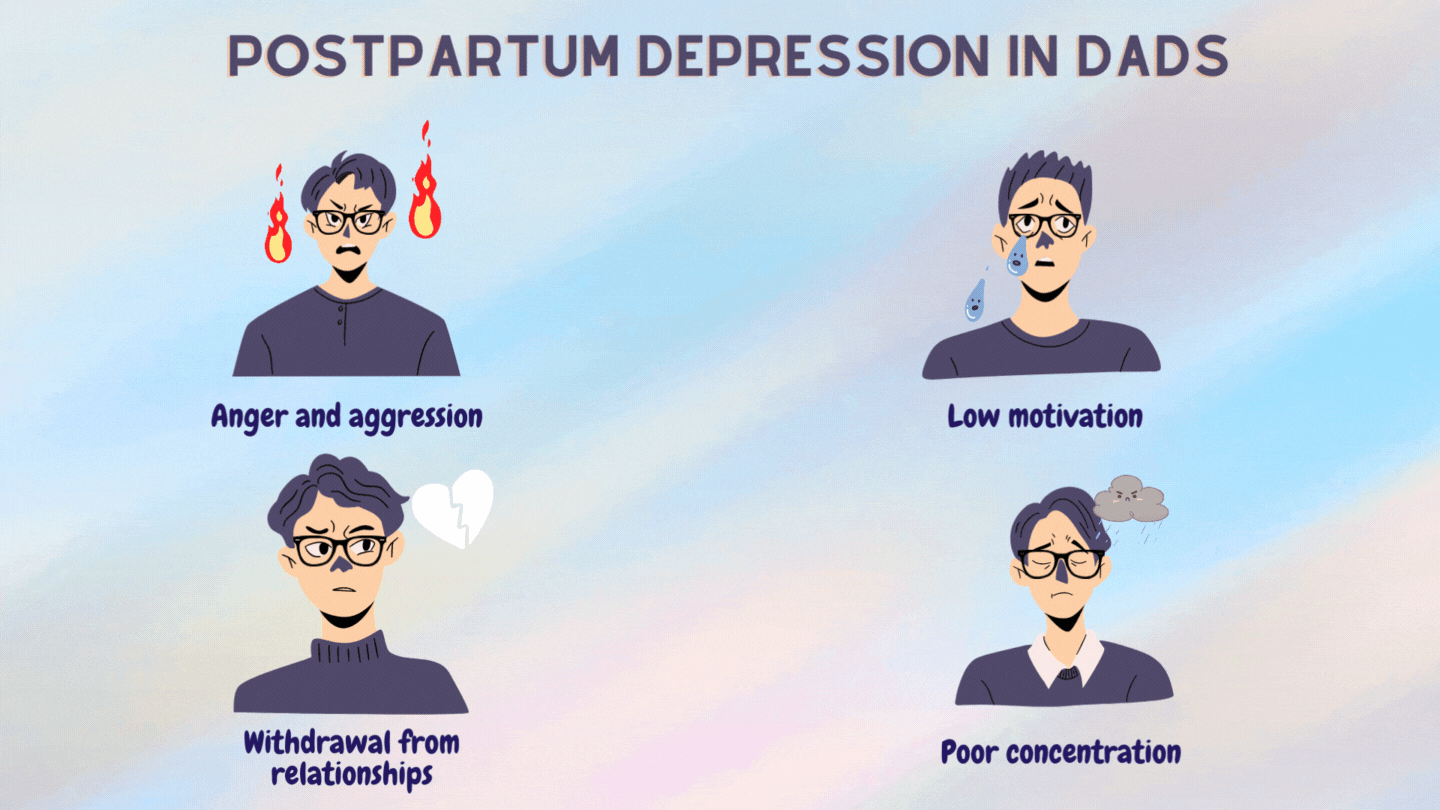 Genetics of Postpartum Depression
PPD was long thought to be due to the sudden drop in hormones following childbirth.
However, studies have reported nos significant differences in the hormone levels between depressed and non-depressed mothers.
But there's a possibility that some may be more sensitive to hormonal fluctuations than others.
A group of researchers from Johns Hopkins studied the epigenetic changes introduced in the hippocampus by estrogen.
*epigenetic changes are DNA modifications that turn a gene "on" or "off."
*hippocampus is a part of the brain governing moods.
They identified the involvement of two genes, TTC9B and HP1B3, in hippocampal activity.
They may regulate the brain's ability to recognize and adapt to new situations - the two key elements of mood.
Estrogen seems to behave as an antidepressant, supporting the activity of these genes.
The researchers later replicated this experiment in 52 pregnant women with mood disorders.
They note that those with PPD had significant epigenetic changes in those genes that interact the most with estrogen.
This may make them more sensitive to the hormone's effects.
TTC9B and HP1B3 genes, specifically, were highly correlated with PPD and predicted with 85% certainty about which women got PPD.
Summary
Postpartum Depression (PPD) affects 10-15%of mothers each year.
Possible causes include lack of sleep, change in hormone levels, history of mood disorders, alcoholism, and younger age.
1 in 10 dads also experience PPD due to hormonal changes and provider pressure.
People with changes in certain genes that interact with estrogen may be at a higher risk for developing PPD than the others.
References