Persistent fatigue, abdominal discomfort, or unexplained changes in appetite are just some symptoms that can signal underlying liver health issues.
When it comes to liver diseases, understanding the genetic factors involved is crucial.
In this blog post, we shed light on the top three genetic liver diseases of 2023, unraveling the connections between genetics and common symptoms that impact daily life. Read on to learn more!
Did You Know?
Certain genes don't directly cause diseases but contribute to increased risk. Triggered by certain environmental or lifestyle events, this risk can translate into disease development. Learning about these genes can help modify lifestyle factors to reduce your risk or even prevent the conditions. Learn more:
Genetic Liver Disease
Genetic liver diseases are a group of genetic and metabolic defects that can result in chronic liver disease.
While some people inherit these conditions from their parents or close relatives, others are born with abnormal changes (or mutations) in their genes.
The prevalence of genetic liver diseases is variable, and they are considered rare diseases.
Hereditary Hemochromatosis
Hemochromatosis is a genetic liver disease in which iron begins to collect in the liver and other organs.
Primary hemochromatosis is one of the most common inherited diseases in the US.
When one family member has this disorder, their siblings, parents, and children may be at risk.
Secondary hemochromatosis is not genetic and is caused by other diseases like thalassemia.
Iron overload associated with hemochromatosis affects men more commonly than women.
Due to menstruation, women are not likely to show signs of iron overload until menopause.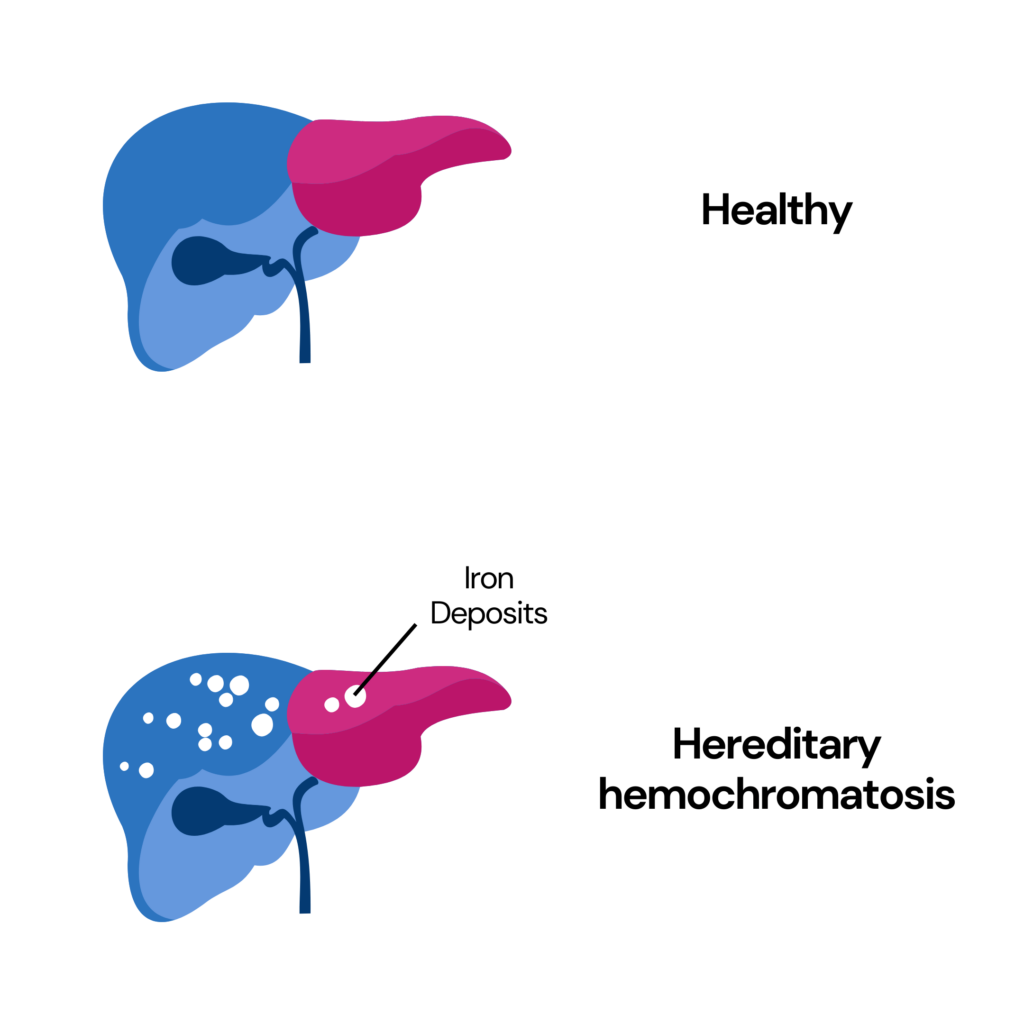 Symptoms and Treatment
A few common symptoms of hemochromatosis include:
Joint pain
Fatigue
Unexplained weight loss
Abdominal pain
Darkening of the skin
Loss of sexual desire
People with hemochromatosis may also show signs of diabetes and heart disease.
Treatment for hemochromatosis includes one of the following:
Phlebotomy: Excess iron is removed from the body through a blood draw. After the initial phlebotomy, this procedure is needed less frequently.
Chelation therapy: This involves taking medicine that removes iron from your blood via urine or poo. It is a good treatment option for people who cannot undergo blood removal. Oral iron chelation therapy can be done at home.
Dietary changes: For most people with hereditary hemochromatosis, adopting a special diet isn't necessary. In a broad sense, it is advised to avoid foods that are rich in iron and also those that increase iron absorption.
Alpha 1 Antitrypsin Deficiency (AATD)
Alpha 1 antitrypsin deficiency, or AATD, is an inherited genetic condition that affects 1 in 1,500 to 3,500 individuals of European ancestry.
This condition affects the lungs and liver.
Alpha-1 antitrypsin is a protein that protects the lungs from damage due to infection-fighting components released by the immune system.
When this protein is too low or damaged, the lungs are affected, leading to breathing difficulty and conditions like emphysema.
People with this condition also risk developing cirrhosis due to the accumulation of alpha-1 antitrypsin.
In the lungs, AATD causes emphysema, whereas, in the liver, it causes the accumulation of abnormal alpha-1 antitrypsin, leading to progressive liver injury.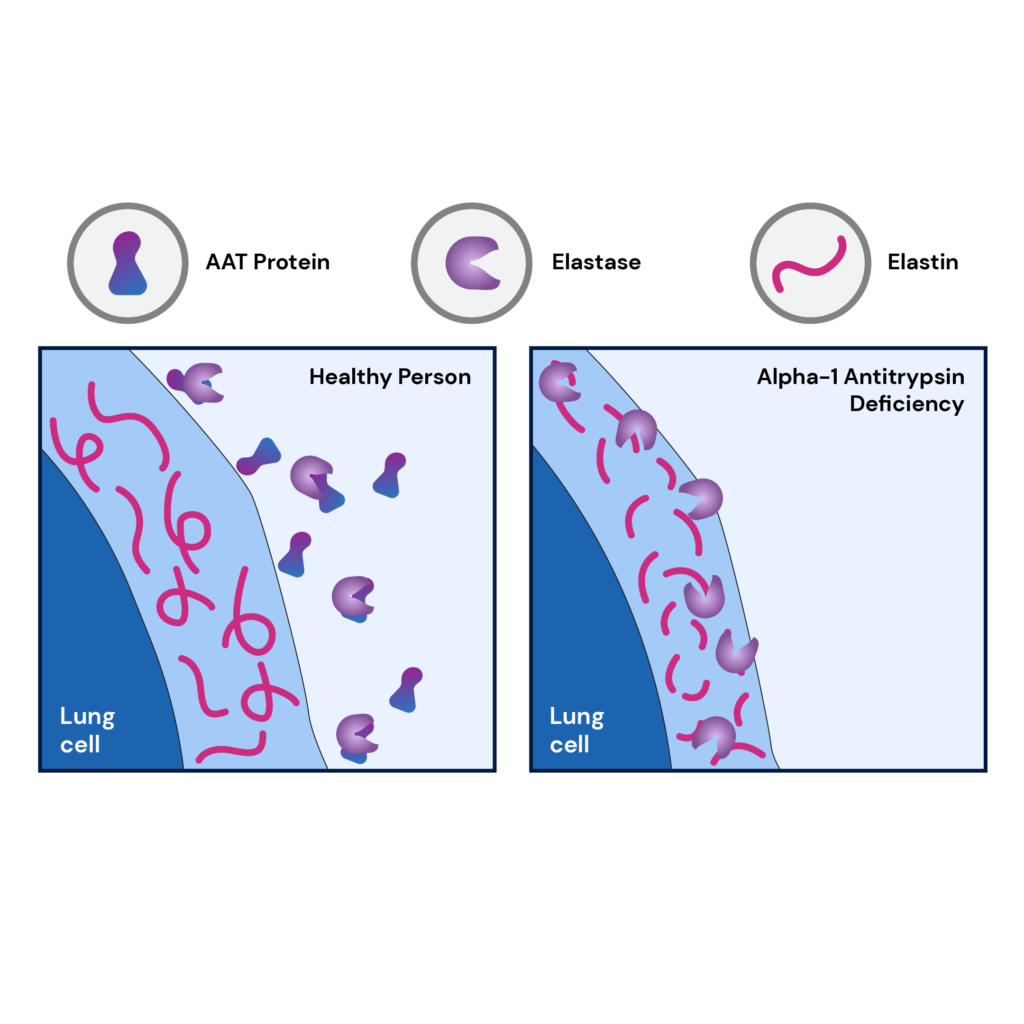 Symptoms and Treatment
One of the first symptoms of AATD is usually those which affect the lungs.
Common symptoms of AATD include:
Shortness of breath
Wheezing
Unexplained weight loss
Barrel-shaped chest (commonly seen in emphysema)
Fatigue
Chronic cough
Swelling of the ankles and feet
Jaundice
Fluid accumulation in the abdomen
Currently, there is no established treatment to cure AATD.
While replacing the defective protein in the bloodstream may be done, experts need clarification about how effective this procedure will be.
Most often, treatment of AATD includes the management of emphysema and cirrhosis.
Other treatments may include:
Antibiotics to treat respiratory infections
Inhaled medications to enable easy breathing
Diuretics or other drugs may be needed for fluid accumulation in the abdomen.
People with AATD can undergo a liver transplant if they don't have lung disease.
Wilson's Disease
Wilson's disease is a genetic disease caused by mutations in the ATP7B gene and results in an increased accumulation of copper in the body.
This is a rare disease and affects 1 in 30,000 individuals.
Wilson's disease does not cause any symptoms unless it is serious.
It can be diagnosed using blood and urine tests, liver biopsies, and genetic tests.
The aim of treating Wilson's disease is to remove the excess copper in the body and prevent reaccumulation.
Symptoms and Treatment
Common signs and symptoms of Wilson's disease are:
Clumsiness
Fatigue
Tremors
Walking difficulty
Speech problems
Impaired thinking
Depression
Mood swings
Anxiety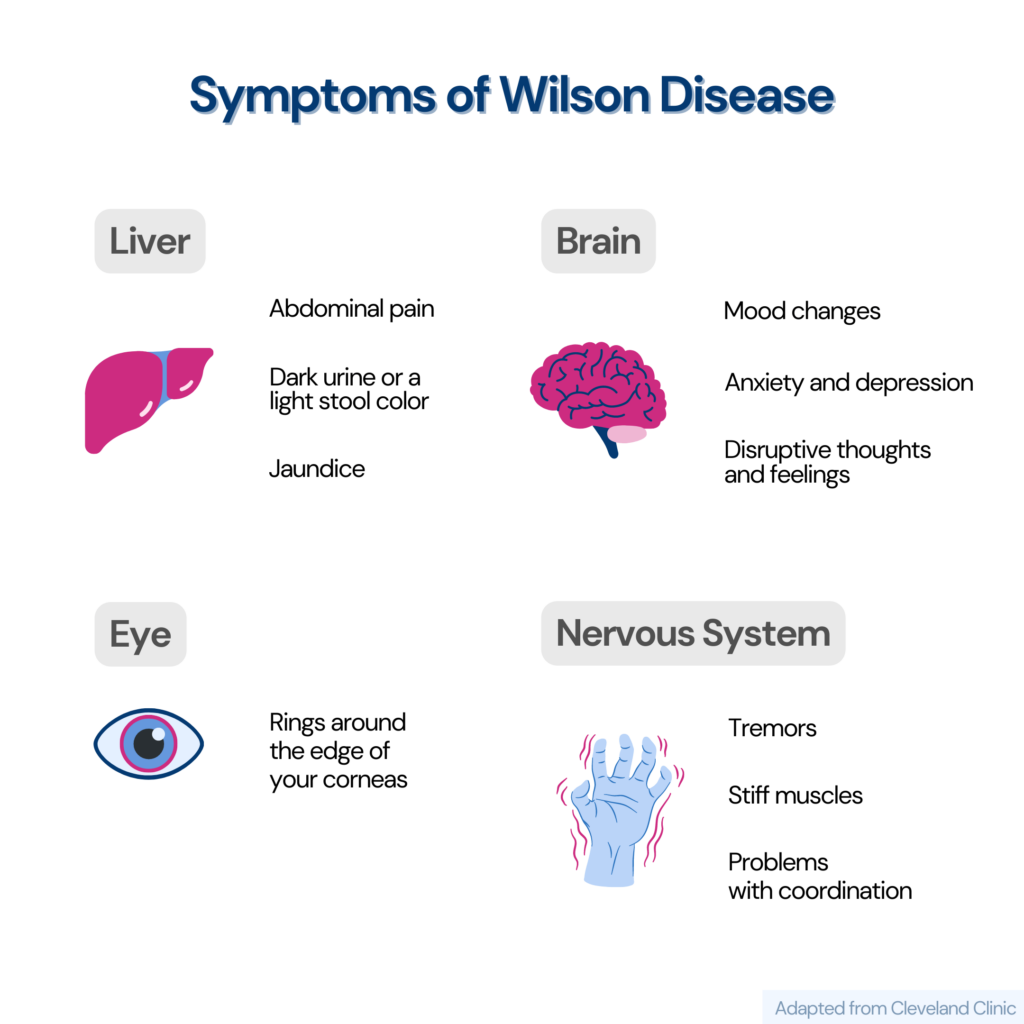 The treatment of Wilson's disease includes one or more of the following:
Copper-chelating medications: This helps your body tissues and organs eliminate excess copper.
Reduce copper intake: Eating foods that are low in copper
Taking zinc supplements to reduce copper absorption from the diet
Increasing vitamin B6 intake
Treating any damage to the liver or central nervous system
Medications may be given to treat any symptoms you may be having, such as tremors, muscle stiffness
A liver transplant
How To Test For Genetic Liver Disease?
Genetic testing is recommended for individuals with liver diseases like bile acid synthesis defects, jaundice, and cholestasis with unknown causes.
A liver genetic test usually involves sequencing or deletion/duplication analysis.
Before a genetic test for liver disease is performed, your doctor may recommend the following tests:
Liver disease panel
Bile acids defects panel
Jaundice panel
To undergo genetic testing for liver disease,
You must obtain a prescription from your doctor. They will prescribe the right test for you based on your signs, symptoms and results of early diagnostic tests.
You will need to give a blood sample.
In some cases, a blood test may be followed by a liver biopsy to interpret the test results better.
A few genes that are routinely tested for genetic liver disease are:
ABCB11
ABCB4
ATP8B1
ATP7B (for Wilson's disease)
BAAT
JAG1
SERPINA1
SERPINA1 genotype assay (alpha-1-antitrypsin)
UGT1A1 (for Gliberts' syndrome and Crigler Najjar syndrome)
Some direct-to-consumer genetic testing companies provide the option to learn your risk for liver diseases.
These tests are non-invasive and don't diagnose genetic liver diseases. However, they present you with a comprehensive risk profile for liver diseases.
This information can then be used to reduce your risk and enable early screening and detection.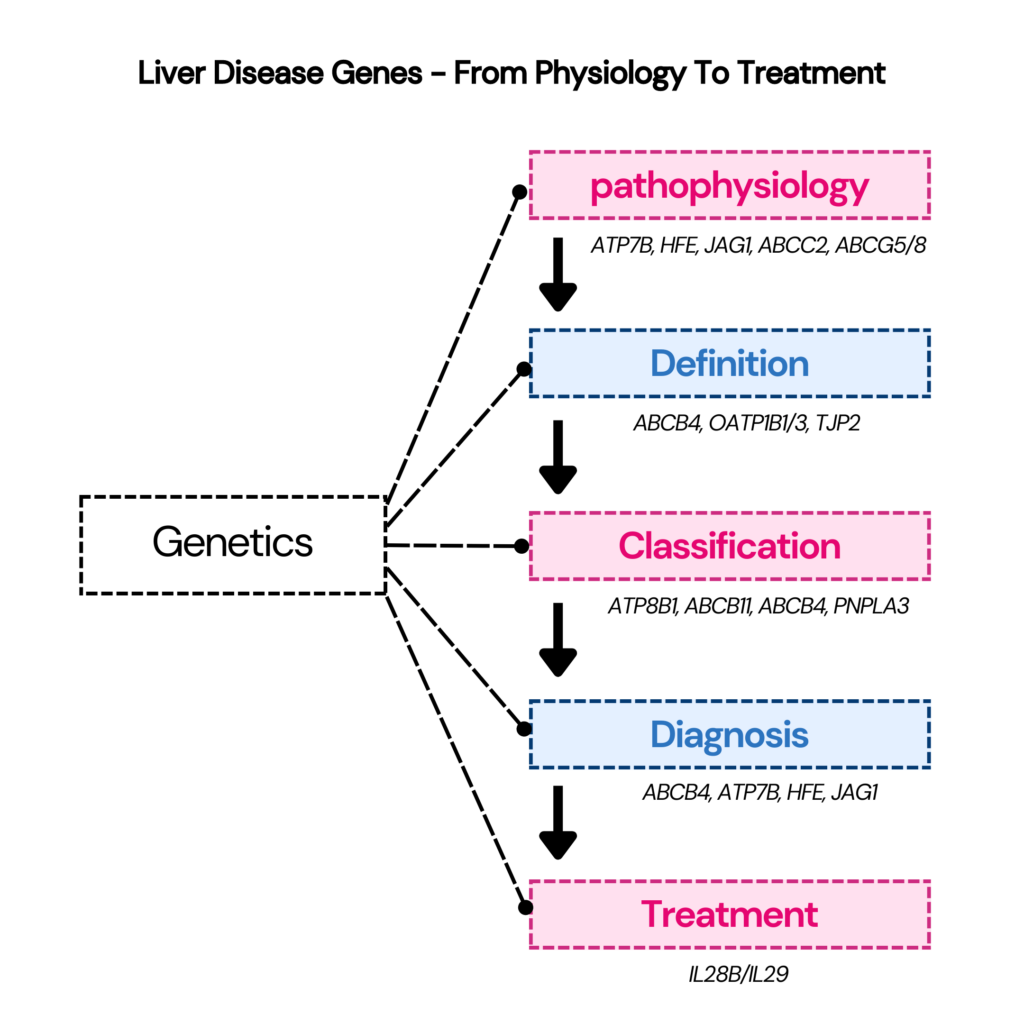 Liver Disease Parameters in Xcode Life's Health Panel
Hemochromatosis
Non-alcoholic fatty liver disease (NAFLD)
Familial hypercholesterolemia
Glycogen storage disease
Hypertriglyceridemia
Beta thalassemia (not exactly a liver disease, but affects the liver majorly)
Check Out The Gene Health Panel Here
Can Genetic Liver Disease Be Prevented?
There are several tests available for diagnosing genetic liver diseases. However, these tests have their limitations.
Genetic testing is most useful for diseases like hereditary hemochromatosis due to the high frequency of C282Y mutations in people of European descent.
In the case of other genetic liver diseases, testing is less helpful as they have a higher number of possible mutations and clinical manifestations.
Appropriate use of screening tests can help in the early detection of genetic liver diseases and prevent end-organ damage.
However, genetic testing for liver diseases cannot prevent the development of the disease.
Summary
While liver diseases may be common, genetic liver diseases are relatively rare.
The three most common and well-studied genetic liver diseases include hemochromatosis, Wilson's disease, and Alpha-1-Antitrypsin Deficiency (AATD).
The symptoms and treatment for genetic liver diseases vary.
Besides a regular liver disease and jaundice panel, genetic screening tests may be recommended if the cause is unclear or unknown.
Genetic testing for liver diseases may not be able to prevent the disease, but it can help you prevent associated complications from developing.
References