An Introduction to Pharmacogenetics
Pharmacogenetics is the study of how certain changes in the genes influence drug responses.
This can be due to variations in the genes that produce proteins or enzymes involved in drug metabolism or interaction.
This field of research is increasingly important as it allows for personalized treatment based on an individual's genetic makeup.
Why personalized treatment?
We all are similar, but of course, we are also different.
And the idea of a "one size fits all" approach to diagnostics and treatment is very flawed.
Different people respond to the same drug differently.
Because of the aforementioned genetic variants, some people may be at increased risk for adverse drug reactions (ADRs) for certain medications.
Others may not experience the desired effect of the drug because they clear it from their body too quickly.
Pharmacogenetic information can help identify medications best suited for a particular person.
It can also factor in when clinicians choose the appropriate dosage for individual patients.
In clinical trials, pharmacogenomics can help identify new targets for drug development.
Benefits of Genetic Testing for Psychiatric Medications for Anxiety
The benefits of knowing how you'll respond to a medication or which drug will work best for you before you even consume it are not hard to imagine.
One of the popular choices of mental health providers for treating anxiety is psychiatric medications.
Implementing pharmacogenomics here lowers the room for trial and error.
It can also help discover what drugs could potentially cause ADRs in an individual.
The pharmacogenomic approach also helps lower the economic burden as less, or no money will be wasted on drugs that aren't effective for an individual.
Some key players in anxiety medications fall into the following categories:
Serotonin Reuptake Inhibitors (SSRIs): SSRIs, originally designed to treat depression, have revolutionized the treatment of anxiety. They work by blocking serotonin (happy hormone) reuptake, thereby increasing its availability for nerve signaling.
Changes in the CYP2C19 gene link to differences in the metabolism of SSRIs.
People who are ultrarapid metabolizers may not experience the therapeutic effects of the drugs due to their quick elimination from the body.
In contrast, poor metabolizers may have a build-up of the medication in the body and experience side effects, some of which may be adverse.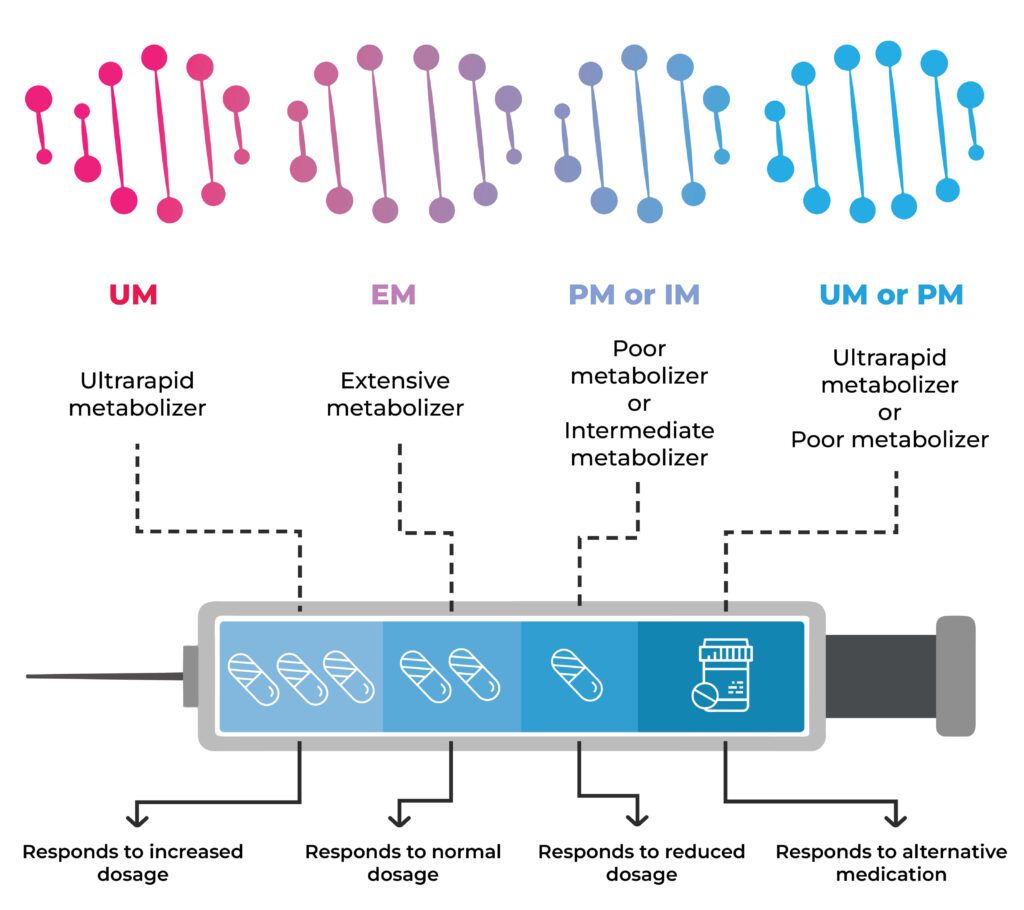 Tricyclic Antidepressants (TCAs): Physicians use TCAs to treat panic disorder, PTSD, anxiety, and depression that occurs with anxiety. They act on 5 brain chemicals (or neurotransmitters). They block the reuptake of serotonin and norepinephrine.
Changes in the CYP2D6 and CYP2C19 genes affect TCAs' exposure time, effectiveness, and safety.
Other medicines used to treat anxiety, like benzodiazepines and serotonin norepinephrine reuptake inhibitors (SNRIs), also have a pharmacogenomic aspect.
Having this information in hand provides many benefits.
Faster symptom relief with the right drug
Elimination of guesswork in prescribing antipsychotics and antidepressants
Identification of patients who are the right candidates for dosage adjustments
Reduction in the number of patients who experience adverse drug reactions or ADRs
Improved targetting in cancer therapy with lower side effects
Reduction in the cost associated with treatment failure and ADRs
Learn Your Genetic Response to Over 1000 Drugs, including SSRIs and TCAs
How to do Genetic Testing for Psychiatric Medications?
Genetic testing for psychiatric medications is a pretty straightforward procedure.
The DNA raw data (the particulars of your DNA in text format) is obtained through a saliva or cheek swab sample.
The raw data is then matched against a database that contains information about the gene changes influencing drug metabolism.
For each drug, the sample DNA data is referenced against the database, and depending on the genetic changes, the metabolizer classification (slow, moderate, normal. Rapid, ultrarapid) is entered.
This report can then be interpreted with the guidance of a qualified medical practitioner and used to understand which drug may work the best for you.
The overall efficacy of genetic testing has improved by leaps and bounds over the years.
However, no genetic test for psychiatric medications has a 100% effectiveness rate.
The Current Barriers to Implementation
Cost and Funding
Genetic testing for medication can be quite expensive.
Studies have found that people would be more inclined to have the test done if the costs were lower or covered by insurance.
A 2017 survey conducted in Singapore reported cost as the biggest concern for pharmacogenomic testing, with over 94% of respondents concerned about cost.
Lack of Knowledge
The main concern for mental health practitioners about implementing genetic testing for psychiatric medications is the lack of pharmacogenomic knowledge.
In a survey conducted on psychiatric pharmacists in the US (2015), half of them reported being completely or partially unaware of pharmacogenomics.
Another main concern in employing pharmacogenomics in clinical practice seems to be a lack of clear guidelines about using genetic test results in prescribing psychiatric medications.
Result Misinterpretation
Currently, most reports adopt a "traffic light" style for displaying the results.
This leads to a wrong interpretation of 'green meaning the drug will work' and 'red, the drug won't.'
Both clinicians and patients may misinterpret the results.
Summary
Our genetic makeup influences how we respond to drugs in terms of exposure time, efficacy, and the risk of side effects.
Enzymes produced by genes like CYP2C19 and CYP2D6 metabolize many drugs prescribed for anxiety like SSRIs and TCAs.
A pharmacogenomic test can help understand if you carry any changes in your genes that could make you a poor or ultrarapid metabolizer of drugs and your subsequent risk for side effects.
Applying genetic testing for psychiatric medication can cut out the guesswork in prescribing medications, provide faster relief, cut down the costs associated with treatment failure and ADRs, and adjust dosage for optimal treatment.
The two main barriers to implementing this in clinical practice are the high costs involved in genetic testing for medications and the lack of awareness of pharmacogenomics in psychiatric professionals.
A Sneak-peek Into the Gene Health Report