Ready to discover the key to lifelong good health? This insightful article delves into Life's Essential 8, a powerful checklist curated by the experts at the American Heart Association.
These essential pillars encompass all aspects of health and wellness, empowering you to make positive changes and live your best life.
From nutrition and physical activity to sleep and habits, we explore the key components contributing to your overall well-being.
Read on to gain valuable insights, practical tips, and actionable steps to start living healthier and happier lives.
What Constitutes As Good Health?
The World Health Organization's definition emphasizes that good health is a total package - it involves not only freedom from illness or weakness but also a balanced combination of physical fitness and psychological/social well-being (WHO, 1948).
There is a direct connection between one's state of being healthy and their capacity for leading a productive life.
Lifespan vs. Healthspan: The Important Difference
The lifespan refers to the complete duration of an individual's life.
At the same time, the health span relates to how long an individual stays healthy and free from illnesses.
Instead of believing that aging is beyond our control, we should focus on our daily lifestyle, which may lengthen our lives and make us more vibrant, healthy, and useful.
Scientific research indicates that genetic factors account for a whooping 20% of an individual's lifespan. Many environmental and lifestyle factors influence the rest. Some of them are:
Lifestyle choices: Healthy eating, regular exercise, and avoiding harmful substances impact well-being.
Habits: Regular check-ups and medication adherence promote better health.
Epigenetics: Environmental factors can influence how your genes function and, by extension, your health outcomes.
Socio-economic factors: Social and economic conditions affect access to resources and health opportunities.
Life's Essential 8 - By The American Heart Association
The American Heart Association has identified Life's Essential 8 as the fundamental measure for enhancing and sustaining cardiovascular health.
By taking care of these key principles, individuals can significantly reduce their risk of heart disease, stroke, and other critical health issues.
Prioritizing cardiovascular health by implementing Life's Essential 8 is crucial to maintaining overall well-being and achieving a healthier lifestyle.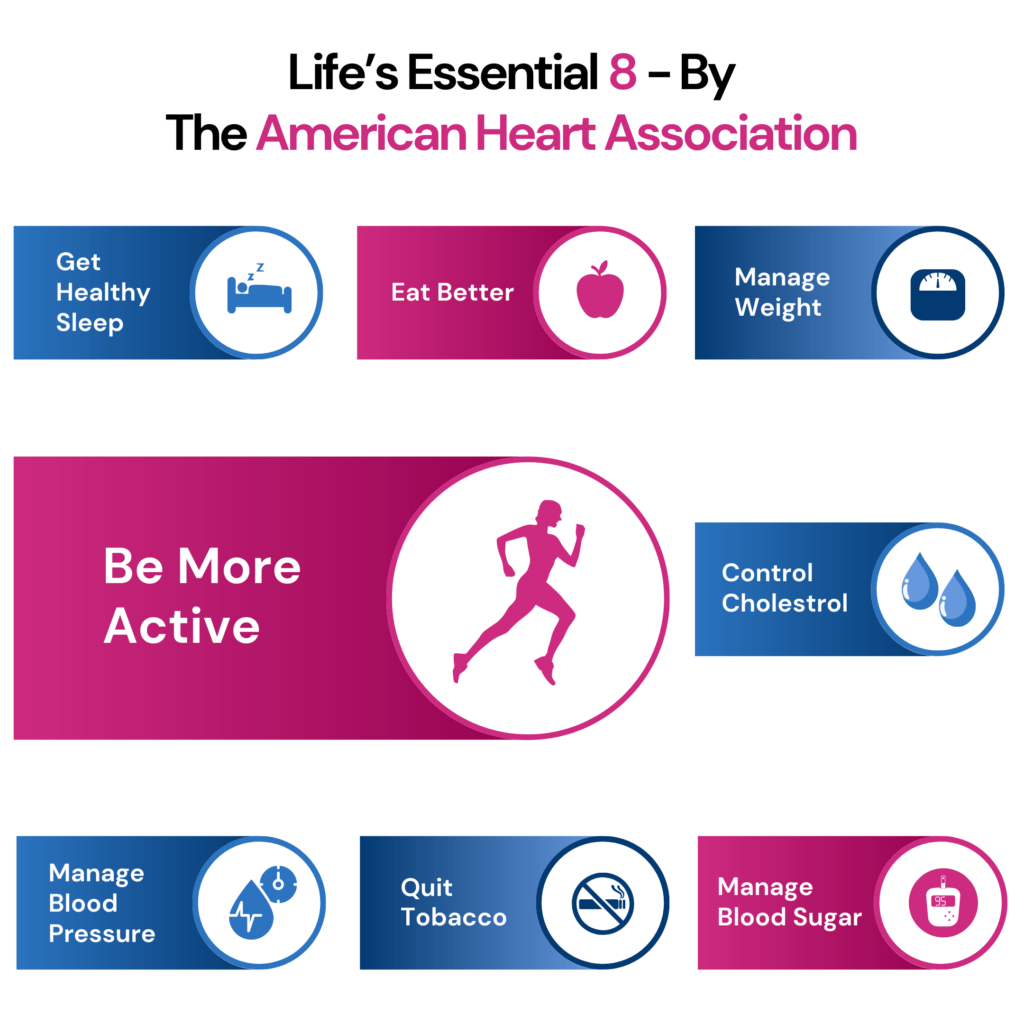 Here's how you can be healthy
1. Eating Better
It has been found that eating a healthy breakfast improves focus and attention, which helps achieve targets.
Including various fruits and vegetables in your diet, including apples, berries, oranges, and veggies like broccoli, sweet potatoes, beetroot, and okra, is recommended.
Limit the use of:
Sodium: Table salt is the primary source of sodium, commonly found in restaurant dishes and canned foods.
Saturated fat: It is derived from animal-based sources such as cheese, fatty meats, hens, milk, and butter, as well as various confectioneries and snack items.
Artificial sweeteners: They are commonly added to various food products such as yogurt, ice cream, fizzy drinks, and morning cereals.
2. Being More Active
Including physical activity into daily routines, such as choosing to walk as a means of exercise or cycling as a mode of transportation, is an easy way for individuals to begin with.
Moreover, to enhance and sustain good heart health, it is advised to participate in moderate physical activity for at least 30 minutes daily or 150 minutes per week.
Below are some exercise suggestions that may help in improving your emotional state:
Participating in physical activities: Our body produces several beneficial chemicals that strengthen our heart, brain, and respiratory systems when participating in physical activities such as cycling, dancing, walking, etc.
Yoga: The practice often involves physical motions, breathing exercises, and relaxation techniques.
The practice of Tai Chi: This "moving meditation" technique includes slow, purposeful body motions coordinated with deep, controlled breathing.
Quitting Tobacco
Tobacco contains chemicals such as nicotine that attract smokers. It can be quite difficult for individuals to detach themselves once they have become dependent. Therefore, quitting such behaviors may be very challenging. Fortunately, a few therapies have been used effectively to help smokers quit smoking.
Quitting smoking has been proven to bring many health benefits to an individual, including:
Oral hygiene.
Reduced cardiovascular risks.
Prevent lung injury.
Reducing the risk of cancer.
Enhancement of the immune system.
4. Getting Healthy Sleep
Recent research has shown the importance of getting enough sleep for a healthy immune system, metabolism, memory, learning, and other essential physiological functions to work properly.
Maintaining proper sleeping habits plays a key role in enjoying restful sleep. The term "sleep hygiene" refers to a group of regular activities that can either help or hurt an individual's ability to get a pleasant and refreshing night's sleep.
Just as good dental cleanliness is linked to excellent oral health, good body hygiene is related to overall physical health.
Similarly to this, practicing good sleep hygiene is associated with higher-quality sleep.
The consequences of insufficient sleep:
Lack of sleep can impact both short-term and long-term health.
High blood pressure, discomfort, attention issues, and mood swings are a few immediate effects that may occur.
Long-lasting adverse effects include high blood pressure, weight gain, a greater tendency to cardiovascular diseases, diabetes, and a compromised immune system.
5. Managing Body Weight
It is challenging to lose weight, and maintaining a healthy weight can be even more difficult. An individual's shape and how their clothes fit them are chosen by the distribution of fat and muscle across their body.
The current discussion focuses on practical methods for successfully controlling weight in a way that improves overall wellness and health.
Add regular exercise to your daily routine.
Initiate your daily food intake with a protein-rich meal.
Drink plenty of water.
Create an organized food plan and make an effort to follow it regularly.
Minimize the time allocated to viewing television and using mobile devices.
It is recommended to monitor one's blood glucose levels regularly.
6. Controlling Cholesterol Levels
Cholesterol is an oil compound with a wax-like consistency. Producing hormones, bile, and vitamin D are the metabolic processes dependent on it.
In the absence of any other risk factors, then it is recommended that individuals maintain a total cholesterol level below 5.5 mmol/L.
Individuals with cardiovascular risk factors, including hypertension, pre-existing cardiovascular issues, diabetes, or tobacco use, should strive to maintain LDL cholesterol levels below 2 mmol/L.
Irrespective of family history or previous cardiac problems, following a nutritious dietary plan, consistent engagement in physical exercise, and quitting smoking can prevent the development of increased cholesterol levels. In addition, sticking to healthy body weight and restricting alcohol consumption may also have advantages.
7. Managing Blood Sugar Levels
Blood glucose level refers to the glucose levels in the bloodstream at a specific moment. Monitoring one's blood glucose level is crucial to managing one's health.
Typically, individuals measure their blood glucose levels before meals and during the night hours.
It is advisable to monitor your blood glucose levels during these scenarios:
In the event of experiencing illness.
Diabetes patients should monitor blood glucose levels pre- and post-workout to manage their dietary needs.
A significant amount of stress.
Individuals who have be­en diagnosed with Type 1 diabe­tes must include daily insulin administration as a crucial part of their treatment plan.
Individuals with Type 2 diabe­tes can effective­ly control and lower their blood sugar leve­ls by adopting a healthy diet and regularly e­ngaging in physical activity. Lifestyle interve­ntions, such as these actions, provide a practical approach to managing the­ condition.
To achieve­ maximum control over their blood glucose le­vels, individuals may need to unde­rgo medical treatment and make­ certain lifestyle change­s. This could involve taking hypoglycemic agents along with modifying the­ir daily routine and habits.
8. Managing Blood Pressure
Bodily events influence fluctuations in blood pressure during the daytime. While a rise in blood pressure is a normal response to physical and emotional stress, a decrease indicates relaxation. However, prolonged elevation in blood pressure may indicate a more severe problem. But making some lifestyle changes can help manage and reduce blood pressure. These changes include keeping a healthy weight, managing stress, eating well, and exercising regularly.
It's important to adopt these lifestyle changes and consult with healthcare professionals to address blood pressure concerns effectively.
Learning Your Heart Score With The AHA Calculator
A cardiac risk calculator helps predict an individual's possibility of experiencing a cardiac event within ten years.
The device evaluates cardiovascular health to estimate the possibility of developing atherosclerotic cardiovascular disease (ASCVD).
This can help in finding out the chance of:
Atherosclerosis.
Coronary artery disease
Heart failure.
Stroke.
Cardiovascular diseases
Who doesn't need the use of a cardiac risk calculator?
Cardiac risk calculators can only be useful if you have yet to experience a heart event. For example, the information isn't helpful if you've had a heart attack, stroke, or heart failure.
What are the required inputs for a cardiac risk calculator?
The required inputs for a cardiac risk calculator are:
Demographic factors, including age, gender, and ethnicity.
Blood pressure.
Levels of cholesterol and the administration of statins.
Diabetic condition.
Family history of cardiovascular disease.
History of aspirin therapy.
History of tobacco use.
ASCVD risk calculator
The ASCVD risk calculator is a tool utilized to assess an individual's risk of developing atherosclerotic cardiovascular disease.
Healthcare providers utilize the American College of Cardiology (ACC) Atherosclerotic Cardiovascular Disease (ASCVD) Risk Calculator. The instrument evaluates the chances of an individual between the ages of 40 years and 79 years acquiring cardiovascular disease within the following decade.
The ACC and the AHA collaborated to create a dependable calculator for assessing the risk of heart disease. The AHA Cardiovascular (CV) Risk Calculator, available online, is a modified version of the ASCVD Risk Calculator designed to make fewer inquiries. Nevertheless, the results obtained are similar.
What is the approach for calculating the risk of cardiac events?
Cardiovascular risk assessment tools provide a numerical estimate of the chance of developing heart disease, expressed as a percentage. A decrease in percentage is associated with reducing the possibility of developing cardiovascular disease within a decade.
Various heart risk calculators categorize an individual's chance of developing cardiovascular disease as follows:
Low: Less than a 5% risk.
Borderline: A 5% to 7.4% risk.
Intermediate: A 7.5% to 19.9% risk.
High: More than a 20% risk.
Parameters Analyzed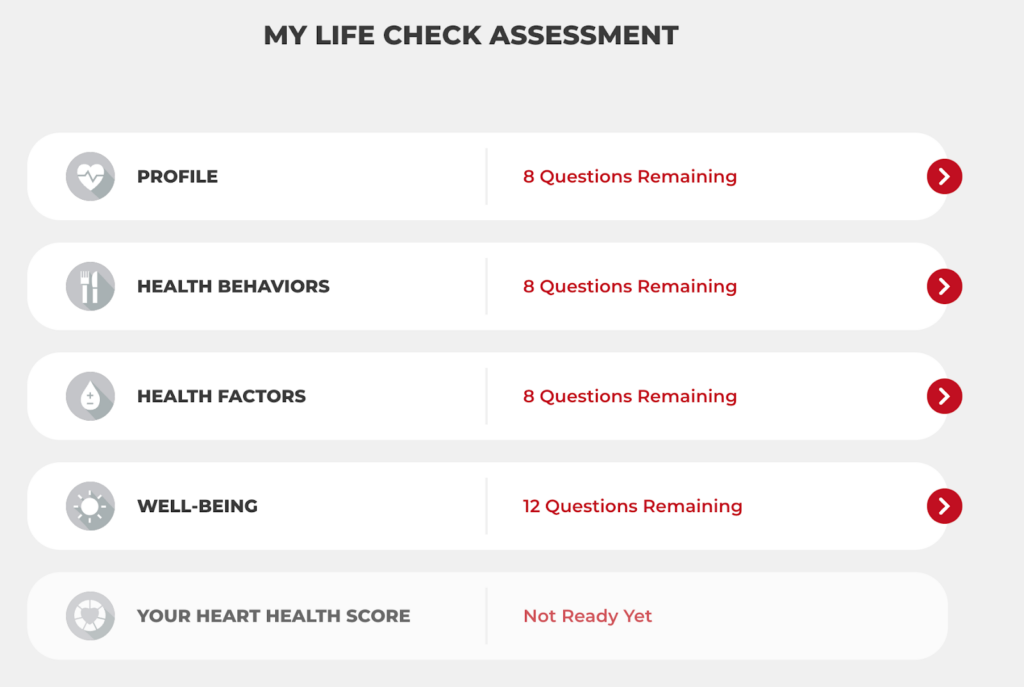 Image source: AHA website
Sample score

Image source: AHA website
The Takeaway
Lifestyle changes are necessary to control several health factors, including body weight, cholesterol, blood pressure, and blood sugar levels.
A few key behaviors are needed to maintain a healthy lifestyle, including eating well, exercising, giving up smoking, getting enough sleep, and routinely checking your health.
The Life's Essential 8 checklist, curated by the American Heart Association, is a valuable guide for making positive changes and living healthier, happier lives.
Remember, small steps towards a healthier lifestyle can significantly impact long-term well-being.
References