Every menstrual cycle phase brings different physical and mental changes in females. GI issues, especially bloating, are common problems for millions. Bloating during ovulation occurs mid-menstrual cycle and can cause discomfort and a constant feeling of fullness. If you have been struggling with fluctuating weight and body shape, your menstrual cycle could be the culprit. Know more about why the ovulation phase causes bloating and the lifestyle changes to help combat this.
Did You Know? Your genes hold precious clues about nearly all aspects of your health and wellness. Harnessing this information can help you understand your genetic makeup and decide about your nutrition, fitness, and lifestyle choices. Learn more
What Is Bloating?
Bloating is a feeling of fullness or tightness in the abdomen area.
Bloating is a common problem in Americans, with 1 in 7 adults experiencing the symptoms weekly.
According to research, females are more likely to experience bloating than males (19% vs. 10.5%).
Some of the common reasons for bloating are:
Intestinal gas
Irritable Bowel Syndrome
Food intolerance
Excessive hunger
Eating too fast
Menstrual cycle in those with uterus
Consumption of certain kinds of foods
The Link Between Bloating And Menstrual Cycle
Menstrual cycles are a part of the reproductive system in those with a uterus and are a preparation of the body for a possible pregnancy.
Most females have a menstrual cycle of 24-38 days.
The body goes through varied changes throughout the cycle, from day one of bleeding to the start of the next cycle.
There are different phases to the menstrual cycle; one such phase of interest is ovulation.
The ovulation phase is the fertile window where the ovary releases the egg and can fall between day ten and day 17 of the menstrual cycle.
Bloating during ovulation is a common problem faced by millions globally.
What Changes Happen To The Body During Ovulation
The female reproductive hormones drive ovulation.
Luteinizing hormone (LH) levels rise to help release the eggs from the ovaries and prepare them to travel toward the fallopian tube.
The follicle-stimulating hormone (FSH) and estrogen levels also increase during this phase.
Progesterone, another sex hormone, slowly increases levels from day one of ovulation to prepare the uterus for pregnancy.
Some of the physical signs of ovulation are:
Mittelschmerz or ovulation pain (resembling mild period cramping)
A slight increase in body temperature
Breast tenderness
Gastrointestinal symptoms
Thin, stretchy cervical mucus
What Causes Bloating During Ovulation?
Hormonal fluctuations are the reasons for most physical and mental discomforts women face in their menstrual cycles.
During ovulation, sudden surges in the reproductive hormones could be causing fluid retention in the body.
Fluid retention adds to the signs of bloating during ovulation.
Ovulation Bloating And Weight Gain
Many women also see that they slightly gain weight during their mid-menstrual cycle.
The weight gain could also be because of these hormonal surges.
Increased hormonal levels lead to fluid retention in the body.
Fluid retention worsens bloating signs and contributes to slight weight gain.
A 2011 study recorded self-reported fluid retention during different menstrual cycle phases in 62 healthy women.
This study reports that the fluid retention in the body was the highest during the first day of menstruation, and fluid retention started increasing during the ovulation phase.
So, it is expected for women to experience sudden weight gain and signs of bloating during the ovulation phase.
Is It Normal To Be Bloated During Ovulation?
Yes. It is normal to be bloated during ovulation.
For women with regular menstrual cycles, the bloating usually subsides 1-2 days after ovulation and may reappear during menstruation.
In women with conditions like polycystic ovary syndrome (PCOS) or endometriosis, bloating could be a constant discomfort throughout the menstrual cycle due to fluctuations in the sex hormones.
Premenstrual Bloating vs. Ovulation Bloating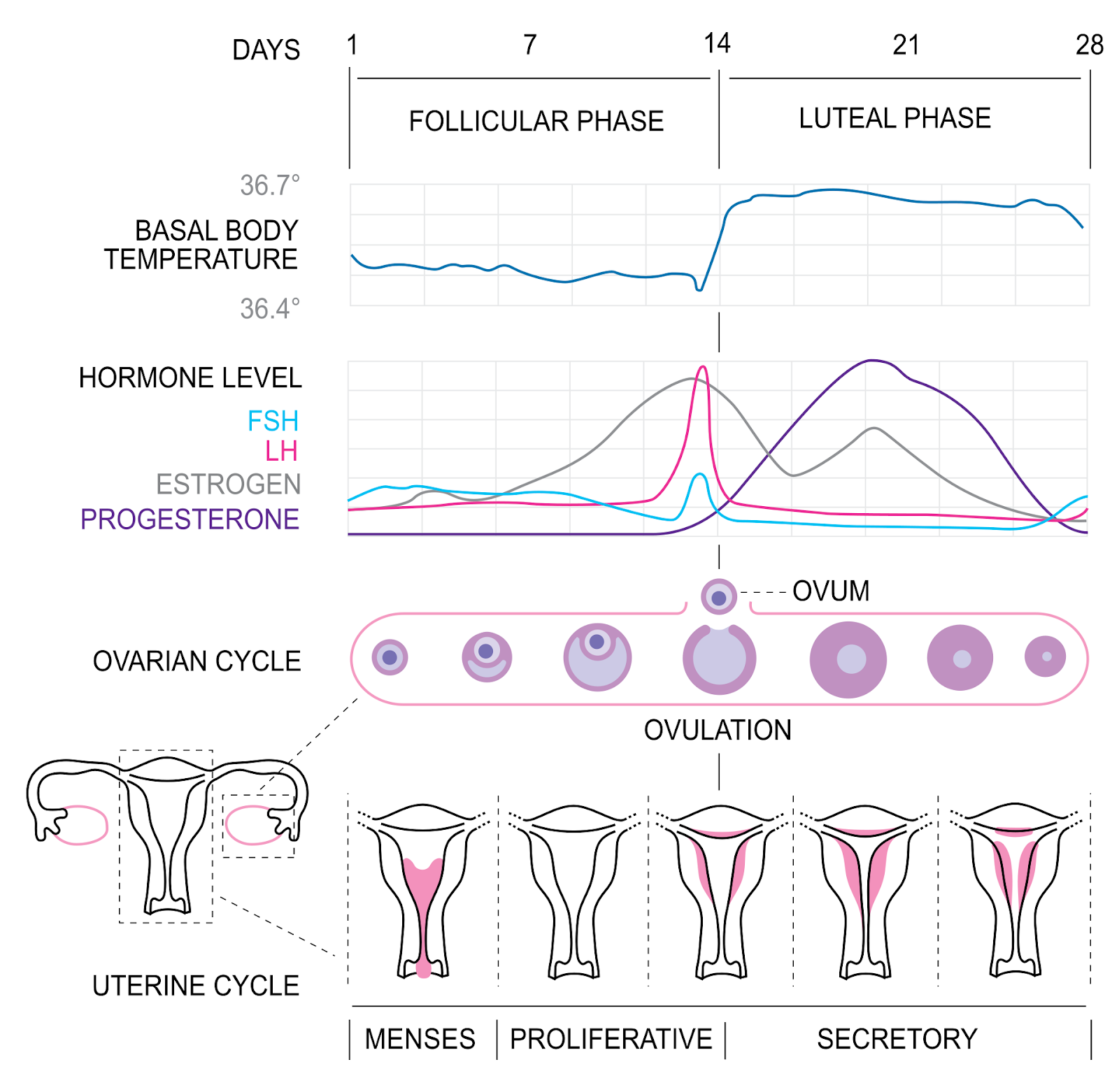 Image source: https://en.wikipedia.org/wiki/Menstrual_cycle#/media/File:MenstrualCycle2_en.svg
Premenstrual syndrome (PMS) is a group of symptoms showing up between the ovulation and menstruation phases.
3 out of 4 women may experience PMS every month, and the symptoms can range from GI issues to mood swings, breast tenderness, headaches, and body pain.
The PMS symptoms peak during the late-luteal phase, about a week before the onset of periods.
In this phase, once the body realizes that there was no successful conception, the hormone levels start fluctuating again.
The levels of progesterone, FSH, and estrogen start dropping.
This drop in hormones can cause fluid retention and bloating too.
The differences between premenstrual bloating and ovulation bloating are explained below.
| | |
| --- | --- |
| Premenstrual bloating | Ovulation bloating |
| May occur 2-7 before the onset of bleeding. | Occurs during the ovulation phase (10-17 days into the menstrual cycle). |
| Could be accompanied by cramps, mood swings, tender breasts, and food cravings. | Could be accompanied by cervical mucus changes, libido changes, slight menstruation-like cramping, and breast tenderness. |
| Can last for 2-7 days or until the start of menstruation. | Can last for 1-2 days. |
How To Reduce Bloating During Ovulation?
Low FODMAP Diet
A low-FODMAP diet may help handle the signs of bloating during ovulation.
FODMAP stands for Fermentable Oligosaccharides, Disaccharides, Monosaccharides And Polyols.
These are short-chain carbohydrates found in high amounts in foods like the ones below.
Wheat, rye
Chickpeas, lentils
Cauliflower, broccoli, cabbage
Apple, pear, watermelon
Lactose-rich food
These high FODMAP foods can trigger or worsen bloating.
Instead, choose low-FODMAP foods like the following to help handle bloating.
Lactose-free dairy
Bananas, oranges, blueberries, and cantaloupe
Carrots, cucumber, ginger, and turnips
Gluten-free grains
Nuts and seeds
Be Physically Active
Studies report that being physically active after a meal can help bring down the intensity of abdominal bloating.
In a 2021 study, 94 participants were divided into two groups, and one group was asked to walk 10-15 minutes after every meal.
The intervention group's signs of bloating and fullness were reduced after walking.
Include Probiotic-rich Foods
Probiotics are good bacteria that are beneficial for gut health.
Probiotic-rich foods can help reduce gas production, thereby improving bloating.
Some natural sources of probiotics are yogurt, kefir, sauerkraut, and miso.
Increase Water Intake
There are different ways water can help bloating during ovulation.
Water flushes out sodium and other toxins from the body. Excess sodium accumulation can lead to bloating
Dehydration can cause constipation, and constipation is a common reason for bloating.
Reduce Your Sodium Intake
An excess sodium in your diet can encourage water retention in the body.
It is common to have junk food cravings and enjoy packets of crisps and other processed foods during ovulation.
However, this can be a major cause of bloating during ovulation.
Summary
Bloating during ovulation is a common sign in women, causing discomfort, weight gain, and a slightly fuller abdomen.
Ovulation can happen between days 10 and 17 of the menstrual cycle and is when the egg is released from the ovaries.
Most reproductive hormones like estrogen, progesterone, luteinizing hormone (LH), and the follicle-stimulating hormone (FSH) rise in levels during ovulation. The sudden hormonal spikes can cause bloating.
Many women also experience slight weight gain due to water retention in the body. Women may also go through bloating during the premenstrual phase.
Choosing a low FODMAP diet, staying physically active, improving water intake, and eating low-sodium and probiotic-rich foods are all ways to avoid bloating during ovulation.
References
https://pubmed.ncbi.nlm.nih.gov/32809533/
https://www.ncbi.nlm.nih.gov/pmc/articles/PMC3154522/
https://www.ncbi.nlm.nih.gov/pmc/articles/PMC27529/
https://www.sciencedaily.com/releases/2022/11/221123213555.htm
https://www.ncbi.nlm.nih.gov/pmc/articles/PMC6824367/
https://www.ncbi.nlm.nih.gov/pmc/articles/PMC3322543/
https://www.ncbi.nlm.nih.gov/pmc/articles/PMC8035544/
https://pubmed.ncbi.nlm.nih.gov/35143108/
https://www.health.harvard.edu/diseases-and-conditions/a-new-diet-to-manage-irritable-bowel-syndrome
https://www.ncbi.nlm.nih.gov/pmc/articles/PMC7122060/