What Is Myopia?
Myopia or nearsightedness is a common eye condition in which individuals cannot clearly see distant or far-away objects. 
According to the American Academy of Ophthalmology, nearly half the world's population will have nearsightedness by 2050.
High: Severe nearsightedness with more than 6 dioptres of myopia
Moderate: When the nearsightedness is between 3 to 6 dioptres of myopia
Low: A mild condition with less than 3 dioptres of myopia
Nearsightedness among children increases as they grow old, and their glasses prescription usually stabilizes in their 20s.
Causes Of Myopia
Myopia is a complex condition that affects the structure of the eye.
When the eyeball is too long, or the cornea (protective outer layer of the eye) is too curved, light that enters the eye is not focussed properly.
As a result, the image is focused in front of the retina rather than on it. This causes blurred vision and is called a refractive error.
Though myopia's exact cause is unclear, it is said to develop due to an interaction between genetic and environmental factors.
In high myopia, the eyeball grows more than normal and becomes long from front to back.
Apart from myopia, people with this eye structure are also at a greater risk for cataracts, glaucoma and detached retina.
Degenerative myopia is a type of nearsightedness that an individual typically inherits from their parents.
In this type of myopia, the eyeball elongates too quickly and causes severe myopia. This condition worsens into adulthood.
People with degenerative myopia are at a higher risk for other visual conditions like a detached retina, glaucoma, and abnormal vessel growth in the eye.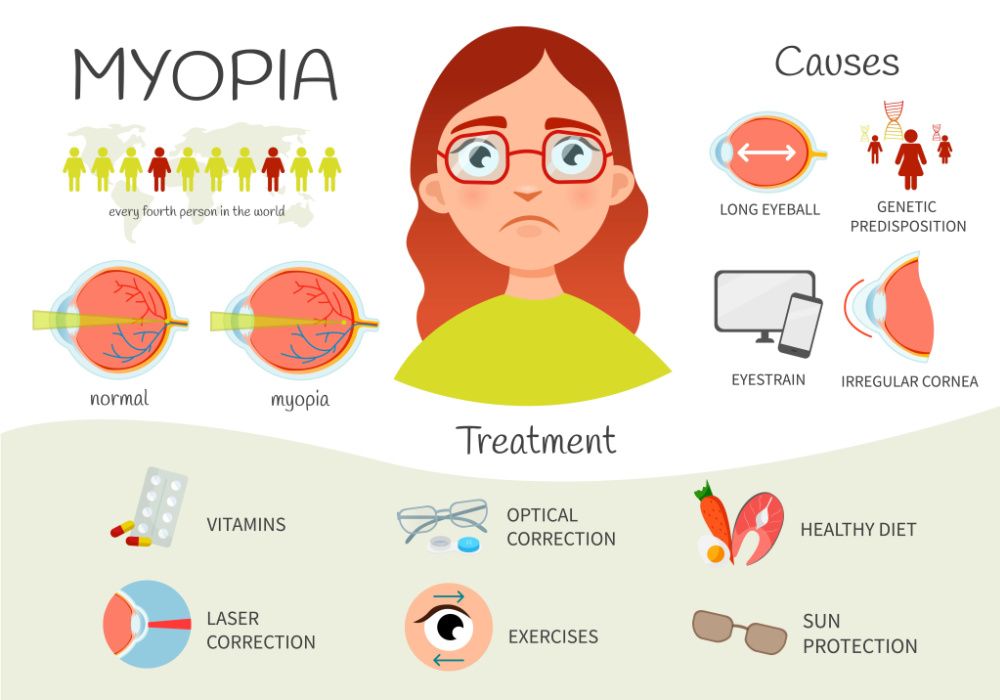 Image: Overview of Myopia
Is Myopia Genetic?
Researchers have found over 200 genes associated with myopia and refractive errors.
In some people who inherit myopia, lifestyle factors like reading a book, using a laptop, or watching the TV from a close distance can result in nearsightedness.
Myopia usually appears in childhood. The condition may settle down or worsen with age.
Does The APLP2 Gene Influence Myopia Risk?
Researchers at Columbia Medical Center have discovered a gene that may increase the risk of myopia in people who spend a significant amount of time doing near-work like childhood reading.
People with a variant of the APLP2 gene are five times more likely to develop myopia in their teens if they read for at least one hour per day in their childhood.
People with the APLP2 gene but who spent less time reading had no additional risk of developing myopia.
Inheritance Pattern of Myopia
Myopia is a complex condition influenced by many genes and environmental factors, it does not have a clear inheritance pattern.
Some studies show that myopia can be inherited, as you are more likely to develop the condition if one or both of your parents have it.
The risk of myopia is greater when first-degree relatives like parents and siblings of the individual have the condition.
High myopia occurs when an abnormal change (mutation) in a single gene exists.
This form of nearsightedness follows an autosomal dominant (having one copy of the affected gene can cause the condition), autosomal recessive (having two copies of the affected gene causes the condition), or X-linked ( when the affected gene is present on the chromosome and is sufficient to cause the condition in males) inheritance pattern.
Summary: Is Myopia Genetic?
Myopia is a common eye condition caused by a refractive error in which people cannot see far away objects clearly.
Myopia is of three types– high, moderate, and low, depending upon the severity of the condition, with low being mild and high being severe.
Over 200 genes have been identified related to myopia and eye refractive errors.
A mutation in the APLP2 gene may increase the risk of myopia by five times in individuals who spent over an hour reading every day during their childhood.
Since a complex interaction between genes and environmental factors causes myopia, no specific inheritance pattern has been identified so far.
References