Nonalcoholic fatty liver disease (NAFLD) is becoming a global threat in the healthcare industry, with more than a quarter of the world's population affected.
Researchers now believe that certain gene variants could be encouraging the development of this condition.
Novel therapeutic treatment options targeting specific gene expressions could be the most effective way to handle NAFLD.
Read more about personalized treatment options for NAFLD and the different therapeutic treatments to look forward to in the future to handle fatty liver.
Did You Know? Your ancestry test DNA data includes 700,000 markers, which can be used to learn your risk for various seasonal, environmental, food, and drug allergies. This report will help you understand your body better and safeguard yourself from allergens. Learn more.
Nonalcoholic Fatty Liver Disease: An Overview
Nonalcoholic Fatty Liver Disease (NAFLD) affects a quarter of the global population.
NAFLD is the most commonly occurring liver disease worldwide.
This condition can lead to liver damage and cirrhosis if left untreated.
While some of the common causes of NAFLD are lifestyle-related, researchers now believe that genetic factors also play an essential role in determining the rate of fat deposition and metabolism.
One important gene associated with NFALD is patatin-like phospholipase domain containing 3 (PNPLA3).
What Is The PNPLA3 Gene?
The patatin-like phospholipase domain containing 3 (PNPLA3) gene helps produce a protein named adiponutrin.
Adiponutrin is an essential component of hepatocytes (liver cells) and adipocytes (fat cells).
Role In The Body
The complete role of adiponutrin is not well understood as of now.
However, researchers believe adiponutrin may play a role in fat production and breakdown.
It may also help develop adipocyte cells.
It has been noticed that during periods of fasting, the functioning of the PNPLA3 gene decreased.
PNPLA3 gene's function increased after a meal.
This suggests that the PNPLA3 gene and the adiponutrin protein also play a role in fat metabolism and storage in the body.
What Is The Role of PNPLA3 In NAFLD?
NAFLD is a condition caused by excessive fat deposition in the liver.
NAFLD is characterized by high levels of serum LDL cholesterol and triglycerides and overweight.
The PNPLA3 gene breaks down triglycerides and other types of fats.
Studies report that mutations in this gene lead to a build-up of triglycerides in the liver.
This, over time, can lead to conditions like liver inflammation, NAFLD, liver cirrhosis, and even liver cancer.
How Does This Gene Affect Fat Breakdown
The PNPLA3 gene is a lipid regulator in the liver cells.
In the liver cells, this gene helps break down triglycerides and convert polyunsaturated fatty acids into their intermediate form, called phosphocholines.
These processes are required to break down fat and eliminate it from the body.
Mutant forms of this gene can therefore affect fat breakdown in the liver and lead to fat accumulation instead.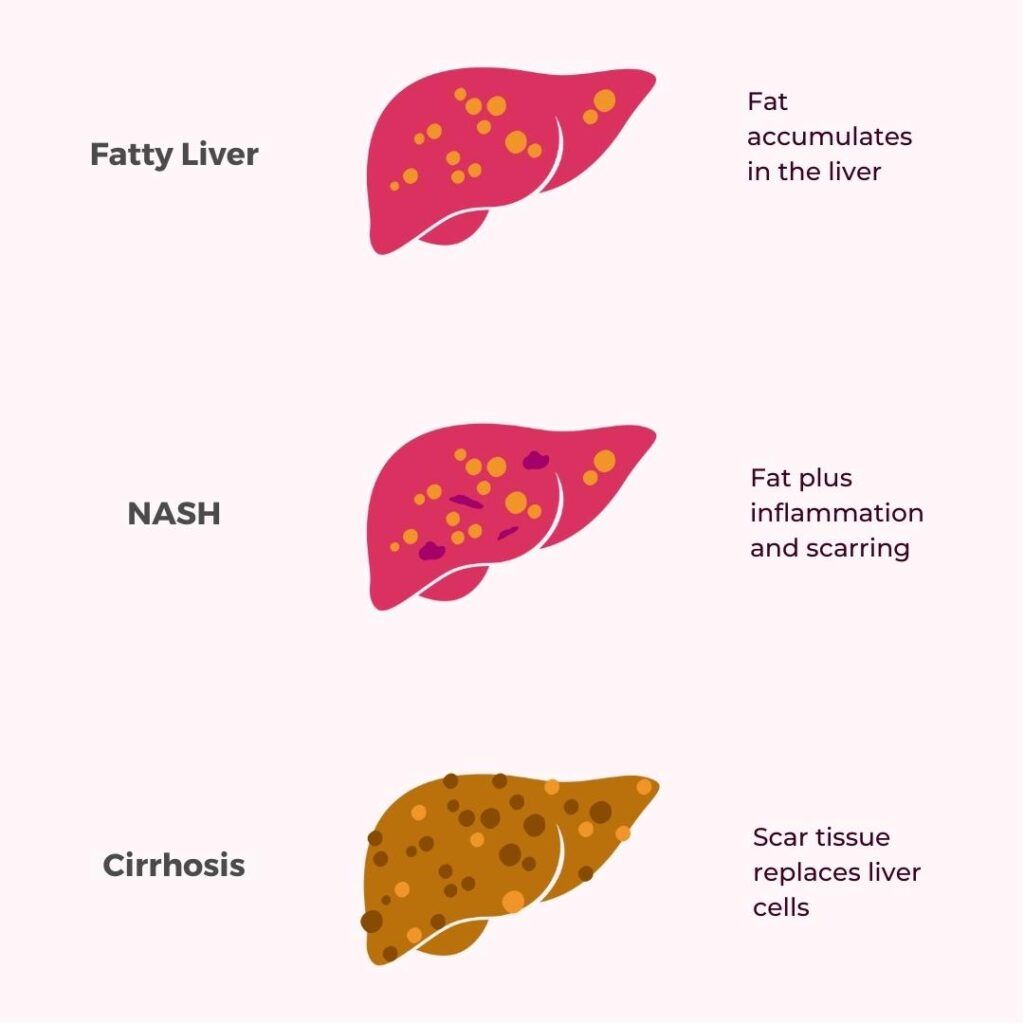 PNPLA3 As Therapeutic Target For NAFLD and Other Liver Diseases
A particular variant of the PNPLA3 gene was commonly found in those diagnosed with NAFLD.
People with this variant had problems in the regular production of the adiponutrin protein and could not break down fats in their bodies.
Researchers are now trying to target this gene and create therapeutic solutions for different liver diseases.
Overview
A 2021 study published by Cherubini and his team explores the idea of using the PNPLA3 as a therapeutic target for slowing down the progression of NAFLD.
According to this study, the PNPLA3 rs738409 C>G variant is the most commonly noted mutation in individuals with NAFLD.
This variant is associated with liver cirrhosis and inflammation and increases the risk of developing hepatocellular carcinoma (liver cancer) by up to 10 times.
Current Therapeutic And Approach
The current generation of therapeutic treatments aims at targeting and disrupting specific protein expressions in the body to achieve favorable results.
Researchers are using liver-targeted Antisense Oligonucleotides (ASOs) as potential treatments for NAFLD.
ASO-based therapies use drugs that bind to the target RNA and modify protein expression through different mechanisms.
Results From Preclinical Trials
There are already preclinical trials conducted using liver-targeted ASOs.
These results report that the PNPLA3 ASO therapy effectively reduced the severity of Nonalcoholic Steatohepatitis (NASH) at all stages.
NASH is a more severe form of NAFLD.
The therapy was able to suppress the actions of the PNPLA3 148M protein successfully.
It helped reduce the intensity of liver inflammation, fibrosis, and fat accumulation.
Future Research
The next step is the clinical trial, where the researchers would try and treat NASH patients with the PNPLA3 ASO therapy.
The research team hopes to deliver precision medicine to people with NASH using ASO therapy in less than ten years from now.
The team also emphasizes the need to understand the different variants of the PNPLA3 gene and other genes of interest to know how they would react to targeted therapy.
Other Personalized NAFLD Treatment Options Under Investigation
PXL770
PXL770 is a novel therapeutic drug under investigation to treat NAFLD.
AMP Kinase (AMPK) is an energy sensor associated with lipid metabolism.
The PXL770 drug is a direct AMPK activator and could help people with NAFLD and type-2 diabetes handle their conditions better.
Between 2019 and 2020, a randomized, placebo-controlled, phase 2a study was conducted in 120 patients.
According to the researchers, AMPK activation definitely has the potential to become a pharmacology target in those with NAFLD.
PF-06835919
PF-06835919 is a Ketohexokinase (KHK) inhibitor under investigation to treat NAFLD and NASH.
KHK is an enzyme that converts fructose into its next stage, fructose-1-phosphate.
High fructose consumption is one of the reasons for developing NAFLD.
Researchers conducted a randomized phase 2 trial in 2021 with 48 participants.
The research reports that KHK inhibition may be a potential pharmacological target in treating NFALD.
PX-104
In 2021, an open-label phase II study was conducted to test the effectiveness of PX-104 against liver diseases.
PX-104 is a non-steroidal FXR agonist.
Four-week treatment with PX-104 lowered serum alanine aminotransferase (ALT) and γ-glutamyltransferase (GGT) levels.
These are markers pointing to liver diseases.
Researchers recommend further studies on this medicine to treat NAFLD and NASH.
Summary: PNPLA3 Gene For NAFLD Treatment
Nonalcoholic fatty liver disease (NAFLD) affects more than 25% of the global population.
Some of the common causes of developing NAFLD are obesity, consumption of a high-fat diet, type 2 diabetes, and insulin resistance.
Apart from these cases, specific gene mutations can also increase the chances of developing the condition.
The patatin-like phospholipase domain containing 3 (PNPLA3) gene produces a protein called adiponutrin that plays a role in fat metabolism.
Specific variants of this gene can prevent fat breakdown, encourage fat deposition in the liver, and lead to NAFLD.
The PNPLA3 rs738409 C>G variant is the most observed mutation in people with NAFLD.
Researchers are trying to create novel liver-targeted Antisense Oligonucleotide (ASO) therapy targeting this specific gene expression.
Such targeted therapies can prevent the worsening of NAFLD and other liver diseases.
Other targeted therapies like PXL770, PF-06835919, and PX-104 are under investigation to treat NAFLD and NASH.
References
https://www.mdpi.com/2077-0383/12/5/1852
https://pubmed.ncbi.nlm.nih.gov/34904923/
https://www.tandfonline.com/doi/full/10.1080/14728222.2021.2018418
https://www.ncbi.nlm.nih.gov/pmc/articles/PMC7262620/
https://www.ncbi.nlm.nih.gov/pmc/articles/PMC6777808/
https://www.sciencedirect.com/topics/biochemistry-genetics-and-molecular-biology/pnpla3
https://www.frontiersin.org/articles/10.3389/fmed.2019.00304/full
https://medlineplus.gov/genetics/gene/pnpla3/
https://pubmed.ncbi.nlm.nih.gov/29935383/
https://journals.plos.org/plosone/article?id=10.1371/journal.pone.0132640
https://pubmed.ncbi.nlm.nih.gov/18820647/
https://www.ncbi.nlm.nih.gov/pmc/articles/PMC7355792/
https://pubmed.ncbi.nlm.nih.gov/34560015/
https://pubmed.ncbi.nlm.nih.gov/35590219/