Did You Know: Many sleep-related disorders and sleep issues are caused due to a group of genetic changes? Learn more:
Causes Of Disturbed Sleep
Getting a good night's sleep is relaxing, rejuvenating, and essential for the body. However, not everyone is blessed to get good sleep at night.
When you have a night of disturbed sleep at night, you wake up tired in the morning.
Though the amount of sleep one requires varies, adults must get seven to eight hours of it every day.
Several reasons can lead to disturbed sleep, such as:
Stress due to a major life event
Chronic stress due to everyday problems
Uncomfortable bedroom environment
Snoring partner or family member
Drinking alcohol before bedtime
Drinking caffeinated drinks in the evening or before bedtime
Late-night eating
Few medications
Sleep disorders like insomnia
Anxiety and depression
Menopause
Medical conditions like arthritis, asthma, Parkinson's and Alzheimer's
Working out too close to your bedtime routine
Excessive use of digital devices, particularly before bedtime
Why Do I Keep Waking Up At 4 AM?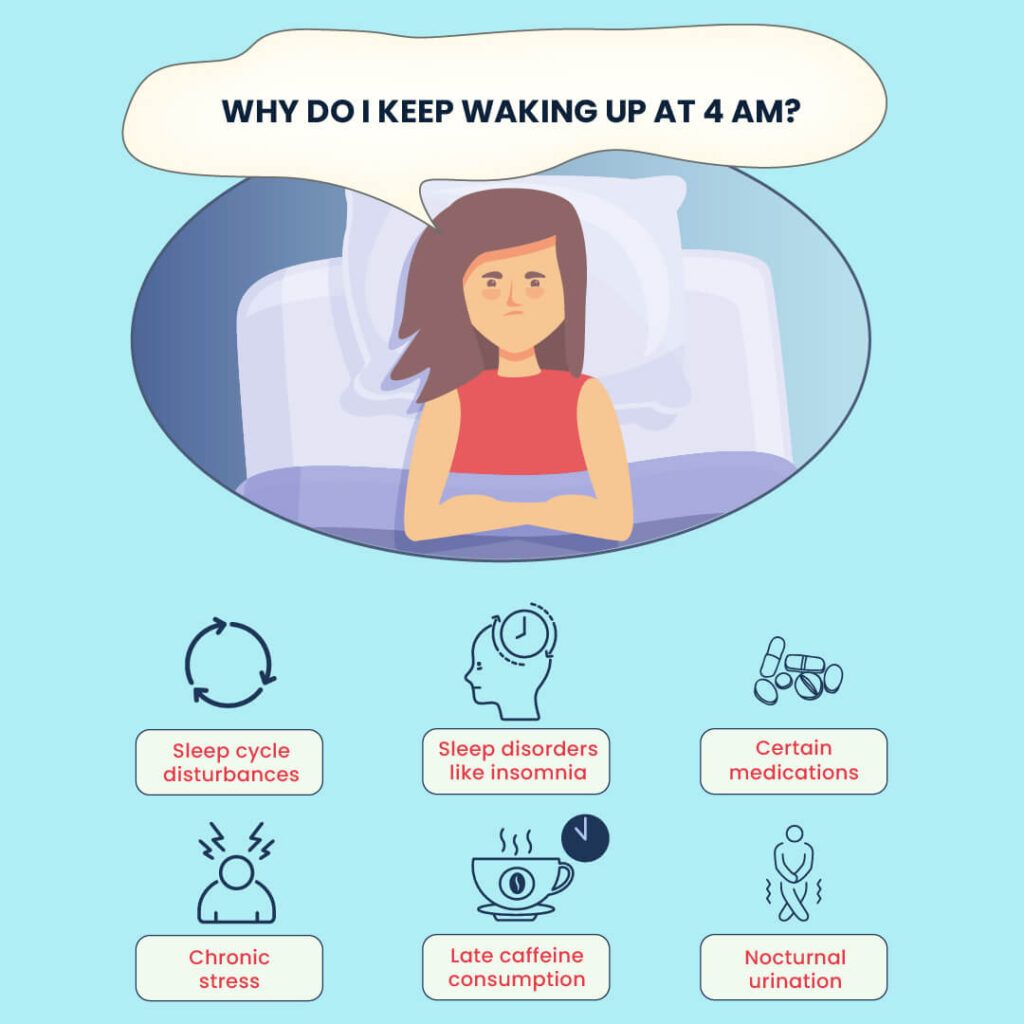 Our sleep cycle is part of our body's clock called the 'circadian rhythm.'
This sleep cycle is regulated by light levels and temperature, which trigger brain chemistry.
Each cycle of sleep during the night is 90 minutes long, and during the deepest phase of this cycle, our brain is flushing away the toxins. Following this, we enter the REM phase.
The hormone melatonin guides REM sleep and allows us to fall asleep at bedtime.
During the early hours, the levels of melatonin fall, and cortisol levels rise, enabling us to wake up.
Studies have shown that the brain sorts out memories in the first half of the night, while the second half is for the emotions.
The rising cortisol levels and dealing with emotional events or feelings may be why many people wake up at 3 AM or 4 AM daily.
Other reasons why you may be waking up in the middle of the night are:
You are wearing uncomfortable or the wrong clothes to bed
Your bedroom is too warm or cold
Spending too much time in bed
Increasing age
Lack of nutrients like magnesium
Conditions that cause increased frequency of urination
Stress
Unresolved emotional issues
Is It Normal To Wake Up At The Same Time Every Night?
Most of us wake up at least once every night but should be able to return to sleep immediately.
Waking up at the same time every night is normal if it is due to the natural sleep cycle and not an underlying cause.
With age, sleep patterns change, and the brain adapts to this change.
If you are waking up at least three nights for three months or longer and experiencing daytime impairment due to persistent sleep issues, you must consult your doctor.
How To Avoid Waking Up At 4 AM?
To ensure you get a good night's sleep and avoid waking up at 3 AM or 4 AM every night, here are a few handy tips for good sleep hygiene:
Sleep and wake up at the same time every day
Have a relaxing bedtime routine
Avoid caffeine in the evening or night
Avoid alcohol before bedtime
Stay active during the day to build your sleep drive
Avoid using screened devices in bed
Do not spend too much time in bed
Relaxation techniques like yoga and meditation may help improve sleep
If something is bothering you, speak to someone or seek professional therapy
Summary: Why Do I Keep Waking Up At 4 AM?
Disturbed sleep is common and results from various causes like stress, health conditions, and medications.
The hormones melatonin and cortisol regulate our sleep cycle.
The rising cortisol levels around 3 AM or 4 AM with emotional sorting by the brain are probable causes why you wake up around the same time every day.
It is normal to wake up at the same time every night, provided there is no serious underlying cause, and you have no trouble falling back to sleep.
Following good sleep hygiene can prevent you from waking up at the same time every night.
References