Abstract
Glaucoma, prevalent in more than three million Americans, is the leading cause of blindness in the United States. Recent research reports that consuming large amounts of caffeine daily may more than triple the risk of glaucoma - for those with a genetic risk for high eye pressure. The study suggests individuals with a family history of glaucoma must cut down on caffeine intake to reduce the risk of glaucoma. However, further research is required to understand these gene-diet interactions affecting our glaucoma risk.
What Is Glaucoma?
Glaucoma is an eye disorder damaging to the optic nerve. It results from increased eye pressure due to fluid build-up in the eye.
Glaucoma is of two major types:
Primary open-angle glaucoma
It is the most common type of glaucoma. It occurs gradually when the eye does not drain fluid, resulting in eye pressure build-up damaging the optic nerve. This type of glaucoma causes no vision changes initially and is painless.
It occurs when the iris is very close to the drainage angle in the eye and ends up blocking it. When the drainage angle is completely blocked, eye pressure rises quickly. It is an acute condition and requires immediate medical attention.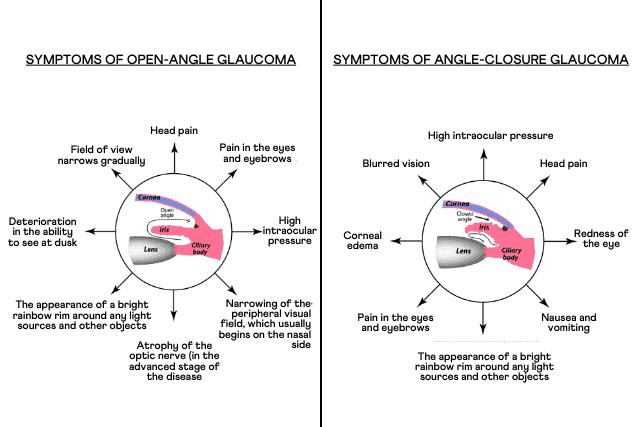 The less common kinds of glaucoma include:
Secondary glaucoma
Congenital glaucoma
Normal-tension glaucoma
Is Glaucoma Hereditary?
Studies have identified various genetic factors that increase the risk of glaucoma.
Changes in the following genes account for 10% of global cases of open-angle glaucoma:
MYOC (Myocilin) gene
OPTN (Optineurin) gene
CYP1B1 gene
Genes that influence the risk of angle-closure glaucoma are:
PLEKHA7 gene
PCMTD1/ST18 gene
COL11A1 gene
But, how these genes contribute to glaucoma is not clear.
In the US, only 15% of children with congenital glaucoma have a mutation in CYP1B1.
Genes influencing other types of glaucoma include FOXC1, FOXE3, PITX2, PITX3, PAX6, LMX1B, and MAF.
Xcode Life's Gene Health Report analyzes 35 gene markers for glaucoma. You can learn about your genetic risk for glaucoma here.
High Caffeine Intake Linked To Increased Risk Of Glaucoma
A genetic study led by researchers at the Mount Sinai School of Medicine aimed to understand the impact of caffeine intake on glaucoma and eye pressure.
The study was conducted with data of 502,506 individuals from UK-based Biobank. Participants aged between 39 and 73 during the years 2006-2010 provided their health records and DNA samples to generate genetic data.
The study also used data from dietary questionnaires focusing on caffeine intake and vision, including specifics on family history of glaucoma. In addition, the study measured the eye pressure of the participants.
The researchers analyzed the impact of multiple variables to estimate the association between glaucoma and eye pressure. They also used a genetic risk score that combined the effects of 111 genetic markers associated with eye pressure to examine the between genes and caffeine intake.
Findings of the study suggested that regular coffee drinking is weakly associated with decreased eye pressure. Results also depict a null association between caffeine intake and glaucoma.
However, among individuals with an already existing genetic risk of increased eye pressure, greater caffeine intake was linked with higher eye pressure and increased glaucoma risk.
The study calls for more research to be done in order to identify the gene-diet interactions and provide nutritional recommendations for caffeine intake based on glaucoma risk.
Recommendations For Safe Caffeine Consumption and Glaucoma Prevention
The FDA has recommended that healthy adults can consume 400 milligrams of caffeine a day (4-5 cups of coffee) without experiencing dangerous, negative effects.
If you consume caffeine in amounts higher than your tolerance level, you may experience symptoms like:
Insomnia
Caffeine jitters
Anxiety
Nausea
Dehydration
Headache
More reading: How Genes Influence Caffeine Tolerance?
Opt for alternatives with lower caffeine content like tea or cocoa. Studies report significantly lower levels of caffeine in tea when compared to coffee. Other healthy sources of caffeine include green tea, matcha, Guarana berries.
Include foods that support eye health in your diet every day. Sunflower seeds, raw bell peppers, salmon, eggs, sweet potatoes, dark green leafy vegetables, and carrots contain nutrients that are good for your eyes.
Regular comprehensive eye exams can help detect glaucoma in its early stages before significant damage occurs.
Regular exercising may help regulate eye pressure and thereby lower your risk for glaucoma.
Summary
Glaucoma is an eye disease that damages the optic nerve due to increased eye pressure.
Research shows a positive association between higher caffeine intake and increased eye pressure
Research shows that among individuals with the genetic risk for increased eye pressure, greater caffeine consumption was linked with increased glaucoma risk.
Additional research is required to understand these gene-diet interactions better to provide caffeine consumption recommendations based on glaucoma risk.
References