Kidney stones are mineral and salt deposits that form in the kidneys and affect the functioning of the urinary tract.
Kidney stones are also called nephrolithiasis (NL) or renal stones. According to studies, about 8.8% of Americans develop kidney stones.
About 75% of renal stones are made of calcium. These can also be made up of uric acid, cystine (a protein building block), or minerals like struvite.
Kidney stones can be of different sizes and must pass out of the body through urine.
Smaller stones may pass through the urinary tract unnoticed or with minimal discomfort.
Larger kidney stones can block urine flow and lead to kidney complications. Different factors influence the creation of kidney stones, and genetics is one of them.
What's Your Genetic Risk For Kidney Diseases? Find Out With The Gene Health Report
Kidney Stones: Symptoms and Causes
Symptoms Of Kidney Stones
Kidney stones often show no symptoms until they start moving and enter the ureters.
The ureters are tubes that carry urine from the kidney to the bladder.
If the kidney stone blocks the ureters, it can give rise to symptoms like
Spasm-like pain at the back and sides of the hips
Pain in the lower abdomen and around the ribs
Pain while urinating
Lower output of urine
Fever and chills
Nausea and vomiting
Causes Of Kidney Stones
It is often not easy to identify the exact cause of kidney stones.
Stones can develop when your urine has an excess of calcium, uric acid, cystine, struvite, or oxalate, all of which can form crystals and develop stones.
Sometimes, the contents in your urine may encourage crystals to stick together. This may cause stone formation.
We will discuss some risk factors for kidney stones in the coming sections.
Are Kidney Stones Genetic?
Kidney stones are multifactorial (influenced by multiple factors). Genetics, environmental causes, diet, and hormonal changes can play a role in causing the condition.
Inheritance Pattern Of Kidney Stones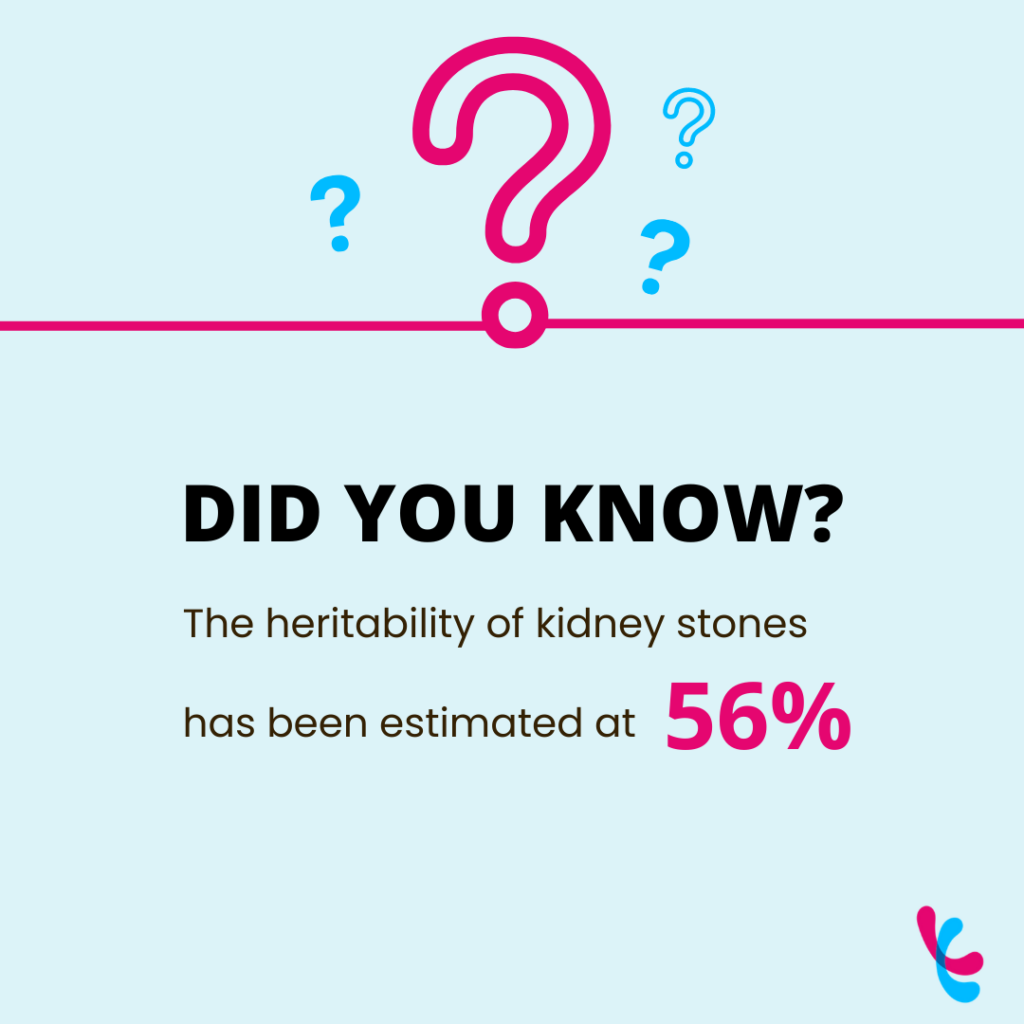 Inheritance of kidney stones
The inheritance pattern of kidney stones is unclear.
People with a sibling or a parent with kidney stones have an overall increased risk of developing the condition.
Two-thirds of people with calcium-based kidney stones have close relatives with the same condition. 
Multiple genes may influence the formation of kidney stones.
Some of the important ones include:
| | |
| --- | --- |
| Gene | |
| ADCY10 | Adenylate cyclase 10 |
| APRT | Adenine Phosphoribosyltransferase |
| SLC26A1 | Solute Carrier Family 26 Member 1 |
| SLC22A12 | Solute Carrier Family 22 Member 12 |
| SLC2A9 | Solute Carrier Family 2 Member 9 |
| SLC34A3 | Solute Carrier Family34 Member 3 |
| VDR | Vitamin D Receptor |
Changes in these genes may cause an imbalance in the urinary inhibitors and promoters of crystallization, increasing or decreasing a person's chances of developing kidney stones.
Other Risk Factors For Kidney Stones
Some risk factors that may lead to kidney stones are:
Age - People between the ages of 40 and 60 have a higher risk for kidney stones.
Gender - Men have a higher risk of developing kidney stones than women.
Weight - Studies show that obese individuals have a higher risk of developing kidney stones than those with normal BMI levels.
Water intake - Less water intake encourages kidney stones to grow in size and get problematic.
Diet - Diets high in sugar, salt, or protein may encourage the formation of stones.
Renal history - People who have developed kidney stones in the past have a higher risk of developing them.
Treatment, Management, and Prevention of Kidney Stones
Treatment Options
When treating kidney stones, the options vary depending on the size of the stone, the physical discomfort it causes, and the pressure it puts on the kidneys.
For smaller stones, doctors may advise drinking 3-4 liters of water daily to help pass the stone.
For slightly larger kidney stones, the doctor may suggest a particular type of medication called an alpha-blocker.
This relaxes the ureter muscles and helps pass the stone quickly and painlessly.
For larger stones that block the ureter and put pressure on the kidneys, there are three treatment options considered.
Extracorporeal Shock Wave Lithotripsy (ESWL) - Sound waves create vibration and break the larger stone into smaller pieces, which can then be easily passed on in the urine.
Ureteroscopy - A small telescope is passed through the urethra to identify the stone. This is then broken into smaller pieces using special instruments.
Percutaneous Nephrolithotomy - This is a minimally invasive technique where a small incision is made at the back of the body, and a camera and small instruments are sent through the incision to the kidneys. The stone is broken and removed surgically.
Management And Prevention Of Kidney Stones
Genetic testing will help you understand your risk of developing kidney stones.
Even if you are genetically prone to developing stones, some lifestyle changes below may help combat the risk.
Drink 2-3 liters of water a day
Eat a low-sodium diet
Choose non-animal proteins over animal proteins
Lose weight if you are obese or overweight
A condition called percutaneous nephrolithotomy may cause high calcium levels in the body, and this could be a reason why a person develops kidney stones frequently.
Controlling the activity of the parathyroid glands may help handle this condition.
Summary: Are Kidney Stones Genetic?
Kidney stones, especially the ones caused by excess calcium crystallization, may be genetically influenced.
In most cases, a combination of genes, environmental causes, and lifestyle leads to the formation of kidney stones.
Making small lifestyle changes and testing your genes can help you stay aware of the condition and get treated early on.
References