Xcode Life's Arthritis DNA Report
Researchers have identified several genes associated with arthritis.
In the sample report below, we've attempted to analyze some important genes that increase the risk of arthritis.
You can identify your genetic risk of arthritis by using your 23andMe DNA data and placing an order for the Gene Health Report.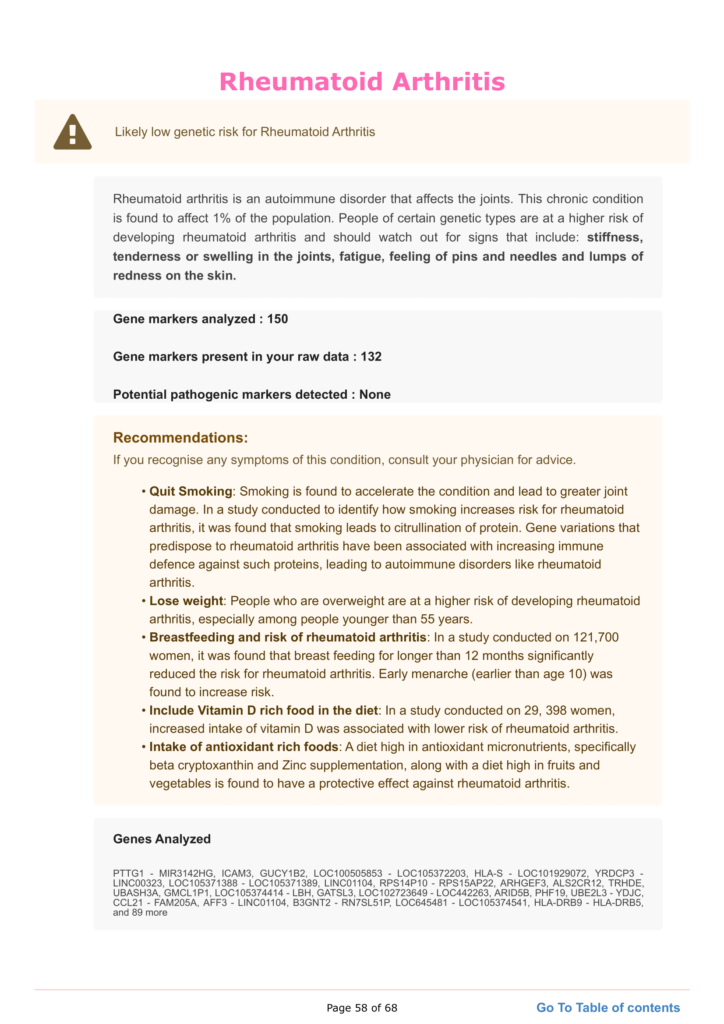 Is Arthritis Hereditary: Overview
Arthritis is a medical condition characterized by inflammation and pain in one or more joints.
The primary symptoms of arthritis are stiffness and swelling pain in the joints, which generally worsen as people age.
In America, arthritis affects nearly 59 million people - or one out of every four people.
The majority of Americans in the US suffer from this chronic condition.
Doctors believe genetics may be involved, particularly in cases when the condition strikes at an early age.
The Most Common Type of Arthritis
Over 100 different forms of arthritis exist, and they can be widely categorized as degenerative, infectious, inflammatory, and metabolic. The two most common kinds of arthritis are osteoarthritis and rheumatoid arthritis.
Rheumatoid arthritis is an autoimmune disease that damages the joints and causes changes in the tissues surrounding the joints, including cartilage (the sliding surface covering the bone) and the bone itself.
Osteoarthritis, the most common kind of arthritis, undergoes similar changes.
The cartilage degrades, thins, and eventually turns rough, giving less protection for the bones.
Other Types of arthritis
Other types of arthritis include:
Psoriatic arthritis (PsA)
Ankylosing spondylitis (AS)
Psoriatic Arthritis (PsA)
Psoriatic arthritis is predicted to affect 2.4 million people. Psoriatic arthritis is caused by the inflammation that results from the common skin condition psoriasis. Psoriatic arthritis symptoms include:
Swelling and tenderness in the joints
Fingers and toes with a bulging appearance
Daytime stiffness and fatigue
Silvery-white skin spots
Ruptured nails
Ankylosing Spondylitis (AS)
Ankylosing spondylitis (AS) is a less frequent type of chronic autoimmune and inflammatory arthritis.
It causes pain and stiffness in the hips and back, eventually leading to the fusion of vertebrae in your spine.
This fusion is termed ankylosing.
The sacroiliac (SI) joints at the base of your spine are the primary targets of AS.
These signs include:
Low back and buttock pain that is dull and periodic
Other joints, such as the shoulders, elbows, hips, knees, and ankles, are all painful.
Morning stiffness that gets better with movement.
Enthesitis (inflammation where connective tissues link to bone)
Eye inflammation, known as anterior uveitis, causes pain, poor vision, and light sensitivity.
Is Arthritis Hereditary?
Genetics and Osteoarthritis
People do not inherit osteoarthritis; rather, they inherit an increased chance of acquiring it. According to research, genetics plays a role in between 40% and 65% of cases of osteoarthritis.
Genes that code for structural proteins of the extracellular matrix of the cartilage, particularly those that code for collagen type II (COL2A1), appear to play a significant role in the development of osteoarthritis.
Osteoarthritis is not caused by only one gene but by a combination of genes, other conditions, and environmental factors.
Genetics and Rheumatoid Arthritis
A thorough analysis of the genetics of Rheumatoid Arthritis (RA) found that the heritability was approximately 60%.
About 37% is believed to originate from genes connected to the human leukocyte antigen (HLA) system, also called the major histocompatibility complex or MHC genes. These are significant genes for the immunological response.
According to studies, there are four main genetic factors associated with Rheumatoid Arthritis:
HLA-DR4: the gene that is most strongly associated with RA. People who carry this gene are more likely to get RA than people who do not, and their symptoms may be more severe.
The STAT4 gene regulates and stimulates the immune response.
TRAF1 and C5 genes are essential for the genesis of chronic inflammation.
PTPN22 gene-Linked to the onset and progression of RA
Even though these gene variations are linked to RA, you can have all of them and not have the illness. However, RA has a significant genetic component but is not directly inherited.
Genetics and Psoriatic Arthritis
Several HLA gene variations appear to influence the likelihood of developing psoriatic arthritis.
Nevertheless, 40% of those with PsA have at least one close relative with the condition.
Genetics and Ankylosing Spondylitis
90% of Ankylosing Spondylitis (AS) sufferers have the HLA-B27 gene. Some people without the gene also acquire AS, and not everyone with the gene gets AS.
Other Risk Factors for Arthritis
Overweight: The major joints, such as the hips, knees, and ankles, are put under higher stress when a person is overweight.
Overweight people are more prone to experiencing early osteoarthritis.
Age: It has been observed that RA risk rises with age. The disorder is more prevalent in people 60 years of age and older.
Gender: Women are affected 2-3 times more than men by RA.
Unaddressed health concerns: Illnesses and injuries can make you more likely to develop arthritis. Joint injuries left untreated may result in accelerated cartilage aging.
Smoking: Smoking increases the loss of cartilage and makes you struggle more with joint swelling. This develops rheumatoid arthritis and can aggravate the signs and symptoms of osteoarthritis.
Nature of work: Some jobs require repetitive knee bending and squatting. There is a chance that arthritis will develop later in life as a result of that repetitive stress on a single joint.
Summary: Is Arthritis Hereditary
Arthritis is a medical condition characterized by inflammation and pain in one or more joints.
The types of arthritis are Osteoarthritis, Rheumatoid arthritis, Psoriatic arthritis (PsA), and Ankylosing spondylitis (AS).
Several HLA gene variations appear to influence the likelihood of developing arthritis.
Other risk factors for arthritis include being overweight, smoking, age, gender, unaddressed health concerns, and smoking.
References