Did you know one in eight Americans with prostate will be diagnosed with prostate cancer in their lifetimes? A majority of prostate cancer are silent and do not show any signs or symptoms in the initial stages. Screening tests have been widely recommended and performed to help in the early diagnosis of prostate cancers. However, what if an individual is at risk of prostate cancer due to their family history? Let's learn whether prostate cancer is hereditary.
What Is Prostate Cancer?
The prostate is a walnut-shaped gland located below the bladder and in front of the rectum.
It forms a part of the male reproductive system and forms the fluid portion of semen.
When the cells in the prostate start to multiply or grow uncontrollably, they form a tumor.
As the tumor grows, the signs and symptoms of the condition start appearing.
While most prostate cancers are slow-growing, some can be aggressive and life-threatening.
Prostate cancer is a common cancer among middle-aged and older men.
A small percentage of prostate cancers are hereditary and run in families.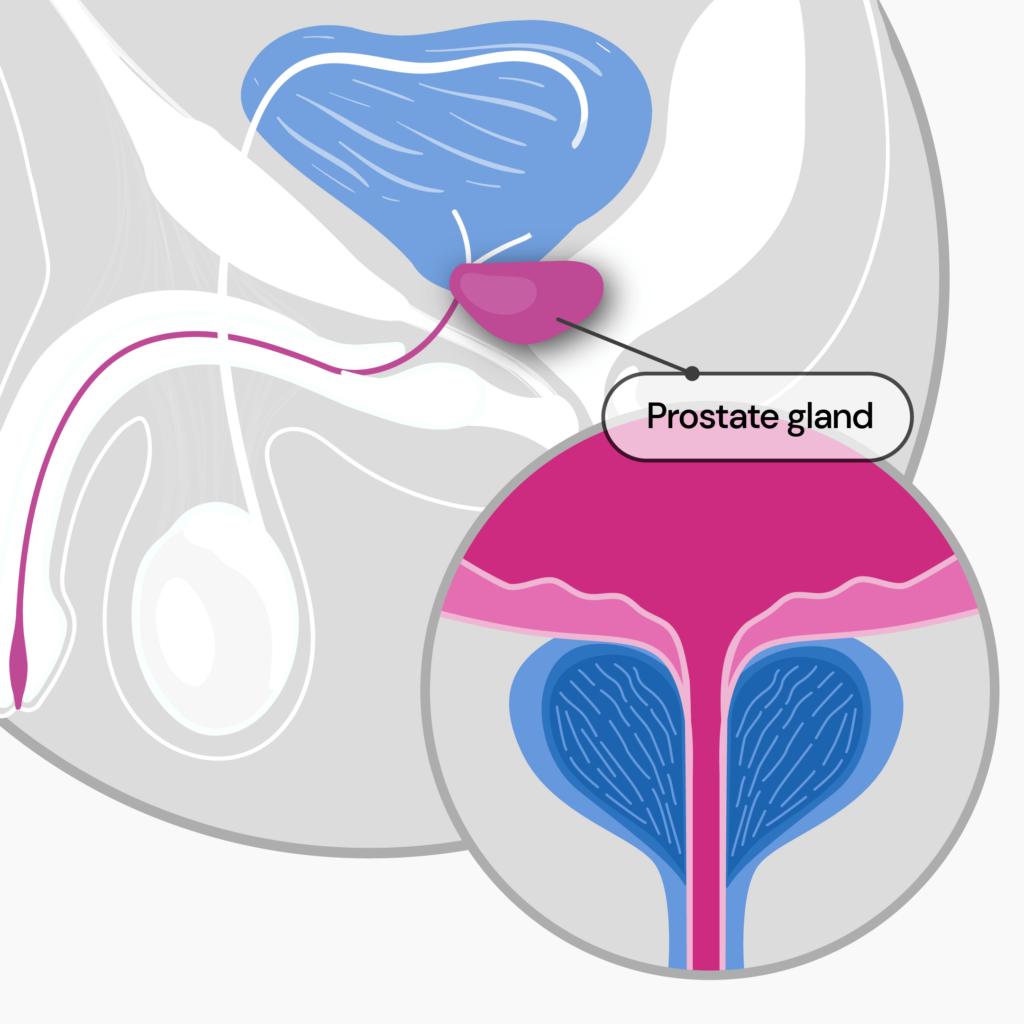 Who's At Risk For Prostate Cancer?
Everyone with a prostate is at risk for prostate cancer.
A few factors that may increase your risk for prostate cancer are:
Age: The older one gets, the higher the chance of developing prostate cancer
Race: Those with an African-American ancestry are more likely to develop prostate cancer.
Family history: Having first-degree family members (biological father, brother, son) or immediate relatives from the mother or father's side affected by prostate cancer increases the risk for the condition.
What Are The 5 Warning Signs Of Prostate Cancer?
Prostate cancer has a good prognosis when diagnosed and treated early.
However, like most diseases, prostate cancer does not cause signs or symptoms in the early stages.
Here are five warning signs of prostate cancer that may help in its early detection and prompt treatment:
Painful or burning sensation during urination or ejaculation
Difficulty starting or stopping urination
Presence of blood in urine or semen
Sudden occurrence of erectile dysfunction
Frequent urination, especially at night
Other signs that may be a sign of prostate cancer are weak urine flow and unexplained pain around the prostate when sitting.
In cases where cancer has spread beyond the prostate, there may be swelling in the back, hip, and lower body.
Unexplained weight loss with changed bowel and urinary habits may also be seen.
Is Prostate Cancer Hereditary?
Despite family history being one of the risk factors for prostate cancer, many cases of the condition are not related to inherited genes.
These cancers occur due to mutations (abnormal changes) in the prostate gland cells (somatic variations).
When prostate cancer is related to inherited gene mutations, the inheritance pattern depends upon the gene involved.
The most common genes that cause prostate cancer are inherited in an autosomal dominant pattern.
This means having just one copy of the altered gene is sufficient to increase an individual's chance of developing prostate cancer.
What Percentage Of Prostate Cancer Is Hereditary?
Prostate cancer may not always be hereditary.
However, did you know prostate cancer is the most inheritable of all the major cancers?
58% of prostate cancer is driven by genetics.
Men with a close relative with prostate cancer are twice as likely to develop the condition.
5% to 10% of prostate cancers are found to be hereditary.
Genes Underlying Prostate Cancer
Most inherited prostate cancer cases occur due to these three genes– BRCA1, BRCA2, and HOXB13.
Men with BRCA2 and HOXB13 gene variants are at a higher risk of developing life-threatening forms of prostate cancer.
BRCA1 and BRCA2
BRCA1 and BRCA2 genes produce proteins that fix DNA and maintain the stability of the cell's genetic information.
These genes are called tumor suppressors because they prevent cells from growing and multiplying fast or uncontrollably.
When these cells undergo mutations, they lose their ability to repair DNA and give rise to breast, prostate, and other cancers.
HOXB13
The HOXB13 gene provides instructions for producing a protein that binds to specific regions of the cell DNA and regulates the activities of other genes.
The protein produced by the HOXB13 gene is called a transcription factor.
Like the BRCA1 and BRCA2, the HOXB13 is also called a tumor suppressor.
So, any mutation in the HOXB13 gene may result in prostate cancer.
Other genes that are associated with prostate cancer include:
ATM
AR
CDH1
PTEN
IGF2
WRN
Genetic Testing For Prostate Cancer
Prostate Specific Antigen (PSA) and Direct Rectal Examination (DRE) have been routinely recommended for screening prostate cancer.
Two groups of men are recommended to undergo genetic testing for prostate cancer:
Those with localized cancer and a strong family history of breast, colon, ovarian, pancreatic, or prostate cancer
Those with advanced prostate cancer must ask their doctor about undergoing a genetic test, as it may help guide their treatment.
For example, PARP inhibitors like olaparib and rucaparib are FDA-approved medications for individuals with a specific type of metastatic prostate cancer.
Undergoing a genetic test to look for any mutation that may lead to prostate cancer can benefit the entire family.
In usual screening for prostate cancer, a high PSA level is used to determine the further course of disease management.
However, genetic testing allows the doctor to determine if an individual needs a biopsy, even with a low PSA level.
Summary: Is Prostate Cancer Hereditary?
The prostate is a walnut-shaped gland that contributes to the fluid part of semen.
Prostate cancer is a common cancer affecting those with a prostate gland in the middle ages or older.
Though anyone with prostate can develop prostate cancer, a family history of this condition increases the risk, making some of the cases hereditary.
Prostate cancer may cause warning signs like a painful or burning sensation during urination, blood in urine or semen, and difficulty starting or stopping urination.
Most inherited prostate cancer cases occur due to BRCA1, BRCA2, and HOXB13 genes.
Undergoing a genetic test to look for any mutation that may lead to prostate cancer can benefit the entire family.
References