Did you know that 60-90% of those who suffer from fibromyalgia, a condition marked by chronic pain and fatigue, are women (and those assigned female at birth)? this disparity has led researchers to investigate potential links with hormonal factors. Intriguingly, recent studies have found that having a close family member with fibromyalgia significantly increases one's own risk of developing the condition by as much as 8 times. So, does this mean that fibromyalgia is hereditary? This article delves into the genetics of fibromyalgia while addressing some common questions about this condition.
---
Did You Know?
Many chronic conditions like diabetes, hypertension, or fibromyalgia are influenced by many gene changes. Each change adds to the risk of developing the condition. You can learn your risk for these conditions as well as recommendations to lower your risk using your existing ancestry test DNA data.
Learn How.
---
What Is Fibromyalgia?
Fibromyalgia is a complex chronic disorder characterized by widespread musculoskeletal pain throughout the body.
The pain is associated with tenderness (sensitivity to touch) on joints, muscles, or skin.
People with this condition are more sensitive to pain as it amplifies the pain signals than the normal range.
Women are more susceptible than men to fibromyalgia.
It affects 2 to 8% of people globally. According to the National Fibromyalgia Association (NFA), it is prevalent in around 10 million people in the United States.
Symptoms And Causes
Typical signs and symptoms include:
pain all over the body
fatigue
depression
anxiety
migraine headaches
improper sleep
memory issues
Other symptoms include numbness, tingling, or burning sensation in arms and legs (paresthesia).
People with fibromyalgia also experience temporomandibular joint (TMJ) dysfunction, obsessive-compulsive disorder, and irritable bowel syndrome.
The exact cause of fibromyalgia is unknown, but a few factors may be involved.
They include:
abnormal pain signaling
infection
physical trauma or surgery
hormonal imbalances
genetics.
Is Fibromyalgia Hereditary?
According to some research studies, those with fibromyalgia carry changes in one or more genes that are involved in pain processing by the nervous system.
A few examples of these genes include SLC64A4, TRPV2, MYT1L, and NRXN3
Research on the DNA of family members with fibromyalgia suggests that these genes are inherited and seem to cluster within families.
Inheritance Pattern Of Fibromyalgia In Families
From the 2017 review of scientific literature on fibromyalgia, solid evidence exists to back the concept of genetics playing a prominent role.
According to a study, nearly 3/4ths of first-degree relatives with fibromyalgia showed clinical evidence of this condition, including certain muscle markers associated with fibromyalgia. The study reports:
52% of first-degree relatives showed clinical evidence
22% showed impaired muscle consistency, as seen in those with fibromyalgia
This is despite not showing physical symptoms of this condition.
Since fibromyalgia is a complex condition caused by both genetic and environmental factors, a study examined the risk between blood relatives and non-blood relatives sharing the same environment.
The results indicate a higher prevalence of 26% in blood relatives of those with fibromyalgia compared to just 19% in non-blood relatives.
How is Fibromyalgia Inherited?
While still unclear, some research also suggests that fibromyalgia may be inherited in an autosomal dominant manner - this means one copy of the affected gene is enough for you to be susceptible to this condition.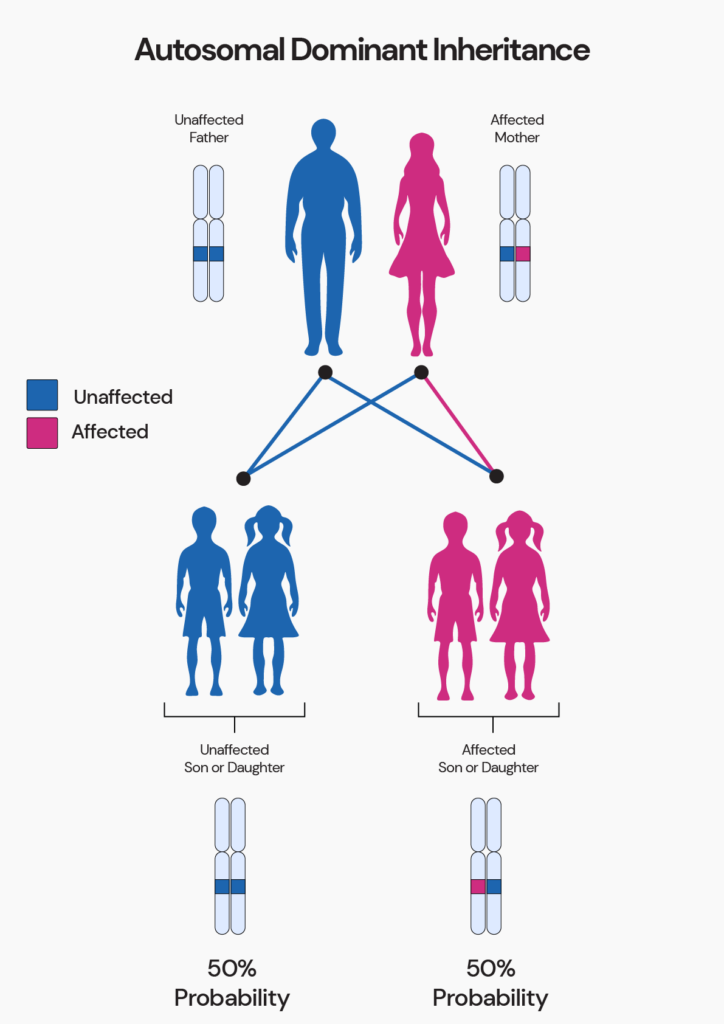 If I Have Fibromyalgia, Will My Child Get It From Me?
Different members of the same family have often been diagnosed with fibromyalgia.
You are 8.5 times more likely to get the syndrome if you have a first-degree relative, such as a parent, sibling, or offspring, with the syndrome.
Researchers discovered that 28% of the children whose mothers had fibromyalgia also had the condition.
Other Risk Factors For Fibromyalgia
There are many risk factors for fibromyalgia. However, merely possessing one of the risk factors listed below does not guarantee that you will get the syndrome.
Gender
Women are more likely than men to have fibromyalgia because estrogen and other female reproductive hormones make women more sensitive to pain.
During women's menstrual cycle, estrogen levels rise and fall, and pain levels oscillate.
Another possible risk factor for fibromyalgia is menopause, which causes decreasing estrogen levels.
Age
According to the NFA, between the ages of 20 and 50, most patients with fibromyalgia have been diagnosed.
Sleep abnormalities
Fibromyalgia is particularly prevalent in some persons with sleep disorders such as sleep apnea and restless leg syndrome (RLS).
Autoimmune disorders
The likelihood of getting fibromyalgia is higher in people with other autoimmune disorders. These disorders include:
Osteoarthritis (OA)
Rheumatoid arthritis (RA)
Ankylosing spondylitis
Lupus
Mental health issues
Hormonal imbalances cause mental health disorders such as depression and anxiety, the underlying factor for developing fibromyalgia.
Depression may also result from the pressure of dealing with persistent pain. Additionally, depression can exacerbate your pain.
Other potential risk factors for fibromyalgia include environmental triggers, recurrent surgery, inactive lifestyle, excessive exercise, and obesity.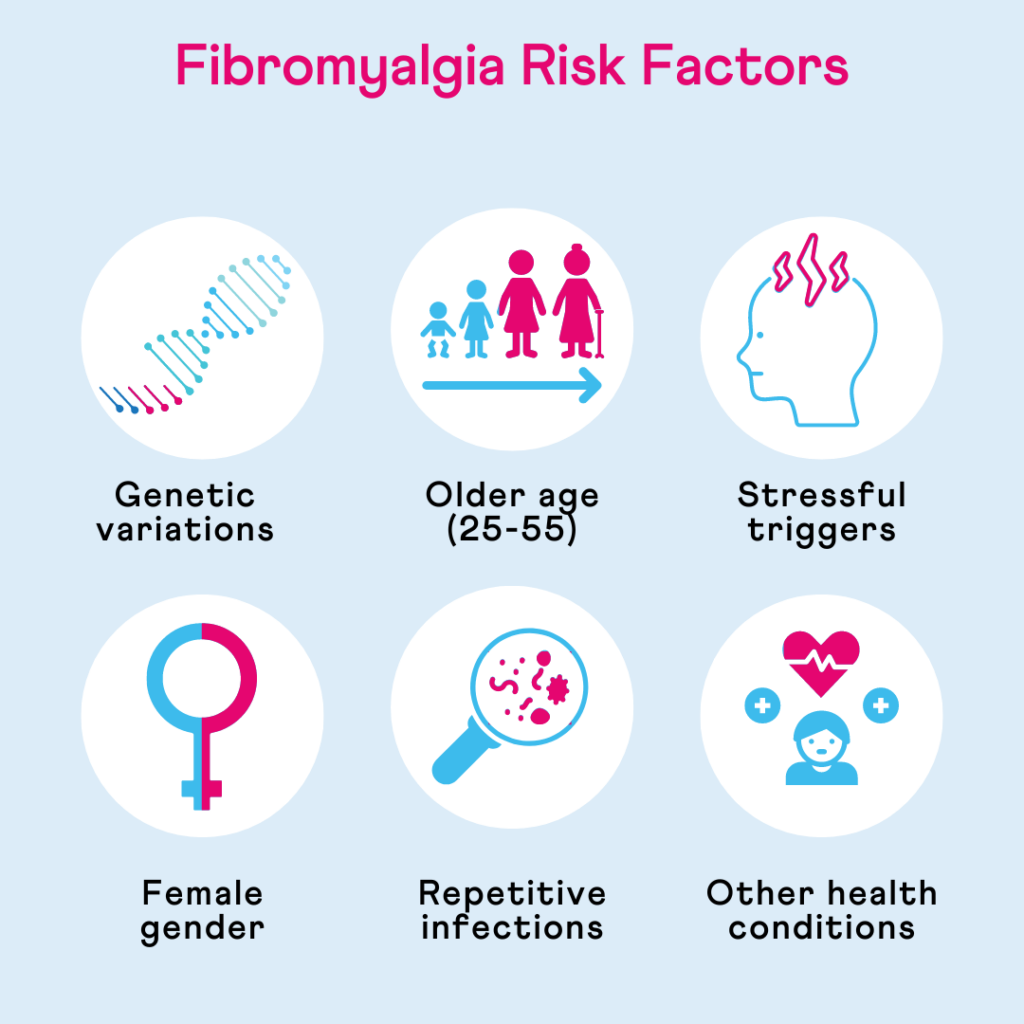 Who Is At Most Risk for Fibromyalgia
Fibromyalgia patients frequently share a few health concerns. Doctors have correlated the following risk factors to fibromyalgia.
You are highly susceptible to developing the condition if you have:
Autoimmune disorders like rheumatoid arthritis
Chronic pain disorders
Had a record of surgeries
Been continuously affected by infections
Depression or anxiety
The habit of smoking
A lifestyle without physical activity
Overweight/obese
Family members with fibromyalgia
Does Fibromyalgia Go Away With Weight Loss?
Being overweight makes fibromyalgia pain worse.
Fatigue and many other ailments are made worse by having too little muscle and too much body fat.
According to studies, exercising and lowering weight can reduce pain while improving daily function.
Based on a 2018 study, people with higher weights, body fat percentages, and fat mass experienced more widespread fibromyalgia pain.
Subsequent studies have connected being overweight and having high-fat mass to more severe fibromyalgia cases.
Summary: Is Fibromyalgia Hereditary?
One of the most prevalent chronic pain syndromes in the world is fibromyalgia.
Typical signs and symptoms include widespread pain, fatigue, depression, numbness, tingling joint pain, etc.
Common causes are abnormal pain signaling, infection, surgery, hormonal imbalances, and genetics.
A family history of the condition is one of the most significant risk factors for fibromyalgia.
Some genes associated with fibromyalgia risk are SLC64A4, TRPV2, MYT1L, and NRXN3.
References