Abstract
Our guts host trillions of microbes that play a very important role in our health. From helping with digestion to aiding immune function, gut microbes interact with our body in numerous ways. A recent study on bumblebees has shown that gut bacteria can even affect memory learning. The abundance of a species of Lactobacillus was associated with better memory and learning ability.
What is Gut Bacteria?
Our digestive system has about a hundred trillion bacteria, both good and bad.
The gut bacteria specifically refers to the ones living in your intestines.
Scientists now call gut bacteria the "forgotten organ," owing to their significant roles in health and diseases.
Some of the good bacteria in our gut include Lactococcus, Lactobacillus, and Bifidobacteria.
They are commonly found in foods like yogurt, kefir, sauerkraut, tempeh, kimchi, and miso.
Clostridium perfringens, Escherichia coli, and Staphylococcus are the bad bacteria that cause diseases like skin infection, cholecystitis, urinary tract infections, and pneumonia.
E.coli is found in foods raw or undercooked ground meat products, raw milk, and fecal contamination of vegetables.
C. perfringens infection include meat, poultry, gravies, and other foods cooked in large batches.
Most frequently implicated in cases of staphylococcal food poisoning are poultry and cooked meat products such as ham or corned beef.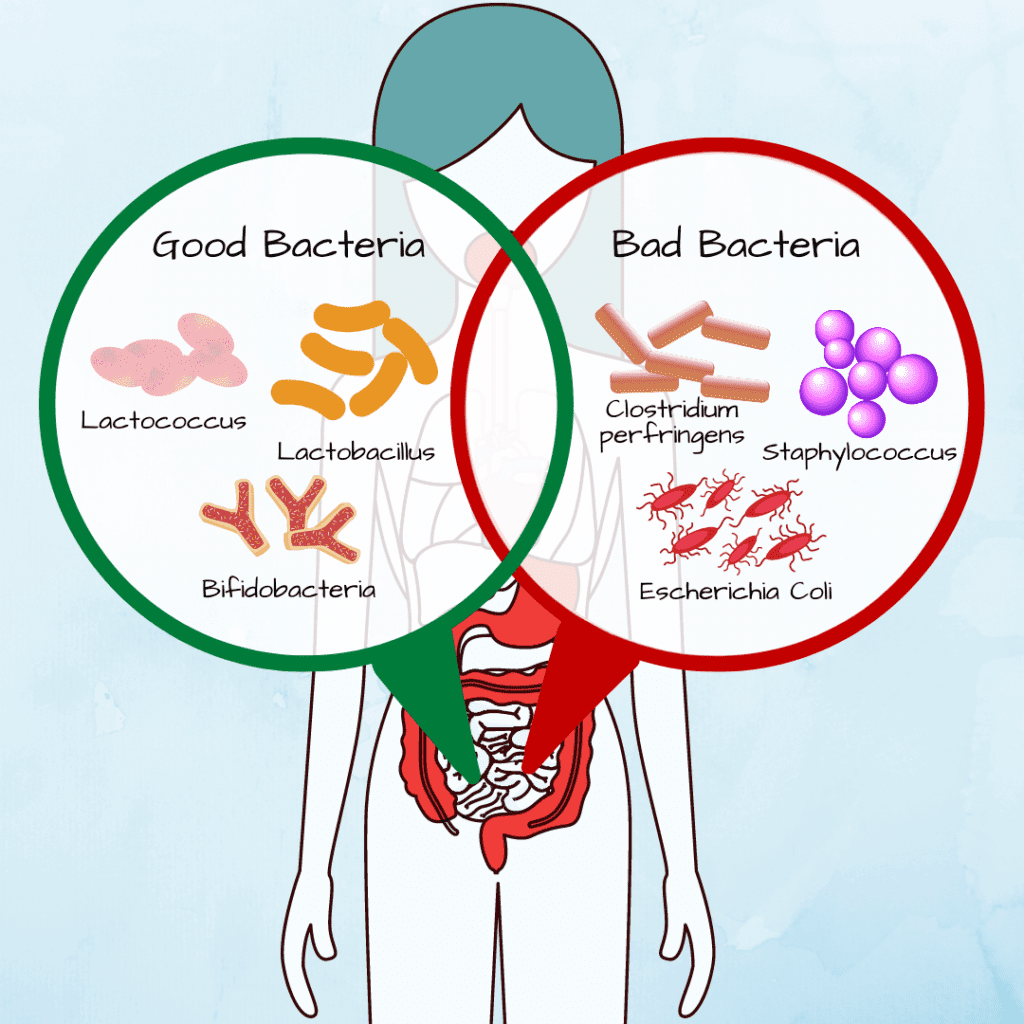 Image: Good and bad bacteria in the gut
What Does Gut Bacteria Do?
Recent research suggests we get exposed to some microbes while inside the womb itself!
In fact, Bifidobacteria grow inside the babies' intestines to allow proper digestion of breast milk.
As we grow, the gut bacteria diversify to adapt to play various roles in the body.
Gut bacteria have been linked to various health conditions like obesity, colon cancer, depression, diabetes, arthritis, and anxiety.
Some important roles played by the gut bacteria
They help digest fiber, thereby promoting weight loss
They communicate with the immune cells to regulate immune system functioning
They act as a "second brain" and regulate mood and behavior
They protect against various health conditions like IBS, Chron's, and ulcerative colitis
They may benefit heart health by promoting the good cholesterol levels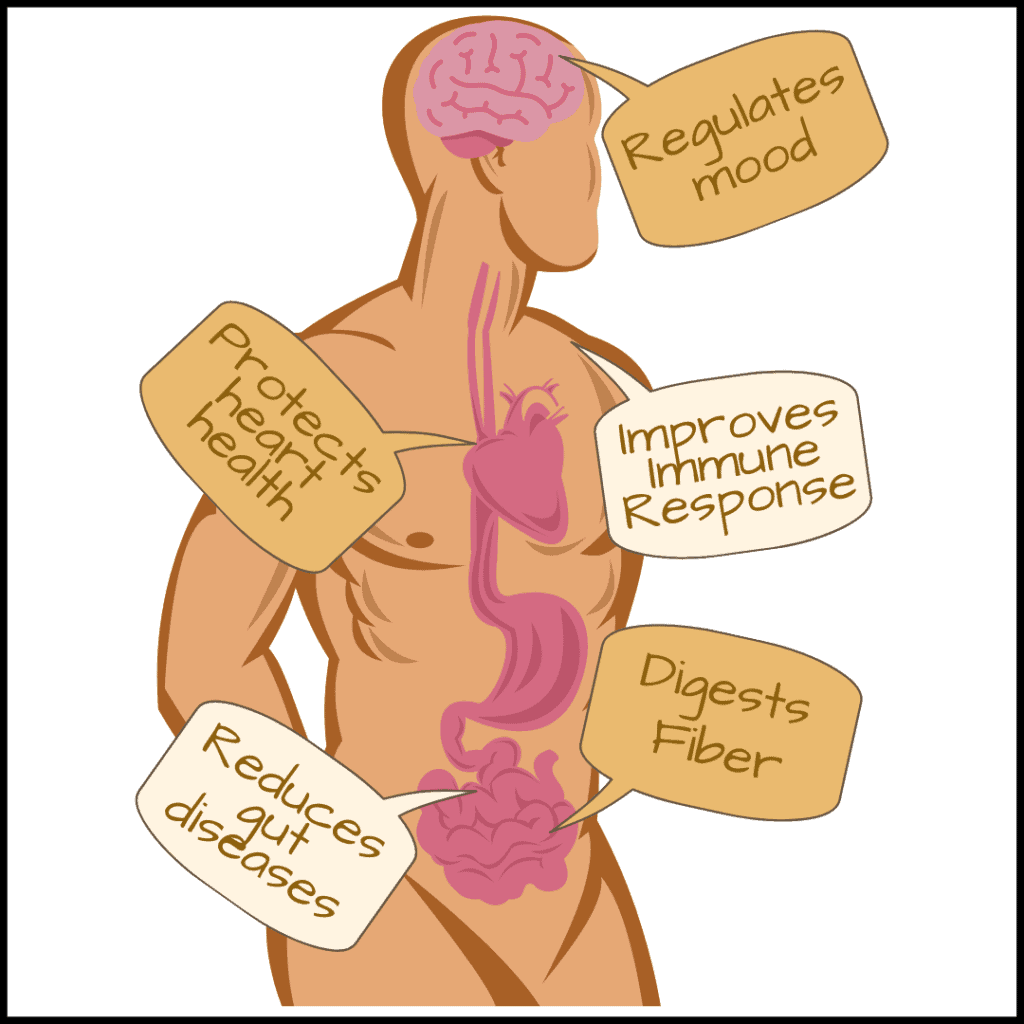 Image: Roles played by gut bacteria in the body
Happy Gut Happy Brain - The Brain-Gut Axis
Have you ever "gone with your gut" or "felt butterflies in your stomach" when you're nervous?
Well, there is a reason! Our gut is sensitive to emotions.
There is a direct connection between the gut and the brain.
The vagus nerve acts as a highway, connecting the gut, heart, and lungs to the brain.
When we undergo stress, the brain, along with the hypothalamic-pituitary-adrenal (HPA) axis, responds to it.
The HPA axis is closely linked to the brain-gut axis. Long-term stress can interfere with the normal functioning of the HPA axis.
Since it is connected to the brain-gut axis, long-term stress can damage the bacteria living in the gut.
Now, the connection between the brain and the gut is a two-way street.
The diversity of the gut bacteria can affect the way you feel.
A reduction in diversity can put you at risk for several mental health conditions like depression and anxiety.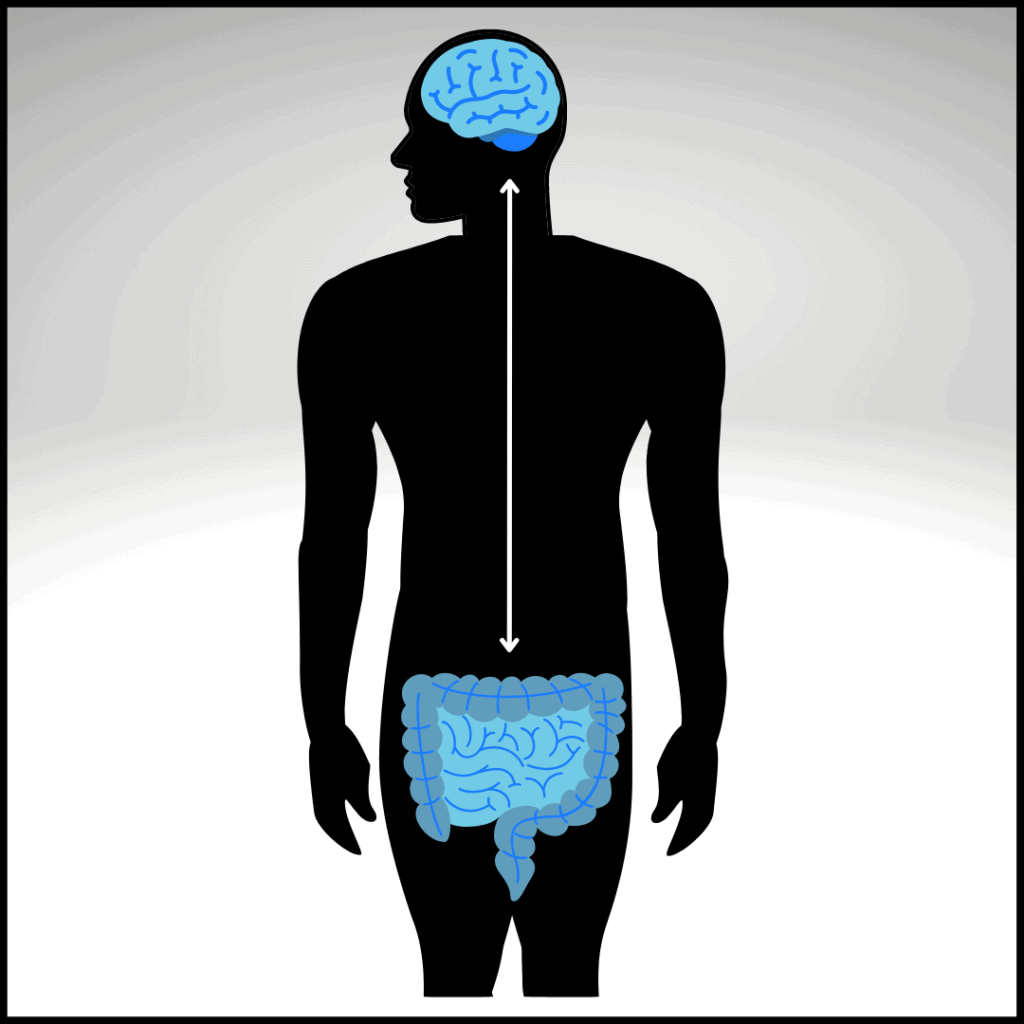 Image: Gut-Brain Axis
The Study: Gut Bacteria Can Improve Memory and Learning
The study led by scientists from Jiangnan University, China, in collaboration with other researchers, identified a species of gut bacteria that is associated with enhanced memory and learning.
Like fingerprints, the gut bacteria composition of each individual is different. The same goes for bumblebees.
The differences in the composition can arise for changes in the nest environment, pathogen exposure, their activities and social interaction, and the pollination environment.
The Experiment Set-Up
In order to test the memory and learning capacity of the bees, the researchers created 10 different artificial flowers.
Five of them had sweet sucrose solution, while the other five had a bitter solution with quinone, which is a repellent for the bees.
The bees were then observed to check how long they took to identify the colors associated with the sweet reward.
In a 3-days follow-up, the bees were tested to see if they retained this information.
The gut samples from the bees were finally analyzed to compare the differences in memory and learning with the levels of different bacteria in their guts.
The Study Findings
The study identified elevated levels of a specific species of bacteria called the Lactobacillus apis in the bees that showed enhanced memory and learning capabilities. 
To further confirm the findings, the researchers added this bacteria to the bees' diet and conducted the same experiment.
Bumblebees that were fed with food containing more of this species of bacteria were found to have more long-lasting memories.
This highlights a causal effect - Lactobacillus apis causes enhanced memory and learning functions.
The lead author of this study says that further research can help understand "if and which bacteria species might have the same effect on humans."
How To Improve Your Gut Bacteria
Include Probiotics and Fermented Food
Probiotics are available as supplements and formulations.
Fermented foods are natural sources of probiotics.
They include fermented vegetables, yogurt, kimchi, kombucha, etc.
Probiotics can promote healthy gut bacteria and prevent intestinal issues.
Managing Your Stress Levels
Constant exposure to high levels of cortisol or the stress hormone is a big no-no for good gut health.
It can disturb the gut bacteria composition.
Regular physical activity, meditation, and adequate rest can help manage your stress.
Cut Back on Sugars
Foods rich in sugar can impact gut bacteria negatively.
According to a study, aspartame, a type of sweetener, increases the number of bacterial species that are associated with diseases like type 2 diabetes and heart diseases.
Avoid Overuse of Antibiotics
Antibiotics are usually taken to combat any bacterial infections.
While they kill the bacteria responsible for the infection, they also affect the good bacterial population.
The effect of antibiotics on gut bacteria can last up to even 6 months after using them.
Don't Compromise on Your Sleep
Inadequate sleep (<7 hours) and poor sleep quality can affect your gut bacteria.
This increases the risk of several inflammatory conditions.
Getting between 7-9 hours of sleep a night and maintaining a regular sleep schedule can keep your gut healthy.
Get Regular Physical Activity
According to a study, athletes have a greater diversity of gut bacteria.
This can help prevent obesity.
Engaging in regular exercises like walking, running, swimming, or playing sports can be very beneficial for your gut.
Summary
The gut bacteria contribute to health in numerous ways, from digesting the food we eat to strengthening our immune system.
Different species of gut bacteria have been associated with various health conditions like Crohn's, IBS, depression, and anxiety.
There's a two-way link between gut and brain - stress can negatively impact gut bacteria, and change in gut bacterial population can affect the mood.
According to a study done on bumblebees, the abundance of a type of Lactobacillus bacteria resulted in enhanced memory and learning capabilities.
Consuming probiotics, cutting back on sugar, managing stress, limiting antibiotic use, and getting enough sleep and physical activity can all help improve your gut bacteria.
References