Did you know that glaucoma is one of the leading causes of irreversible blindness worldwide? Unfortunately, many people don't realize they have glaucoma until the disease has progressed to a later stage. That's why it's crucial to know the early signs of glaucoma to get prompt treatment and protect your vision. In this article, we'll discuss five early signs of glaucoma that you need to know.
Did You Know? Your ancestry test DNA data includes 700,000 markers, which can be used to learn everything from disease risk and drug sensitivities to nutritional requirements and fitness parameters. Learn more.
Overview of Glaucoma
Glaucoma is a group of eye diseases that damage the optic nerve.
More than 12 million Americans are blind from glaucoma.
The damage to the optic nerve is usually a result of increased pressure in the eye, called intraocular pressure (IOP).
Aqueous humor, the fluid within your eye, drains through the angle at which the iris and cornea meet.
When this fluid cannot drain, the pressure in your eye rises, harming your eyes.
However, there are a few types of glaucoma where damage can happen without the rise in IOP.
Types of Glaucoma
Open-angle glaucoma and angle-closure glaucoma are the two main types of glaucoma.
Open-angle glaucoma is the most common type of glaucoma.
It is one of the leading causes of blindness.
This condition occurs when fluid buildup in your eye due to clogging of the drainage system.
It usually shows no signs but can manifest as blind spots in your side vision in later stages.
Gradually, your central vision may also be affected.
Angle-closure glaucoma is the less common form of glaucoma.
In this condition, the drainage canals are partially blocked.
Here the iris can end up blocking your eye's drainage canals.
It can manifest as sudden blurry vision, nausea, and rainbow-colored rings or halos around lights in your eye.
When your drainage system is completely damaged, it is called acute angle closure glaucoma.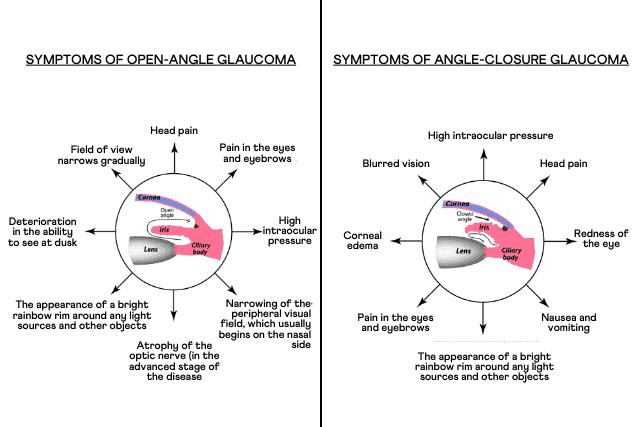 It is a medical emergency and should be treated immediately.
Normal tension glaucoma causes damage to your eyes without raising the pressure.
This condition can gradually lead to vision loss.
Causes and Risk Factors of Glaucoma
Age: Age is the most significant risk factor for developing glaucoma.
Anyone above 60 years of age is more prone to developing this condition.
However, children and infants can also suffer from glaucoma.
Family history of glaucoma: Glaucoma often runs in families and is hereditary.
If any of your close family members had glaucoma, you are at an increased risk of developing the condition.
Certain other diseases: people with diabetes or hypertension are more likely to suffer from glaucoma.
African, Hispanic, and Asian people are also more likely to suffer from glaucoma.
Eye injuries and eye problems such as far or nearsightedness can also make you prone to developing glaucoma.
What Age Do You Usually Get Glaucoma?
Glaucoma can occur at any age but is more common in older adults aged 60 or above.
It is one of the leading causes of blindness among the aged population.
5 Early Signs Of Glaucoma
The earlier you identify the signs of glaucoma, the better your chances of managing this disease.
Here are five signs to look out for if you are prone to develop this condition.
Blurred Vision
Glaucoma is one of the leading causes of vision loss.
Therefore, blurry vision is one of the first signs of glaucoma.
You might have blind spots in your vision or have an affected side vision.
Gradually your central vision may also be affected.
Eye Pain
Glaucoma is a condition where the pressure inside your eyes increases. That is why it is common to experience eye pain if you are suffering from glaucoma. In addition, it may be accompanied by a headache.
Redness In The Eye
Eye redness can be a result of many diseases like conjunctivitis.
It can also be due to a foreign particle that has entered your eye.
However, it can also be a symptom of glaucoma.
It is a common symptom of angle-closure glaucoma.
Colored Halos Around Lights
Seeing halos around lights is also a common symptom of many eye problems.
You should see your eye doctor immediately if you see a rainbow-like circle around a light.
Some people can't look at light sources, another severe symptom of glaucoma that has progressed.
Nausea/Vomiting
The usual eye-related symptoms are often accompanied by nausea and vomiting in glaucoma.
You might feel nauseous all day and tend to throw up constantly.
What Is The First Sign of Glaucoma?
Glaucoma is a disease that usually shows no symptoms until in the later stages.
It is crucial to identify symptoms since you can get them yourself as soon as possible.
Loss of peripheral vision is often the first warning sign of glaucoma.
When Should You Suspect Glaucoma?
You might suffer from glaucoma if you have severe bouts of nausea, vomiting, and intense eye pain.
You might experience eye redness or sudden vision loss due to acute glaucoma.
A cloudy cornea is a common sign of childhood glaucoma.
Tunnel vision, eye pain, and seeing halos around lights could also be due to glaucoma.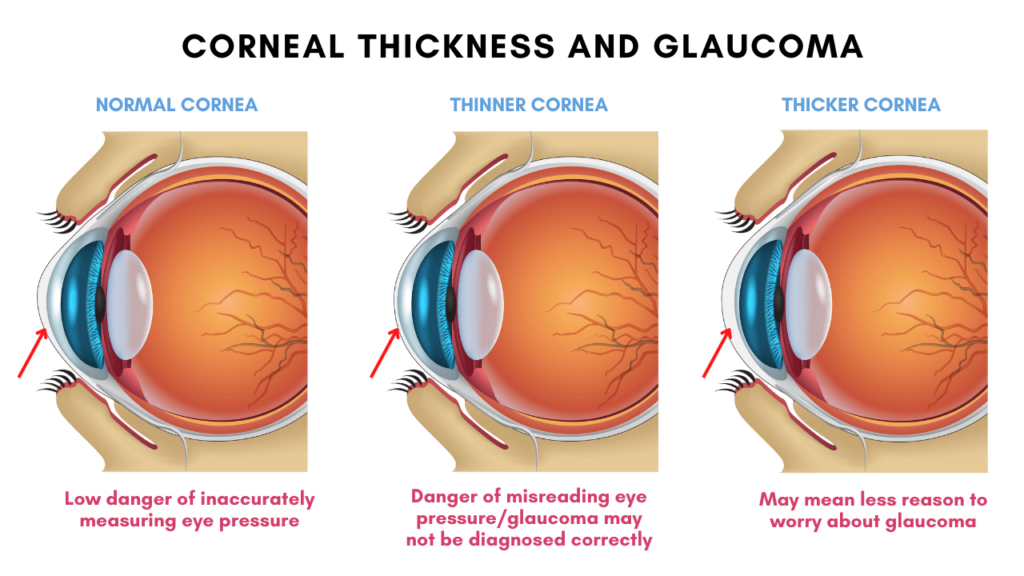 Diagnosis and Treatment Of Glaucoma
Your ophthalmologist may perform specific tests to diagnose you with glaucoma.
Dilated eye exam to dilate your pupils and view the optic nerve
Gonioscopy to examine the angle where the iris and cornea meet.
Tonometry to measure eye pressure
Perimetry to check peripheral or side vision
Glaucoma has no cure, but vision loss can be prevented or slowed down if detected early.
Here is a list of things you can do to safeguard yourself against glaucoma:
Regular eye exams: Getting checkups for your eye is a sure-shot way to prevent glaucoma from damaging your vision.
You should get your eye checked every 5-10 years if you are younger than 40 and more frequently once you get older.
Get yourself screened: Glaucoma is a hereditary disorder.
Know your family's eye health history, and get yourself checked often if any of your close relatives have glaucoma.
Wear eye protection: Eye injuries can often lead to glaucoma.
If you are playing a sport or doing an activity where there is a possibility of suffering from an eye injury, wear protective gear.
Can Glaucoma Be Treated If Caught Early?
Glaucoma does not have a cure yet.
But if detected early, the condition can be manageable.
Your doctor might prescribe you medications and eye drops, which, if taken regularly, will prevent vision loss.
Summary: Early Signs Of Glaucoma
Glaucoma is an eye condition that develops due to pressure buildup within the eye.
It is one of the leading causes of blindness.
Glaucoma can be of different types and usually does not show symptoms until later stages.
However, it can manifest as eye redness, blurred vision, and eye pain.
Treatment includes regular eye tests and medication to make the condition more manageable.
References