Are you at risk of developing glaucoma?
While many factors can contribute to this debilitating eye condition, genetics play a crucial role. 
Understanding the genetic components of glaucoma can help you take the necessary steps to protect your vision and prevent vision loss.
This article will share five key facts about glaucoma that you might find interesting and useful.
Did You Know?
We may be "secret carriers" of certain conditions. This means that we may not have the condition but possess the ability to pass it to the next generation.
Glaucoma: An Overview Of The Condition
Glaucoma is a disorder where the optic nerves are damaged.
The optic nerves connect your eye with the brain.
Optic nerve damage happens when there is a build-up of pressure within the eye, called intraocular pressure.
This optic nerve damage can eventually lead to peripheral vision loss and eventual blindness.
Other common symptoms of glaucoma are bulging eyes and sensitivity to light, also called photophobia.
What Age Do You Usually Get Glaucoma?
Glaucoma usually affects older adults.
Some health conditions that increase the risk for glaucoma include diabetes mellitus and hypertension.
A family history of glaucoma is another risk factor.
Early onset glaucoma affects individuals below 40 years of age.
It is a congenital type of glaucoma that runs in the family.
If glaucoma appears before age 3, it is called primary congenital glaucoma.
What Causes Glaucoma?
Our eyes have two primary fluid types: aqueous humor and vitreous humor.
These fluids provide nutrition to the eye and help maintain pressure inside the eye.
These circulating fluids also require proper drainage.
Intraocular pressure builds up when there are problems with a fluid drainage system.
As a result, the optic nerves are damaged.
Eventually, this might lead to blindness.
Is Glaucoma Genetic?
The most common form of glaucoma is primary open-angle glaucoma.
Primary open-angle glaucoma is hereditary.
If any of your immediate family members have this condition, you are at risk for developing glaucoma.
Make sure that you consult your eye doctor regularly.
Genetics of Open-angle Glaucoma
When fluid cannot drain from your eyes, it causes open-angle glaucoma.
It, in due time, builds up pressure in the eyes, which damages the optic nerve.
It is the most common type of glaucoma.
There may be no apparent symptoms.
However, you might experience blind spots or tunnel vision.
Genes like CDKN2B-AS, SIX1/SIX6, TMCO1, and CAV1/CAV2 pose the risk of developing open-angle glaucoma.
Mutations in the WDR36 gene on chromosome 5q22 are responsible for 17% of primary open-angle glaucoma.
Genetics of Angle-closure Glaucoma
This condition develops when your iris is not wide open, which leads to improper fluid drainage.
This condition can have symptoms like eye pain, redness, blurred vision, and vomiting.
It may cause blindness.
Mutations in the COL18A1 can cause this condition.
The inheritance pattern of the COL18A1 gene is autosomal dominant - one copy of the faulty gene is enough to cause the condition. 50% risk for glaucoma if either parent has it.
Studies have shown that mutations in this gene can cause angle-closure glaucoma in the fourth decade of life or later.
Genetics of Normal-tension Glaucoma
This type of glaucoma is different from the other types because your eye pressure does not change in this condition.
Your eye doctor can still detect this condition and recommend treatment options.
Variants in a gene containing two proteins, myocilin, and optineurin, can cause this condition.
The TBK1 gene on chromosome 12q14 accounts for 1% of normal-tension glaucoma.
How's Glaucoma Inherited?
Glaucoma can have different inheritance patterns.
Primary congenital glaucoma is inherited in an autosomal recessive pattern.
It means that both gene copies in each cell should have the variant.
What Percentage Of Glaucoma Is Hereditary?
Some studies have suggested that more than 50% of glaucoma is hereditary.
In addition, the risk is ten times higher when a sibling has glaucoma.
Is Glaucoma Passed From The Mother Or The Father?
Glaucoma is an autosomal recessive condition (except for some types).
Both parents can be carriers of the disease but not have the condition themselves.
When a child inherits these mutations from both parents, they risk developing this condition.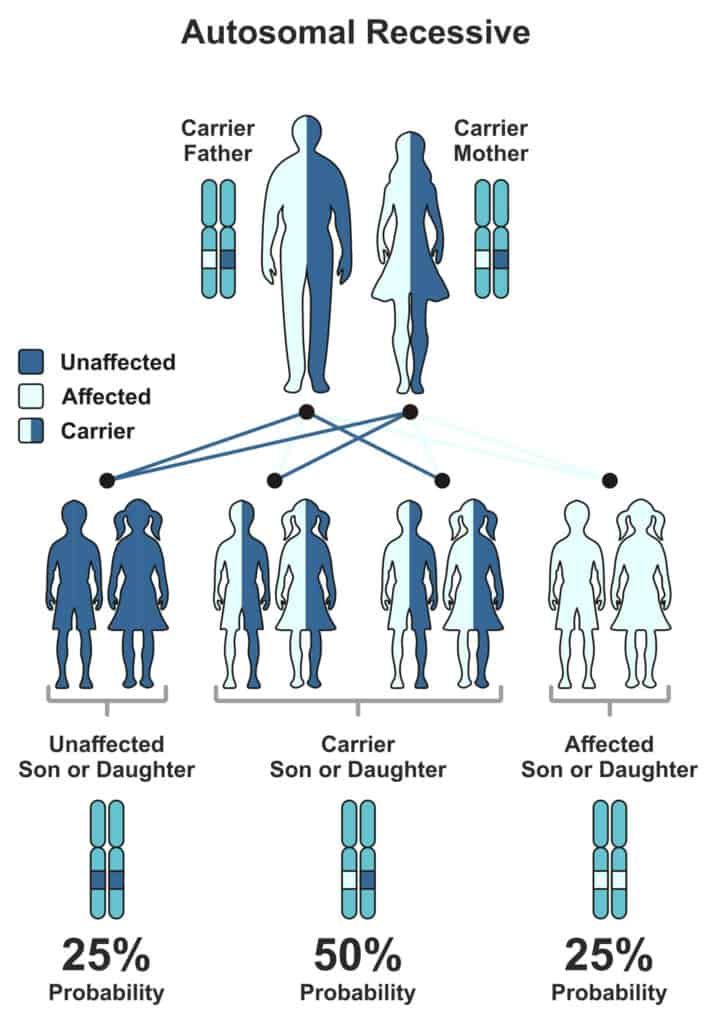 Other Risk Factors Of Glaucoma
Glaucoma is a disorder that can affect any individual.
However, scientists have found that some groups and races are more likely to develop glaucoma.
Which Race Is At The Highest Risk For Glaucoma?
African Americans have the highest risk of developing glaucoma.
Cataracts it is the leading cause of blindness among this group.
Aged people of Hispanic descent also show an increased risk of developing glaucoma.
Among Asians, Japanese people have the highest risk of developing normal tension glaucoma.
References