Autism: Introduction
Autism or autism spectrum disorder (ASD) is a neurological developmental disability that impacts an individual's communication, behavioral and social skills.
It affects around 1 in 59 children in the United States.
The signs of autism usually appear in early childhood, by 12 to 18 months or earlier.
Since autism is a spectrum disorder, each individual's signs and symptoms vary.
Though there are several types of autism, they are all caused by a combination of genetic and environmental factors.
While people with autism tend to have many challenges, they also are found to be skilled in few activities.
Due to the broad nature of this disorder, autism may occur with other conditions.
What Is The Most Common Cause Of Autism?
Though autism was earlier presumed to be environmental in origin, hundreds of genes are associated with this condition today.
These genes contribute to the various deficits in communication, cognition, and behavior typical in people with autism.
This was proved by a study conducted in the 1970s, which stated that monozygotic twins were more likely to share a diagnosis of autism than dizygotic twins.
Later, several other studies demonstrated autism has a strong genetic component.
Some genes that have been associated with autism include:
GABA A receptor, beta 3 (GABRB3)
Oxytocin receptor (OXTR)
Reelin (RELN)
Serotonin transporter (SLC6A4)
N-methyl-D-aspartate receptor(NMDA;GRIN2B)
Arginine vasopressin receptor 1A (AVPR1A)
Engrailed homeobox 2 (EN2)
Integrin
Beta 3(platelet growth factor receptor; MET)
Environmental conditions such as maternal immune response in the womb or complications during birth may trigger genetic factors to cause autism.
Research suggests that girls with autism have more mutations than boys with the condition. 
Further, studies have shown that boys may inherit the autism gene mutations directly from their unaffected mothers.
This suggests that girls may be more resistant to autism mutations than boys, who are more likely to develop the condition.
Autism Risk Genes Overlap With Other Diseases
Large-scale genome-wide sequencing studies of several psychiatric disorders have revealed a significant and extensive overlap of the risk regions (loci) with autism genes, making it difficult to differentiate between them.
Studies have demonstrated overlap of loci in five major psychiatric disorders (ASD, schizophrenia, bipolar disorder, ADHD, and major depressive disorder) in the following genes:
Inter-alpha-trypsin inhibitor heavy chain 3(ITIH3)
Arsenite methyltransferase(AS3MT)
Calcium voltage-gated channel subunit alpha1 C (CACNA1C) and CACNB2
Recent studies have also found mutations in loci of a few other genes like the dedicator of cytokinesis 8 (DOCK8) and KN motif and ankyrin repair domains 1(KANK1) in all the five conditions.
Fragile X Is A Common Cause Of Autism And Intellectual Disability
Fragile X syndrome is one of the most commonly identified causes of inherited intellectual disability and autism or ASD.
However, most people with fragile X syndrome do not have a diagnosis. 
Fragile X syndrome derives its name from the microscopic appearance of the X chromosome.
When observed under the microscope, the X chromosome in these individuals appears as it could easily break.
Males receive the X chromosome from their mother and the Y chromosome from their father. Females receive one X chromosome from their mother and one from their father.
So, males inherit the fragile X chromosome only from their mother, but females can inherit it from both parents.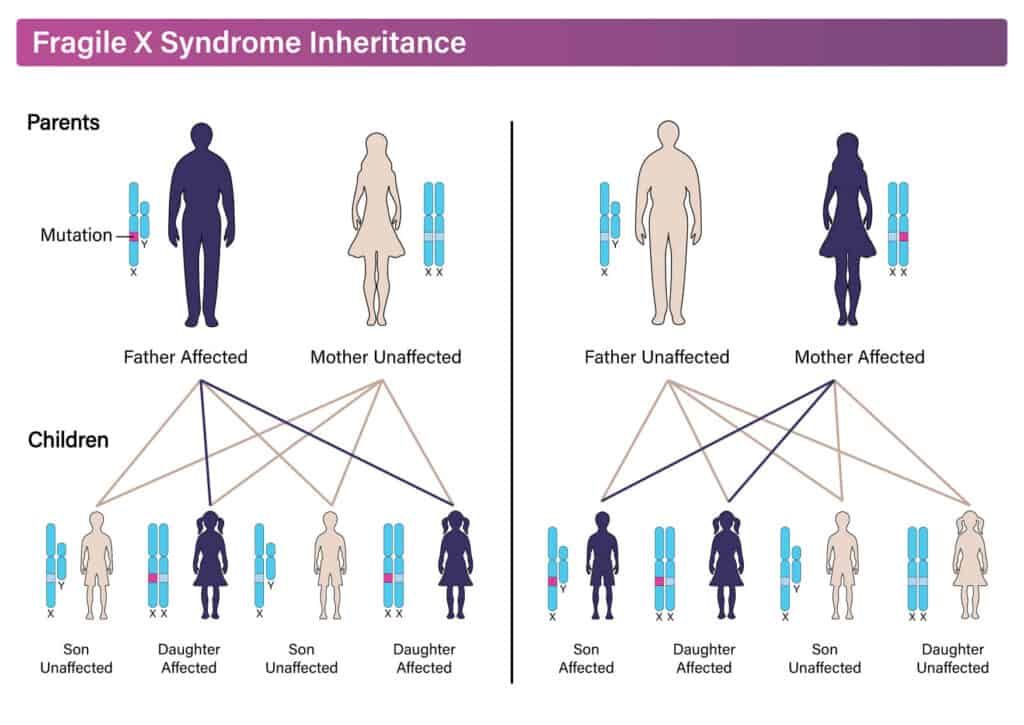 Image: Fragile X Syndrome Inheritance
For this reason, females who have only one fragile X chromosome have protection from the features of the condition and tend to have milder symptoms.
On the other hand, since males have only one X chromosome, they experience more significant learning and emotional disabilities than females.
Around 80% of males with fragile X syndrome show intellectual disability, poor cognitive abilities, emotional problems like anxiety, and obsessive worrying, all of which are similar to autism.
People with fragile X syndrome may also show other features similar to autism, such as
Avoiding eye contact
Flapping their hands
Showing late speech development with unusual patterns
Being hyperactive or impulsive behavior
Reference links: