What Is Autism?
Autism is a developmental disorder that affects communication and social interaction.
Some people with autism have difficulty with verbal and nonverbal communication, repetitive behaviors, and interests that are specific to them.
People with autism experience challenges in everyday life, including finding employment, interacting with others, and accessing community resources.
Although a single gene does not cause autism, there is evidence that genetics play a role in the development of the disorder.
Studies have found that people with autism are more likely to have relatives who also have autism and that the risk of developing autism increases with the number of relatives who have the disorder.
It is still unclear why some people develop autism, and others do not, but researchers are exploring all possible causes.
Studies have found that some people with autism have a higher than the average number of genetic markers associated with the disorder.
However, there is still much to learn about the genetics of autism and how it contributes to the development of the disorder.
Does Autism Run in Families?
Studies have shown that autism is predominantly a genetic disorder, with 40-80% heritability.
While researchers are still working to identify all of the genes associated with autism, they do know that some genetic mutations can increase your risk of developing autism.
If you have a family member with autism, you may want to consider talking to your doctor about getting screened for genetic mutations that could put you at higher risk.
Children in families with a history of other mental conditions like ADHD, schizophrenia, and bipolar disorder are also at a higher risk for developing autism.
According to an article on Spectrum News, "Children who have a first-degree relative — a sibling or parent — with a brain condition other than autism have up to 4.7 times the odds of having autism and up to 7.6 times the odds of having both autism and intellectual disability."
Is Autism Inherited from Mother or Father?
In almost 50% of the cases where there's only one child in the family with autism, the cause appears to be spontaneous mutations.
Spontaneous mutations are genetic mutations that are absent in the parents and siblings of affected children.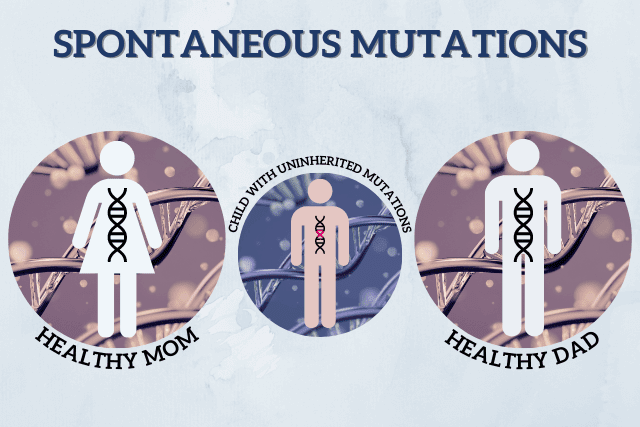 Image: Spontaneous mutations
Researchers have long noted that parents of autistic children display some of the traits seen in their children in a much more muted manner.
A 2020 study examined the role of familial relationships in explaining similarities in behaviors across family members.
The study found a relationship between parents and children's behavioral traits and maternal polygenic scores and broad autism behavior traits in children.
This means that traits in children with autism may take after the mother's subtle autism-like behaviors.
For example, if a mother has issues communicating in a social setting, then her autistic child may have communication difficulties themselves.
On the other hand, a large study based on the analysis of 9,275 whole genomes suggests that some mutations tied to autism may be passed down from fathers.
The study focused on flanking gene regions, where mutations are rarely observed.
The researchers reported that such rare variants are inherited from fathers twice as much compared to mothers.
The protective effect
Studies have revealed that a type of mutation called the copy number variation seen in autism was three times more common in girls than boys.
Another type of mutation called the single base substitution was also a third more common in girls.
But according to the protective effect theory, women appear to have a shielded effect from these genetic mutations but still leave these mutations down to their sons.
They function a lot better than their male counterparts with the same mutations.
Which Parent Carries The Autism Gene?
Due to its lower prevalence in females, autism was always thought to have a maternal inheritance component.
However, research also suggests that the rarer variants associated with autism are mostly inherited from the father.
Ultimately, autism is a complex condition with 100s of genes involved.
In a child with autism, it is very challenging to tease apart maternal and paternal genetic contributions.
Even without a family history of mental disorders, autism can occur in a child due to spontaneous mutations.
Genetic tests can help understand the risk for autism, explain the possible causes, and shine a light on optimal management and treatment options.
Reference