Did you know genetics play a significant role in migraines? Around 60% of people get migraines because of the genes they inherit. One type of genetic headache is familial hemiplegic migraine (FHM). Recent scientific studies have identified two novel genes linked to FHM, providing a deeper understanding of the genetic factors at play.
Did You Know? Your ancestry test DNA data includes 700,000 markers, which can be used to learn everything from disease risk and drug sensitivities to nutritional requirements and fitness parameters. Learn more.
What Is Familial Hemiplegic Migraine?
Hemiplegic migraine is a rare and debilitating form of the disease that causes weakness on one side of the body during the aura phase.
This type of migraine features an aura, the second phase of a migraine attack.
Migraine aura is the sensory symptoms that occur before or during a migraine episode.
They may include neurologic, gastrointestinal, and autonomic symptoms.
Familial hemiplegic migraine (FHM)is a type of inherited hemiplegic migraine.
FHM attacks occur more frequently in younger individuals.
The frequency of the migraines reduces with age.
What Are The Three Types Of Familial Hemiplegic Migraine?
FHM usually begins in childhood or adolescence.
It is classified into four types, namely:
This is the most common type of FHM.
It is caused by genetic changes in the CACNA1A gene and is commonly associated with cerebellar degeneration.
This type of FHM occurs due to genetic changes in the ATP1A2 gene and may be linked to seizures.
This form of disease occurs due to mutations in the SCN1A gene.
FHM is said to be type 4 when caused by a genetic change that is currently not identifiable to cause the condition.
Latest Research For You
Why You Get Migraine During Your Period - New Study
Causes
FHM is caused by mutations (abnormal changes) in the CACNA1A, ATP1A2, SCN1A, and PRRT2 genes.
CACNA1A, ATP1A2, and SCN1A provide instructions for making proteins involved in transporting ions across cell membranes.
The movement of these ions is essential for the normal signaling between nerve cells in the brain and the functioning of the nervous system.
Though the exact function of the PRRT2 gene is unknown, it may be involved in controlling the signaling between neurons.
Any changes in the genes mentioned above can affect the signaling between neurons, leading to FHM.
CACNA1A, ATP1A2, SCN1A, and PRRT2 do not play a role in the development of common migraines.
Symptoms
FHM falls under the category of migraines with aura.
In migraines with aura, neurological symptoms are localizable to the cerebral cortex or the brain stem and include:
Visual disturbances such as scotoma (blind spots), photopsia (flashing lights), fortification spectra (zigzag pattern), and diplopia (double vision)
Sensory loss (numbness of the face of an extremity)
Dysphasia (difficulty with speech) may occur if the hemiplegia is right-sided
Hemiparesis (unilateral weakness of an extremity)
Neurological effects of familial hemiplegic migraine can last for hours to days, often longer than those associated with a migraine headache.
Around 40% to 50% of families with the CACNA1A FHM variant show cerebellar signs ranging from nystagmus to late-onset mild ataxia.
Other symptoms that one may experience with FMH include:
Fever
Coordination issues
Nausea
Vomiting
Increased sensitivity to light or sound
Changes in consciousness (from confusion to profound coma)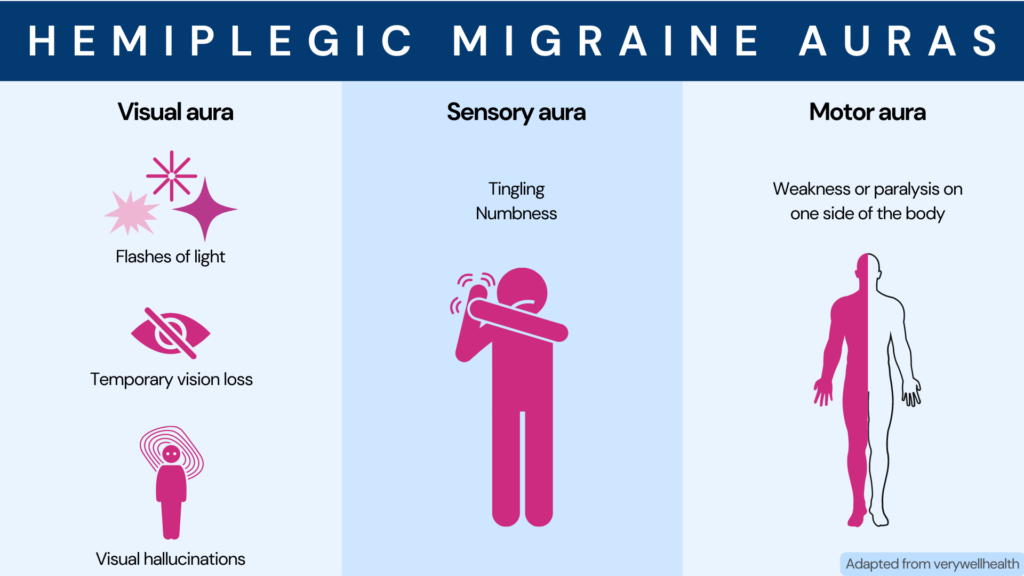 Genetics Of Familial Hemiplegic Migraine
FHM is diagnosed when an individual has at least one 1st or 2nd degree relative in the family who also suffers from the same condition.
This shows FHM is caused by affected genes.
FHM is considered to be monogenic (caused by the inheritance of a single gene mutation) but genetically heterogeneous.
How Is Familial Hemiplegic Migraine Inherited?
FHM is inherited in an autosomal dominant pattern.
This means having even one altered (or mutated) gene is sufficient to cause the condition.
In most cases, people who develop the condition have at least one affected parent.
However, some people who inherited the altered gene do not develop the features of FHM.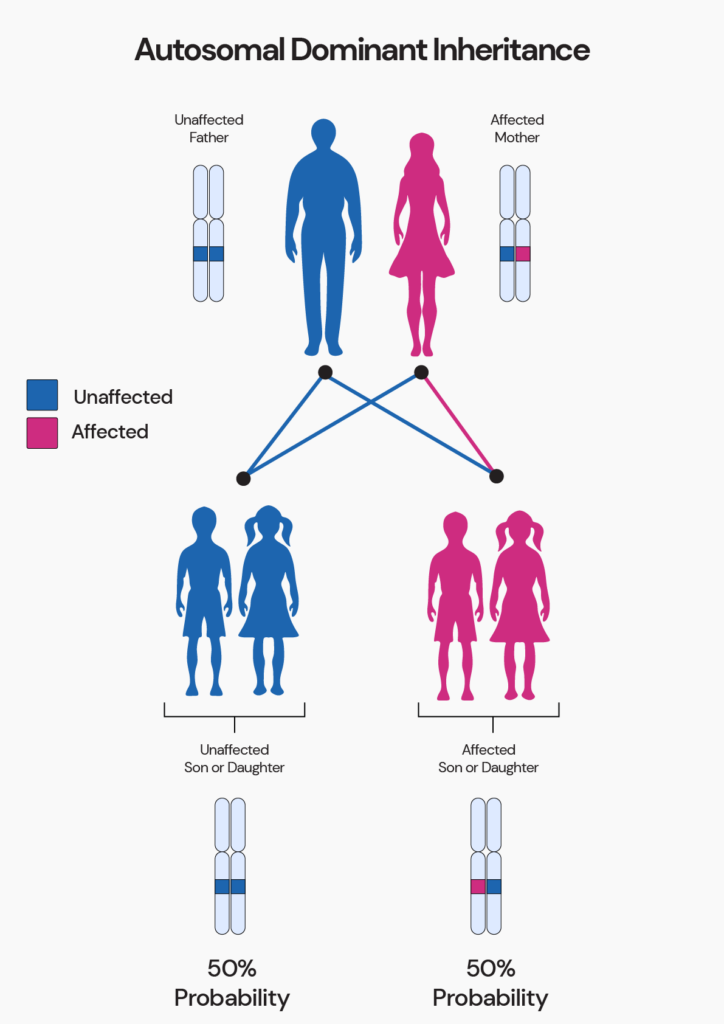 2023 Research Updates About Familial Hemiplegic Migraine
Hemiplegic migraine is a complex disorder with multiple genetic factors.
Currently, there are three genes known to cause FHM.
In 2023, Professor Lyn Griffiths (Director of the QUT Center for Genomics and Personalized Health) and scientists from Leiden University used genome sequencing to find two new genes involved in hemiplegic migraine.
The two genes– CACNA1H and CACNA1I- are ion channel genes that control calcium levels in the brain, affecting neurotransmitter (brain chemicals) release.
According to Professor Griffith's study, hemiplegic migraine was associated with an increased burden of mutations in the number of variants in the said genes.
These genes modify the risk of hemiplegic migraine, supporting the hypothesis that the disease has a complex heritability.
Other Risk Factors
While genetics is the primary cause and risk factor for FHM, some factors that may trigger a migraine attack are:
Stress is a common trigger factor for people with FHM.
Stress can be physical (due to exercise or sleep deprivation) or emotional (due to financial problems, relationship issues, etc.).
Many people with migraine who are sleep deprived or suffer from insomnia experience frequent attacks.
Hormonal fluctuations are the most common triggers for FHM.
These fluctuations are more common in women, especially during menstruation and pregnancy.
Hormonal fluctuations can also trigger other factors like stress and sleep.
The body's reaction to changes in the temperature, barometric pressure, or humidity due to weather changes may cause migraine.
Temperature changes are more likely to trigger hemiplegic migraine than pressure and humidity, but the latter may have a role to play.
Some foods may trigger a FHM attack.
These include foods high in nitrates (hot dogs, deli meats, and cured meats) and caffeine-containing foods like chocolate, coffee, or caffeinated beverages.
Alcohol may be a trigger for some people, and it must be avoided if experiencing a headache.
How Is Familial Hemiplegic Migraine Diagnosed?
If your doctor suspects your condition to be FHM based on your signs, symptoms, and family history, they will recommend the following tests:
CT Scan of the brain
MRI of the brain
EEG to rule out other potential causes of headaches and neurological symptoms
Cerebrospinal fluid analysis
Genetic testing helps confirm the subtype of FHM in the family.
To be diagnosed with FHM, you must have at least one 1st or 2nd degree relative with the condition.
How Do You Treat Familial Hemiplegic Migraines?
Treatment and management of FHM usually involve:
Medications to relieve pain, stop the migraine, and prevent future occurrences.
In case of severe headaches, hospitalization may be needed.
Treating or preventing any trigger factors that may give rise to a migraine attack
In people with hemiplegic migraines, the aura symptoms resolve completely between two separate occurrences.
Hemiplegic migraines rarely cause permanent neurological symptoms, cognitive impairment, or coma.
Migarine Genetic Test
The Gene Health panel of Xcode Life includes 47 important health aspects. 65 significant markers are analyzed for migraine risk.
If you have done an ancestry genetic test with companies like 23andMe, AncestryDNA, MyHeritage, etc., you can learn your zinc deficiency risk gene status in just 3 steps.
Download your DNA raw data from your service provider
Add the "Gene Health" report to your cart (or the Xcode Life Genome Pack for a 48% discount)
Upload your raw data and receive your results within 24 hours.
No DNA Test? No Problem
Not yet tested?
If you're new to the world of genetic testing, we've got you covered!
You can now get your ancestry DNA kits at an additional discount!
By following the link provided in this article, you can purchase a DNA kit at 10% OFF (the discount will be reflected when you add the product).
This will ensure that you have everything you need to embark on your genetic journey.
AncestryDNA Kit (currently no additional discount available)
Once you receive your kits, you can follow the instructions given by the respective service providers to collect your sample and ship it.
After you receive your DNA test results from the kit, you can upload your DNA data to our secure platform.
Other FAQs
Are Hemiplegic Migraines Mini Strokes?
The symptoms of hemiplegic migraine mimic a stroke, causing weakness on one side of the body.
The migraine aura can be mistaken for a transient ischaemic attack (TIA), where someone has stroke symptoms that usually pass in a short time.
For this reason, they may appear to be mini-strokes.
Are Hemiplegic Migraines Caused By Stress?
Stress is a leading factor that can trigger hemiplegic migraines.
Physical and emotional stress can both trigger a hemiplegic migraine attack.
Can Hemiplegic Migraines Affect Memory?
While most people with sporadic hemiplegic migraines recover entirely between episodes, some neurologic symptoms, like memory loss, can last for weeks or months.
Mild to moderate intellectual disability has been reported in a few people with sporadic hemiplegic migraine.
Can You Outgrow Hemiplegic Migraines?
Hemiplegic migraines are more common in younger individuals.
The frequency of these migraine attacks decreases as one grows old.
What Vitamin Is Deficient In Hemiplegic Migraine?
A deficiency of vitamin D and calcium have been linked to migraine.
Vitamin D plays a role in fighting inflammation in the brain and reduces the production of chemicals that may cause a migraine attack.
Summary
Familial hemiplegic migraine (FHM) is a type of hemiplegic migraine inherited in families in an autosomal dominant pattern.
Familial hemiplegic migraine is of four types, each caused by a mutation in the following genes – CACNA1A, ATP1A2, SCN1A, and PRRT2.
Familial hemiplegic migraine is characterized by an aura, and the neurological symptoms can last for hours to days.
Common trigger factors for familial hemiplegic migraine include stress, lack of sleep, fluctuating hormones, weather changes, and skipping meals.
Familial hemiplegic migraine can be managed and treated using medications, addressing the root cause and removing the trigger factors.
References