How Common Is Twin Pregnancy?
Twin pregnancy occurs when two fetuses grow in the uterus. About 3% of all live births in the United States are twin births.
Two common types of twins are monozygotic (identical) and dizygotic (fraternal).
Monozygotic twins grow from a single egg that gets fertilized and then divides into two. These twins share the same genes and gender.
Dizygotic twins grow from two different eggs fertilized and implanted simultaneously.
These twins don't share the same genes and may or may not be of the same gender.
About 70% of all twins are dizygotic.
Certain genetic changes may not cause disease in the person carrying it, but can be passed on to their children.
Do Twins Run In Families?
In most cases, conceiving identical twins is a random event and is not inherited.
However, conceiving fraternal twins could run in families and be passed on genetically.
Your odds of conceiving fraternal twins increases if:
You have a fraternal twin
You already have given birth to fraternal twins
You have a close relative who has fraternal twins
Is There A Twin Gene?
Conceiving twins is a polygenetic trait, meaning it is affected by multiple genes.
Studies now suggest that conceiving fraternal twins could be a result of hyperovulation.
Hyperovulation is a condition where more than one egg is released during ovulation. This could increase the chance of two eggs fertilizing in the same cycle, leading to twins.
Researchers have managed to identify a few genes that could cause hyperovulation in women and refer to them as twin genes.
Both men and women can carry the "twin genes."
In women, these genes can lead to hyperovulation.
Men become carriers of these genes and may pass them on to their daughters.
Identical Twins and Genetics
A study compared the data of 2000 women with fraternal twins with other women who didn't have them to identify the possible genes that could increase the chance of conceiving twins.
This study narrowed the findings to two Single Nucleotide Polymorphisms (SNPs).
SNPs are changes present in genes that can lead to normal, neutral, advantageous, or disadvantageous outcomes.
The first SNP was in the FSHB gene (Follicle Stimulating Hormone Subunit Beta gene). This gene changes the levels of follicle-stimulating hormone (FSH) in the body.
Consistently high levels of FSH may cause the ovaries to release multiple eggs.
Another SNP was in the SMAD3 gene (SMAD family member 3 genes). This gene regulates the way the ovaries respond to FSH.
According to this study, women having just one copy of each SNP have a 29% increased chance of conceiving twins.
How Likely Is It To Have Twins?/ What Are The Odds Of Having Twins?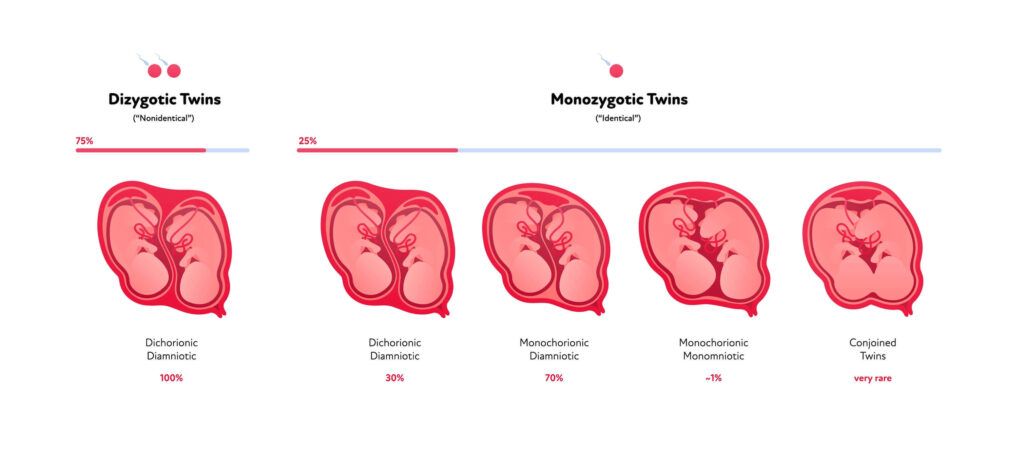 Image: Types of Twins
About 3-4 people in 100 go on to conceive twins. With monozygotic twins, the chances are 3-5 per thousand people.
Apart from genetics, other factors like the following could increase the chances of conceiving twins.
Women who conceive in their 30s and 40s are more likely to give birth to twins.
Assisted Reproductive Technology (ART) may increase the chance of giving birth to identical twins.
Do Twins Skip A Generation?
Twins could skip a generation, depending on whether the parents had a boy or a girl. Consider this example.
Generation 1 - Grandmother A had the genes for hyperovulation and gave birth to two twin boys, B, and C.
Generation 2 - B and C become carriers of the genes. They don't have twins because they don't ovulate. They give birth to one daughter each - D and E and pass on the hyperovulation genes to their daughters.
Generation 3 - D and E may both inherit the gene and give birth to fraternal twins.
If generation 2 had women, the genes might not necessarily skip generations. Skipping a generation depends on whether the gene inheritor is a male or a female.
Summary: Do Twins Run In Families?
About 3% of all live births are twin births, and the chances increase if a close family member has had twins.
There are two common kinds of twins – monozygotic or identical and dizygotic or fraternal.
About 70% of all twins are fraternal. About 3-5 people per thousand give birth to identical twins.
Certain changes in genes FSHB and SMAD3 increase the chances of hyperovulation and are associated with an increased chance of conceiving twins.
Twin birth can skip a generation if that generation has only male individuals. These men become carriers of the twin genes and pass them to their daughters.
References