Handedness: An Overview
Handedness is also called hand preference.
It is the preference or comfort of using one hand over the other for everyday tasks like eating or writing.
There are three basic types of handedness - Left-handedness, right-handedness, and mixed-handedness (preferring to use one hand for certain tasks and the other for the remaining).
Studies say that about 8% of the world's population is left-handed, and about 1% mixed-handed.
Handedness may have a biological origin and result from how the right and left sides of the brain coordinate and function.
Learn More About How Genetics Can Influence Everyday Traits
Is Handedness Related to Health Status?
Left-handedness may be associated with certain health conditions, like the ones below.
Left-Handedness And Cerebral Palsy
A 2012 study analyzed handedness in 111 children with spastic diplegic cerebral palsy and 444 without the condition.
About 40% of children with cerebral palsy were left-handed, while only 2% of the children without the condition were lefties.
The study suggests that left-handedness may be frequently seen in children with cerebral palsy.
Left-Handedness And Schizophrenia
A 2015 study mentions an increased occurrence of non-right-handedness seen in people with schizophrenia than in those without this condition.
The study hence reported that schizophrenia and handedness could be related.
Left-Handedness And Breast Cancer
A 1981 health survey suggests that left-handed women may have a higher risk of breast cancer post-menopause than right-handed women.
Left Handedness And Post Traumatic Stress Disorder (PTSD)
A 2007 study screened 596 individuals for signs of PTSD; out of these, 51 individuals had a positive diagnosis.
Most of these people were left-handed, and the study also found that left-handed individuals had more severe symptoms of PTSD than right and mixed-handers.
Left Handedness And Birth Complications
Some cases of left-handedness could be because of physical stress or trauma the fetus goes through while in the uterus.
The brain's left hemisphere is more sensitive and prone to damage than the right.
If the left hemisphere is damaged, cerebral dominance switches to the right side, and the child is born left-handed.
These experts also mention that this could be why congenital disabilities are common in left-handed babies.
Is Handedness Genetic?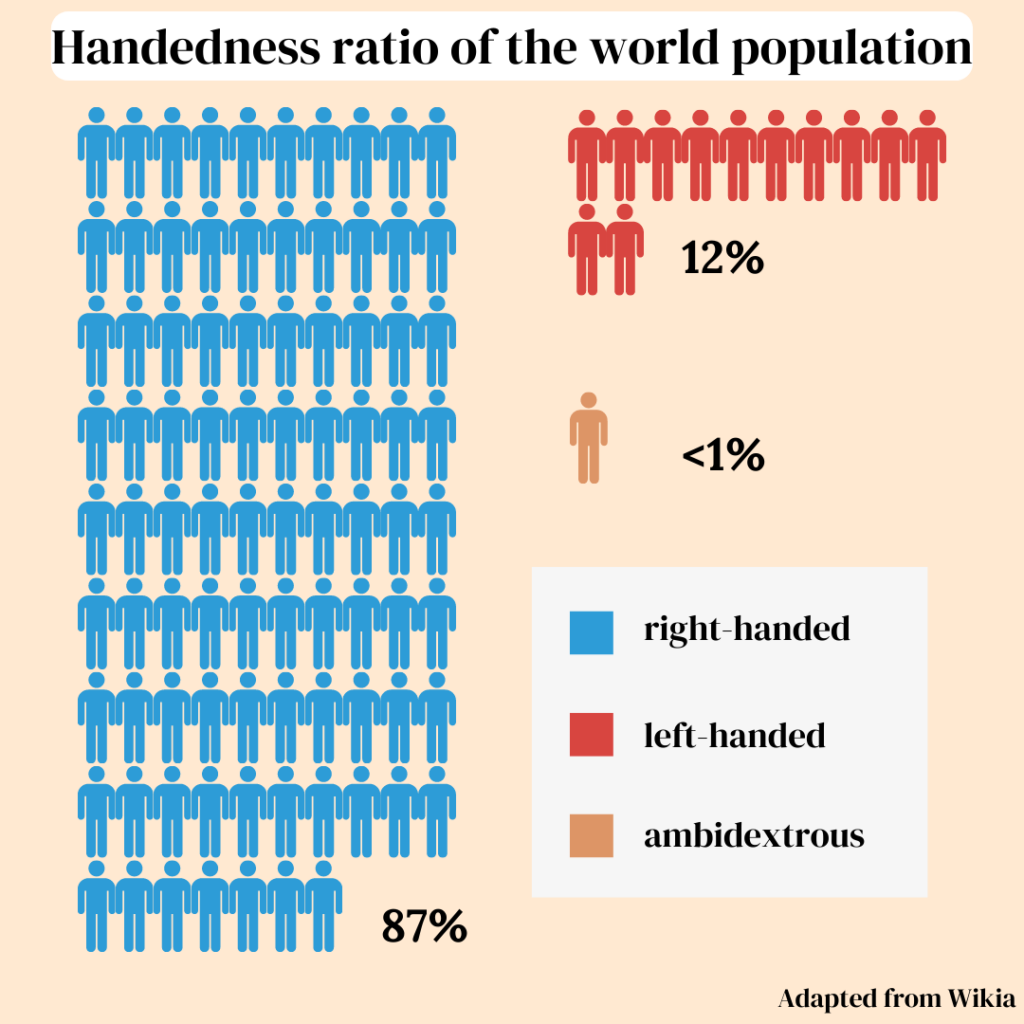 According to experts, conditions like prenatal trauma and postnatal pressures (the pressure of society that forces a left-handed child to start using the right hand) may play a small role in changing hand dominance.
However, genetics remains a significant cause.
Recent studies suggest that up to 40 genes could be at work influencing handedness.
Only a few of these 40 genes have been identified, though.
One gene of interest is NME7 (NME/NM23 Family Member 7).
This gene regulates the position of organs on the left-right axis of the body and could play a role in influencing body symmetry and handedness.
What Causes Some People To Be Left-handed?
The left-brain hemisphere controls the right side of the body and vice versa.
In typical cases, hand motor control is the action of the left hemisphere.
Asymmetrical brain development, which could result from genetics or prenatal trauma, can cause the right hemisphere to take over hand-motor control and lead to left-handedness.
Why Are There Fewer Left-handed People Than Right-Handed?
The answer to this question can be explained better with an example.
Every gene has two alleles. Let's pick a gene X associated with handedness. It has two alleles, A and B.
A is the more common allele in the human population that influences right-handedness.
B is a chance allele. With this allele, there is a 50% chance a child is born left-handed.
The child receives one allele from each parent. The possible combinations are AA, AB, and BB.
Children with the AA genotypes will be right-handed.
Children with the AB genotypes will mostly be right-handed.
Children with the BB genotypes could either be left-handed or right-handed.
This is the reason why very few people are left-handed while the majority of people are right-handed.
Genetic Differences Associated With Left-handedness
Due to their genetic differences, left-handedness may be associated with a slightly higher risk of certain health conditions.
However, they seem to have a certain advantage against conditions like ulcers, recovery from stroke, and arthritis.
These gene changes also give left-handers an advantage in certain sports like baseball and cricket. For instance, almost 30% of top pitchers in baseball are left-handed.
Summary: Is Handedness Genetic?
Handedness is primarily genetic but can also result from prenatal trauma or damage. It can also be influenced/changed by societal pressures after birth.
More than 40 genes, together, play a role in influencing handedness.
Deviating from the regular brain pattern could be why left-handed people are slightly more at risk of developing certain physical and mental health conditions.
References