Is bad breath interfering with your everyday life? It turns out, there may be a simple fix to it, and you don't need to look anywhere beyond your pantry for this!
What Causes Bad Breath?
Bad breath is also called halitosis. It is an unpleasant odor or smell that comes in the exhaled breath.
While most people experience bad breath occasionally, this can be a regular occurrence for some.
Poor dental hygiene is one of the most common causes of bad breath.
When food debris remains behind after a meal, the bacteria in the mouth start breaking these down. This leads to the formation of Volatile Sulfur Compounds (VSC).
VSC is a gaseous mix released with exhaled breath from the mouth, giving it an unpleasant smell.
For some people, bad oral hygiene can lead to problems like gingival and periodontal diseases and dry mouth, which add to the odor.
About 80-85% of all cases of bad breath originate in the oral cavity.
Respiratory conditions like pneumonia, cystic fibrosis, and chronic bronchitis may also cause bad breath.
Metabolic disorders and diseases like diabetes mellitus, renal failure, liver failure, and leukemia may also cause distinct odors in the breath. 
Consumption of certain drugs like acetaminophen, antihistamines, disulfiram, and some chemotherapy drugs can all cause temporary bad breath. The odor may go away after discontinuing the medications.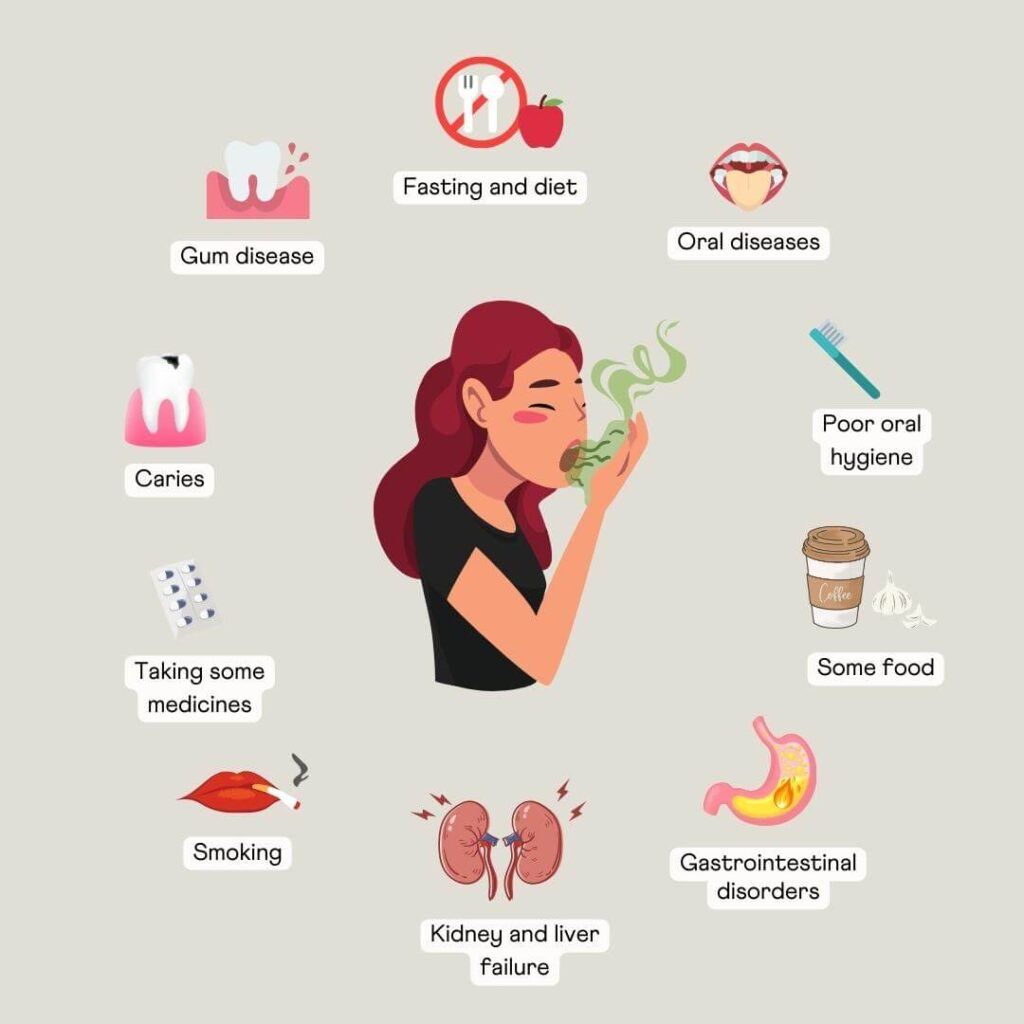 Can Yogurt Cure Bad Breath?
Researchers of the National Clinical Research Center for Oral Diseases at Sichuan University recently analyzed the effects of probiotics on halitosis.
According to it, yogurt and other probiotic foods, when consumed regularly, may help reduce bad breath.
The Study Details
This meta-analysis included seven studies and a total of 278 individuals. These individuals were between the ages of 17 and 70.
Halitosis was diagnosed based on four criteria - organoleptic score (OLP), Volatile Sulfur Compound (VSC) levels, Tongue Coating Scores (TCS), and Plaque Index (PI) scores.
OLP is a scale from 0-5 that measures odor levels in the breath.
VSC levels can be measured using devices that check sulfur levels in exhaled breath.
TCS is a scale between 0 and 2, where 0 is nil tongue coating, and 2 is thick tongue coating with papillae of tongue not visible.
Plaque Index is a scale between 0 and 5, with 0 indicating no plaque and 5 indicating plaque covering more than three-fourths of the tooth's crown.
Observations
This study concludes that probiotics like Lactobacillus salivarius, Lactobacillus reuteri, Streptococcus salivarius, and Weissella cibaria may help reduce halitosis by reducing the concentration of VSC in less than four weeks.
In the long term, consuming probiotics helps bring down OLP scores.
The study suggests that probiotics may prevent the bacteria in the mouth from breaking down the proteins and amino acids in the food debris to reduce halitosis.
What Probiotic Offers The Best Cure For Bad Breath?
According to a 2021 study, Lactobacillus, Streptococcus, and Weissella are probiotic strains most effective in curing bad breath.
The basic culture in yogurt is Lactobacillus bulgaricus and Streptococcus thermophilus, making it a perfect food choice for dealing with bad breath.
Other probiotic-rich foods and drinks that you can consume are:
Kefir
Sourdough bread
Kombucha
Miso soup
Some foods may be enriched with probiotics, which are also good choices to keep bad breath away.
Other Tips To Cure Bad Breath
Understanding The Root Cause
Apart from insufficient oral hygiene, there could be other causes of halitosis. Understanding the root cause of breath odor will help treat it appropriately.
Practicing Good Oral Hygiene
Brushing your teeth after meals, flossing when you think there is food lodging, and using a mouth rinse may help keep the teeth and gums healthy. 
If you have existing gum diseases, treating them will treat bad breath too.
Changing Your Diet
Certain foods like garlic or onion can cause bad breath. If you are conscious of the odor, limiting the intake of these foods may help.
Drinking Fluids
For some people, the bad odor could be a result of dry mouth. Drinking enough fluids over the day may help.
Summary
Bad breath is also called halitosis and causes an unpleasant smell in the exhaled breath.
Halitosis is mainly caused by the breaking down of amino acids and proteins in dislodged food debris by the bacteria in the mouth.
This breaking down produces a gaseous mix called Volatile Sulfur Compound (VSC). Sulfur gives a distinct bad odor.
A recent meta-analysis reports that consuming probiotics may prevent the bacteria from breaking down food debris and control halitosis.
Yogurt, kefir, kombucha, miso soup, sourdough bread, and other probiotic-rich foods and drinks can help avoid halitosis.
Maintaining oral hygiene, drinking enough fluids, and changing your diet are all other ways to avoid bad breath.
References