Gestational diabetes affects around 7–10% of all pregnancies worldwide, and many expecting mothers worry about whether or not it is genetic. The answer is a bit complicated. While gestational diabetes cannot be caused by one single gene, some risk factors can make it more likely for a pregnant woman to develop the condition. In this article, we will attempt to explain the genetic side of things and touch upon some other modifiable and non-modifiable risk factors.
Xcode Life's Type 2 Diabetes DNA Report
Researchers have identified several genes associated with type 2 diabetes.
In the sample report below, we've attempted to analyze some important genes that increase the risk of type 2 diabetes.
You can identify your genetic risk of type 2 diabetes by using your 23andMe DNA data and placing an order for the Gene Health Report.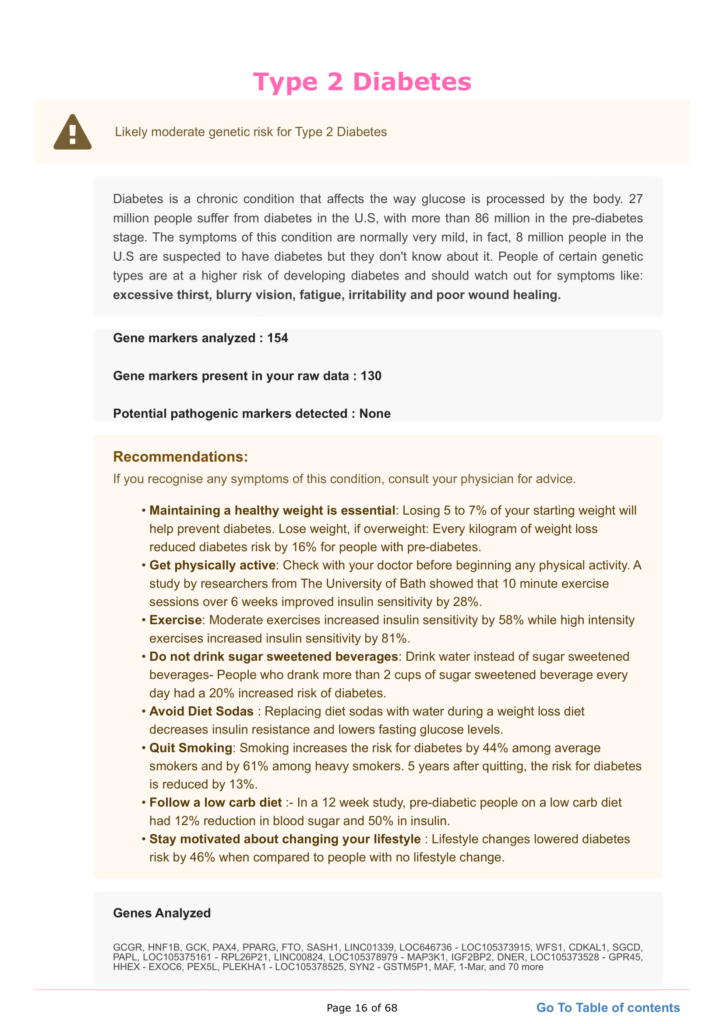 Overview of Gestational Diabetes Mellitus
Gestational diabetes mellitus (GDM), or gestational diabetes, is diabetes or any degree of glucose intolerance first developed/recognized during pregnancy.
GDM occurs due to a combination of resistance to insulin (a hormone that regulates blood sugar levels) and an inability of the body to produce enough insulin to meet the increased demands during pregnancy.
Typically, those affected with GDM do not have diabetes before they are pregnant, and in most cases, the blood sugar levels return to normal soon after the baby is born.
However, there's a 30-70% chance of GDM recurring in subsequent pregnancies.
The worldwide prevalence of GDM is increasing due to some factors:
rising rates of obesity
sedentary lifestyles,
pregnancy at an older age
Despite GDM being the most common medical complication in pregnancy, there's no universal screening or diagnostic approach for this condition.
How Can Gestational Diabetes Impact You And Your Child?
In most cases, GDM doesn't have any noticeable symptoms and is diagnosed through routine pregnancy screening.
But this condition can lead to many severe complications if left untreated.
High blood pressure
Premature delivery
Increased risk for type 2 diabetes later in life
Congenital disorders in the infant
High birth weight of the infant
Increased heart disease risk for the infant and biological mother
Is Gestational Diabetes Genetic?
Many past and present studies are trying to answer the question, "why do some people develop GDM while others don't."
Studies report that the risk for GDM is associated with certain genetic changes that also influence type 2 diabetes risk.
This makes sense since insulin resistance is an important causative factor in both.
This also explains the increased risk for type 2 diabetes in people who have had GDM.
Further, research also suggests that the adverse outcomes in infants due to GDM may also have a genetic basis.
A glucose sensor gene called the GCK gene plays an important role in this.
The body cannot effectively recognize high blood sugar levels in those with mutations in this gene, and those harboring these mutations have a higher GDM risk.
Research shows that GDM due to GCK gene mutations is associated with changes in the infants' birth weight.
Genes associated with GDM regulate insulin secretion, insulin resistance, and glucose metabolism.
| | |
| --- | --- |
| GENE | FUNCTION |
| Insulin receptor substrate 1 - IRS1 | Regulates insulin-signaling - influences glucose uptake by fat and muscle cells |
| Insulin-like growth factor 2 mRNA-binding protein 2 - IGF2BP2 | Regulates insulin secretion |
| CDK5 regulatory subunit associated protein 1 like-1 - CDKAL1 | Function unknown; pregnant women in CDKAL1 mutation have a certain degree of impairment in insulin secretion |
| Glucokinase - GCK | Stimulates pancreatic β cells, and liver cells for insulin secretion |
| Transcription factor 7-like 2 - TCF7L2 | Regulates signaling pathways associated with insulin secretion. Mutations can result in reduced insulin secretion |
| Melatonin receptor 1B - MTNR1B | Circadian rhythm regulator; mutations in this gene associated with increased blood glucose levels and type 2 diabetes |
| Potassium inwardly-rectifying channel, subfamily J, member 11 - KCNJ11 | Potassium channel regulator; mutations in this gene are a well-established cause of neonatal diabetes mellitus |
| Potassium voltage-gated channel, KQT-like subfamily, member 1 - KCNQ1 | Voltage-gated potassium channel; involved in the regulation of insulin secretion |
| Glucokinase regulator -GCKR | Regulatory protein that inhibits activation of liver and pancreatic cells for insulin secretion |
| Hepatocyte nuclear factor 4α - HNF4A | Mutation in this gene is associated with maturity-onset diabetes of the young (MODY) |
| Solute carrier family 30 member 8 - SLC30A8 | Is expressed only in the pancreas and is related to insulin secretion |
| Peroxisome proliferator-activated receptor γ - PPARG | Regulates fat cell differentiation and maintains glucose levels |
| Fat mass and obesity-associated gene - FTO | Involved in the regulation of fat mass and fat growth and body weight |
It's important to know that having these gene changes (mutations) doesn't guarantee that you'll develop GDM or type 2 diabetes.
They increase your risk for these conditions, which can be reduced through lifestyle choices like adopting a balanced diet and regular exercise regimen.
Having this genetic risk information at hand can help doctors develop better screening measures for GDM and provide optimal treatment options.
It can also help healthcare professionals suggests suitable interventions that can be followed by anyone with a high risk for GDM and possibly avert it.
Does Family History Cause Gestational Diabetes?
A family history of diabetes can increase your risk for type 2 diabetes and GDM.
According to studies, those with close family relatives who have type 2 diabetes are more likely to have GDM.
Having a parent with type 2 diabetes can put you at a 2.3x increased risk for GDM, and the risk increases to 8.4x if a sibling has type 2 diabetes.
Thus, your doctor needs to know your family history of diabetes to ensure good care during pregnancy.
Who's At Risk For Gestational Diabetes Mellitus?
GDM can strike anyone.
But certain factors can increase your risk for this condition (other than family history)
Age at Pregnancy
The risk for GDM increases with age; it is more profound in pregnancies after age 35.
Other Health Conditions
Those with polycystic ovarian syndrome (PCOS) are at a higher risk for GDM.
Body Weight
Being overweight and obese can significantly increase GDM risk.
Reproductive History
GDM in previous pregnancies or delivery of a baby weighing more than 9 pounds (4.1 kilograms) can increase the risk.
What Ethnicity Is More Prone To Gestational Diabetes?
People from certain races and ethnicity are at higher risk for GDM.
Compared to non-Hispanic white people, Hispanics, black non-Hispanics, and Asians have consistently been found to be at increased risk.
What Environmental Factors Affect Diabetes Risks?
Chemicals
Certain chemicals found in everyday products like soaps, shampoos, and perfumes, including BPA, phthalates, and phenols, can contribute to GDM risk upon overexposure.
Air Pollution
Certain compounds present in polluted air can increase blood sugar levels in pregnant women (especially fasting glucose concentrations).
The Climate
Evidence suggests that factors like ambient temperature and season can influence GDM risk.
A higher prevalence of GDM has been observed in summer months - higher ambient temperature is associated with elevated glucose levels.
Sun Exposure
According to a study, lower or higher sun exposure during the first trimester of pregnancy increases GDM risk.
This increased risk was observed regardless of body weight.
Preventing Gestational Diabetes
Even if you have a high genetic risk for GDM, it is possible to lower it through certain measures.
A healthy diet: Be sure to include plenty of fruits, vegetables, and whole grains. Avoid processed foods and sugary drinks.
Regular exercise: A moderate amount of exercise is the key to maintaining good blood sugar levels during pregnancy.
**Certain types of workouts are advised to be avoided during pregnancy. Please seek advice from a qualified medical professional regarding exercising during pregnancy.
Glucose level monitoring: Check your levels before and after meals, as well as at bedtime.
Summary: Is Gestational Diabetes Genetic?
Gestational diabetes is a rise in blood sugar levels observed during pregnancy, which typically falls to the normal range after delivery.
Genes that play a role in insulin secretion, insulin sensitivity, and glucose metabolism can influence gestational diabetes risk. Genetic changes that underlie type 2 diabetes can also increase the risk for gestational diabetes.
Family history is also a contributing factor to gestational diabetes. Those with family members with type 2 diabetes are at up to 8x the increased risk for GDM.
Other factors like age at pregnancy, other health conditions, ethnicity, exposure to chemicals, and climate can influence gestational diabetes risk.
It may be possible to prevent gestational diabetes with a healthy diet, regular exercise, and periodic monitoring of blood sugar levels.
References
https://medlineplus.gov/genetics/condition/gestational-diabetes/
https://www.ncbi.nlm.nih.gov/pmc/articles/PMC7736606/
https://pubmed.ncbi.nlm.nih.gov/29728773
https://www.ncbi.nlm.nih.gov/pmc/articles/PMC8394229/
https://www.ncbi.nlm.nih.gov/pmc/articles/PMC6882194/
https://genomemedicine.biomedcentral.com/articles/10.1186/gm232
https://pubmed.ncbi.nlm.nih.gov/9662401/
https://pubmed.ncbi.nlm.nih.gov/14738023/
https://bmcpublichealth.biomedcentral.com/articles/10.1186/s12889-022-13965-5
https://ehjournal.biomedcentral.com/articles/10.1186/s12940-020-00668-w#Abs1